Savannah, Georgia is the perfect place for a weekend getaway with the girls! This gorgeous city is rich in history and Southern Charm, making it a popular place for bachelorette parties and girls' trips. Here are the best things to do, places to eat, and places to stay for a girls' trip to Savannah.
Savannah is known for its moss-covered trees and cobbled streets.
The city is full of great shopping, fantastic eats, and exciting things to do, making it the perfect place to have a girls' weekend.
Featured Partner
Cocktail Boys Bartending Service
The Cocktail Boys are the perfect addition to your girls' weekend in Savannah. They'll serve, pamper, and entertain you at your pre-game, brunch, game night, or Tybee beach party.
In Savannah, Georgia, you and your friends will enjoy a unique blend of old-world Southern hospitality and modern attractions.
So gather your closest girlfriends, make room in your suitcase, and get ready for an unforgettable girls' getaway weekend in Savannah!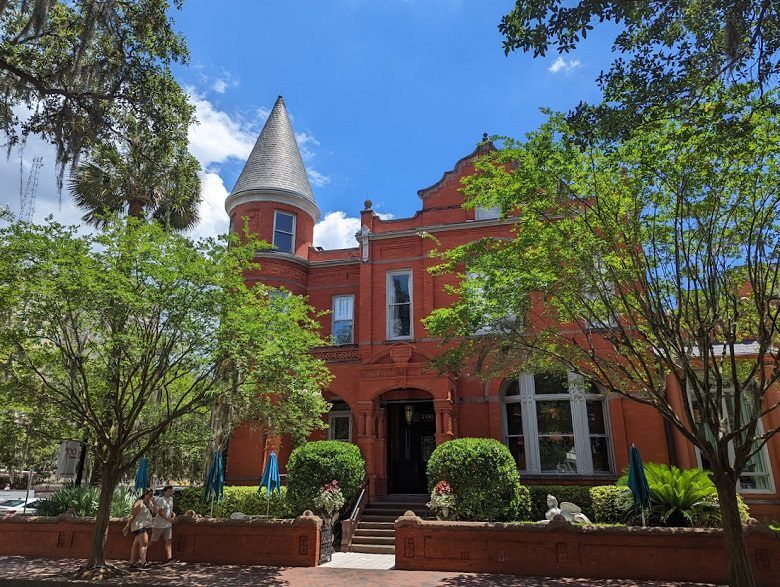 Travel Guide: Girls' Weekend in Savannah
For Memorial Day Weekend, my friends and I headed out on a girls' trip to Savannah for the long weekend. Below, you'll find everything we packed into our unforgettable weekend, including where to stay, what to do, and where to eat.
Things to Do on Your Savannah Girls' Trip
You have a ton of options for things to do on your Savannah girls' trip. The real challenge is fitting it all into one weekend! Here are the activities we managed on our girls' weekend.
1. Enjoy Time in Forsyth Park
The 30-acre Forsyth Park is famous for its picturesque fountain that was modeled after the fountains at the Place de la Concorde in Paris. They actually purchased the fountain out of a catalogue and a similar fountain can be found in New York, Indiana, and Peru; but Savannah's fountain did get some modifications throughout the years that make it unique.
Forsyth Park is a great place for a stroll or a picnic for you and the girls. Spend some time people-watching by the fountain or enjoying a drink to-go while you walk around the serene park.
2. Shop the Forsyth Farmers Market
The Forsyth Farmers Market is Savannah's food-only, producer-only market (meaning all vendors have to be producing at least 75% of the products they sell).
Every Saturday, 35 vendors set up shop with fresh produce, meats, local honey, coffee, pralines, and other delicious food items.
You'll find the market at the south end of Forsyth Park at Park Ave and Bull St. The market runs through the middle walkway of Forsyth Park.
3. Explore the Squares
Savannah's Historic District is made up of 22 squares. This unique design is part of what makes the city so charming. Every few blocks, you come to a tranquil square surrounded by beautiful historic homes and dripping in Spanish Moss and everything slows down just a little bit.
While all the squares are beautiful, there are some that are just a little more interesting than others. So you can meander the streets and see which ones you come across, or you can set out with particular stops in mind. There's no wrong way to explore Savannah!
Chippewa Square was made famous by Forrest Gump. This is where Forrest sat on that famed bus bench. The bench was just a movie prop, though, so you won't find it in the square (it is at the Savannah History Museum, however!). But Chippewa Square is beautiful and has a statue of General James Oglethorpe, the founder of the colony of Georgia.
Monterey Square is considered one of the most picturesque squares with its towering monument to Casimir Pulaski, a notable Revolutionary War hero. This square is also where you'll find the Mercer-Williams House of Midnight in the Garden of Good and Evil fame.
Wright Square was the city's second square. In it, you'll find a memorial to Yamacraw Chief Tomochichi who gave his land to Oglethorpe to build the city of Savannah.
Johnson Square was Savannah's first square and its largest. It's surrounded by City Hall and the Christ Episcopal Church.
Related tour: Savannah First Squares Culinary & Cultural Walking Food Tour
4. Go Inside The Cathedral Basilica of St. John the Baptist
The Cathedral of St. John the Baptist is the seat of the diocese of Savannah. Its French Gothic architecture makes it a Savannah marvel and a must-see in the city. The beautiful white-washed and gold accented building features 81 stained glass windows, 16 gargoyles, and two 214 foot tall spires.
It was dedicated on this site in 1876, but a fire in 1898 destroyed much of the building. It was rebuilt and reopened in 1900. The cathedral was the first building in Georgia to be constructed of brick.
The cathedral is open for self-guided tours when service is not in session.
5. Shopping Along Broughton Street
Broughton Street is packed with an eclectic mix of stores. You'll find antique shops, thrift stores, boutiques, retail chains, coffee shops, restaurants, and more along this popular Savannah through-way.
There are plenty of local shops where you can get some authentic Savannah mementos. Broughton Street is also where you'll find the ever popular Leopold's Ice Cream, considered the best ice cream in Savannah.
6. Take a Ghost Tour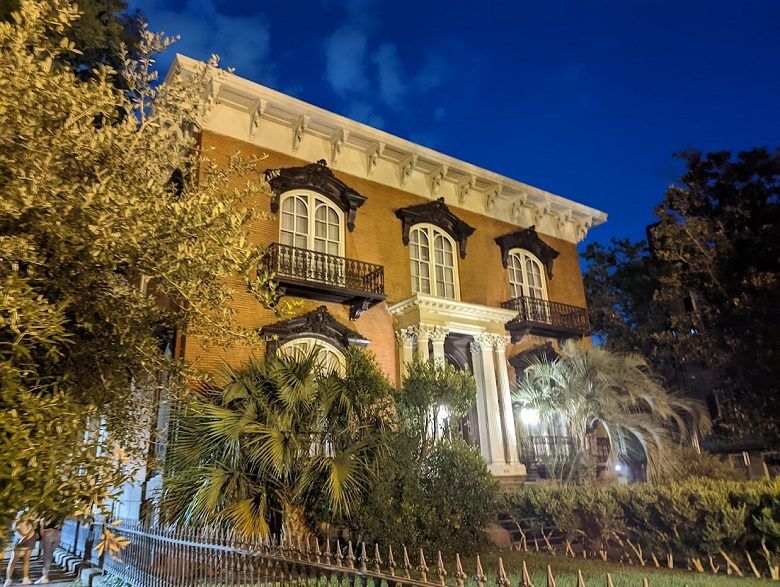 Savannah is known as the most haunted city in America. There are more reports of paranormal activity here than anywhere else in the country.
From early settlers disturbing Native American burial grounds to deadly disease to bloody battles to the horrors of slavery, there are a lot of things that contribute to Savannah's haunted history.
I've taken a ghost tour every time I've visited Savannah. At this rate, I'm about to try them all!
I've taken the hearse ghost tour, which is a personal favorite. I've done a haunted pedal pub, which is a great choice for a fun girls night. And I've done a psychic-led walking tour, which is always a classic.
But there are seriously dozens of ghost tours of Savannah to choose from. Which one you go with depends on if you want walking or driving, humor or spooky, adults only or family-friendly. There's a ghost tour style for everyone. Most tours will take you to the same haunted sites, so it's really up to personal preference and price point.
Check out some great Savannah ghost tour options here.
7. Tour Bonaventure Cemetery
Bonaventure Cemetery became famous thanks to the 1994 novel Midnight in the Garden of Good and Evil and its iconic cover featuring the Bird Girl statue. Bird Girl has since moved to the Telfair Museums, but the cemetery still has plenty of other famous statues and notable burials.
Visiting Bonaventure Cemetery is a great way to learn about notable figures in Savannah's history who are buried here, like singer Johnny Mercer and governor Edward Telfair.
With nearly 160 acres, there's a lot to take in on your own, so I recommend doing a guided tour of Bonaventure Cemetery. There are plenty of walking tour options where you can explore the historic cemetery on foot. But if you're visiting in the summer, I definitely recommend a golf cart tour with Savannah Cruzers to stay out of the heat.
A tour of the cemetery will introduce you to its notable residents, like Little Gracie, who has an incredible marble statue that was carved in her likeness, and Conrad Aiken, Savannah's beloved poet. You'll learn all about Savannah's history and the cemetery's unique architecture.
Check out some great Bonaventure Cemetery tour options here.
8. Explore River Street
The brick-lined road of Savannah's River Street used to be home to cotton warehouses. Now, the street is full of fun restaurants, bars, souvenir shops, and boutiques. There are plenty of hotels along the street for those who want to stay in the middle of all the action as well.
River Street also has lots of historical monuments and statues to explore. This is the perfect spot to sit back and relax as you watch the riverboats and cargo ships traverse the Savannah River.
Top Savannah Tours
With so much to see, Savannah can be overwhelming for any first-time traveler. To take some of the stress out of planning your visit, opt for a guided tour! Check out this list of the top Savannah tours to help you make the most of your time in this gorgeous Southern city.
Where to Eat & Drink in Savannah During Your Girls' Weekend
Savannah is a foodie haven. There are acclaimed restaurants and bars around every corner; you'll never have a hard time finding somewhere amazing to eat. Here are a few of our recommendations for places to eat and drink on your Savannah girls' weekend.
1. The Pirates' House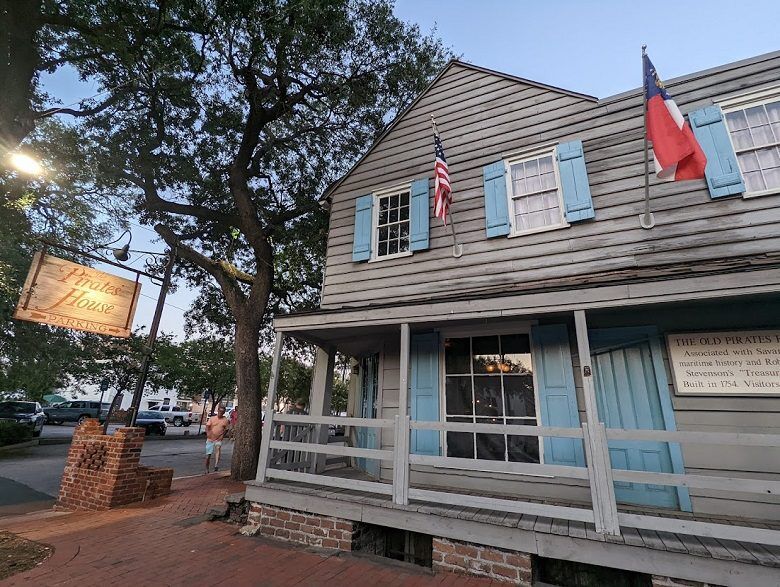 The Pirates' House could almost be an attraction in itself. The restaurant is located seven blocks from where General Oglethorpe landed in 1733, and it was opened as in inn in 1753. This location quickly became the meeting point for pirates and sailors.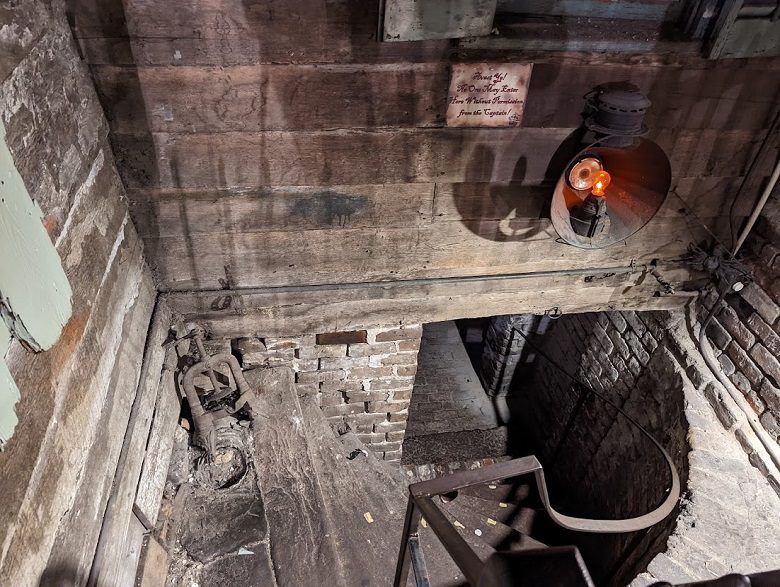 Part of the restaurant, the Herb House, is said to be the oldest standing structure in Georgia. And inside the restaurant you can still see the entrance to a tunnel used to kidnap men and make them part of a pirate ship's crew.
Many rooms of the restaurant are even said to be haunted, including the Herb House, some of the banquet rooms, and the gift shop.
On the menu, you'll find Southern fare and plenty of seafood fit for a pirate.
20 E Broad St, Savannah, GA 31401
2. B. Matthew's Eatery
B. Matthew's Eatery is a beautiful vintage space with exposed-brick walls. It's a popular restaurant in the heart of Historic Downtown that's good for brunch, lunch, or dinner. I've had their brunch before, but this trip we stopped here for dinner. Their menu is fresh, seasonal, and local and serves modern takes on classic Southern dishes.
325 E Bay St, Savannah, GA 31401
3. Zunzi's
Zunzi's is a South African-inspired restaurant serving sandwiches, bowls, salads, and wraps. They've got a beachy theme with giant, brightly-colored umbrellas and tons of outdoor seating.
236 Drayton St, Savannah, GA 31401
4. Mint To Be Mojito Bar
Mint To Be Mojito Bar is my favorite Savannah bar because I love a mojito! They make their mojitos fresh with all natural ingredients. You can even mix their flavors to create your own mojito. And they even have a champagne-themed speakeasy in the back.
12 W State St, Savannah, GA 31401
5. Java Burrito
Java Burrito is the unlikely pairing of coffee and burritos. On one end of the shop is a coffee bar and on the other is a build-your-own burrito bar.
420 E Broughton St, Savannah, GA 31401
6. Collins Quarter at Forsyth
The Collins Quarter location at Forsyth Park is an extremely popular spot for weekend brunch and dinner. The concept is modeled after Melbourne, Australia's historic Collins Street café experience. Their menu offers classic brunch and Southern dishes. Grab a table on the patio for a relaxing meal with park views.
621 Drayton St, Savannah, GA 31401
7. Electric Moon Skytop Lounge
Electric Moon Skytop Lounge is a rooftop bar on top of the JW Marriott Hotel. They have great river views, unique cocktails, and an adult playground with a slide, lawn games, and more.
500 W River St, Savannah, GA 31401
8. Wet Willie's
Wet Willie's is a chain serving a rainbow of frozen drinks, some with a very high alcohol content. You can mix and match flavors to make your own drink or famous drinks. I'm a big fan of the Mudslide! They have two Savannah locations: on River Street and at City Market.
River Street: 101 E River St, Savannah, GA 31401
City Market: 20 Jefferson St, Savannah, GA 31401
9. The Sentient Bean
The Sentient Bean is a vegetarian and fair-trade coffee shop on the south end of Forsyth Park. We stopped here for a quick breakfast and cup of coffee on our first full day in town. They serve breakfast all day long, sandwiches and wraps for lunch, in-house baked goods, and of course, coffee.
13 E Park Ave, Savannah, GA 31401
Where to Stay for Your Girls' Weekend in Savannah
Savannah has plenty of options for staying at a hotel or in a vacation rental. I've done both, and they're both great options depending on what you're looking for.
Vacation rentals are a great choice for big groups. You get plenty of space for just you and your friends, and there are so many fun historical home rentals so you can feel like you're getting an authentic Savannah experience. There are so many wonderful options for groups like the Parlor on Park, this Broughton Street Loft, or this Bright & Beautiful Home.
Hotel rooms are great for smaller groups. There are tons of trendy and boutique hotels near the river front and in the historic district. The JW Marriott Savannah Plant Riverside District, The Marshall House, and the Hyatt Regency Savannah are top choices.
B&Bs are another great option if you're looking to experience Savannah's classic Southern Hospitality. The Gastonian, the Kehoe House, and the Eliza Thompson House are top choices.
Best Places to Stay in Savannah
Find the perfect place to rest your head on your visit to Savannah, from the top rated accommodations to unique stays you can't get anywhere else.
Mapping Out Your Savannah Girls' Weekend
Ready to explore Savannah, Georgia with your friends? Use the map below to help plan out your girls' weekend itinerary in Savannah.
I hope this post helps you plan an amazing weekend getaway with your besties!
More Savannah, GA Itineraries
Check out more fun things to do in Savannah, Georgia with the help of these itineraries:
---
Ready to visit Savannah, Georgia? Plan your trip with these tips.
---
Cheers!
Paige
How would you spend a girls' weekend in Savannah, Georgia? Let me know in the comments below!