Summertime in Atlanta is for sipping craft cocktails rooftop while admiring skyline views of the city. Here's my roundup of the best rooftop bars in Atlanta, Georgia.
If you're looking for the best views of Atlanta, day or night, you've come to the right place!
Atlanta is home to some amazing rooftop bars that let you take in the vibrant city skyline in style. From chic lounges to casual spaces, there's something to suit everyone's taste.
Whether you're planning a girls' night out, a romantic date night, or simply want to take in the city views, my guide will provide you with the best Atlanta rooftop bars for an experience that is sure to impress.
Get ready to be dazzled by the lights of Atlanta from the comfort of one of these cozy and inviting spaces.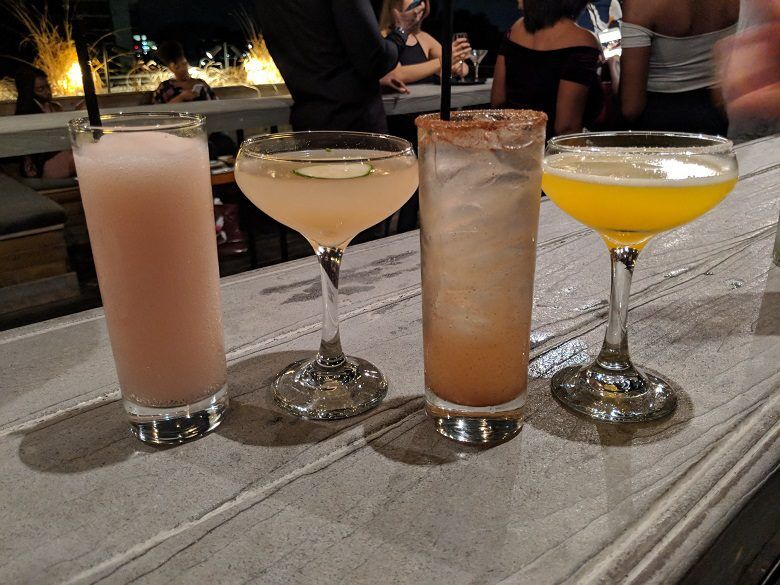 Top Rooftop Bars in Atlanta
Get great drinks and an unforgettable view await you at Atlanta's rooftop bars! There's no better way to experience Atlanta in the summer than sipping a cool cocktail at a hot rooftop bar. Discover the best views of the city from these amazing rooftop bars that offer craft cocktails and incredible atmosphere.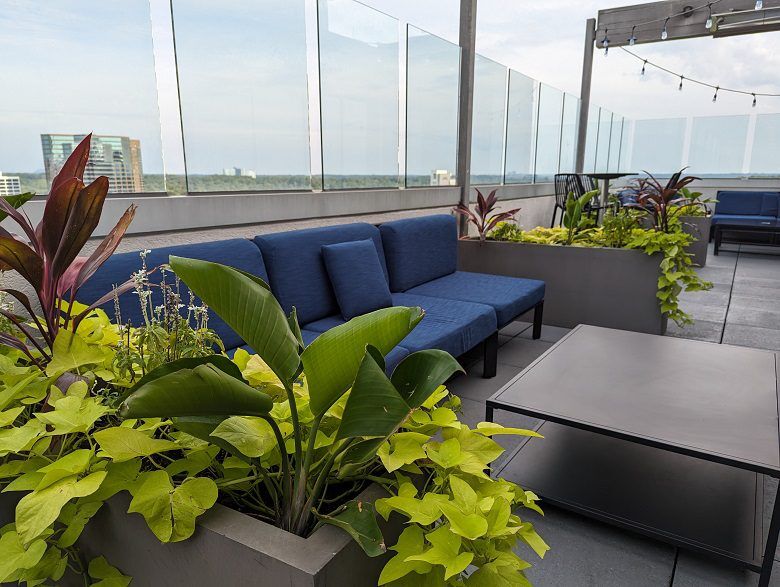 Rosé & Rye is the rooftop bar atop the Hotel Colee in Buckhead. This hotspot provides glamourous views of the city as well as handcrafted drinks and a laid-back vibe.
You'll ascend to the top of this trendy Buckhead hotel in an all-glass elevator to the bar's perch 125 feet above the city. There are two outdoor patios, a beautiful mural, and floor-to-ceiling light installations that are a total vibe. This rooftop bar is very Buckhead.
When we ate here, we tried their a Sunset Paradise and a Cru Love cocktails, along with the Thai Chili Rosé & Rye Wings, Crispy Fries with a fried egg on top, Beef Sliders, and Chicken Sliders.
Hotel Colee was nice enough to host us for a stay. Read my full review of Hotel Colee here.
3377 Peachtree Rd NE, Atlanta, GA 30326
Aerial Kitchen & Bar is located on the 9th floor Sky Terrace of the Epicurean Atlanta hotel in Midtown. It's located by the pool, which is only available to hotel guests, but the bar itself is open to the public.
Epicurean Atlanta was nice enough to host us for a stay, though we got rained out of trying the rooftop bar. Still, I was able to walk around and see that it's a great set-up that feels like you're at a resort. Their menu is Mexican-inspired with food items like tacos and tortas and cocktails like mojitos and margaritas.
You can relax on the Sky Terrace that has cozy seating, fire pits, and a great view of Midtown.
Epicurean Atlanta was nice enough to host us for a weekend. Read my full review of the Epicurean Atlanta hotel here.
Ninth Floor, 1117 W Peachtree St NE, Atlanta, GA 30309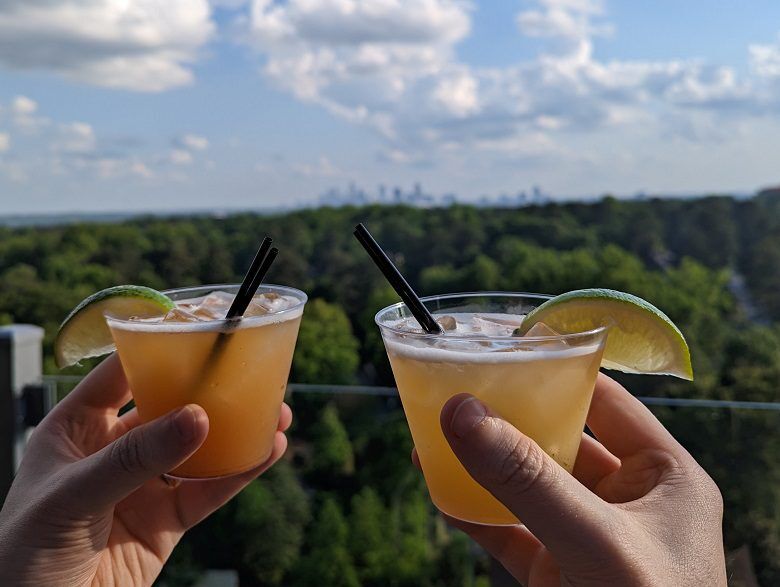 Spaceman is located up on the 15th floor of the Hyatt Centric Buckhead hotel and is Atlanta's highest rooftop bar and lounge. The bar has both indoor and outdoor lounge areas, covered seating, heaters, and panoramic-views, making it the perfect spot to hang out year-round.
Spaceman was nice enough to host us for an evening to try out their rooftop. They have a small menu of sharable dishes (the Parmesan Pommes Frites and Smash Burger are delicious) and aptly-named craft cocktails (like the Stardust, Super Nova, and Cloud 15).
Come for sunset when you can watch the sun go down behind the Buckhead condos and office buildings in a brilliant display.
3301 Lenox Pkwy, Atlanta, GA 30326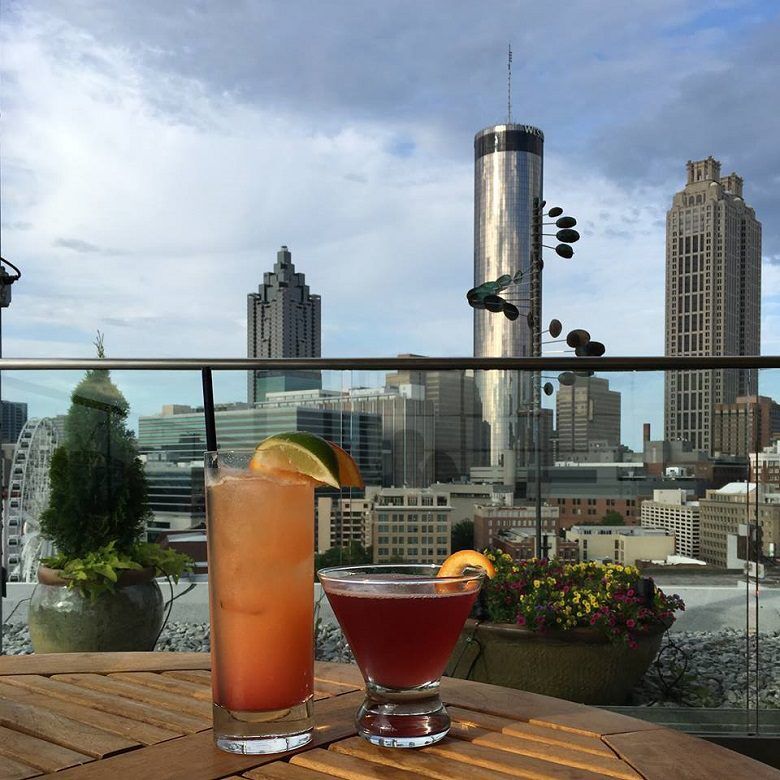 Located on top of the historic Glenn Hotel in downtown Atlanta's Centennial Park District, SkyLounge at the Glenn is consistently voted one of the best rooftop bars in Atlanta by a number of travel websites and travel magazines.
The covered outdoor lounge overlooks Centennial Park and the Skyview Ferris wheel while showcasing a view of Atlanta's iconic skyline.
110 Marietta St NW, Atlanta, GA 30303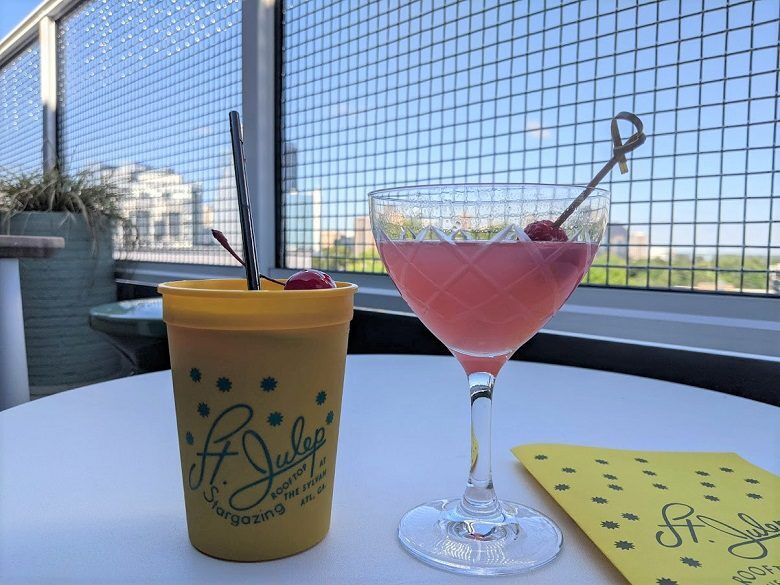 The St. Julep rooftop bar on the 9th floor of the Kimpton Sylvan Hotel is an indoor/outdoor space with cozy seating and views of the Buckhead skyline.
Sip delicious craft cocktails and local craft beers, and snack on funky craveable shareable plates or soft serve ice cream. On the weekends, they have a DJ to set the stage for your night out with amazing city views.
374 East Paces Ferry Rd NE, Atlanta, GA 30305
6. The Roof at Ponce City Market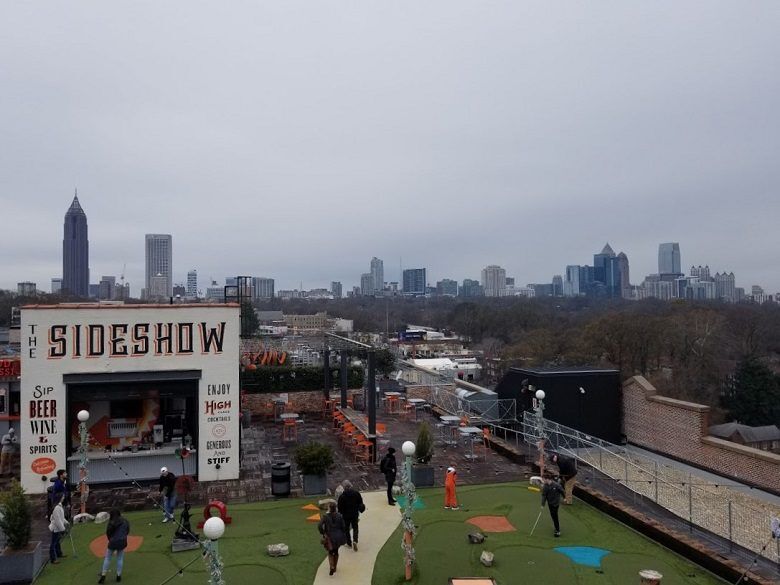 There are actually two separate bars at The Roof at Ponce City Market, plus Skyline Park which also serves drinks, but I'm going to lump them all together for the purpose of this post.
12 Cocktail Bar at RFD Social serves classic cocktails in an intimate, indoor setting at The Roof. 9 Mile Station, meanwhile, is a rooftop beer garden with great views of Atlanta.
The Roof is extra unique because of Skyline Park, a rooftop amusement park with rides, games, and yes, alcohol.
675 Ponce De Leon Ave NE, Atlanta, GA 30308
7. Tin Lizzy's Cantina Grant Park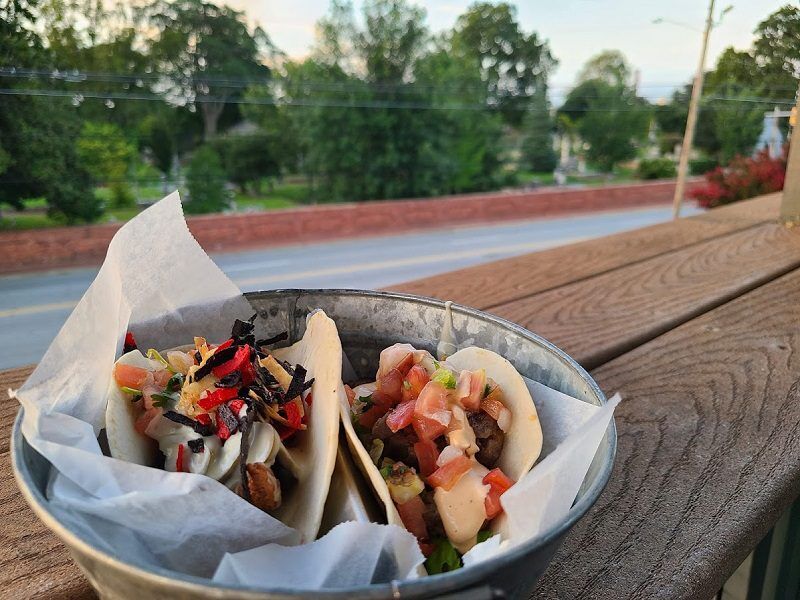 Tin Lizzy's Cantina is a unique taqueria popular for its fresh margaritas, street tacos, skillets, and live music.
Their Grant Park location has a breezy rooftop bar that overlooks Atlanta's Historic Oakland Cemetery — perfect for if you're in the mood for spooky views during Halloween season!
415 Memorial Dr SE, Atlanta, GA 30312
8. Live! at the Battery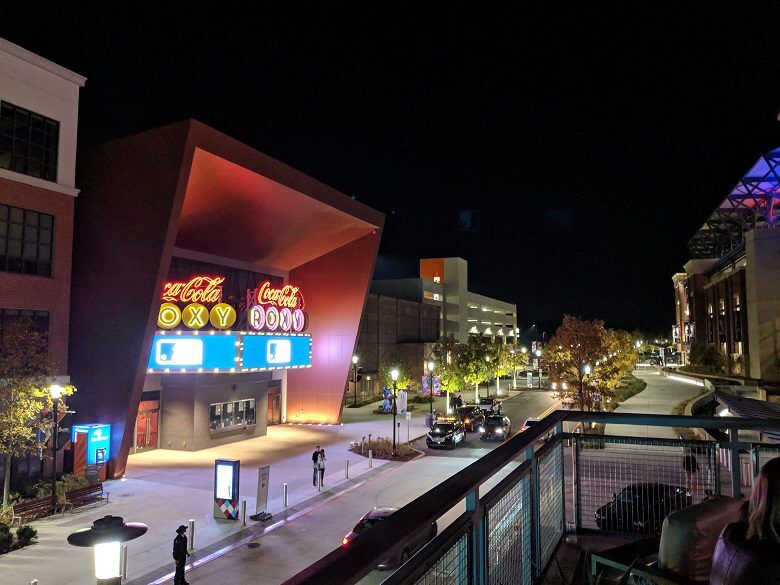 If you need a break from the huge party going on inside the multi-story sports bar and entertainment space at Live! at the Battery, you can take your drink out to the rooftop bar.
There's not much to the view — just the flashing lights of the Coca-Cola Roxy — but it's still a good place to enjoy the summer breeze.
825 Battery Ave SE #600, Atlanta, GA 30339
9. Gypsy Kitchen
Gypsy Kitchen in Buckhead has an eclectic mix of Spanish tapas alongside Moroccan- and Indian-inspired dishes.
The restaurant has two spacious rooftop patios, one covered and one uncovered. From here, you can enjoy views of the Buckhead skyline out across Buckhead Village.
3035 Peachtree Rd NE, Atlanta, GA 30305
10. The Marquee Club at The Fox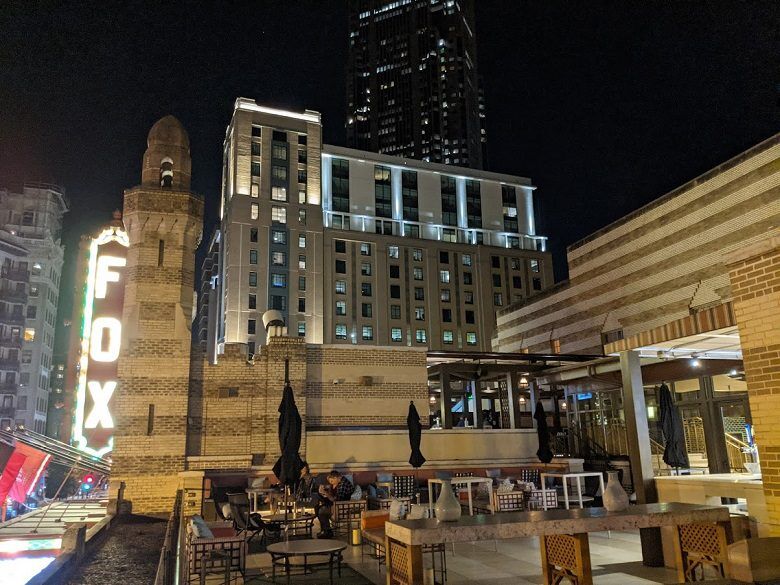 The Fox has its very own exclusive rooftop bar. The Marquee Club features multiple levels of cozy seating across their main floor lounge, mezzanine, rooftop conservatory, rooftop terrace, and arcade rooftop terrace.
To get in, you'll have to purchase an annual membership or upgrade your ticket on a per-event basis. It's an iconic rooftop spot overlooking the Fox marquee and Peachtree Street.
660 Peachtree St NE, Atlanta, GA 30308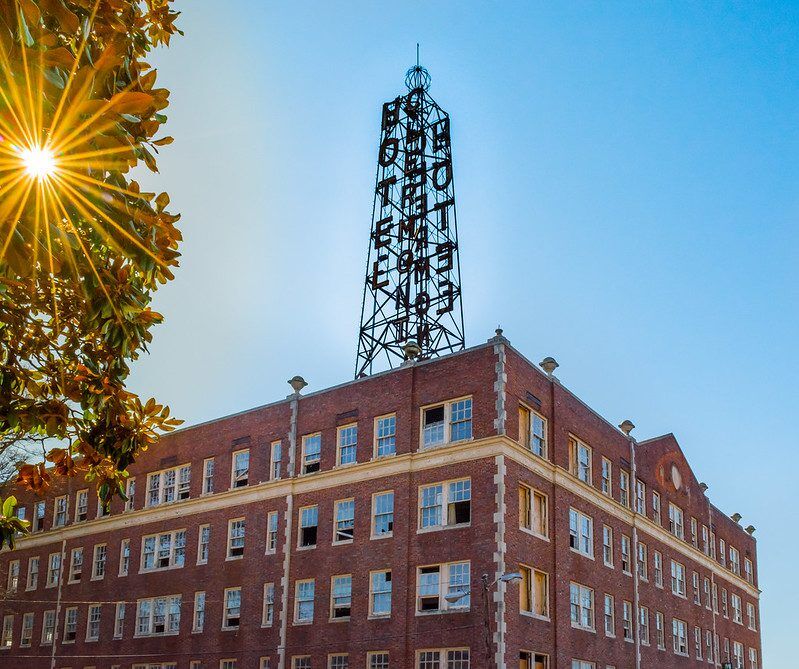 The Rooftop at Hotel Clermont is one of the hottest rooftop bars in Atlanta.
With its AstroTurf, plentiful seating, street food, skyline views for days, frosé in the summer, and hot toddies in the fall, there's plenty to love about Hotel Clermont's rooftop bar.
789 Ponce De Leon Ave NE, Atlanta, GA 30306
12. O-Ku Atlanta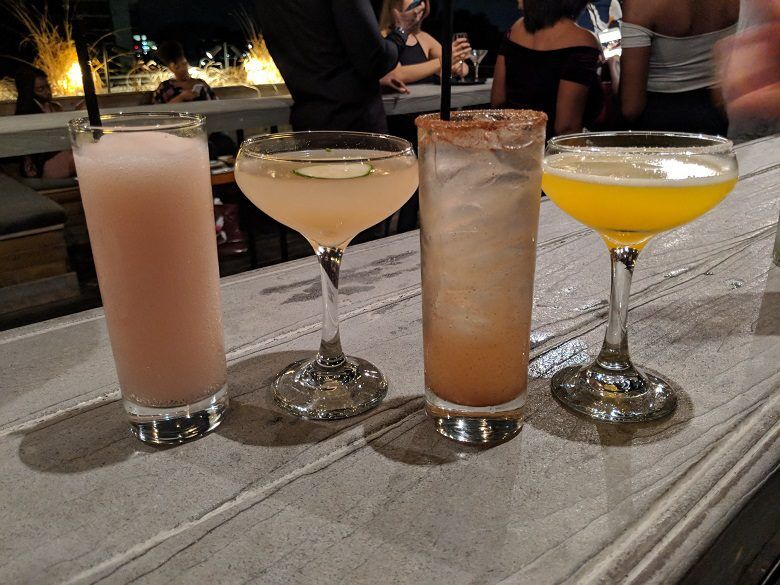 O-Ku Atlanta's Midtown location serves up innovative Japanese sushi and cuisine in a cozy rooftop setting.
The bar used to have a great view of the Atlanta skyline, but unfortunately it doesn't have this view anymore because of a new apartment complex that went up. (Check out the next bar on this list that has basically O-Ku's old view.) But it's still a great rooftop with phenomenal drinks and sushi.
The covered rooftop bar is complete with twinkling lights, lounge seating, and delicious cocktails.
Westside Ironworks, 1085 Howell Mill Rd NW A3, Atlanta, GA 30318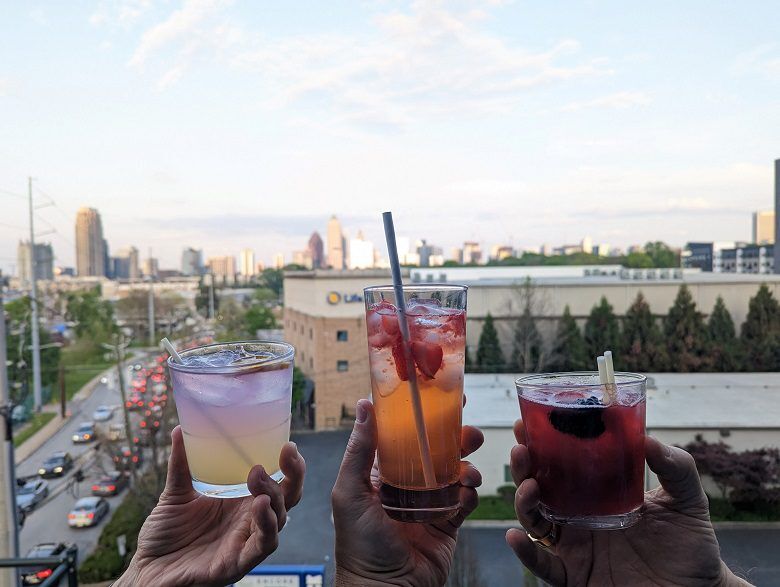 Located at The Interlock in West Midtown, Drawbar is the Bellyard Hotel's elevated patio lounge. It isn't exactly a rooftop bar, but I'm including it on this list because it still has the views and the secluded vibes of a rooftop bar.
Drawbar has a Southern-inspired menu and a constantly changing list of fun craft cocktails. And the sweeping views of the Atlanta skyline is absolutely beautiful. You also don't have to worry about the weather because the patio is covered.
Interlock Ave NW, Atlanta, GA 30318
Atlanta Rooftop Bars Map
Ready to check out these top Atlanta rooftop bars? I've put together a map of all the rooftop bars listed in this blog post to help you out!
You can click the star icon at the top of the map to save it to your favorites and open the locations in your own Google Maps app.
Where to Stay in Atlanta
Find the perfect place to rest your head on your visit to Atlanta, from the top rated accommodations to unique stays you can't get anywhere else.
Top Atlanta Tours
With so much to see, Atlanta can be overwhelming for any first-time traveler. To take some of the stress out of planning your visit, opt for a guided tour! Check out this list of the top Atlanta tours to help you make the most of your time in Georgia's capital city.
Craving More Atlanta Activities?
If you need more things to do while visiting Atlanta, check out these top posts:
---
Ready to visit Atlanta, Georgia? Plan your trip with these tips.
---
Cheers!
Paige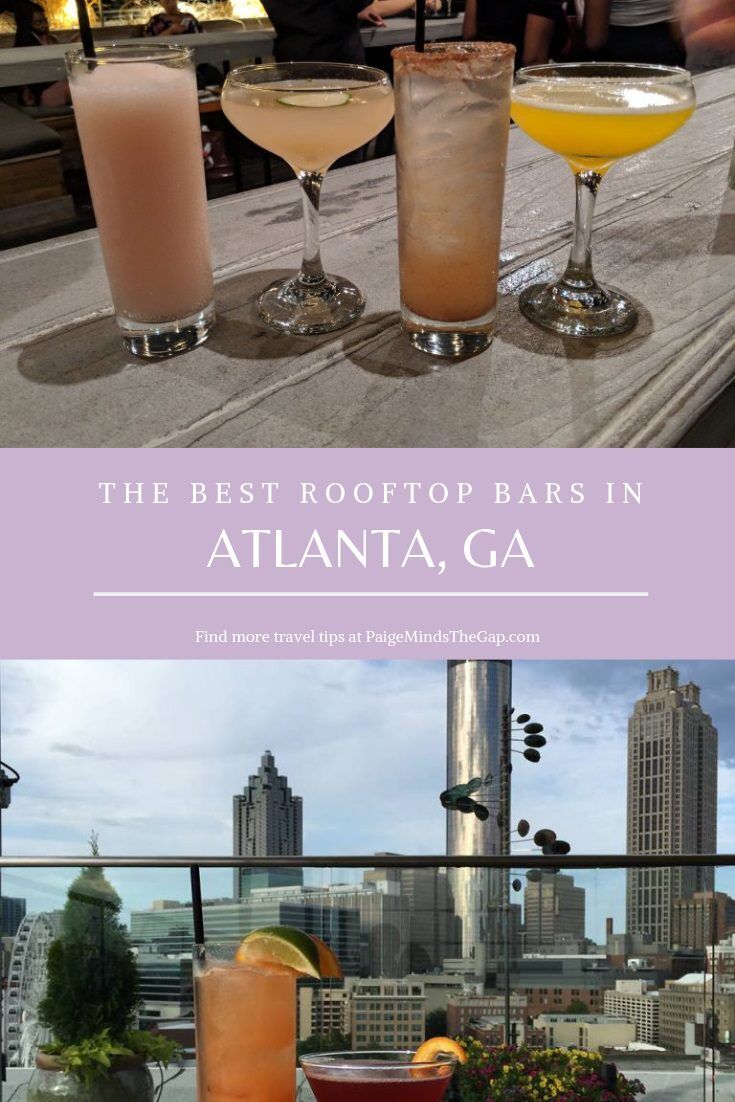 What is your favorite rooftop bar in Atlanta? Let me know in the comments!