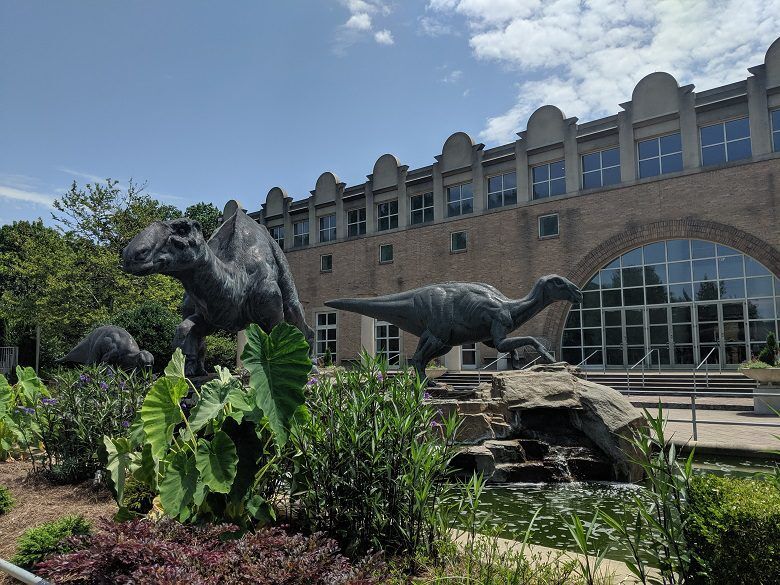 If you're looking for dinosaurs, culture, and hands-on science experiments in Atlanta, then Fernbank Museum of Natural History is the place for you! You'll have seen some posts about Fernbank on my blog before, so I thought it's time to give you an in-depth guide to visiting this fun museum.
About Fernbank Museum of Natural History
Fernbank got its start in the 1800s when Emily Harrison preserved 65 acres of forest in the middle of Atlanta for conservation work and science education. Her favorite part of this forest was a creek bank covered with ferns, and so she called the area "Fernbank."
In 1939, Harrison and Dr. Woolford Baker, a biologist at Emory University, established Fernbank as a nonprofit organization, and in 1992 Fernbank Museum of Natural History officially opened to the public.
Since opening its doors, Fernbank Museum has won many awards, from Best Museum in Atlanta to Top 10 Museum for Dinosaurs in the World.
Explore Fernbank Museum
Check Out the Permanent Exhibits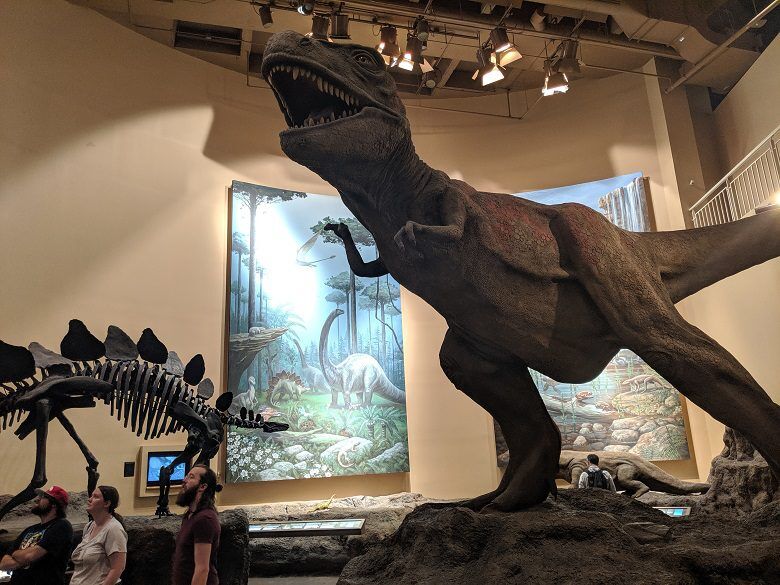 Fernbank's permanent exhibits cover dinosaurs, fossils, and the natural history of Georgia. You're greeted at the front of the Museum in Dinosaur Plaza by bronze recreations of dinosaurs. Filling the Museum's Great Hall is the Giants of the Mesozoic exhibit where you can stand at the feet of the world's largest dinosaurs and find fossil casts in the rockwork.
A Walk Through Time in Georgia lets you see the natural history of Georgia through lifelike geographic regions and historic re-creations. The Reflections of Culture exhibit displays photographs, costumes, jewelry, footwear, headdresses, and masks to help you learn about different cultures around the world.
Conveyed in Clay: Stories from St. Catherines Island explores how Native Americans adapted to changes through the evolution of their pottery. World of Shells exhibits an array of shells collected from the Georgia coast and elsewhere throughout the world. And over in Curator's Corner, items from Fernbank's permanent collection are highlighted.
Explore the Special Exhibits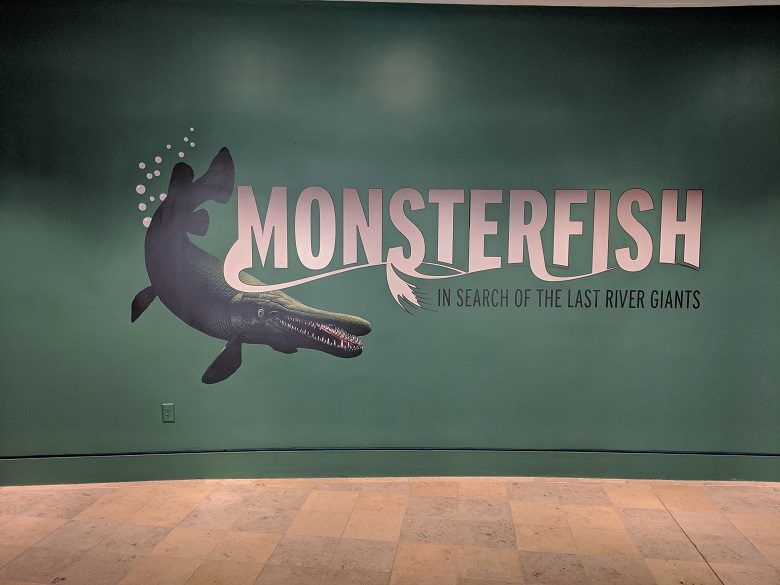 Visiting Fernbank Museum isn't always about the dinosaurs. There's always something new to discover with Fernbank's rotating special exhibits.
You can expect fun exhibits like David Rogers' Big Bugs, larger-than-life creations of bugs and insects displayed throughout WildWoods; Monster Fish: In Search of the Last River Giants, a series of videos and hands-on interactive activities surrounding giant and bizarre species of freshwater fish; and Fantastic Forces, a hands-on exhibit that explores the science of combustion, aerodynamics, plate tectonics, and more.
See a Movie at the Giant Screen Theater
Fernbank's Giant Screen Theater provides an immersive experience for a rotating list of movies in both 2D and 3D. You can expect films covering an array of subjects, like Superpower Dogs, following the life-saving bravery of the world's working dogs; Apollo 11: First Steps Edition, celebrating the 50th anniversary of the Apollo 11 moon landing; and my favorite, Great Bear Rainforest, taking a look at the vibrant ecosystem that is home to the rare Spirit Bear.
Wander through WildWoods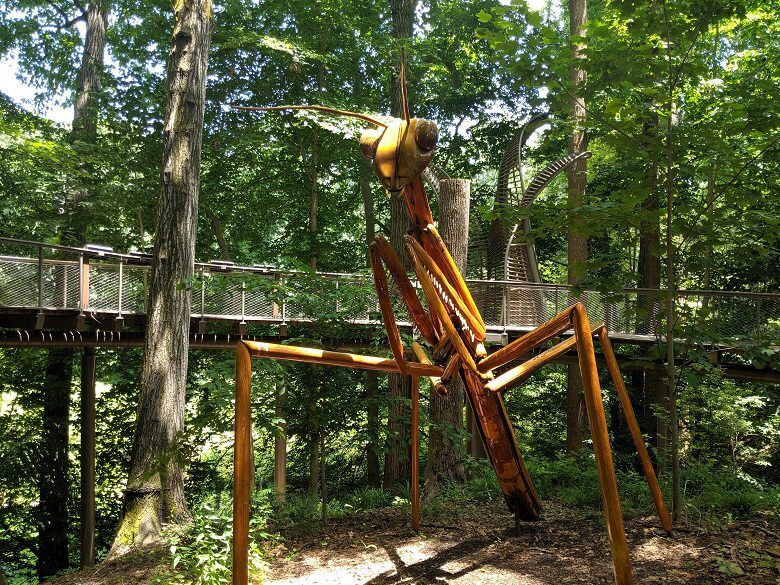 WildWoods is Fernbank's outdoor exhibit that takes you on a walkway through the trees. You'll find the Nature Gallery full of art and games,  the Nature Stories exhibit for kids, and the Adventure Outpost for tweens. (Note: If you're an adult and you want to play on the Adventure Outpost, because it's as awesome as it looks, come back during an adult night event like Fernbank After Dark where you're free to play!)
Discover Fernbank Forest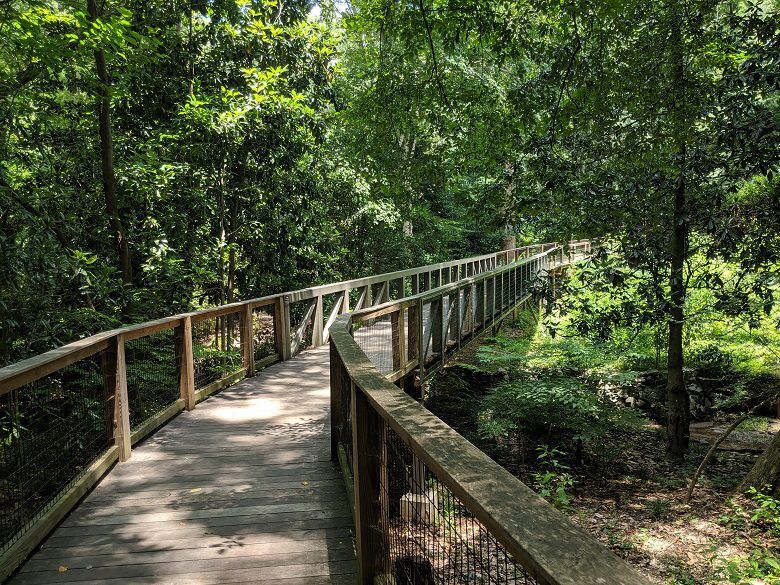 Fernbank Forest is 2 miles of walking paths in that 65 acres of land Emily Harrison preserved way back when. You can take a self-guided tour through the old-growth forest, accessed through WildWoods.
You'll have a lot to take in at Fernbank, so I recommend exploring the indoor exhibits first, then tackling the outdoor exhibits and the Georgia summer heat before coming back in to cool off while watching a movie on the Giant Screen.
Things To Do at Fernbank Museum
Attend Special Events and Programs
Fernbank Museum offers a ton of special programs throughout the year. These are things like story telling, animal encounters, bird walks, themed family days, and adult nights.
Shop at the Museum Store
The Fernbank Museum store has more than 3,000 unique and educational gifts for children and adults. The store is open during all Museum hours.
Eat at The Fernbank Café
The Fernbank Café offers delicious sandwiches, soups, pizzas, and kids' meals in a dining area on the lower level. The Fernbank Café is open daily from 11 a.m. to 4 p.m.
Visiting Fernbank Museum of Natural History
Location: 767 Clifton Rd, Atlanta, GA 30307
Admission: Museum tickets include access to all exhibits, WildWoods, Fernbank Forest, and a movie in the Giant Screen Theater. Tickets cost $25.95 for adults, $24.95 for seniors 65+, and $23.95 for children ages 3-12.
Additional movies cost $5 each.
You can get discounted admission using the Atlanta CityPASS.
Hours: Fernbank Museum is open daily 10 a.m. to 5 p.m. Fernbank Forest closes at 4 p.m. Some movies have a last showtime of 5 p.m. The museum is also open on select nights for adult events. The museum is closed Thanksgiving Day and Christmas Day.
Parking: Onsite parking at Fernbank is absolutely free!
Fernbank Museum of Natural History FAQ
How long does it take to go through Fernbank Museum?

For most visitors, it should take a minimum of 1.5 hours to go through the Fernbank Museum of Natural History. If you want a more in-depth visit, you should allow for more time. If you want to see an IMAX movie, allow for an extra hour in addition to your museum time.

Is the Fernbank Museum free?

The Fernbank Museum of Natural History is not free. Admission to the Fernbank Museum costs $24.95 for adults, $23.95 for seniors 65+, and $22.95 for children ages 3-12.

The similarly named but separate Fernbank Science Center is free. Don't get these two museums confused!

Does the Fernbank Museum have food?

The Fernbank Museum has a restaurant called the Fernbank Café that offers a selection of sandwiches, hot dogs, pizza, chips, and drinks with indoor and outdoor seating options.
More Things Happening at Fernbank Museum
Where to Stay in Atlanta
Find the perfect place to rest your head on your visit to Atlanta, from the top rated accommodations to unique stays you can't get anywhere else.
---
Ready to visit Atlanta, Georgia? Plan your trip with these tips.
---
Cheers!
Paige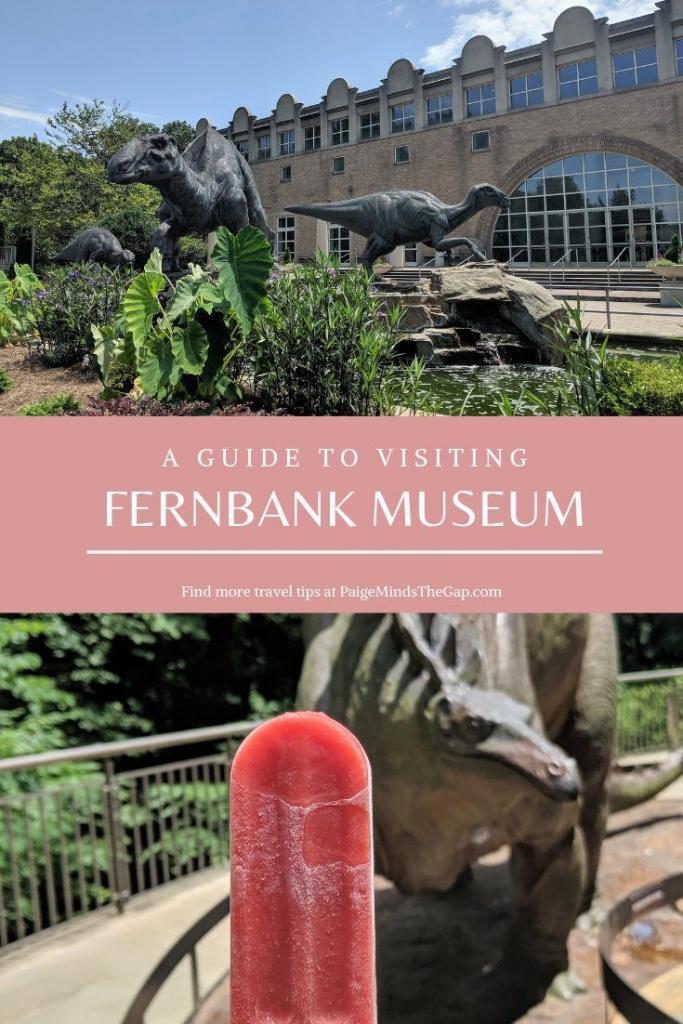 Have you visited Fernbank Museum of Natural History? Let me know in the comments!