An enchanting Southern city, Savannah is the perfect place for a honeymoon getaway! Find out the most romantic places to stay, things to do, and places to eat in this guide to taking a honeymoon in Savannah, Georgia.
A week-long getaway in Savannah, Georgia is plenty of time to unwind from a hectic wedding and enjoy your honeymoon together.
With this itinerary, you'll find that we packed a lot in, but our days weren't completely filled up. We still had plenty of time to relax in the hotel room, watch a movie together, and chill by the pool.
Romantic Things to See and Do on a Savannah Honeymoon
With its cobblestone streets, charming parks, and numerous activities, Savannah has something to offer every newlywed couple. Check out these top romantic things to do in Savannah.
1. Wormsloe Historic Site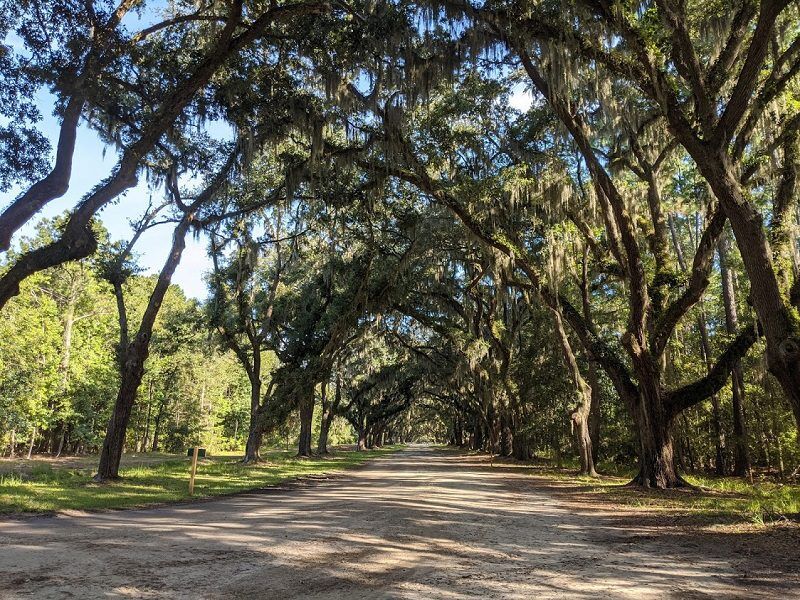 Most visitors to Savannah know about Wormsloe Historic Site for its breathtaking avenue lined by live oaks dripping in Spanish moss. It's probably one of the most popular things to do in Savannah.
This gorgeous path leads to the tabby ruins from the colonial estate of Noble Jones, the oldest standing structure in Savannah. The historic site has a small museum detailing Jones' life and displaying artifacts found at Wormsloe.
There are also 7 miles of nature trails running past the tabby ruins, along the marsh, and through the Colonial Life Area where costumed interpreters demonstrate tools from colonial Georgia.
Click here for Savannah day tours that include Wormsloe Historic Site.
2. Bonaventure Cemetery
Bonaventure Cemetery became famous thanks to the 1994 novel Midnight in the Garden of Good and Evil and its iconic cover featuring the Bird Girl statue. Bird Girl has since moved to the Telfair Museums, but the cemetery still has plenty of other famous statues.
For instance, the grave of Little Gracie has an incredible marble statue that was carved in her likeness. Visiting Bonaventure Cemetery is also a great way to learn about notable figures in Savannah's history buried here, like singer Johnny Mercer and governor Edward Telfair.
Bonaventure Cemetery is free to enter and explore yourself, or you can book a guided tour of the cemetery.
3. Forsyth Park
The 30-acre Forsyth Park is famous for its picturesque fountain that was modeled after the fountains at the Place de la Concorde in Paris. Forsyth Park is a romantic place for a stroll or a picnic for two.
The park has basketball courts, tennis courts, playgrounds, sprawling green fields, and local artisans, and it plays host to a weekly Saturday Farmer's Market as well as top Savannah festivals and events throughout the year.
Forsyth Park is always open and is free to visit!
4. Jones Street
East and West Jones Street are considered the prettiest street in Savannah. With its red brick-lined street, shady trees dripping in Spanish moss, and mid-19th-century Greek Revival homes, I'd have to agree!
Jones Street is always free and open to explore, just be respectful of the residents who live there.
5. Mercer Williams House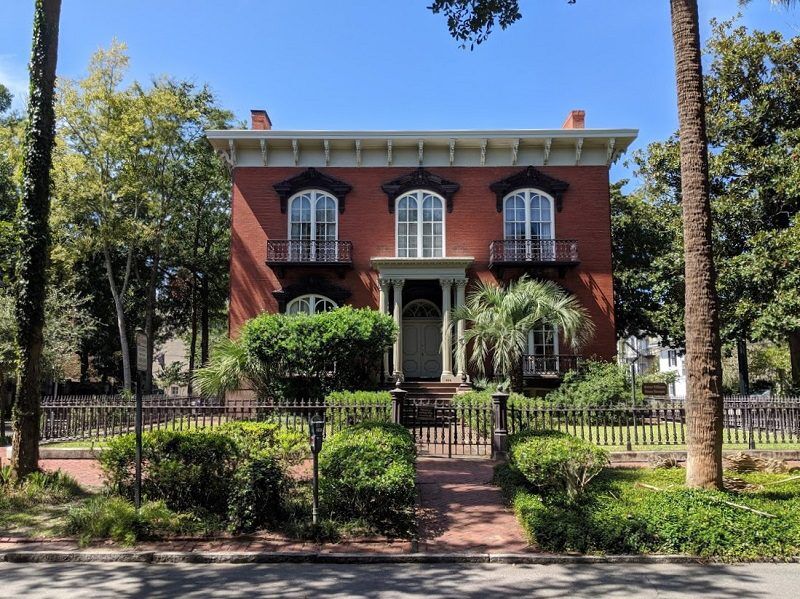 If you haven't read Midnight in the Garden of Good and Evil yet, or at least watched the movie adaptation, make sure you do that before visiting the Mercer Williams House! (I really recommend doing both, reading the book first and then watching the movie, so that you get the full story.)
The home was built for the great-grandfather of Savannah songwriter Johnny Mercer, but no Mercer actually ever lived in the house. The home's fame comes from Jim Williams, a successful antiques dealer and historic preservationist, who was tried for the murder of his lover Danny Hansford in 1981.
But the house museum isn't about that; the museum explores Williams' restoration of the house and his private collection of antique artwork and furniture.
The tour only covers the first floor, so if you want to see more of the home, you'll have to watch the movie, which was filmed there.
6. The Georgia Tasting Room Wine Tasting
The Georgia Tasting Room at City Market is a cute little wine shop with traditional, seasonal, and local wines. They even have beer, moonshine, and mead, and they offer wine slushies and moonshine slushies.
I highly recommend doing a wine tasting where you can choose six different wines from a long list to try.
7-9. Telfair Museums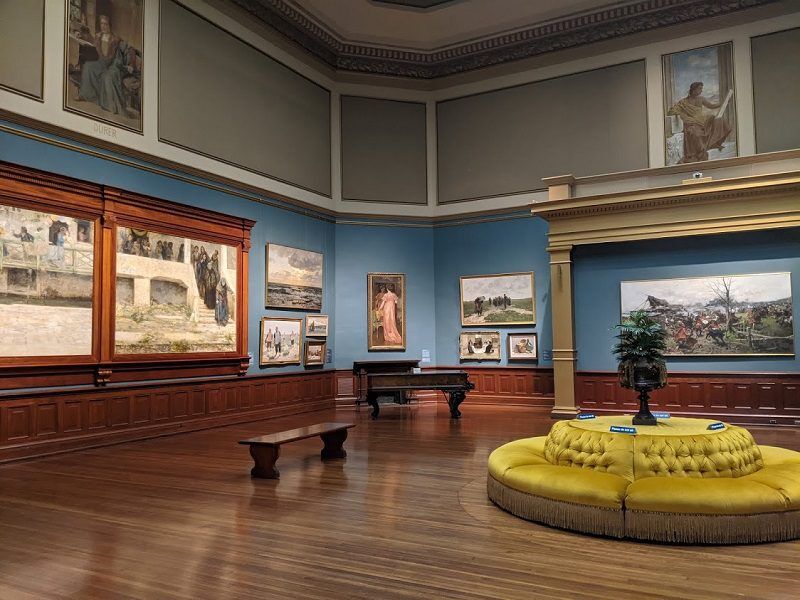 Telfair Museums was the first public art museum in the Southern U.S.
Today, it is comprised of three museums: the contemporary Jepson Center for the Arts; the 19th century Telfair Academy; and the 19th century Owens-Thomas House & Slave Quarters.
Read more about each museum below.
Jepson Center
The Jepson Center showcases contemporary art, technology-based art, an interactive children's museum space, and rotating exhibits from modern and contemporary artists.
Telfair Academy
Telfair Academy is housed in the former 19th century mansion of Alexander Telfair. It opened to the public in 1886 as the first public art museum in the South and the first museum in the U.S. founded by a woman.
The museum houses 19th- and 20th-century American and European art, three 19th century period rooms, and the famous Bird Girl statue from the cover of Midnight in the Garden of Good and Evil.
Owens-Thomas House & Slave Quarters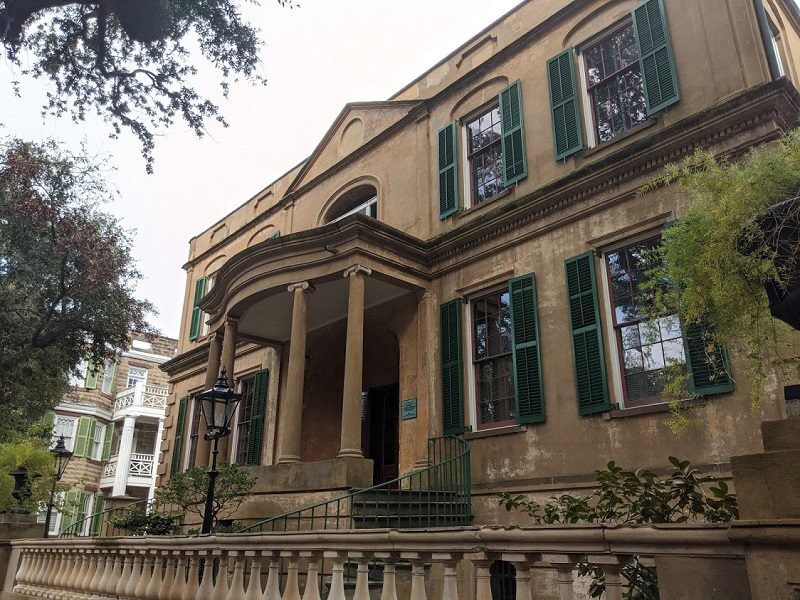 The Owens-Thomas House & Slave Quarters is a 19th century Regency style mansion on Oglethorpe Square. Tours of the home explore the complicated relationships between the wealthy homeowners and their enslaved servants.
10. Cathedral of St. John the Baptist
The Cathedral of St. John the Baptist is the seat of the diocese of Savannah. Its French Gothic architecture makes it a Savannah marvel and a must-see in the city.
The Cathedral of St. John the Baptist is open for self-guided tours.
11. Colonial Park Cemetery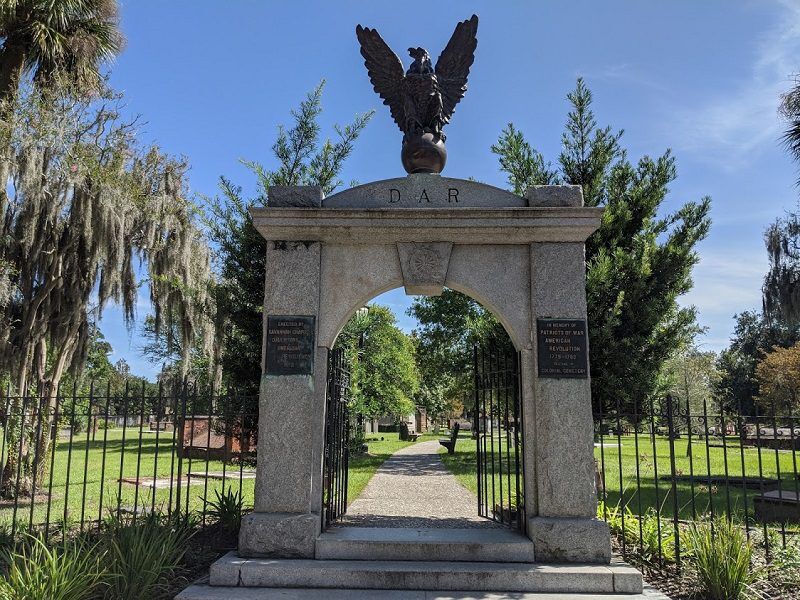 The Colonial Park Cemetery was established in 1750, when Savannah was the capital of the British Province of Georgia. This was Savannah's primary cemetery for 103 years.
You'll find plenty of notable names on these graves, like Button Gwinnett, a signer of the Declaration of Independence; James Habersham, acting royal governor of the Province of Georgia; John Habersham, member of the Continental Congress; and Joseph Habersham, Postmaster General under three presidents.
Colonial Park Cemetery is open daily and is free to visit.
12. River Street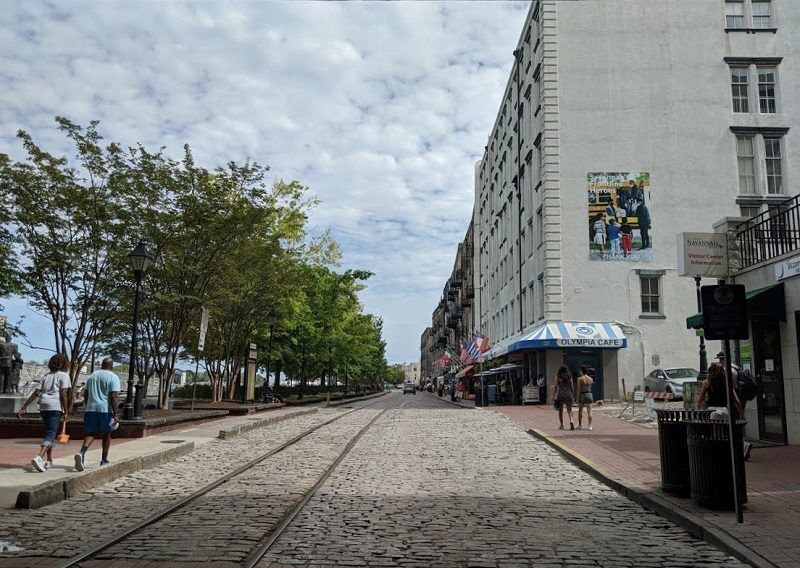 The brick-lined road of Savannah's River Street used to be home to cotton warehouses. Now, the street is full of fun restaurants, bars, souvenir shops, and boutiques.
River Street also has lots of historical monuments and statues to explore. This is the perfect spot to sit back and relax as you watch the riverboats and cargo ships traverse the Savannah River.
River Street is always open and free to explore.
13. Savannah Bee Company Mead Tasting
Savannah Bee Company is a boutique shop offering local and international specialty honey, beauty products, and gifts. Their River Street location even has a fantastic mead bar that offers mead tastings.
Let me tell you why a mead tasting at Savannah Bee Company is perfect for a honeymoon: the "honeymoon" was traditionally the time after the wedding when the couple would go off for a month and the bride's father would give the groom all the mead (alcohol made from honey) he wanted. The "honey" comes from the mead and the "moon" comes from the calendar month.
So it's very appropriate to do a mead tasting on your honeymoon!
14. Historic Savannah Theatre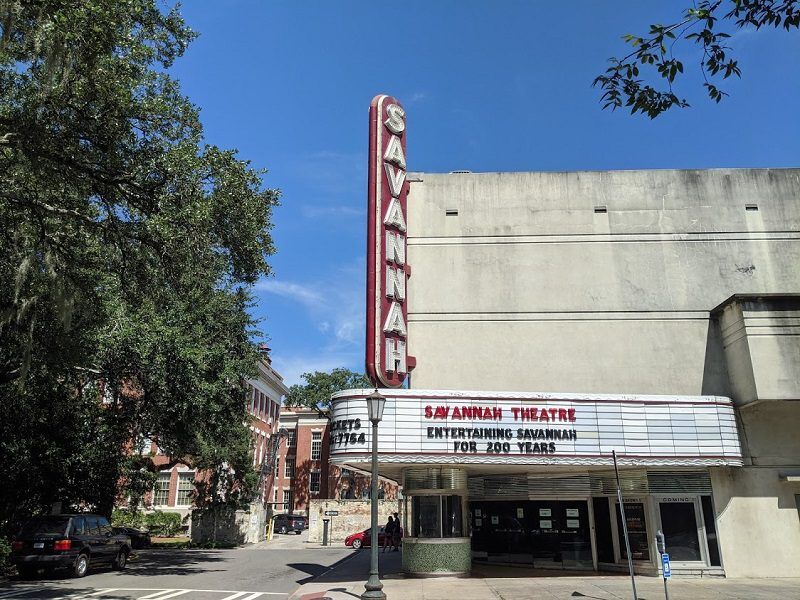 The Historic Savannah Theatre on Chippewa Square is one of the United States' oldest continually-operating theatres. The theatre has been both a movie theater and a live performance venue hosting many notable players.
The theatre continues to host a variety of shows.
15. Old Fort Jackson Historic Site
Located on the Savannah River just a few minutes from Downtown Savannah, Old Fort Jackson is one of the oldest brick forts on the East Coast.
The fort holds daily demonstrations of military drills and dress common to the fort as well as cannon firings.
The highlight of our visit was watching them fire a cannon over the bow of a riverboat cruise!
16. The Book Lady Bookstore
The independently owned The Book Lady Bookstore is a pretty hidden popular place. Located in the lower level of an East Liberty Street home, this bookstore is packed wall-to-wall with books crammed in every open space.
You can find new, used, and rare books here. It's a book lover's dream!
17. Beach Day at Tybee Island
Tybee Island is a small barrier island not far from Savannah that has been a popular vacation spot since the late 1800s.
A romantic beach day is a great addition to your Savannah honeymoon itinerary. Tybee Island has five public beaches, local museums, and plenty of great restaurants.
Tybee Island is about a 30 minute drive from Savannah.
18. Savannah City Market
Savannah's City Market is four block of open-air market that has been operating since the 1700s. At City Market, you'll find local shopping, dining, bars, and art galleries.
It's always free to stroll along the beautiful shaded courtyard between Ellis Square and Franklin Square.
19. Pedal Pub Crawl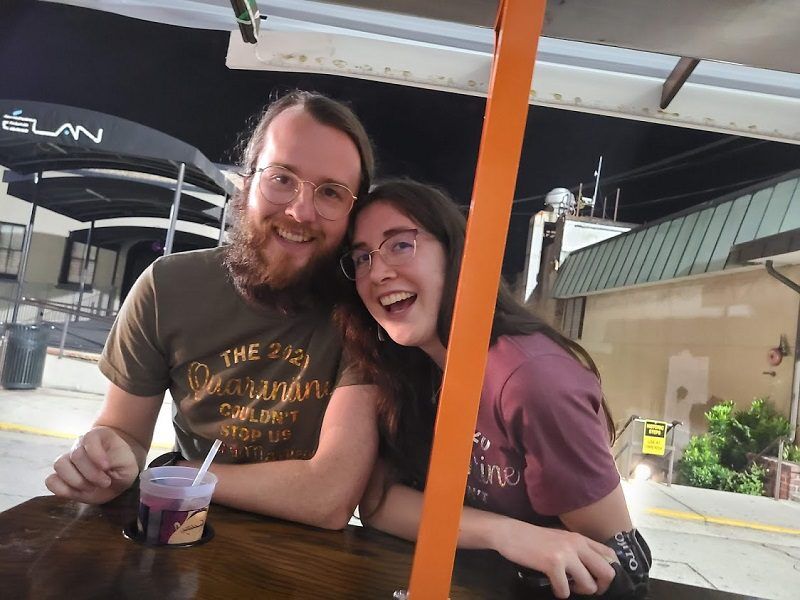 Hop on a pedal-powered, 15-person bike to explore some of the best bars, pubs, and clubs in Savannah.
There are plenty of companies to choose from, but I recommend going with Savannah Slow Ride. They offer 2-hour long rides, and you can choose from a classic pub crawl, a history tour, or a boos cruise ghost tour.
20. Ghost Tour
You can't go to Savannah without doing a ghost tour! That's because Savannah is one of the most haunted cities in America.
We did the Boos Cruise with Savannah Slow Ride on our romantic Savannah honeymoon. But my favorite Savannah ghost tour still has to be the Hearse Ghost Tour, which I did a few years ago with my friend.
On the Hearse Ghost Tour, you ride around in a real hearse that has an open top and swivel seats. You cruise around Savannah and hear tales from the city's haunted past. And the tour guides are a lot of fun!
Hearse Ghost Tours last for about 75-90 minutes.
Other great ghost tour options include a Spooky Savannah Haunted Pub Crawl or a History & Haunts Candlelit Walking Ghost Tour.
21. The Globe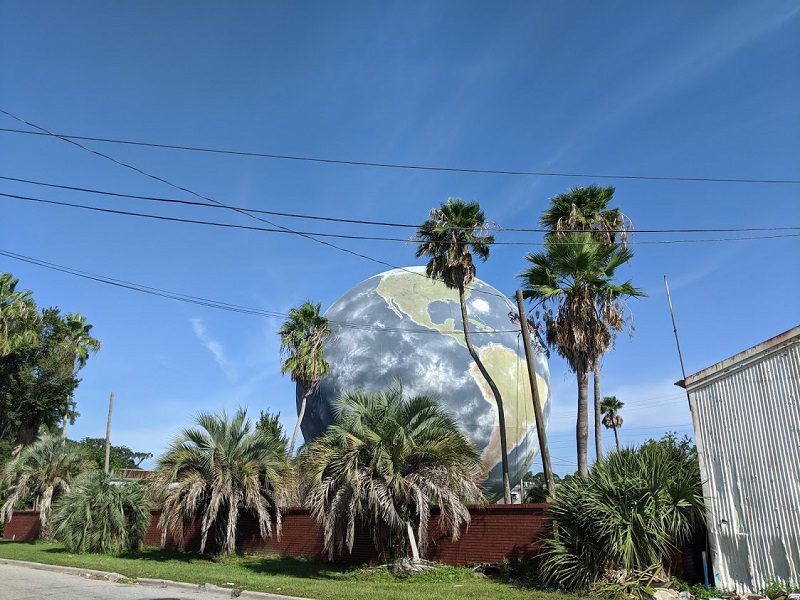 The iconic globe in Savannah is a former natural gas storage tank built in the 1950s. It was painted to look like a standard desktop globe of the Earth a couple years later and has since been repainted to look like Earth seen from space and even includes Hurricane Floyd heading for Savannah. The globe has its own planet Earth/moon mailbox, too!
The land around the globe is currently being developed, and the new site plans to incorporate the globe in the new property. Yay for preserving this weird Savannah relic!
Top Savannah Tours
With so much to see, Savannah can be overwhelming for any first-time traveler. To take some of the stress out of planning your visit, opt for a guided tour! Check out this list of the top Savannah tours to help you make the most of your time in this gorgeous Southern city.
Is this your first visit to Savannah? Check out this Savannah First-Time's Guide ebook by a Savannah local. 
Best Places to Eat and Drink On Your Romantic Honeymoon in Savannah
Whether you're looking for a romantic dinner, a quick bite to-go to eat in a historic square, a to-go drink while you explore, or a night out dancing, there are plenty of options for your Savannah honeymoon. Check out these top Savannah restaurants and bars.
Top Savannah Restaurants
Top Savannah Bars
Where to Stay for Your Romantic Savannah Honeymoon
An important thing to figure out for your Savannah honeymoon is where to stay. Savannah has so many romantic accommodations that you can easily fall in love with.
Kevin and I stayed at the Hyatt Regency Savannah overlooking River Street and the Savannah River. We upgraded for a balcony room overlooking the river; it was a lot of fun watching the ships and riverboats come in and out.
The hotel has a pool, fitness center, on-site restaurant, and direct access to River Street. It's the perfect location, only steps away from many of Savannah's top sights. Read reviews for the Hyatt Regency Savannah here.
If you're looking for more of a cozy B&B vibe, you can't go wrong with the Hamilton-Turner Inn, an 1873 mansion on Lafayette Square; or the Kehoe House, a restored 1892 Renaissance Revival mansion.
More Places to Stay in Savannah
Find the perfect place to rest your head on your visit to Savannah, from the top rated accommodations to unique stays you can't get anywhere else.
Start Planning Your Romantic Savannah Honeymoon!
Start planning your one-of-a-kind honeymoon getaway to Savannah! I hope this handy guide to this eclectic city helps you discover all that Savannah has to offer.
Romantic Savannah Honeymoon Map
Want to easily plan your romantic honeymoon in Savannah, Georgia? Check out the map below for all the romantic locations listed in this post.
Our COVID Honeymoon
We did it, y'all! We managed to get married in the midst of a pandemic! And since our international honeymoon to Belize had to be postponed, we decided on Savannah for our domestic honeymoon.
We had such a fun time enjoying all the most romantic things to do in Savannah, and I'm exciting to share this itinerary with you!
I hope this helps you plan your own romantic getaway to Savannah, Georgia. Happy travels!
More Savannah, GA Itineraries
Check out more fun things to do in Savannah, Georgia with the help of these itineraries:
---
Ready to honeymoon in Savannah, Georgia? Plan your trip with these tips.
---
Cheers!
Paige
Have you spent a romantic honeymoon in Savannah, Georgia? Let me know in the comments!