Lions and tigers and bears! Oh yay! Travel to Pine Mountain, Georgia for an animal encounter adventure at Wild Animal Safari. Read on for tales of our wild time!
Wild Animal Safari is an exciting adventure! You can get up-close with more than 65 different types of exotic animals at this drive-thru safari park in Pine Mountain, Georgia.
Learn how to have an amazing time at Pine Mountain's Wild Animal Safari park in this guide.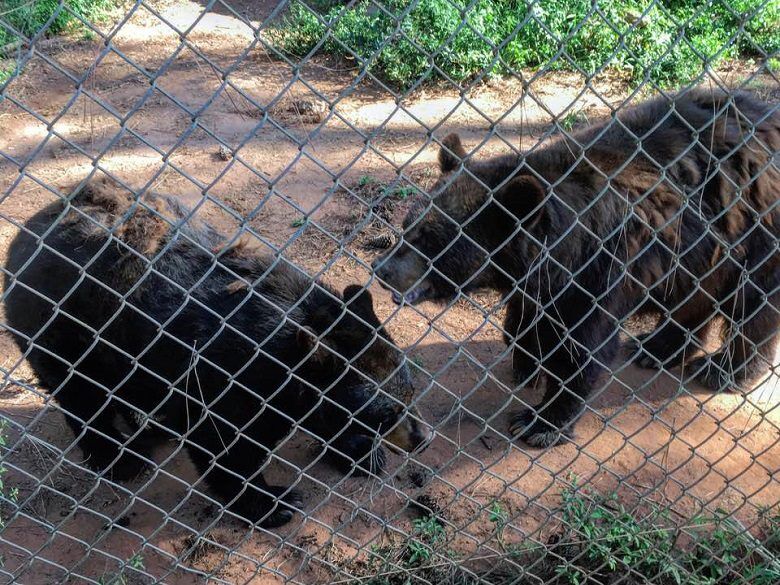 About Wild Animal Safari
The Wild Animal Safari park in Pine Mountain, Georgia has over 450 animals on 300 acres. Visitors can see, touch, and feed hundreds of exotic animals.
The Wild Animal Safari park offers a drive-thru and a walk-thru portion. We got to experience both sections of the park.
Wild Animal Safari Drive-Thru
We began our adventure with the drive-thru.
Kevin was very brave risking his nice car against the horns of the bison that immediately stuck their noses to our window in search of food.
The park also offers vans for rental and a seasonal guided bus tour so that you don't have to risk you car if you don't want to.
3.5 miles of paved road wind through 200 acres of natural environment housing giraffes, bison, nilgai, antelope, watusi, elk, zebras, and more. Most animals weren't too interested in us once they found out that we didn't have any food for them.
There were a few particularly tense moments when one lumbering longhorn didn't seem to be minding his horns as he walked close to the car, and when a few piglets and fawn made a dash to the road in front of us.
The speed limit is a mellow 5 miles per hour, but you still have to be mindful about small animals that might be hard to see lingering in front of your car.
As we looped around to the end of the path, the bison enclosed on us, refusing to let us exit without them being fed. But Kevin masterfully avoided their advances and we made it through the gate with not a single scratch on the car.
Wild Animal Safari Walk-About
When we exited the drive-thru portion of the safari, we were still on the search for bears. While our drive alongside some hoofed friends was enjoyable, we were really there to see the two black bears. And we conveniently made it through the drive-thru in just enough time to head over to the walk-about portion to see the baby white tiger.
We took a moment to ooh and awe at this ferocious little kitty, and then we were off to find the bears!
And there one stood watching me as I dashed up the walkway toward his cage. He was so close, I could almost touch him! My bear friend paced and I followed, chatting him up. Then he posed for a selfie with me.
The other bear was asleep, so after spending a while with the first bear, I pulled myself away to go look at some other animals for a while.
More like a traditional zoo, the walk-about has bears, monkeys, lemurs, various snakes and lizards, birds, wolves, farm animals, and even a liger. We also got to see some Coatimundis, which we had previously seen in Costa Rica.
Eventually, we looped back around to the bears, of course.
Our second bear friend was awake now and I paced and chatted with him. But the day couldn't last forever and we finally had to leave and wave goodbye to my new best bear friends. But of course not without one last bear selfie with my second bear friend.
Hotels Near Wild Animal Safari in Pine Mountain, GA
Looking to stay near Wild Animal Safari on your visit to Pine Mountain, Georgia? Here are the closest hotels to the park:
Where to Stay in Pine Mountain, Georgia
Find the perfect place to rest your head on your visit to Pine Mountain, from the top rated accommodations to unique stays you can't get anywhere else.
Final Thoughts on Visiting Wild Animal Safari in Pine Mountain
Every animal encounter is a memorable one. At Wild Animal Safari near Pine Mountain, Georgia, you can get up-close and personal with exotic animals.
From the drive-thru where you can feed the animals from your car window to the walk-thru section with more traditional zoo-like setups, you can get your fill of bear selfies, and more.
But don't forget to stay nearby in one of the nearby hotels for a prolonged, wild experience!
So, come break loose and explore the wonders of Wild Animal Safari for the adventure of a lifetime — and don't forget to take lots of bear selfies along the way!
Nearby Activities
Looking for more things to do near Wild Animal Safari? Here are a few ideas:
---
Ready to visit Pine Mountain, Georgia? Plan your trip with these tips.
---
Cheers!
Paige
Have you been to the Wild Animal Safari in Pine Mountain, Georgia? Tell me your wild adventures below!