Some of the links in this post are affiliate links. This means if you click on the link and purchase an item, I will receive a commission at no extra cost to you. All opinions are my own.
Planning a short weekend getaway to Atlanta, Georgia? You can see plenty of the city's top attractions even in just a couple days! Check out this perfect 2 days in Atlanta travel itinerary to find the best things to do, places to eat, and places to stay.
There are so many amazing things to do in Atlanta that planning a short trip can be difficult! You obviously can't see it all in just a weekend trip, but I've put together the perfect 2 day itinerary that will give you a taste of what Atlanta has to offer. After this, you'll definitely want to return!
Before you go to the article, let me give you this quick list with the most popular activities in Atlanta:
Top 5 popular tours in Atlanta
See the highlights of Atlanta on this bus tour that includes stops at key sites such as the Martin Luther King Jr. National Historical Park, Centennial Olympic Park and others
Feel the thrill of skydiving without the stress in this indoor skydiving simulation with an accredited instructor
Explore the history of the world's most famous beverage brand at the World of Coca-Cola—the dynamic, multimedia home of Coke's secret formula with this ticket
Luxuriate in Atlanta's thriving foodie scene on a gourmet walking tour with a small group and try a variety of cuisines as you eat your way through a 4-course meal and try craft alcohol pairings over the duration of the tour
Atlanta is known as 'the Black Mecca' for its wealth of African-American culture and history — and this small-group tour offers a comprehensive introduction to the city's key neighborhoods, landmarks, and more
With all the exciting things to do in Atlanta, you'll have no problem planning a weekend getaway to the city.
There are so many fun ways to spend a couple days in Atlanta!
| Tip
Experience Atlanta's must-see tourist attractions with this exciting Atlanta CityPASS and visit them in any order, whenever it's convenient for you!
2 Perfect Days in Atlanta Travel Itinerary
Atlanta Day One
Have Breakfast at the Atlanta Breakfast Club
A perfect day in Atlanta starts with a perfect breakfast. The Atlanta Breakfast Club serves classic Southern comfort dishes like chicken and waffles, peach cobbler French toast, smoked bacon and scrambled eggs, and breakfast tacos.
Their prices are typically just under $10, making this a great budget-friendly breakfast spot.
Take in the Views from the Westin Peachtree Plaza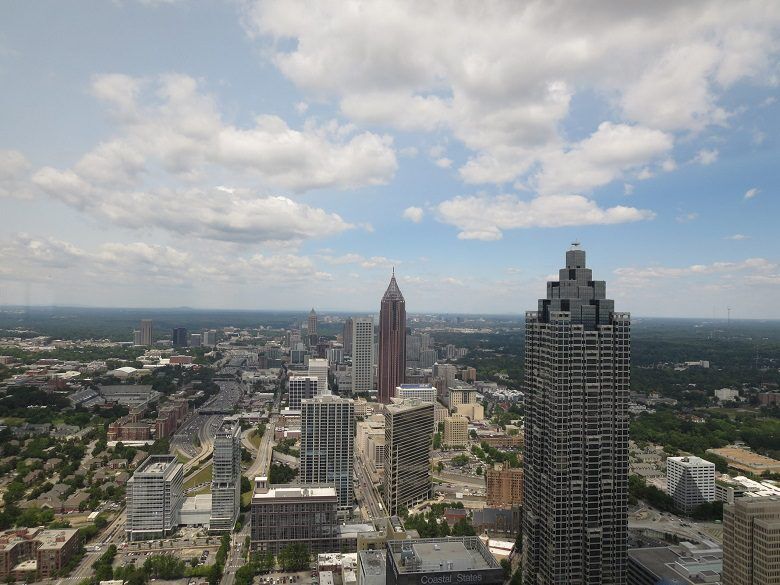 I fully believe that every city should be viewed from above as well as from below. So let's start this Atlanta itinerary off at the top!
The Westin Peachtree Plaza is an iconic Atlanta hotel with 73-stories and a mirror-glass façade. Take the glass elevators up to Level 72 to The View at the Sun Dial Restaurant.
From this high-up observation deck, you can take in the 360 panorama view of Atlanta.
Explore Centennial Olympic Park
Centennial Olympic Park is a 21-acre public park built as part of the city improvements for the Centennial 1996 Summer Olympics. The engraved bricks represent all the donors who paid for the park; my grandparents actually have a brick in the park.
The park has playgrounds, a fountain, paved pathways, and a concession stand. This is the center of Downtown Atlanta's most popular attractions like the Georgia Aquarium, World of Coca-Cola, and the National Center for Civil and Human Rights.
Centennial Olympic Park is free to visit. In the summer, you can find families playing the the Fountain of Rings.
Related Tour: Atlanta Downtown Segway Tour
Take the World of Coca-Cola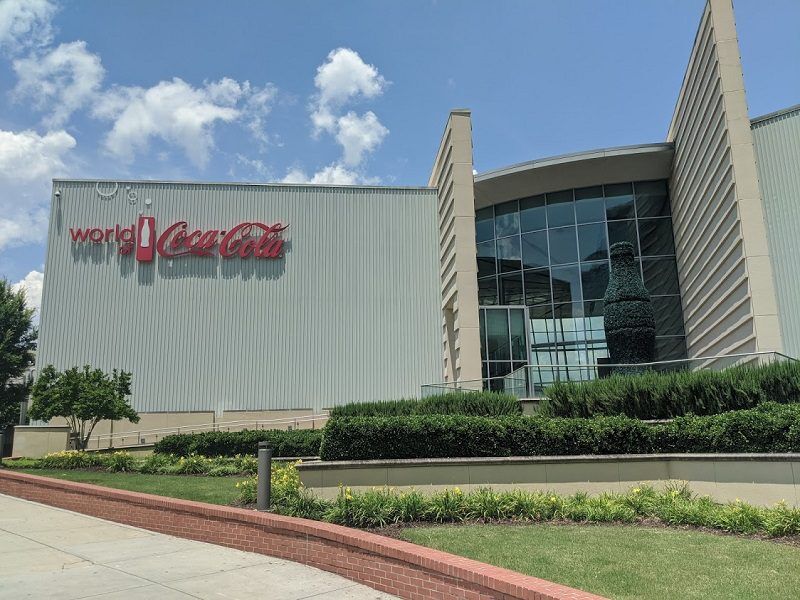 The World of Coca-Cola gives you an inside look at the history of Atlanta's most famous beverage. You get to see tons of Coca-Cola memorabilia, take a picture with the Coca-Cola Polar Bear, and learn about the drink's history from its pharmaceutical beginnings to its status as a soda giant today.
At the end of your tour, you'll even get to taste Coca-Cola drinks from around the world! The tasting room is one of the best parts of visiting this museum.
You can get discounted admission by using the Atlanta CityPASS! This attraction pass also gets you discounts at 4 other top attractions in Atlanta, some of which are in this itinerary, helping you save a lot of money.
Eat Lunch at The Food Shoppe
The Food Shoppe is a great counter-serve restaurant within walking distance from Centennial Olympic Park and the surrounding tourist sights. On the menu, you'll find Creole and Cajun classics like shrimp jambalaya, gumbo, shrimp and grits, and red beans and rice.
Their famous Walk and Eat Bowls are perfect grab-and-go meals for your busy day in Atlanta.
Dive into the Georgia Aquarium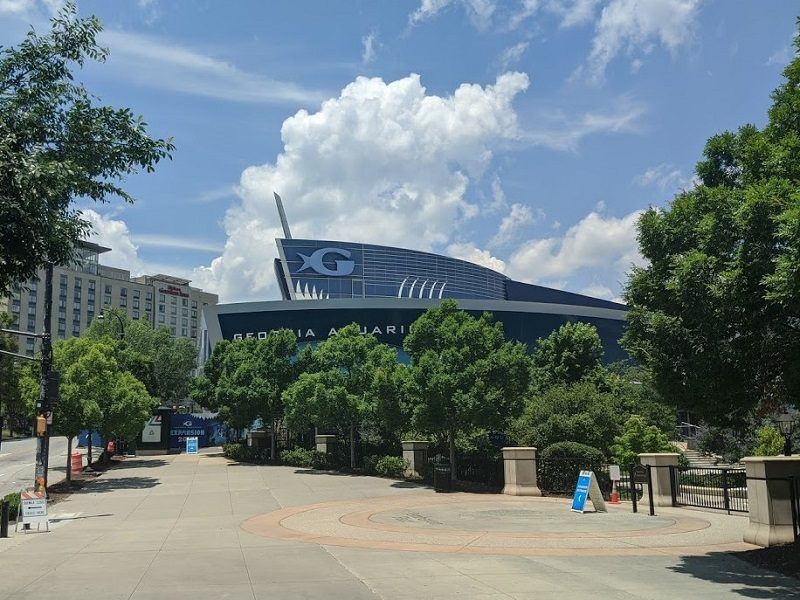 The Georgia Aquarium is one of the world's largest aquariums. This marine giant is home to hundreds of aquatic species in more than 10 million gallons of water. They're known for their exhibits containing California Sea Lions, Atlantic Bottlenose Dolphins, Beluga Whales, and Whale Sharks.
When you visit the Aquarium, you'll get to see the largest indoor aquatic habitat in the world and one of the world's largest viewing windows in their Ocean Voyager exhibit. This is where you can view the Aquarium's Whale Sharks and Manta Rays and even SCUBA dive with them!
You can get discounted tickets to the Georgia Aquarium by using the Atlanta CityPASS.
Nearby Attractions
If you find yourself with some extra time on day one to explore more, check out some nearby attractions. The World of Coca-Cola, the National Center for Civil and Human Rights, and the College Football Hall of Fame are located within walking distance of today's itinerary. These attractions are also discounted with the Atlanta CityPASS.
Read more: How the Atlanta CityPASS Can Save You Lots of Money
Eat Dinner at Meehan's Public House
Meehan's Public House is an authentic Irish pub and a perfect place to grab a bite to eat after a long day of exploring Atlanta. Try their classic Irish pub fare, like the fish and chips or shepherd's pie.
You'll also want to grab a pint and enjoy some late night fun!
Atlanta Day Two
Eat Breakfast at Grant Park Coffeehouse
Grant Park Coffeehouse is the perfect neighborhood coffeehouse located in Downtown near the GSU campus.
This coffeehouse serves light breakfast fare, sandwiches, in-house-made baked goods, and plenty of coffee.
Visit Zoo Atlanta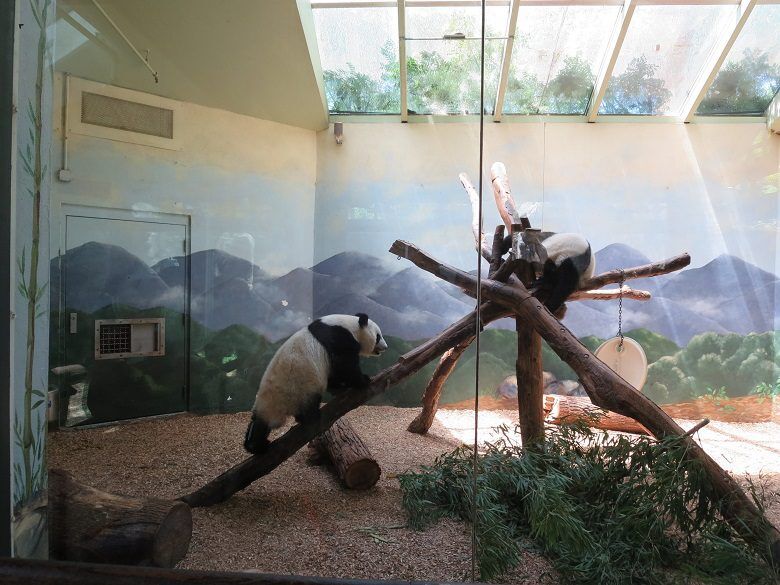 Zoo Atlanta is one of my favorite places in Atlanta. The Zoo houses more than 1,500 animals from 220 different species, so you can expect to spend a lot of your day exploring their exhibits.
At the Zoo, you can see lions, tigers, sun bears, giraffes, orangutans, birds, reptiles, and more. Zoo Atlanta is most known for its Giant Pandas (two adults and two twin cubs) and its gorillas (21 gorillas have been born here since 1988). They've also recently expanded their elephant habitat.
You can get discounted tickets to Zoo Atlanta by using the Atlanta CityPASS.
Photo Opp at the Jackson Street Bridge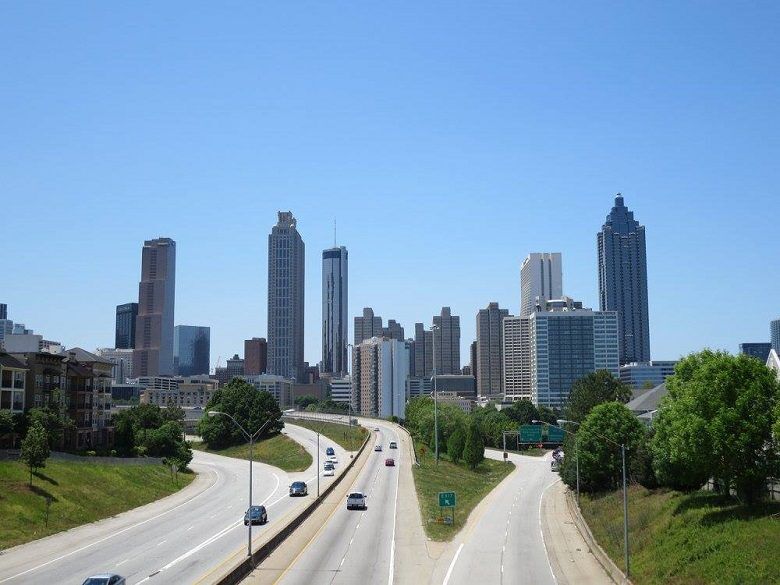 Now known for The Walking Dead promo, Jackson Street Bridge is one of the best spots for the quintessential Atlanta view. The skyscrapers of the Downtown Skyline line up along Peachtree Street in the perfect silhouette.
The bridge is easy to get to and doesn't have a ton of traffic. And best of all, it is absolutely free to get the best picture of Downtown Atlanta. Go ahead and get a selfie at one of the most picture-perfect spots in the city!
Related Tour: The Walking Dead Private Filming Locations Tour
Eat Lunch at Souper Jenny
For lunch, head to Souper Jenny, located at your next attraction — the Atlanta History Center. Souper Jenny has been serving the Atlanta community fresh and delicious food since 1999.
Try their delicious homemade soups or have a fresh and healthy salad or sandwich to refuel you for the day.
Learn the History of Atlanta at the Atlanta History Center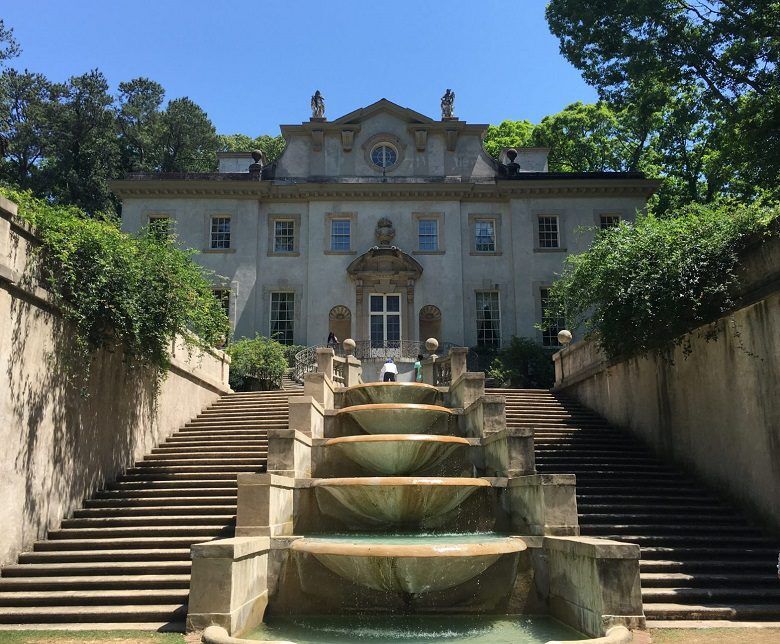 The Atlanta History Center presents exhibits on the people, culture, and history that have shaped the city of Atlanta. The museum's exhibits cover the 1996 Olympics, Atlanta's railroad history, stories of Atlanta, golfer Bobby Jones, Native American history in Georgia, Civil War history, and the cyclorama painting The Battle of Atlanta.
The History Center also has historic buildings on the premises that you can explore. The Smith Family Farm is Atlanta's oldest farmhouse; the Wood Family Cabin explores life dating back to the settlers; and the Swan House depicts Atlanta in the Jazz Age.
The Swan House is one of the most photographed landmarks in Atlanta. You may recognize it as President Snow's mansion in The Hunger Games.
Eat Dinner at Eclipse di Luna
End your day in Atlanta with tapas at Eclipse di Luna. This Buckhead restaurant serves authentic Spanish tapas, an extensive wine list, craft cocktails, and an amazing Sangria.
Where to Stay for a Weekend in Atlanta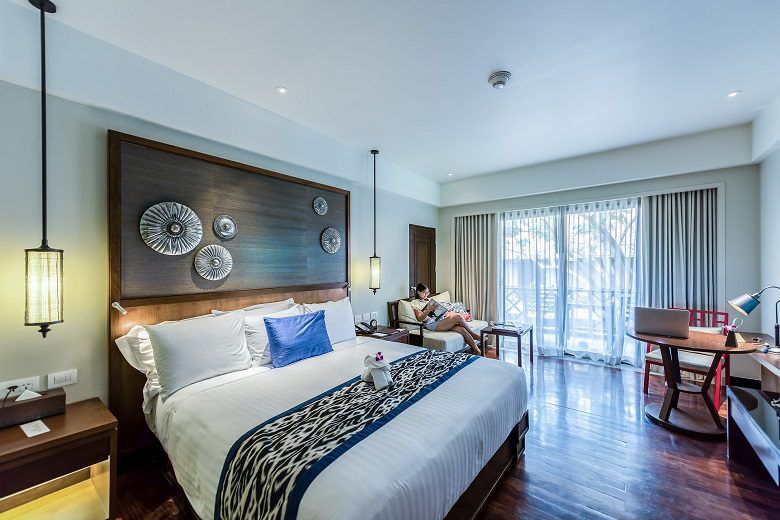 For most travelers to Atlanta, Downtown and Midtown prove to be the most convenient locations thanks to all the nearby sights. For this 2 day itinerary, I recommend staying in Downtown.
Top 5 Downtown Atlanta Hotels
Read more: Top 10 Hotels in Atlanta, Georgia
Mapping Out Your Stay
Still have some time left in Atlanta?
Maybe you flew through all the stops on this itinerary and you still have time left to explore. That's great! I have plenty of other Atlanta resources to help fill your time here. Check out more amazing things to do in Atlanta:
I hope you enjoy your amazing 2 days in Atlanta, Georgia!
---
Ready to visit Atlanta, Georgia? Plan your trip with these tips.
---
Cheers!
Paige
Have you spent 2 days in Atlanta, Georgia? Let me know about your visit in the comments!