Planning a short trip to Chattanooga, Tennessee? You can easily see some of the city's most famous attractions in just a day. Here are three great things to see in Chattanooga if you only have one day.
If you're looking for a great place to escape and explore for a day, Chattanooga, Tennessee is the perfect spot.
From its stunning lookouts to its thriving outdoor and entertainment scenes, this city has something to offer everyone. Whether you're a nature lover or a history buff, you'll find exactly what you're looking for in Chattanooga.
Even if you only have one day in Chattanooga, you can still see a lot of the city's top sights! Follow this guide for the perfect one-day itinerary for your Chattanooga getaway.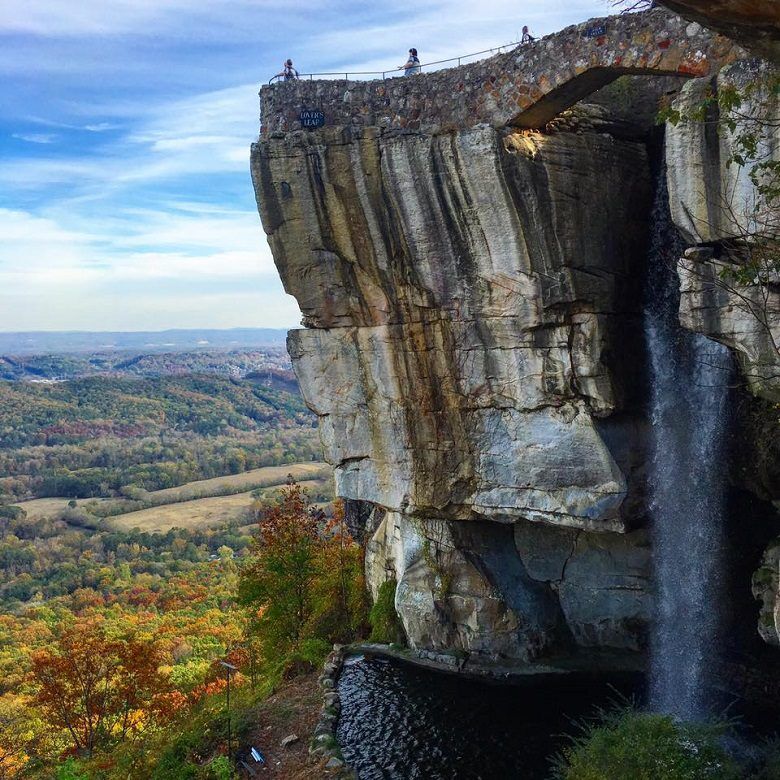 1 Day in Chattanooga, Tennessee
Kevin and I recently took a long weekend trip to a cabin in the Tennessee mountains with a day set aside for visiting Chattanooga, Tennessee. Since this was his first time to Chattanooga, I had to make sure we made it to some of the city's most famous attractions.
Here's our itinerary for spending one day in Chattanooga!
See Rock City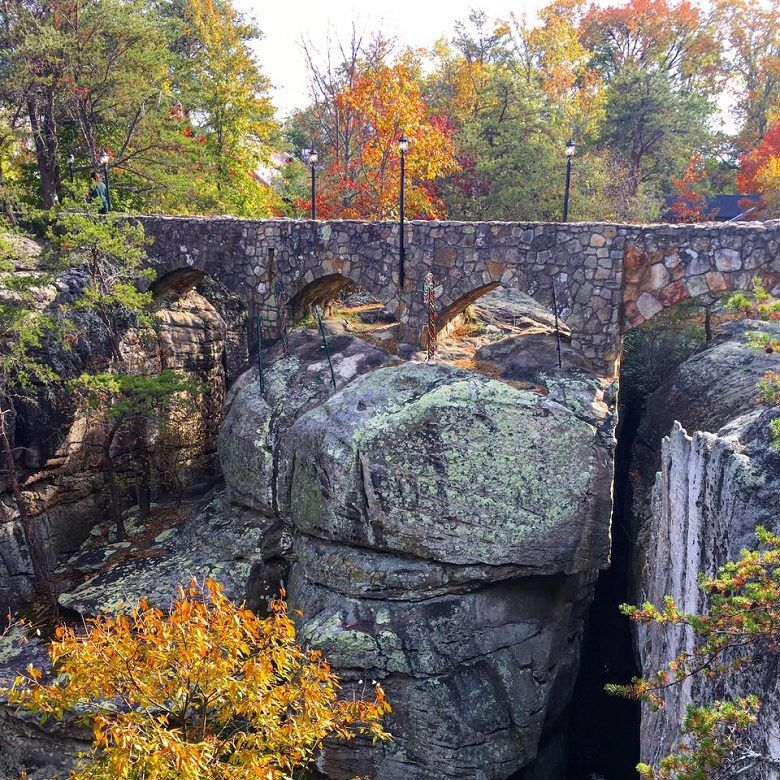 We drove into the city for lunch then made our way to our first attraction, Rock City. We took the scenic Lookout Mountain Parkway, and hitting this route just as the colors on the trees are changing make this the perfect drive.
If you're anywhere near a road that leads to Chattanooga, you've seen the distinctive sign with three simple words: See Rock City. When the area was discovered by missionaries in the 1800s, it was praised as a "citadel of rocks" with large boulders arranged as "as to afford streets and lanes."
In 1924, Frieda Carter began working on her expansive rock garden on the land her husband Garnet had purchased for a residential neighborhood that never panned out. She mapped out the trail with string and transplanted wildflowers all along the trail. She populated the trails with German statues of gnomes and fairytale characters. Garnet realized his wife had build something that people would pay to see, and Rock City opened as a public attraction in 1932.
Rock City still follows Frieda's mapped out 4,100-foot trails around and through the incredible rock formations, including Fat Man's Squeeze and Lover's Leap, from which you can look out and see seven states. The garden also includes Fairyland Caverns and Mother Goose Village complete with characters from Frieda's favorite fairytales.
Learn more about visiting Rock City here.
Marvel at Ruby Falls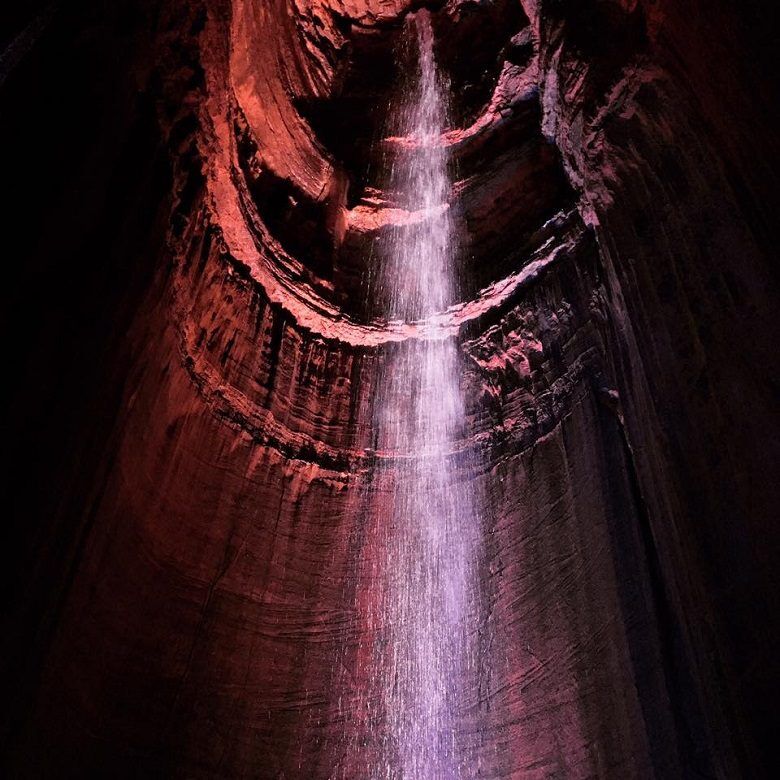 Our next stop was Ruby Falls, just a short drive down the scenic highway. In 1928, local cave enthusiast Leo Lambert was looking for an alternate way in to the sealed off Lookout Mountain Cave. Instead, his team discovered this cave, 160 feet above Lookout Mountain Cave, and its 145-foot underground waterfall.
Lambert and a small crew entered the cave through an opening 18 inches high by five feet wide. Then they crawled for seven hours before finding a space open enough for them to stand in. At the end of the main passage, they found the falls, which Lambert named after his wife Ruby.
Lambert's first trip to the falls took 17 hours, but a regular cave tour today takes about an hour and 15 minutes to walk the one mile round trip. The caves feature many unique rock formations, but the highlight of the tour is the waterfall illuminated by a colorful LED light show.
Search for Spirits on a Chattanooga Ghost Tour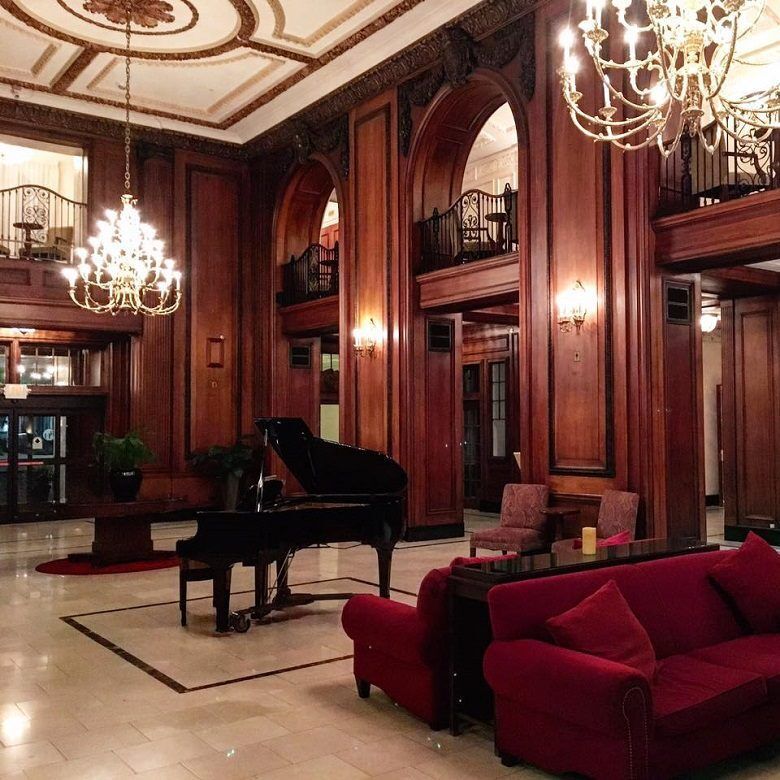 Doing a ghost tour is one of my favorite ways to get to know the city's history! So, sfter dinner, when it was nice and dark, we made our way to Market Street for Chattanooga Ghost Tours' Murder & Mayhem Haunted History Tour.
The tour's storytellers take you on a haunted history tour of the downtown area, meaning you'll get a good look at downtown and you'll get to learn about some of the city's most historic buildings.
Stops include the Hunter Museum of American Art, where you may catch a glimpse of a figure in the window that has been boarded from the inside; an underground parking lot that harbors a spirit in its corners; the Tivoli Theatre with a ghost that demands acknowledgement before the show can go on; and the Read House Historic Inn & Suites, which you will actually get to go inside, with a room so haunted they've changed the room number and turned it into a storage closet.
Book your Murder & Mayhem Haunted History tour here.
Top Chattanooga Tours
With so much to see, Chattanooga can be overwhelming for any first-time traveler. To take some of the stress out of planning your visit, opt for a guided tour! Check out this list of the top Chattanooga tours to help you make the most of your time in this beautiful part of Tennessee.
Mapping Out Your Day in Chattanooga
Ready to explore Chattanooga's top attractions and hidden gems? Use the map below to help plan out your 1-day itinerary exploring Chattanooga, Tennessee.
Chattanooga, Tennessee is a charming city with tons of hidden treasures for you to unlock.
So, why wait? Start planning your 1-day getaway to Chattanooga, Tennessee today.
Where to Stay in Chattanooga
Find the perfect place to rest your head on your visit to Chattanooga, from the top rated accommodations to unique stays you can't get anywhere else.
More Things to Do in Chattanooga
Explore all that Chattanooga, Tennessee has to offer! These fun itineraries will help you plan your perfect Chattanooga vacation.
---
Ready to visit Chattanooga, Tennessee? Plan your trip with these tips.
---
Cheers!
Paige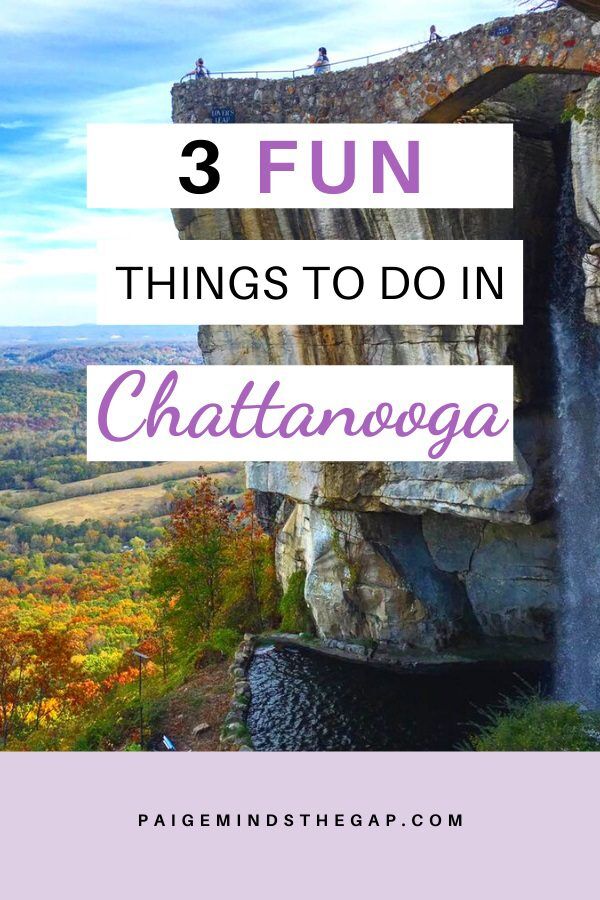 What are your favorite things to do in Chattanooga, Tennessee in just 1 day? Let me know in the comments!