Go a little north of Atlanta to discover Downtown Roswell, Georgia. This small mill town holds big fun with outdoor activities, unique local shopping, and delicious restaurants. Find out how to spend a perfect day out in Roswell!
About Downtown Roswell
Roswell, Georgia began as a mill town, named for Roswell King and his Roswell Manufacturing Company on Vickery Creek. The town was built on the success of the cotton mill, and today many of the historic buildings remain in Roswell's 640-acre historic district.
Stroll along Canton Street, named a Georgia "Great Street", to explore the local shops and hike along the trails at Vickery Creek while you discover Historic Downtown Roswell, Georgia.
A Day in Downtown Roswell Itinerary
Eat Breakfast at Roswell Provisions Market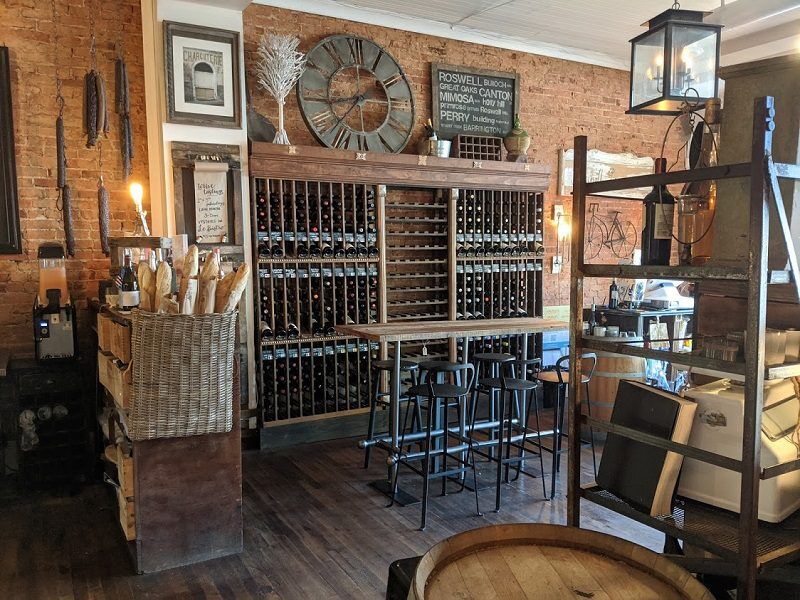 Roswell Provisions community market and bistro transports you rustic, provincial France. Start your day in Downtown Roswell with a breakfast sandwich, coffee, and pastry from their market.
Then take a look around the market for some wine, cheese, and local goods to take home with you.
955 Canton St, Roswell, GA 30075
Taste Olive Oils and Balsamic Vinegars at Oli+Ve
Oli+Ve is a unique boutique shop specializing in olive oil and balsamic vinegar. They host special events, classes, and tasting parties to get you familiar with different olive oils.
But they also offer free tastings of their various flavored olive oils and aged balsamic vinegars so that you can try before you buy! The store also carries spice blends, leaf teas, authentic Italian pastas, and more.
1003 Canton St, Roswell, GA 30075
Grab Lunch at Douceur De France
Enjoy a French lunch at Douceur De France. Owned by a French Pastry Chef, this restaurant certainly knows how to do pastries, but it's also a popular lunch spot in Roswell.
They serve delectable soups, quiches, and sandwiches made with fresh and local ingredients.
1173 Alpharetta St, Roswell, GA 30075
Indulge in Dessert from Chef Brulee Chocolates and Gateaux
Chef Brulee Chocolates and Gateau offers handcrafted artisan chocolates, truffles, and cakes. Each chocolate is a beautiful work of art designed in unique shapes and inviting colors.
1140 Alpharetta St, Roswell, GA 30075
Explore the Ruins of the Roswell Mill
Take an afternoon hike along the trails at Vickery Creek. At Old Mill Park, you'll discover the only remaining building from the Roswell Manufacturing Company — the Old Machine Shop — as well as a 30-foot dam and a covered pedestrian bridge, which will take you across the creek to the Chattahoochee River National Recreation Area trails.
Go for Dinner at Mac McGee
You'll know Mac McGee by its bright red exterior, reminiscent of The Temple Bar in Dublin. This Irish pub is styled like a traditional Irish public house with dark woodwork, antiques, lighting, and artwork that was imported directly from Ireland.
Enjoy authentic Irish dishes made-from-scratch as well as craft beer, craft cocktails, and an extensive whiskey selection.
936 Canton St, Roswell, GA 30076
More Things to Do in Roswell, Georgia
Looking for more fun things to do in Roswell, Georgia? Check out these other great activities:
Where to Stay in Roswell, Georgia
Find the perfect place to rest your head on your visit to Roswell, from the top rated accommodations to unique stays you can't get anywhere else.
---
Ready to visit Roswell, Georgia? Plan your trip with these tips.
---
Cheers!
Paige
Have you spent a day in Downtown Roswell, Georgia? Let me know in the comments!