Walk along the Enchanted Trail at Rock City Gardens and experience incredible rock formations, a 90-foot waterfall, magical caves, and amazing views. This one-of-a-kind attraction is one you won't want to miss on your trip to Chattanooga! Check out this in-depth guide to visiting Rock City Gardens and discover magic on the Enchanted Trail!
Read on to find out what makes Rock City Gardens a top Chattanooga attraction and to get an insider's guide to making the most of your visit.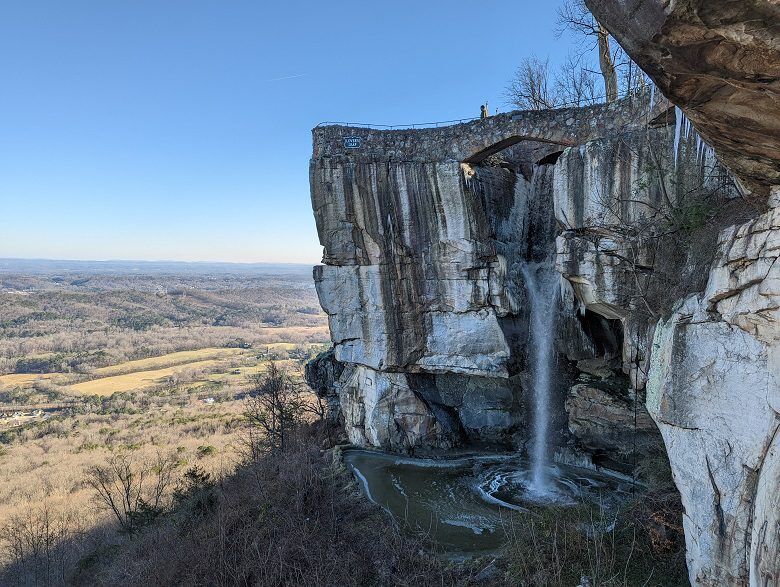 About Rock City Gardens
Rock City Gardens on Lookout Mountain is an elaborate rock garden designed around natural rock formations. The attraction is known for its "See Rock City" advertising on barn roofs, its variety of gnomes, and its amazing views of Chattanooga.
The Gardens are located in Lookout Mountain, Georgia only 6 miles from downtown Chattanooga, Tennessee.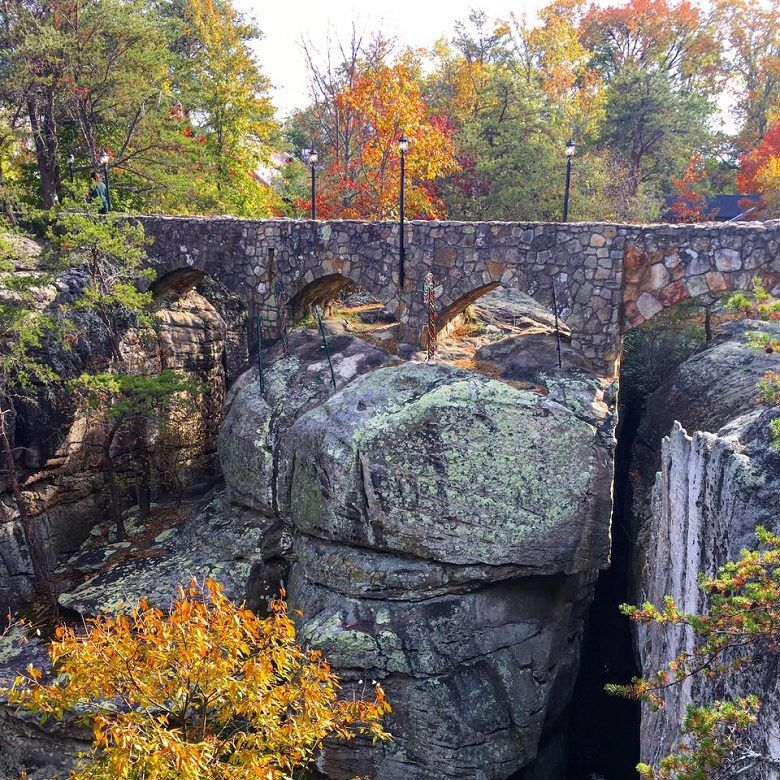 Rock City History
Rock City's history as a geological marvel reaches back thousands of years. The Native Americans inhabited this land, and in the 1800s, two missionaries discovered this "citadel of rocks" with boulders arranged as if to create streets and lanes.
This "Rock City" was known to Civil War soldiers, hikers, and geologists throughout the 1800s. But in 1924, Garnet Carter started the business venture that would make Rock City a household name: he started building a new community atop Lookout Mountain named Fairyland, in honor of his wife Frieda's interest in European folklore. The community included nation's first miniature golf course.
While her husband began franchising mini golf, Frieda took to developing her own rock garden out of the legendary Rock City. She mapped out a trail through the large rock formations, ending at what is now Lover's Leap overlook. She stationed her imported German statues of gnomes and famous fairytale characters throughout the trail.
Garnet realized that his wife had created something that people might be willing to pay to see. And so, Rock City officially opened as a public attraction on May 21, 1932.
In order to advertise his out-of-the-way attraction, Garnet enlisted the help of a young sign painter to go around the country offering to paint farmers' barns in exchange for letting him paint three simple words: See Rock City.
What to See at Rock City Gardens
There are so many beautiful different areas inside Rock City Gardens to explore. Take a look around the gardens!
The Enchanted Trail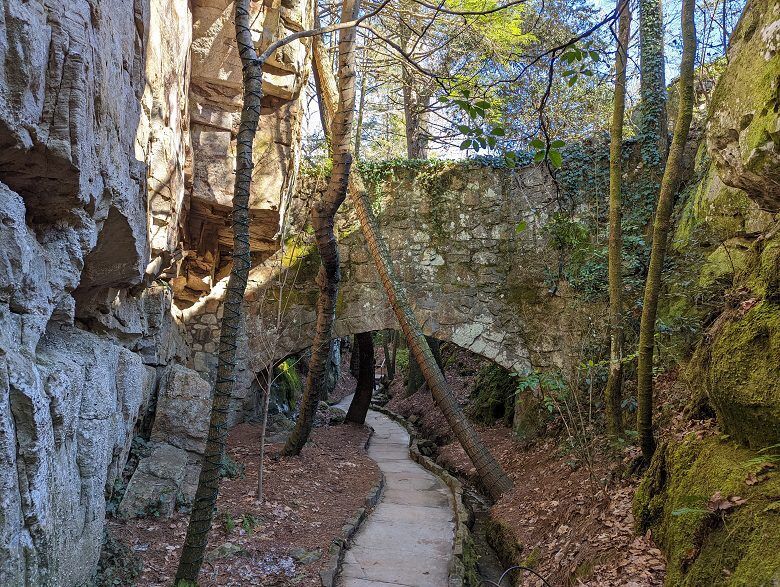 The ambling Enchanted Trail is the main path through Rock City. The trail is 4,100 feet long and takes you in a loop from the entrance to the Lover's Leap overlook, through Fairyland Caverns, and exits through the gift shop.
Along the trail, you'll pass by incredible natural rock formations like the Needle's Eye pass, the Mushroom Rock, the Fat Man's Squeeze pass, the Balanced Rock, and more. The Gardens contain more than 400 different native plant species.
Signs along the trail identify plants, tell about the natural formations, and describe the history of the Gardens.
You'll also pass over Swing-A-Long-Bridge (if you choose the swinging bridge trail over the rock bridge trail). This180-foot long suspension bridge offers great views of the Chattanooga Valley.
The trail also contains various gnome statues, inspired by Frieda's originals. Since 2009, Rock City has added local artist installations that lend to the natural beauty of the gardens. The pathways are a work of art themselves; whimsical doorways lead you in new directions, stained glass gives tunnels a rainbow hue, and glow-in-the-dark paint brings woodland spirits to life.
Lover's Leap: See Seven States
Lover's Leap is the name given to the rock that juts out the side of Lookout Mountain.
The rock gets its name from a Cherokee legend of two star-crossed lovers, a man named Sautee and a woman named Nacoochee, who came from feuding tribes. According to the legend, Sautee was captured and thrown from the top of this rock and Nacoochee jumped to her own death after him.
A 90-foot waterfall flows off the side of the rock into a beautiful pool below; you'll be able to get a better view of the entire Lover's Leap outcropping from the lower trail as you continue along the path.
From the top of Lover's Leap, you get a great view of the valley below, including an iconic "See Rock City" barn.
The view from the top is legendary as well. According to two separate Civil War diary entries, it is believed that you can see 7 states from here: Alabama, Georgia, Kentucky, North Carolina, South Carolina, Tennessee, and Virginia.
A plaque points out which direction to look and how far the state is. For the further states, you may be able to make out mountain tops as the only visible point.
With how much air pollution there is today, you might not be likely to actually see all seven states. It's still a beautiful view on a clear day, though!
Fairyland Caverns and Mother Goose Village
Fairyland Caverns is a tribute to Frieda's love of European folklore and gnome statues. Her husband even commissioned an Atlanta artist to create fairytale scenes for her favorite characters and statues.
In 1947, these scenes were moved into a protective cave and displayed. Today, the scenes are decked out with blacklights and glow-in-the-dark paint for a truly magical feel. Some of her original statues have even been restored and displayed.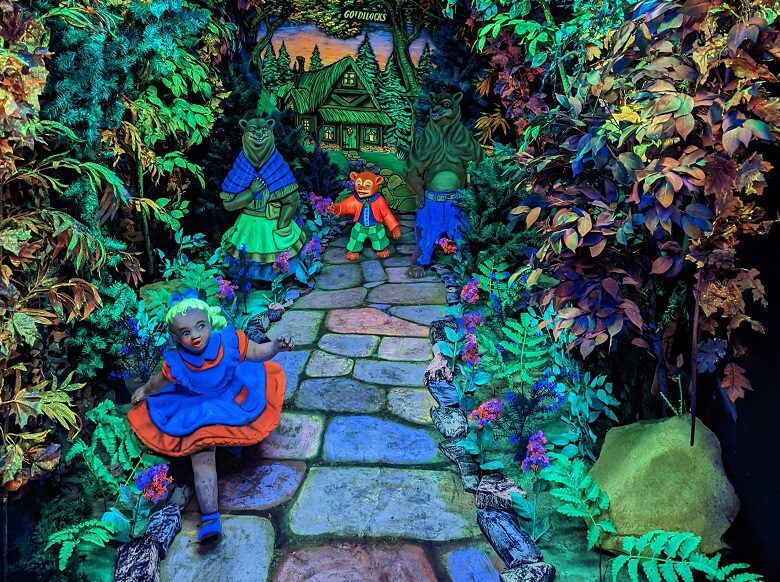 Housed at the end of Fairyland Caverns is Mother Goose Village. This impressive hand-built landscape of nursery rhyme figures was completed in 1964. You can walk around the display for a 360-degree view of scenes from classic nursery rhymes like Humpty Dumpty, the Three Little Pigs, Little Boy Blue, and more.
More Things to Do at Rock City Gardens
Discover more things to see and do on your visit to Rock City Gardens.
Attend Special Events and Programs
Rock City holds festivals, music, character appearances, and other events throughout the year, so there's always something exciting going on.
In March, the gardens turn into Shamrock City in honor of St. Patricks' Day; in May, you can celebrate the new season with the Southern Blooms Festival; in the summer, enjoy live music during Summer Music Weekends; and during the Christmas season, you can see the park after dark for the Enchanted Garden of Lights.
Find the Perfect Souvenir at the Numerous Gift Shops
Rock City offers 5 gift shops where you can brows gifts and souvenirs.
Gardens Gateway Gift Shop — This is the main gift shop for Rock City ant it's located at the entrance/end of the trail. You'll find all kinds of Rock City memorabilia and merchandise like the classic Rock City Birdhouse.
Woodland Wonders — This shop just inside the main entrance has garden items, gnomes, birdhouses, and more.
Cliff Terrace Gift Shop — This shop at is located by Lover's Leap and sells Rock City souvenirs and merchandise.
Prospector's Point — This gift shop is located past Cliff Terrace and has Gemstone Panning, Geode Digs, and other unique items.
Cornerstone Station — This shop is located outside the main entrance and sells birdhouses and other items.
Eat at Rock City's Dining Facilities
Rock City offers a variety of dining options. In addition to push carts, vending machines, and a seasonal Dippin Dots station, you have 5 places to get food at the Gardens.
Big Rock Grill — Just inside the main entrance, Big Rock Grill offers hamburgers, sandwiches, soups, salads, and chicken fingers.
Café 7 — Located at Lover's Leap, this full-service restaurant offers delicious Southern cuisine with a modern twist and 7-state views.
Cliff Terrace — Located near Lover's Leap, this eatery offers pizza, funnel cakes, and classic snacks.
Fudge Kitchen — Just inside the main entrance, Fudge Kitchen prepares fresh fudge and sweet treats right before your eyes.
Starbucks — Get your caffeine fix outside the main entrance!
Info for Visiting Rock City Gardens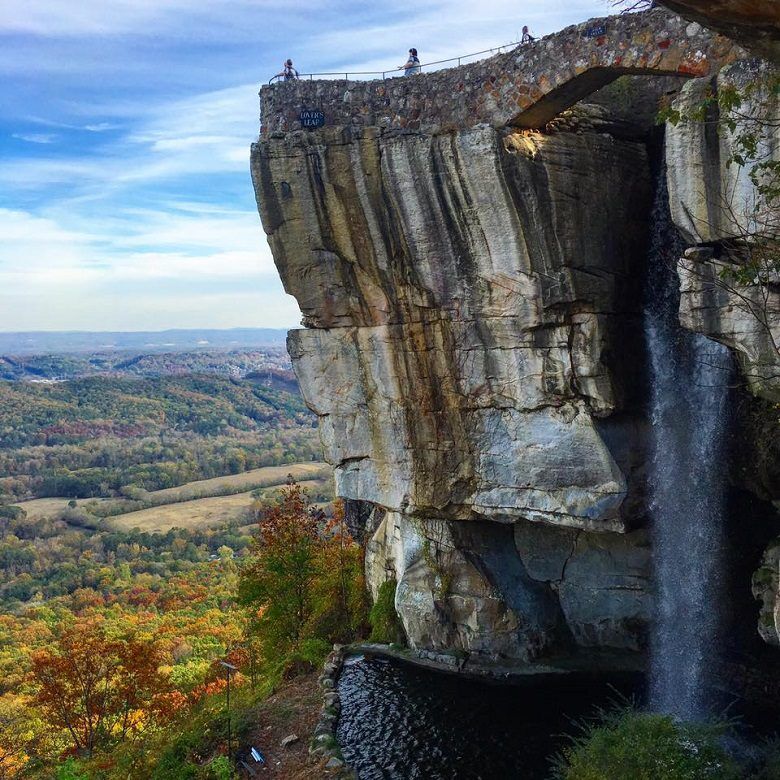 Here are some important things to know when visiting Rock City:
Rock City is located in the Eastern time zone; keep this in mind if you're visiting from Central time or staying in a hotel in the Central time zone!
The trail is partially handicap accessible. The main route has many different curves, squeezes, and steps, but the shorter handicap accessible route avoids these spots and takes you to the overlook at Lover's Leap and the Seven States Flag Court.
Because of the layout of the trails, strollers are not permitted in the Gardens. There is stroller parking located at the entrance to the Enchanted Trail.
Rock City is pet friendly. Any leashed pets are welcome to walk the trail with you, whether its a dog, cat, parrot, goat, whatever! There is even a pet menu at Café 7.
Location: 1400 Patten Rd, Lookout Mountain, GA 30750
Admission: Prices for admission to Rock City range from $14.95 to $24.95 per person, depending on the season and the day of the week. Peak times like summer and during special events will cost more. During the winter, you can expect reduce ticket prices ranging from $7.95 to $17.95.
Hours: Rock City is open from 8:30 a.m. to around sundown. Hours vary by season and if there are seasonal events happening. If you want to see Rock City after dark, you can attend their Enchanted Garden of Lights during the winter holidays from 5 p.m. to 9 p.m. (10 p.m. on select nights).
Parking: Parking is available at Rock City Gardens and is free!
Rock City FAQ
How long does it take to walk through Rock City Gardens?

For most people, it takes about 1.5 to 2 hours to walk through Rock City. The tour is self-guided so you can spend as long or as little time as you'd like in the Gardens.

How long is the trail at Rock City Gardens?

The Enchanted Trail at Rock City Gardens is 4,100 feet long, or 0.77 miles. The shorter handicap accessible trail is about 0.5 miles.

What 7 states can you see from Rock City?

On a very clear day, you can see Alabama, Georgia, Kentucky, North Carolina, South Carolina, Tennessee, and Virginia from Rock City.

Where is Rock City Gardens located?

Rock City Gardens is located at the top of Lookout Mountain in Georgia. It's just 6 miles from downtown Chattanooga, Tennessee, though, so many people visit when they go to Chattanooga.

Is Rock City worth seeing?

Rock City is definitely worth seeing! It's a fun outing for both kids and adults; it's amazing for pictures; the views are incredible; and the art offers a fun surprise around every corner.

Top Chattanooga Tours
With so much to see, Chattanooga can be overwhelming for any first-time traveler. To take some of the stress out of planning your visit, opt for a guided tour! Check out this list of the top Chattanooga tours to help you make the most of your time in this beautiful part of Tennessee.
Where to Stay in Chattanooga
Find the perfect place to rest your head on your visit to Chattanooga, from the top rated accommodations to unique stays you can't get anywhere else.
More Things to Do in Chattanooga
Explore all that Chattanooga, Tennessee has to offer! These fun itineraries will help you plan your perfect Chattanooga vacation.
---
Ready to visit Chattanooga, Tennessee? Plan your trip with these tips.
---
Cheers!
Paige
Are you planning on visiting Rock City Gardens in Chattanooga? Let me know in the comments!