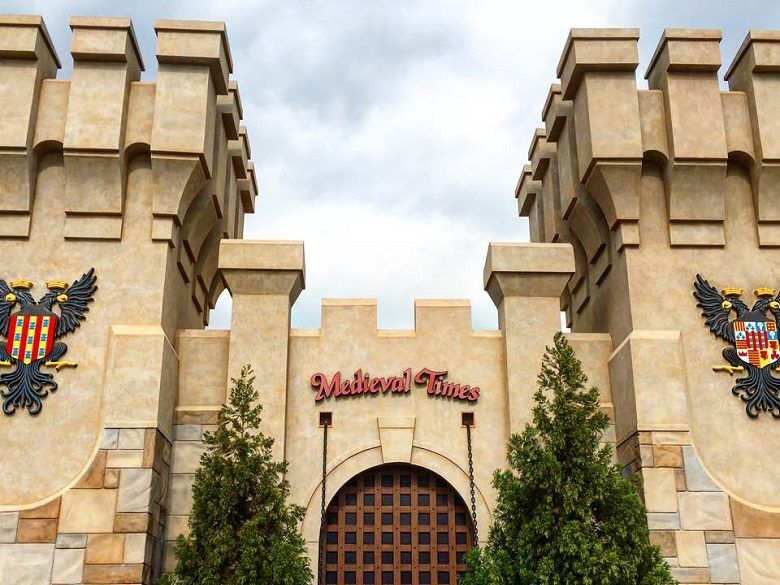 This medieval re-enactment dinner theater puts on a show fit for a king, or queen, in a replica of an 11th-century castle. Travel back in time without even leaving the mall at Medieval Times' Atlanta Castle.
Medieval Times Atlanta Castle History
This medieval re-enactment dinner theater began in the 1960s set up by Jose Montener on his estate on the island of Majorca, Spain. In 1983 he brought the show to the United States, beginning in Orlando. Medieval Times currently has 9 locations.
The Atlanta Castle is located in Sugarloaf Mills Mall in Lawrenceville, Georgia just 27 miles north of downtown Atlanta.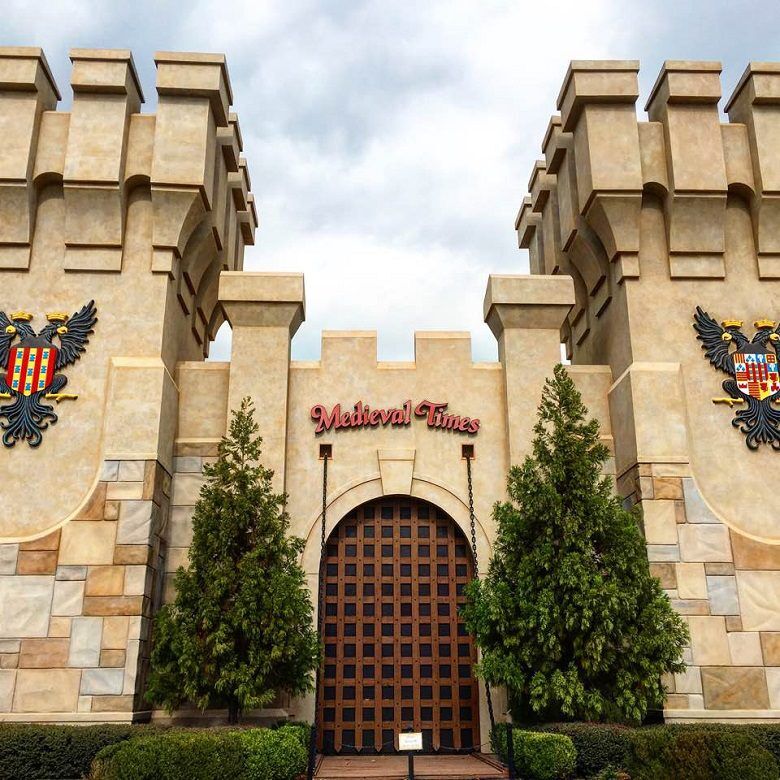 Seeing a Show at Medieval Times
Though you enter through the mall, stepping into Medieval Times is like stepping through time into a medieval British castle.
The entrance takes you into the Hall of Arms, decorated with coats of arms, medieval weaponry, and a giant fireplace. Along the back of the wall is the King's Bar where the royal guests can imbibe themselves.
Then there is the King's throne where all the little princesses and princes are knighted. At the gift shop, you can arm yourself with plastic swords and shields. You can even buy sturdier metal swords and other authentic weaponry.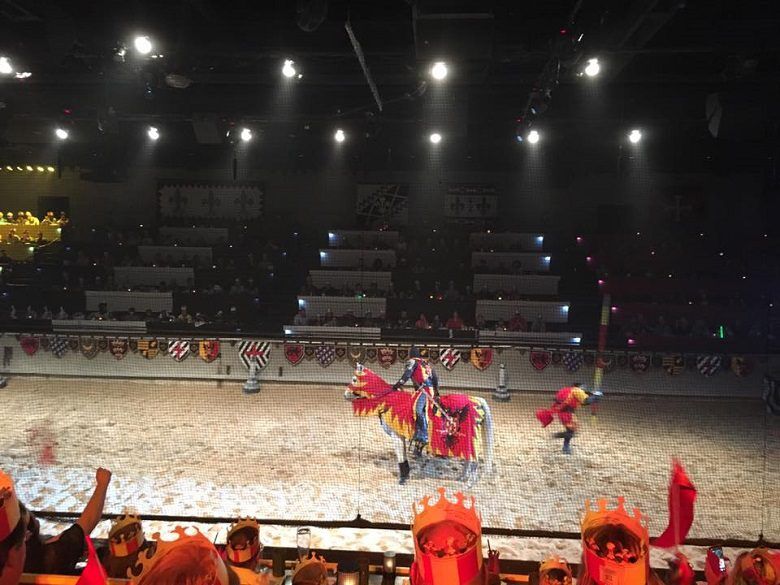 When the heralds call you in for the show to begin, your make your way into the Grand Ceremony Arena. This room easily makes you forget you're inside a shopping mall. The sections are color-coded according to the knights who are participating in the night's entertainment.
Dinner is served as a four-course meal in true Medieval fashion eaten without silverware, consisting of a set menu of castle bread, dragon's blood, baby dragon, dragon scales, dragon eardrum, and the pastry of the castle.
The show is royally entertaining, complete with an enemy of the court causing trouble and a jousting tournament. You'll cheer your knight, and your kingdom, on to victory through a skills competition including a ring pierce, flag toss, javelin throw, jousting, and sword fight.
At intervals, there are displays of horsemanship with a choreographed dance, and falconry, if the jousting is not entertainment enough.
You can book dinner and a show at Medieval Times here.
Visiting Medieval Times' "Atlanta Castle"
The Atlanta Castle is located in Sugarloaf Mills Mall. The best place to enter is Entry 5. You'll see the castle façade of Medieval Times and know you're in the right place.
Go through Entry 5 and turn right. You'll pass a few store fronts before coming to the Medieval Times entrance.
Admission for Medieval Times at the Atlanta Castle costs $65.95 for adults and $38.95 for children.
So why does this castle count? Once you've forgotten that you're inside a mall, which is not difficult to do, you may understand why I'm willing to count this as a castle. This concept gives you as much of a medieval castle feel as possible, and sitting in the Great Hall waiting watch a sport fit for royalty effectively does that.
If you're looking for another castle in the Atlanta area, why not visit nearby castles Cagle Castle and Rhodes Hall, the Castle on Peachtree.
---
Ready to visit the Medieval Times Castle in Atlanta, Georgia? Plan your trip with these tips.
Book Your Flight: Find the cheapest flights using Skyscanner, my favorite flight search engine.
Find Accommodation: You can find top hotels in Atlanta using Hotels.com.
Save on Attractions: Save 40% on admission to Atlanta's top attractions using the Atlanta CityPASS.
---
Cheers!
Paige
Have you been to the Medieval Times Atlanta Castle? Comment below!