The scenic Dingle Peninsula should be on everyone's Ireland bucket list. This, Ireland's western-most peninsula, is full of remote serenity, incredible views, and ancient tradition. There is so much to see and do on the Dingle Peninsula; I recommend setting aside a 3-day weekend to make sure you explore it all.
The Dingle Peninsula is a captivating corner of Ireland that will take your breath away. With its rugged coastline, charming villages, and vibrant cultural heritage, this enchanting region offers an unforgettable taste of authentic Irish beauty.
From historic castles to sailing the Dingle Harbour, the Dingle Peninsula has something to offer everyone.
In this post, I'll guide you through a perfectly curated itinerary for three days in Dingle, highlighting the must-see attractions, hidden gems, and delightful activities that will make your visit to the Dingle Peninsula an unforgettable adventure.
Get ready to embark on a journey of awe-inspiring landscapes, warm hospitality, and memories that will last a lifetime.
Dingle Peninsula 3 Day Itinerary
If you find yourself with three days to explore this captivating peninsula, this comprehensive itinerary will tell you what to do and see during your visit.
From scenic drives along the Wild Atlantic Way to encounters with friendly dolphins, prepare to embark on an unforgettable journey through the heart and soul of the Dingle Peninsula.
Where to Stay in Dingle
When staying on the Dingle Peninsula, there's no better place than the charming fishing village of Dingle. Whether you want to stay in a cottage by the sea or at a local bed and breakfast in town, there's something for you.
There are great budget accommodations like The Waterfront Hotel, Dingle Harbour Lodge, or the Quayside B&B that offer a quaint Dingle experience without breaking the bank.
Stays like the Milltown House and the Dingle Marina Lodge offer homey experiences that will make you feel like a local.
And if you're looking for a luxury stay you can't get anywhere else, you'll want to check out the Dingle Skellig Hotel or the Emlagh House.
Top Places to Stay in Dingle
Find the perfect place to rest your head on your visit to Dingle, from the top rated accommodations to unique stays you can't get anywhere else.
How to Get to Dingle
The best way to get to Dingle is by car. This is because the Dingle Peninsula has limited public transportation, and you'll likely need your own car to get around. You can rent a car in Dublin, Galway, Killarney, or Tralee. There are also some guided tours that will take you to Dingle, and I'll touch on those more later.
How to Get to Dingle from Dublin
If you're coming to Dingle from Dublin, you'll have about a 4 hour drive that passes through towns like Limerick and Tralee.
You can also take a train from Dublin to Tralee and then either rent a car, take a bus, or hail a cab from Tralee to Dingle.
How to Get to Dingle from Killarney
If you're coming to Dingle from Killarney, you'll have about a 1 hour drive that passes sights like Killarney National Park, Muckross House, and Ring of Kerry.
You can also take a train from Killarney to Tralee and then either rent a car, take a bus, or hail a cab from Tralee to Dingle.
This private full-day Dingle Peninsula / Slea Head Drive Tour also has the option to depart from Killarney.
How to get to Dingle from Galway
If you're coming to Dingle from Galway, you'll have about a 3 hour drive that passes by some great sights like Bunratty Castle, Limerick, and Adare. This is the route I took, and it was such a wonderful drive with these added stops.
The train from Galway to Dingle is less ideal, a 7.5 hour trip with a stop in Portarlington and then in Tralee, and you'll then have to rent a car, take a bus, or hail a cab from Tralee to Dingle.
Dingle Guided Tours
Most guided day tours of the Dingle Peninsula depart from Dingle Town. I've listed the top tours below:
Things to Do When Visiting Dingle
Dingle is so full of endless beauty with so many adventures, like boating, fishing, dolphin-watching, and exploring the historical sights along the coast.
Here are the best things to add to your 3-day Dingle Peninsula Itinerary.
Explore Dingle Town
When you arrive in Dingle, take some time to explore this cute fishing town.
Grab a bite to eat (maybe some clam chowder, seafood pasta, or fish and chips; you're in a classic Irish fishing village, after all) or take a food tour.
Then go pub-hopping to check out the local watering holes! Dingle is small and walkable, and there are pubs all up and down the streets.
And in front of Dick Mack's Pub, you can walk in the footsteps of the famous. Dingle's own "Walk of Fame" has been immortalizing Dingle's famous visitors since the filming of Ryan's Daughter in 1968.
Meet Fungie the Dolphin
Fungie, the Dingle Dolphin, is a male bottlenose dolphin who loves hanging out with humans. Fungie first appeared in Dingle Harbour in 1984; he would escort fishing boats to and from the port.
You can catch a boat trip from Dingle Harbour to see Fungie all year around. Dolphin-watching with Fungie is probably the best way to spend an afternoon in Dingle!
Dingle Dolphin Tours
See Fungie, the Dingle Dolphin, on one of these wildlife-viewing tours:
See the Beehive Huts
A beehive hut, or clochán, is a stone hut that was probably used as dwellings.
The Fahan Beehive Huts along the Slea Head Drive west of Dingle Town are some of the most popular huts to see.
These five huts in a group are attached to each other by doorways and form a circular group of single family dwellings.
Walk Along Coumeenoole Beach
Coumeenoole Beach is a small, secluded strip of beach that all but disappears when the high tide comes in. This is one of the most popular spots along the Dingle Peninsula.
It's great for a stroll and to dip your toes in the water. This definitely isn't a place you want to go swimming, though, as there are strong and unpredictable currents here.
Visit the Blasket Islands Cultural Center
The Blasket Islands have been uninhabited since they were evacuated in 1953. The Blasket Centre on the mainland honors the unique community that struggled to maintain a life of fishing and farming on a remote island that can be completely lost in the fog. They kept alive the Irish language and traditions and left behind a literary legacy by writing about their lives on the island.
You can still take a ferry out to the Great Blasket Island when the weather is good; but when the weather is bad, you won't even be able to see the island, much less cross to it.
The fog was so bad when I visited that I wasn't able to get a single picture of the islands!
Visit the Gallarus Oratory
The Gallarus Oratory is the best example of a preserved unmortared early Christian church. Because of its sloping side walls, it's often compared to an upturned boat.
The date of its construction is unknown, and there are various theories for when it could have been built and what it might have been used for. An early Irish church, a 12th century Romanesque church, a private funerary chapel, and a shelter for pilgrims are all theories.
Visit Kilmalkedar
Kilmalkedar is a medieval Christian site associated with St Brendan and the local St Maolcethair, who may have founded the site.
This church has an Ogham Stone, an example of the earliest form of writing in Ireland.
Other stones of interest at Kilmalkedar include an alphabet stone, a sundial, and a stone cross.
Top Dingle Tours
With so much to see, the Dingle Peninsula can be overwhelming for any first-time traveler. To take some of the stress out of planning your visit, opt for a guided tour! Check out this list of the top Dingle tours to help you make the most of your time in this beautiful part of Ireland.
Dingle Peninsula FAQ
Is Dingle worth visiting?

Dingle and the Dingle Peninsula are absolutely worth visiting! There are so many amazing things to see in and around Dingle, from Fungie the dolphin to the Fahan Beehive Huts along the Slea Head Drive.

How far is Dingle from Dublin?

Dingle is about a 4 hour drive from Dublin, about 346.5 km (215.3 miles).

How far is Dingle from Killarney?

Dingle is about a 1 hour drive from Killarney, about 63.8 km (39.6 miles).

How far is Dingle from Galway?

Dingle is about a 3 hour drive from Galway, about 254.2 km (157.9 miles).

How long does it take to drive around the Dingle Peninsula?

Plan for a whole day to drive around the Dingle Peninsula, or split the trip into a couple days. The Slea Head Drive will take about 3-4 hours with a reasonable amount of stops. Keep in mind that you can see some sights on the way in and out of the Peninsula, like Inch Beach and Conner Pass. If you were to drive the whole loop without stopping, it would only take you about 1 hour, but you'd be missing out on a lot!

How many days should I spend in Dingle?

3 days is the perfect amount of time to spend in Dingle in order to see all the sights.

What is there to do in Dingle?

In Dingle, you can take food tour, take a harbor tour, go shopping, go pub-hopping, and take a dolphin-watching tour.

You can also head out to explore the Dingle Peninsula and see the Fahan Beehive Huts, Coumeenoole Beach, the Blasket Islands, the Gallarus Oratory, and Kilmalkedar.

More Ireland Itineraries
Looking for more things to do on your Ireland vacation? Check out these fun Ireland itineraries and guides!
---
Ready to visit Dingle, Ireland? Plan your trip with these tips.
---
Cheers!
Paige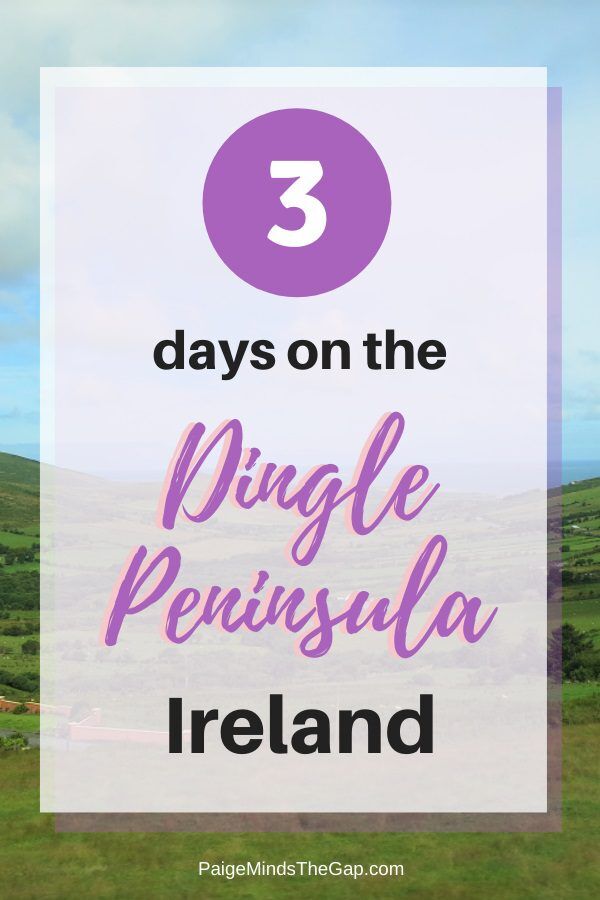 What are your favorite things to see on the Dingle Peninsula? Let me know in the comments!