Travel back in time to walk among the dinosaurs at Dino Safari: A Walk-Thru Adventure! This fun, family-friendly experience will let you get up-close and personal with your favorite dinosaurs. Learn more about the experience in this review of Dino Safari.
A special thanks to Imagine Exhibitions for providing us with tickets to Dino Safari: A Walk-Thru Adventure in Atlanta! As always, all opinions are my own.
Grab your passport to Pangea and get ready to meet over 30 different species of dinosaurs!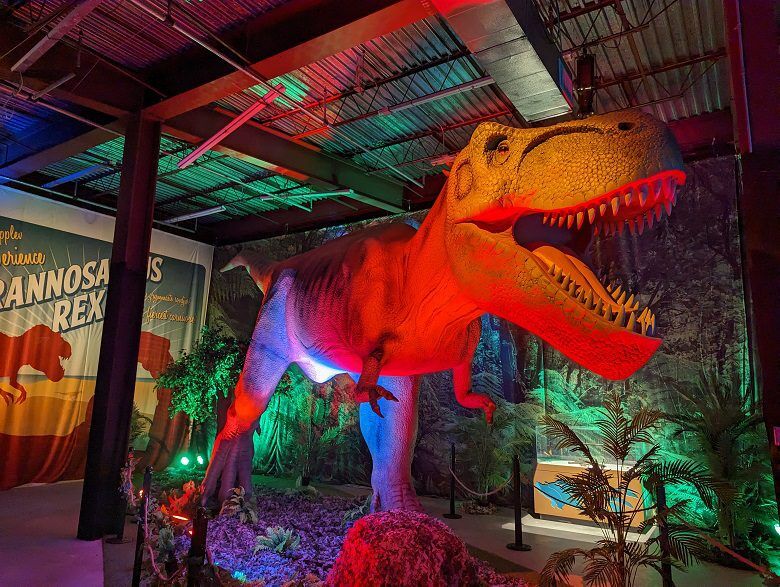 This walk-through attraction was created by Atlanta-based Imagine Exhibitions (the same people who produced Harry Potter: The Exhibition) in collaboration with Ph.D. Dinosaur Paleontologist Gregory M. Erickson.
The exhibit features realistic animatronic dinosaurs, scientific exploration, and fun interactive elements to immerse you in the prehistoric world of the dinosaur.
Ready to take a step back in time? Dino Safari: A Walk-Thru Adventure is currently showing in Atlanta, Boston, San Antonio, and Las Vegas.
Dino Safari: A Walk-Thru Adventure Review
Your Dino Safari walk-thru experience begins with a passport to Pangea. You'll receive this small passport booklet and a crayon. Inside the passport is a scavenger hunt of different dinosaurs, unique features, and plant life for you to find and check off as you walk through the exhibit.
You can also scan a QR code at the beginning of the experience to get access to the audio guide and music that will add to your safari experience. It's not necessary to use the audio guide, but it's great if you've got someone who wants to learn all the things about dinosaurs.
The journey through Pangea (the giant contiguous landmass that all the continents used to be a part of) is broken out into the continents we're familiar with today. You'll learn about what each continent would have been like as part of Pangea and see the dinosaurs that were native to that area.
You'll get to meet some of your favorite dinosaurs and maybe even discover a few you hadn't even heard of.
Don't miss your opportunity to take a picture with the T. Rex!
At the end of the experience is a "fun zone" where you can do an interactive digital coloring game that brings your drawing to life, "feed" dinosaurs in a corn-hole-type game, play on an balancing course, race against a dinosaur, and put together a dinosaur puzzle.
The experience exits into the gift shop where you can buy dinosaur toys, candy, clothes, and stuffed animals.
This is also where you'll find the Virtual Reality simulators where you can go on additional adventures like flying through the mountains, a thrill ride in the city, and bungee jumping over a canyon.
What Was Great About the Experience
The displays were great. I loved the animatronic dinosaurs and the traveling theme with the passport, vintage postcard displays, and grouping the dinosaurs by region.
The interactive elements were a nice touch. There was a dinosaur slide, a small tunnel to crawl through between two exhibits, a sandbox archaeological dig, and some small jungle balancing courses. Just a lot of little fun things for the kids.
The workers were all very nice and helped add to the safari experience. One even took a bunch of amazing pictures for us with the T. Rex!
What Was Not So Great
We were confused about the scale of the dinosaurs. I came into this thinking they were all mostly life-sized, then we started noticing that some of the small dinosaurs were displayed really big, including the smallest dinosaur that was scaled up to like 8 feet tall. And of course some of the large dinosaurs had to be scaled down. Mostly I didn't like that the small ones were suddenly larger-than-life; I'm used to dinosaurs being big, so I would have loved the comparison against the life-sized small dinosaurs.
Not a huge thing, but the Virtual Reality simulator wasn't dinosaur-themed, just thrill- and adrenaline-themed. Maybe there was a dino-themed option, but we got put on bungee, trill ride, and flying simulators. So I just didn't really see the point of a non-dinosaur VR add-on.
Dino Safari: A Walk-Thru Adventure Details
Dino Safari: A Walk-Thru Adventure is currently on display in Atlanta at North Point Mall at 1000 North Point Circle, Alpharetta, GA 30022. The experience is available daily now through September 4, 2023.
The experience takes about 60-90 minutes to walk through. It is a free-flowing experience, so you can take your time going through at your leisure.
Tickets for Dino Safari cost $13 for children ages 2-12 and $16 for adults. You can get an Any Da/ Any Time Flex ticket for $25.50. You can also get a VIP Mystery Package for $45 that includes an exclusive lanyard, 20% discount at the gift shop, a mystery back with a drawstring bag and 3 surprise merchandise items. Multi-Day Entry Passes are also available for $47.50.
A complimentary audio guide accessible on a smart phone is available with your ticket. There are QR codes for you to scan on site that will take you to the audio tour. Feel free to bring your headphones.
Dino Safari is open Monday-Thursday from 11 a.m. to 7 p.m.; Friday-Saturday from 11 a.m. to 8 p.m.; and Sunday from 12 p.m. to 7 p.m.
Your tickets are valid for entry at any time during operating hours on your selected date.
Non-flash photography is allowed and encouraged.
Looking for more immersive experiences?
Do you just love visiting immersive experiences? Me too! Check out these immersive experience reviews:
---
Ready to visit Atlanta, Georgia? Plan your trip with these tips.
---
Cheers!
Paige
Did you find this review of Dino Safari: A Walk-Thru Adventure helpful? Let me know in the comments!