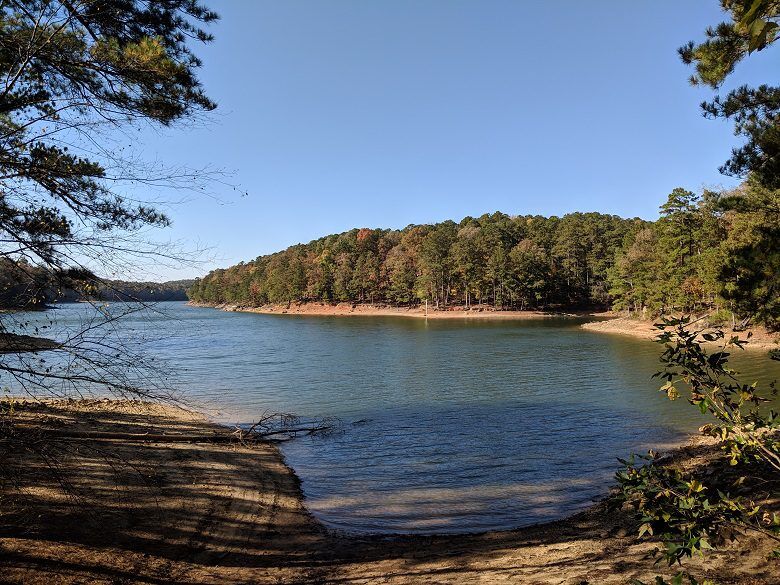 Just a short drive from Atlanta, Red Top Mountain State Park has an idyllic setting on the shores of Lake Allatoona. This is a popular park for hiking, camping, and watersports.
Red Top Mountain State Park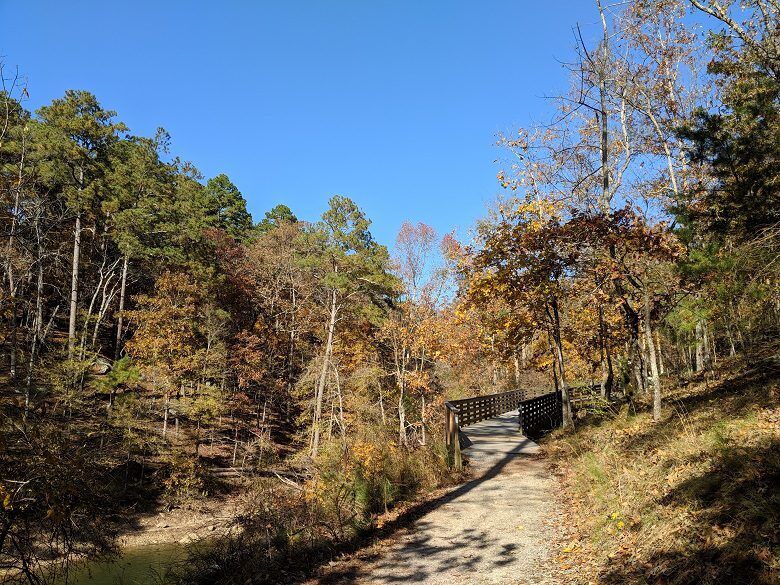 Red Top Mountain State Park is named for this area's rich red soil caused by high iron-ore content. The mountain was an important mining area in the 1800s.
Explore the state park's history through its reconstructed 1860s homestead and the Allatoona Pass Battlefield with its well-preserved trenches and earthworks.
Located between Acworth and Cartersville, Red Top Mountain State Park is less than 40 miles from Atlanta and only about a 40 minute drive.
Dogs and pets are allowed at all Georgia State Parks as long as they're leashed.
Parking at Red Top Mountain State Park costs $5. The park is open daily from 7 a.m. to dark. The park's office is open daily from 8 a.m. to 5 p.m.
Lake Allatoona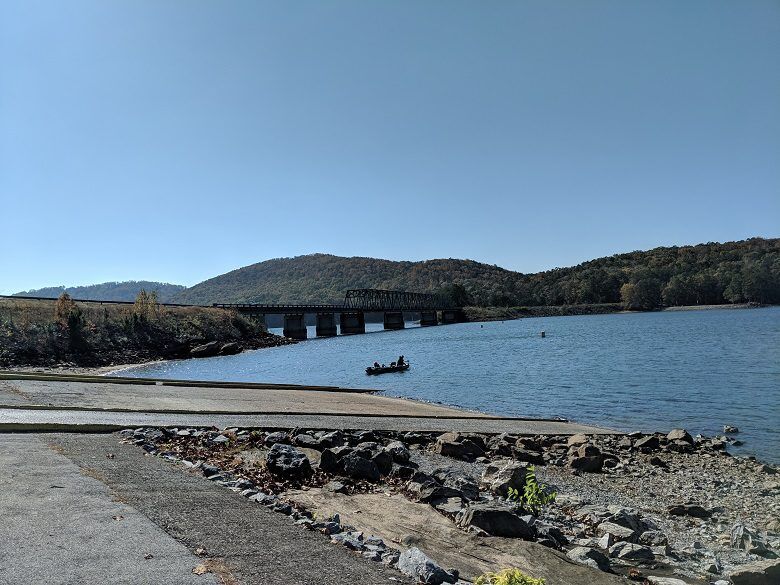 This 1,776 acre park contains the 12,000 acre Lake Allatoona. You can swim, water ski, and fish on the lake. You can also bring your own boat or rent from the marinas nearby.
Cool off by the lake at the park's sand swimming beach or have a picnic by the lake.
If you're interested in glamping, the park has a lakeside yurt with an incredible view of the water.
Red Top Mountain State Park Facilities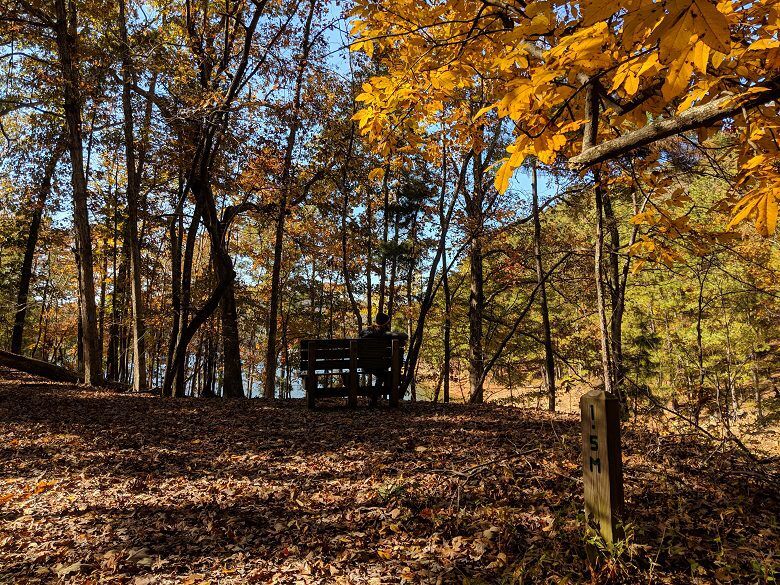 If you're looking to stay overnight at the park, they have 20 cottages, 93 campsites, 6 lakeside yurts, and a pioneer campground.
If you just want to picnic for the day, they offer 7 picnic shelters, 2 group shelters, and an event room that you can reserve.
There's plenty of space for play at the park's 3 playgrounds and sand beach.
For those interested in watersports, the park has a marina, 2 boat ramps, and 2 boat docks.
Red Top Mountain Hikes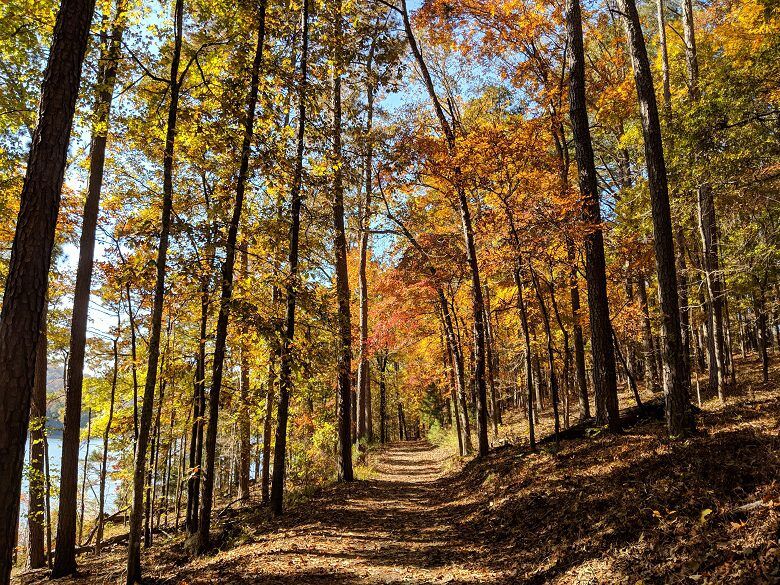 Red Top Mountain State Park is a hiker's haven with more than 15 miles of hiking trails.
The 3.9 mile gravel Iron Hill Trail follows along the banks of the lake and is an amazing fall hike.
The 0.5 mile White Tail Trail takes you to a scenic point at the edge of the lake.
The 5.5 Homestead Trail is the park's most scenic trail named for the several homesteads that were once located here.
The 0.75 mile Visitor Center Loop Trail takes you to two viewing platforms in the shaded forest.
The 0.75 paved Lakeside Trail is ADA accessible and follows along the shore of the lake, reaching the reconstructed 1869 Vaughan cabin.
The 3.5 mile Sweetgum Lodge Loop Trail connects the Visitor Center parking area and the Park Office area and shares trail space with the Homestead Trail.
Hiking Essentials
Come prepared for your hike by making sure you pack the essentials. Check out this must-have hiking gear before you set off on the trails:
More Things To Do at Red Top Mountain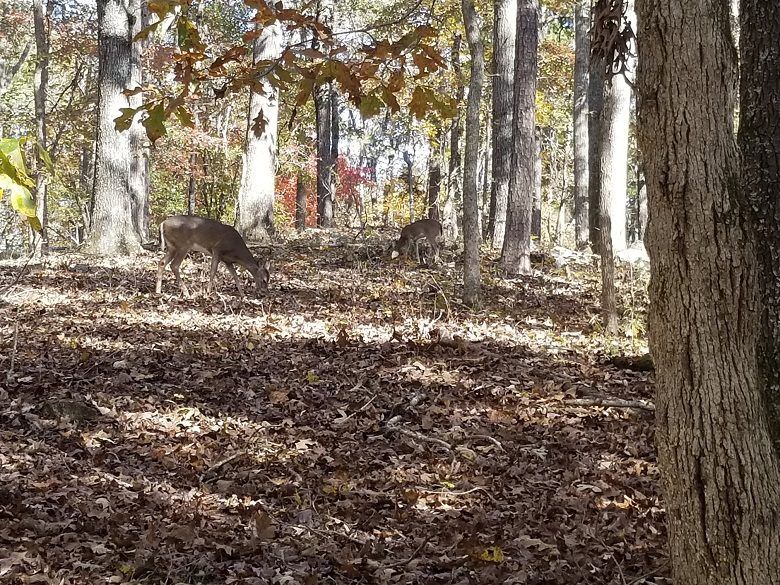 There are even more fun things to see and do at this Georgia State Park.
Red Top Mountain has a large deer population, so keep your eye out and you just might spot a few deer on the trails.
You can participate in archery programs, educational programs, interpretive programs, and geocaching.
The park also has 3 miles of biking trails, and you can become part of the Muddy Spokes Club.
You can also try your hand at mini golf, pickleball, and tennis while at the park.
You can even rent out park space for your wedding.
Nearby Attractions
After your hike or your day at the lake, check out these other great things to do near Red Top Mountain State Park.
---
Ready to visit Atlanta, Georgia? Plan your trip with these tips.
---
Cheers!
Paige
Have you visited Red Top Mountain State Park? Let me know about your visit in the comments!