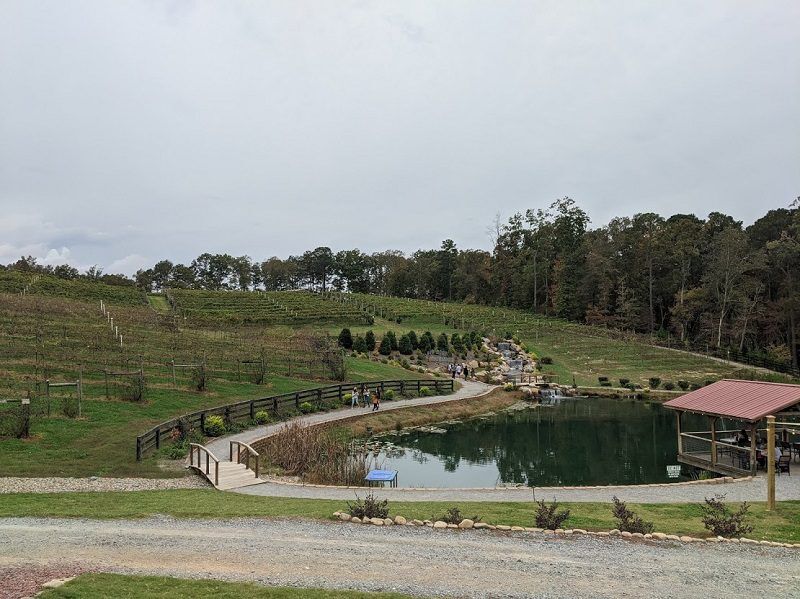 Located in White, Georgia, Big Door Vineyards is a beautiful winery just outside of Atlanta that makes for a perfect day trip for you and the girls or for a romantic date.
Big Door Vineyards in White, GA
Big Door Vineyards opened its big doors to the public in 2018. This beautiful vineyard is set in a valley of vine-covered hills. A small pier juts out into a pond fed by a relaxing waterfall. You can walk the trail around the pond or even head into the vines for a stroll.
There is plenty of covered outdoor seating around the grounds, on the covered patio, and inside the tasting room. Their wine selection is bottled by their sister winery, Horse Creek Winery, in South Georgia.
Children are welcome at the vineyard, as long as they are supervised. And you can bring your leashed and well-behaved dogs to frolic around the grounds and sit on the covered patio.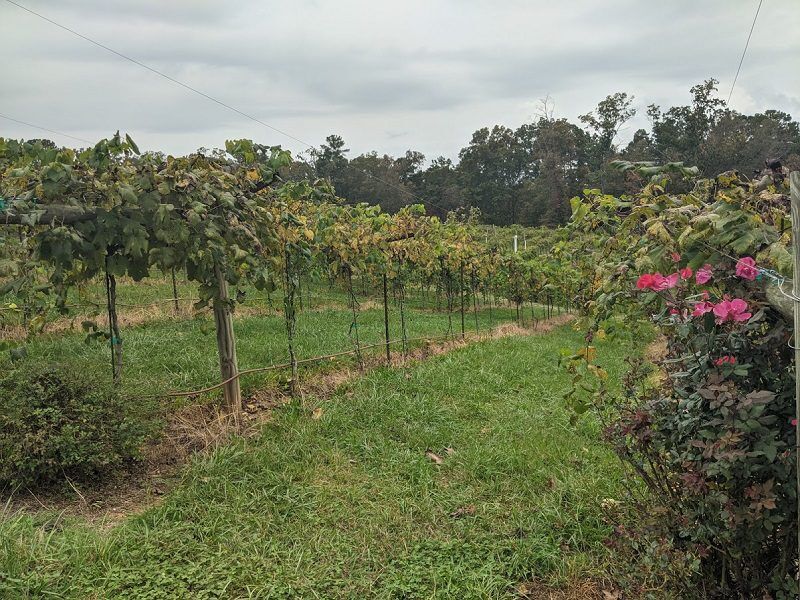 For food selection, they offer meat and cheese charcuterie boards, fresh paninis, and jellies, all locally sourced from local businesses in the area. We tried their delicious paninis with a side of chips.
Every weekend, you can expect live music in the tasting room. The vineyard will also host special events occasionally like yoga classes, game nights, masquerade parties, and more.
Like many wineries, Big Door Vineyards is a beautiful place for a wedding, small or large. They also rent out space for other private events.
Wine Tastings
Big Door Vineyards offers wine tasting flights for $14, and you don't need a reservation. You get four 1.5-ounce pours. Flights are broken down by category with different wine flights to choose from.
They recommend doing the wine tasting during the week; they typically won't do them on the weekend when there's a big crowd. Since we were there on a weekend, we couldn't do a tasting. Our bartender did give us a couple samples, though, to help narrow down what to recommend, so it was like a mini-tasting.
Visiting Big Door Vineyards
Since this winery is so close to Atlanta (only about a 50 minute to 1 hour drive from Downtown), it makes for a great day trip out of the city. You can say goodbye to the hustle and bustle of city life and relax in the tranquility of the vines, at least for a day. Spend a day out with your girls, or make it a romantic date with someone special!
Hours: M-Th: 11:30 a.m. — 6 p.m.; F-Sat: 11:30 a.m. — 8 p.m.; Sun: 12:30 p.m. — 6 p.m.
Address: 125 Clearwater Trail, White, GA 30184
More North Georgia Wineries
Visit more amazing wineries in North Georgia with these helpful itineraries:
Nearby Attractions
After your day spent among the vines, check out these other great things to do near Big Door Vineyards.
---
Ready to visit White, Georgia? Plan your trip with these tips.
---
Cheers!
Paige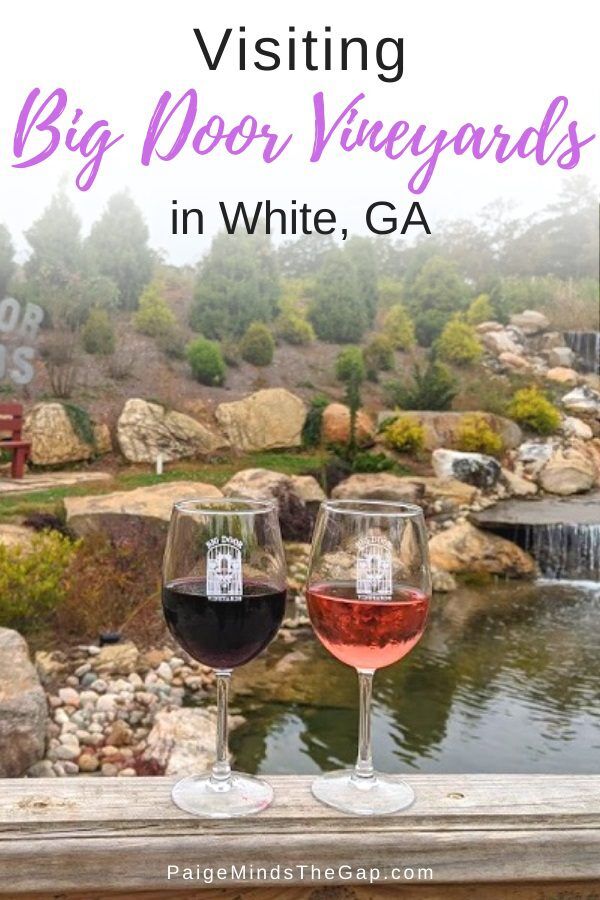 Have you visited Big Door Vineyards in White, Georgia? Let me know in the comments.