Plan a visit to Atlanta, Georgia! Atlanta is a top destination in the South with incredible restaurants, award-winning museums, diverse culture, exhilarating hiking, and more. This guide tells you all you need to know about visiting Atlanta, Georgia.
Visiting Atlanta: Everything You Need To Know
Whether this is your first trip to Atlanta or your hundredth, there's always something new to see and do! Atlanta is always growing with new restaurants to experience and new sights to explore. Georgia's capital city is a great destination!
As an Atlanta local, I can help point you in the right direction for your trip to Atlanta. So I hope you enjoy this guide!
Find things to do, places to stay, where to eat, how to navigate the city, and more in this in-depth guide to visiting Atlanta, Georgia.
Save on admission when visiting Atlanta's top attractions by using the Atlanta CityPASS.
Getting To Atlanta
Getting to Atlanta is really easy! Atlanta is home to the world's busiest airport, and the city is at the intersection of three major interstates. Here's what you need to know about getting to Atlanta for your visit:
Flying
Hartsfield-Jackson Atlanta International Airport is the busiest airport in the world. There are more than 150 U.S. cities with daily direct, non-stop flights to Atlanta and more than 60 non-stop international destinations, so you shouldn't have a problem finding a flight from wherever you are in the world.
Driving
Atlanta is an easily accessible city for drivers, with three major interstates – I-20, I-75, and I-85 – connecting in downtown. Coming from North Georgia, GA-400 brings you through popular areas like Sandy Springs and Buckhead before connecting with I-85.
And then you have I-285, a perimeter around the city that provides access to more of the greater Atlanta area. You'll find a lot of places are labeled OTP or ITP – that's Outside The Perimeter or Inside The Perimeter, referring to whether things are outside the I-285 beltway or inside.
By Train
You can take the Amtrak train service to Atlanta from New Orleans in the south (and points in between like Tuscaloosa and Birmingham, Alabama) or from New York in the north (and points in between like Charlotte, North Carolina and Washington D.C.).
Atlanta's Amtrak station is located on Peachtree Street between Buckhead and Midtown.
Find cheap train tickets to Atlanta here.
By Bus
Atlanta is the Southern hub for Megabus, which is known for providing bus services for as low as $1. You can take routes to Atlanta from Charlotte, Memphis, Washington D.C., Nashville, Orlando, New Orleans, New York City, and more.
Megabus transports to Civic Center MARTA station on West Peachtree Street in Downtown.
Find cheap bus tickets to Atlanta here.
Getting Around Atlanta
Driving
Atlanta is a major metropolitan city, so it's no surprise that it has a lot of traffic. When driving around Atlanta, try to avoid rush hour (6 a.m. to nearly 10 a.m. weekday mornings, and 3:30 p.m. to around 7:30 p.m. in the evenings) traffic.
Keep your navigation system on while you drive so you'll know of any wrecks or unexpected traffic delays. It can often be quicker to drive the side streets, so having a navigation system will help you know where to go.
If you aren't driving yourself, you can rent a car for your stay or you can use ride-share apps like Uber and Lyft to get around the city.
What's Up With All the Peachtrees?
Yep, Atlanta has a lot of streets with "Peachtree" in the name! There are 71 streets with the word "Peachtree". How do you keep them all straight? You let your navigation system tell you where to go.
The only one you really need to know is Peachtree Street, which runs from Five Points in Downtown and into Buckhead where the name changes to Peachtree Road. Peachtree Street is where you'll find a lot of Atlanta's major landmarks like The Fox Theatre, the High Museum of Art, and Atlanta's tallest building – the Bank of America Plaza.
Parking
A lot of the parking in Downtown, Midtown, and Buckhead is paid parking. Street meters typically cost $2 per hour. The average cost for daily parking in lots and garages is about $14.
If you're attending an event, you can expect parking to cost $20 or more for parking lots and garages.
Metered parking is free on Sundays and Atlanta City holidays (including New Years Day, Martin Luther King Jr., Memorial Day, July 4th, Labor Day, Veterans Day, Thanksgiving Day / Day After, and Christmas Day).
Outside of these areas, in the other boroughs and neighborhoods of Atlanta, you'll have a much easier time finding free parking.
Public Transit – MARTA
The Metropolitan Atlanta Rapid Transit Authority – or MARTA – is Atlanta's main form of public transportation. It includes rail and bus services.
MARTA is extremely affordable, with a single trip for either bus or rail costing only $2.50. You can buy a Breeze Card and fill it up with funds for your trip for easy payment.
MARTA is especially good for getting to and from the airport. The rail line goes directly to a station at the domestic terminal.
The main problem with MARTA is that the train line is limited and doesn't reach a lot of the really great parts of Atlanta. The system has four lines: the Red and Orange lines run north to south; and the Blue and Green lines run east to west.
Though the train passes through major tourist and business areas like Downtown, Midtown, and Buckhead, this leaves a lot of Atlanta's amazing neighborhoods inaccessible by rapid transit. You'll have to access these neighborhoods, and areas OTP, via bus or car.
Walking, Biking, Scootering
If you're planning to stay in just the Downtown area, then Atlanta can be walkable. If you want to venture out further, you'll want to make use of MARTA or a car.
Even staying in Downtown you have other transportation options, like rentable bikes and e-scooters like Bird and Uber's JUMP. You'll find these on Atlanta sidewalks and even on the BeltLine trails. You won't find them at night, though, as the city has banned their use after dark to curb injuries.
Neighborhoods Quick Guide
Atlanta is a city of distinct neighborhoods with their own personalities. Here are a few things to know about visiting Atlanta's most popular neighborhoods.
Midtown — Full of arts and culture. Visit the High Museum of Art, the Botanical Gardens, the Fox Theatre, and Piedmont Park.
Buckhead — Affluence abounds. The center of action is full of business and fashion, but if you venture out you'll find amazing mansions. Visit the Atlanta History Center and the Shops at Buckhead.
Downtown — The tourist hub. Visit the Centennial Olympic Park, the World of Coca-Cola, and the Georgia Aquarium.
Little Five Points — Edgy and eclectic. Great for vintage shopping and live music. Visit the Variety Playhouse, the Vortex, and Junkman's Daughter.
Inman Park — It's all about the food. Visit the Krog Street Market food hall and the graffiti-covered Krog Street Tunnel.
Decatur — Studious and laid-back. This neighborhood is home to Agnes Scott College and is near Emory University. Visit the Fernbank Museum of Natural History and the Dekalb Farmers Market.
West Midtown / The Westside — Where the engineers hang out. This area is home to Georgia Tech. Visit Top Golf and The Painted Duck.
Old Fourth Ward — Where old becomes new. This former industrial area now attracts foodies and indie shoppers. Visit Ponce City Market with its rooftop Skyline Park, the Jackson Street Bridge, and the MLK National Historic Park.
Castleberry Hill — Darling of the film industry. A former warehouse district, this historic area is full of industrial lofts and art galleries. This industrial-chic setting lends itself to post-apocalyptic shows and movies, from "The Walking Dead" to Marvel, who use the neighborhood as a filming location.
The Battery — The young and the Braves. As home of the new Braves stadium, The Battery quickly became and hot spot for lively entertainment, restaurants, bars, and shops.
Top 10 Things To Do When Visiting Atlanta
This city has a lot of history. Atlanta is known for being the birthplace of both Martin Luther King, Jr. and Coca-Cola, for its art scene and its music scene, and for its overall Southern hospitality.
If this is your first time visiting Atlanta, I recommend checking out the Atlanta CityPASS. This attraction pass will save you a lot of money on visiting Atlanta's top sights. You can read more about using the Atlanta CityPASS here.
Check out these top things to do and see in Atlanta.
1. Georgia Aquarium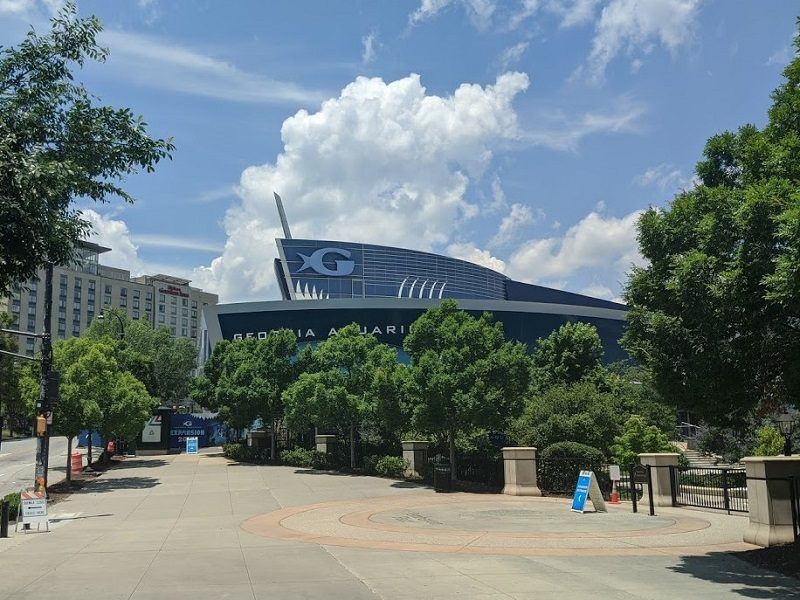 One of the world's largest aquariums, the Georgia Aquarium houses hundreds of aquatic species in more than 10 million gallons of water. They're known for their exhibits containing California Sea Lions, Atlantic Bottlenose Dolphins, Beluga Whales, and Whale Sharks.
The Aquarium even has the largest indoor aquatic habitat in the world and one of the world's largest viewing windows in their Ocean Voyager exhibit. This is where you can view the Aquarium's Whale Sharks and Manta Rays and even SCUBA dive with them!
Read more: A Guide to Visiting the Georgia Aquarium
2. World of Coca-Cola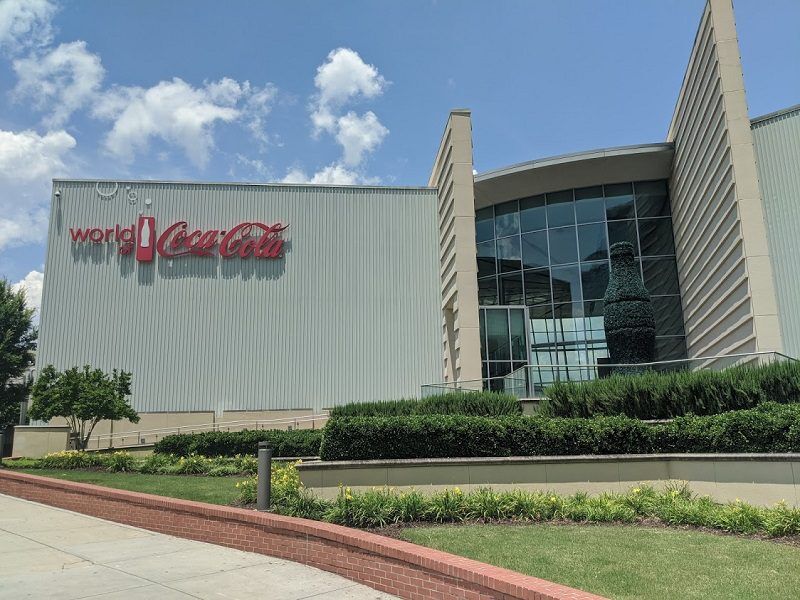 Learn the history of Atlanta's most famous beverage in the World of Coca-Cola museum. In this museum, you'll take a walk through the history of Coca-Cola's invention, learn about the bottling process, and meet the Coca-Cola Polar Bear!
But the best part of visiting World of Coca-Cola is the Taste It! station where you get to try over 100 different Coca-Cola brand beverages from around the world. This includes the "Beverly", an Italian drink that's a must-try just so you can see if it tastes as bad as everyone says it does!
Read more: Inside the World of Coca-Cola
3. High Museum of Art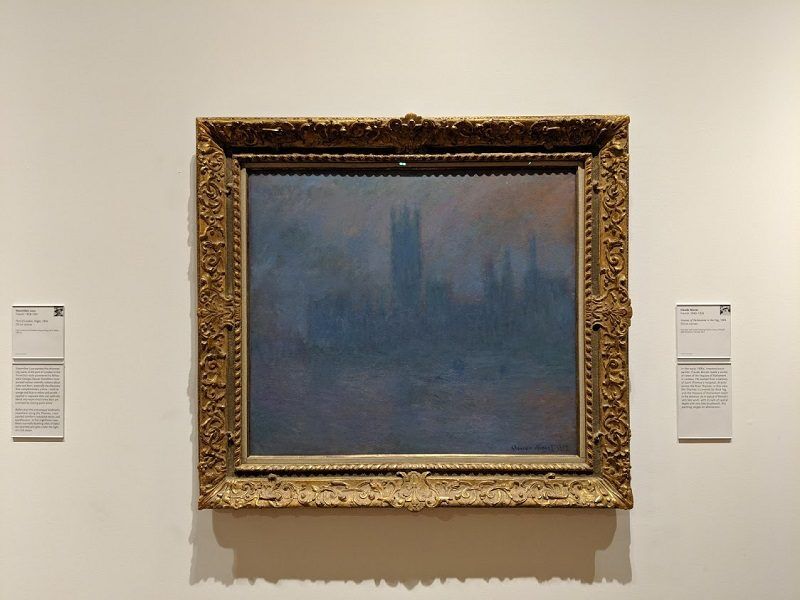 The High Museum of Art has more than 15,000 works of art in its permanent collection and is a leading art museum in the Southeast. Their collection spans African art, American art, European art, folk art, photography, modern art, and the decorative arts and design.
This art museum always has an interesting array of rotating exhibits passing through, too. Check what's on while you're visiting Atlanta so you don't miss out.
Read more: A Guide to Visiting the High Museum of Art
4. Zoo Atlanta
Zoo Atlanta is a great place for a family outing. The Zoo houses more than 1,500 animals from 220 different species, so you can expect to spend a lot of your day exploring their exhibits.
You can expect to see lions, tigers, sun bears, giraffes, orangutans, birds, reptiles, and more. Zoo Atlanta is most known for its Giant Pandas (two adults and two twin cubs) and its gorillas (21 gorillas have been born here since 1988).
Read more: A Guide to Visiting Zoo Atlanta
5. Atlanta History Center
There's no better place to learn about Atlanta history than the Atlanta History Center. The museum features exhibits on the 1996 Olympics, Atlanta's railroad history, stories of Atlanta, golfer Bobby Jones, Native American history in Georgia, Civil War history, and the cyclorama painting The Battle of Atlanta.
The History Center also has historic buildings on the premises that you can explore. The Smith Family Farm is Atlanta's oldest farmhouse; the Wood Family Cabin explores life dating back to the settlers; and the Swan House depicts Atlanta in the Jazz Age.
Read more about visiting the Atlanta History Center here.
6. Atlanta Botanical Garden
The Atlanta Botanical Garden covers 30 acres of land adjacent to Piedmont Park. The Garden contains numerous smaller themed gardens, such as the formal gardens, the rose garden, the edible garden, and the Japanese garden.
The Garden has rotating exhibitions throughout the year. And in the winter, the Garden comes alive with thousands of twinkling holiday lights.
Read more: Garden Lights, Holiday Nights at Atlanta Botanical Garden
7. National Center for Civil and Human Rights
The National Center for Civil and Human Rights explores from the American Civil Rights Movement to today's global human rights movements.
The museum features three permanent exhibits that include the papers and artifacts of Martin Luther King, Jr., the history of the U.S. civil rights movement, and stories from the struggle for human rights around the world.
Read more about visiting the National Center for Civil and Human Rights here.
8. Martin Luther King, Jr. Historical Site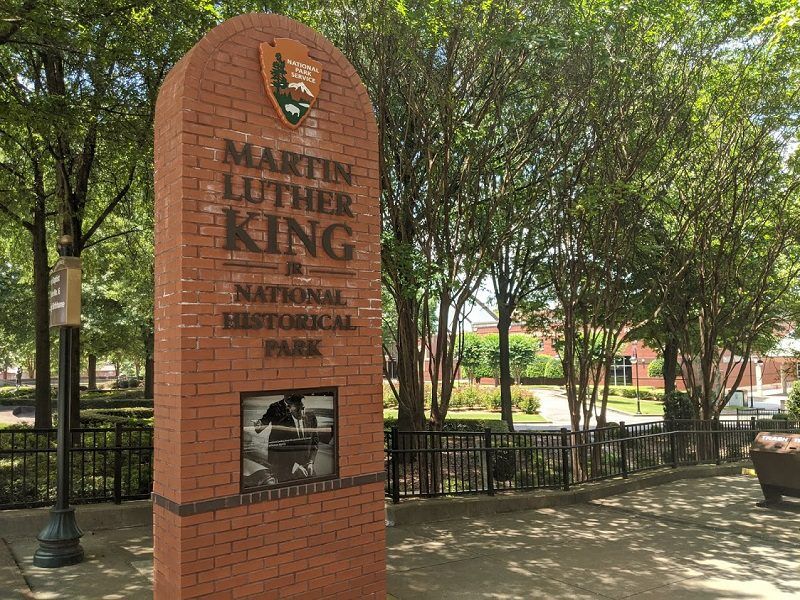 Atlanta is the birthplace of Martin Luther King, Jr. You can learn all about the leader of the modern civil rights movement by visiting the Martin Luther King Jr. National Historical Park. This historic site contains MLK's childhood home and the original Ebenezer Baptist Church where he was a pastor.
The visitor center also contains a museum of the American Civil Rights Movement; an 1894 firehouse explores the desegregation of the Atlanta Fire Department; and the International Civil Rights Walk of Fame commemorates the pioneers of the movement.
9. Atlanta Beltline
The Atlanta Beltline is a former railway corridor around the city that is undergoing redevelopment. Plans include a streetcar loop, 2,000 acres of parks, and 22 miles of multi-use trails. These multi-use trails are great for walking, biking, or even scootering. It's a great way to get outside and enjoy an urban hike.
Segments here and there have already been developed, but the whole loop hasn't been completed yet. The most popular completed route so far is the Eastside Trail, which has access to a bunch of apartment complexes, breweries, and Ponce City Market. This trail, and others on the BeltLine, also have a lot of public art and murals that are fun to explore.
Read more: Georgia Hikes: Atlanta BeltLine Eastside Trail
10. Fox Theatre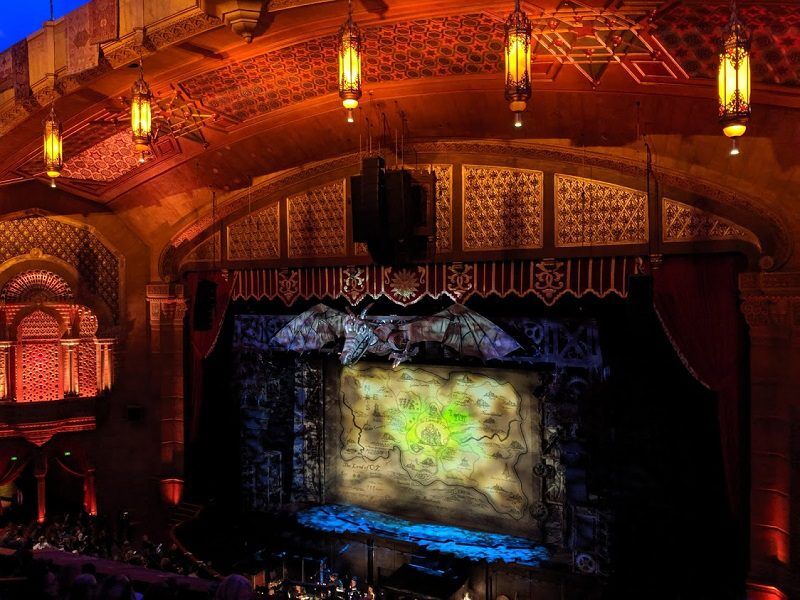 The Fox Theatre is an ornate mosque-style building built in the late 1920's. The building's elaborate design draws from Islamic and Egyptian architectural themes. The best part is the theater's 4,665-seat auditorium, which is set under an Arabian night sky, complete with flickering stars and passing clouds.
You can find any number of performing arts shows at The Fox, including Broadway, concerts, comedy, ballet, and more.
Read more: Family Stories of The Fox Theatre
Save on admission when visiting Atlanta's top attractions by using the Atlanta CityPASS.
Top Atlanta Events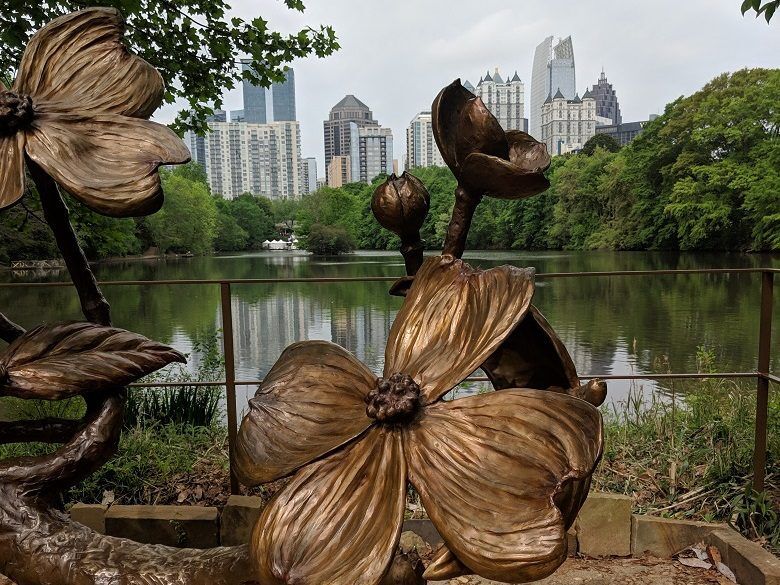 Atlanta festival season is year-round, though most of the big events usually take place in the spring. Find out more about Atlanta's most famous annual events and start planning your visit to Atlanta!
Where To Stay in Atlanta
Where you stay when visiting Atlanta largely depends on what attractions you want to see. For most travelers, Downtown and Midtown prove to be the most convenient locations thanks to all the nearby sights. But don't rule out staying in a different neighborhood with access to a MARTA line!
Just to give you an idea of what hotels are like in Atlanta, here are just a few of the city's top and most iconic hotels.
Hotel Clermont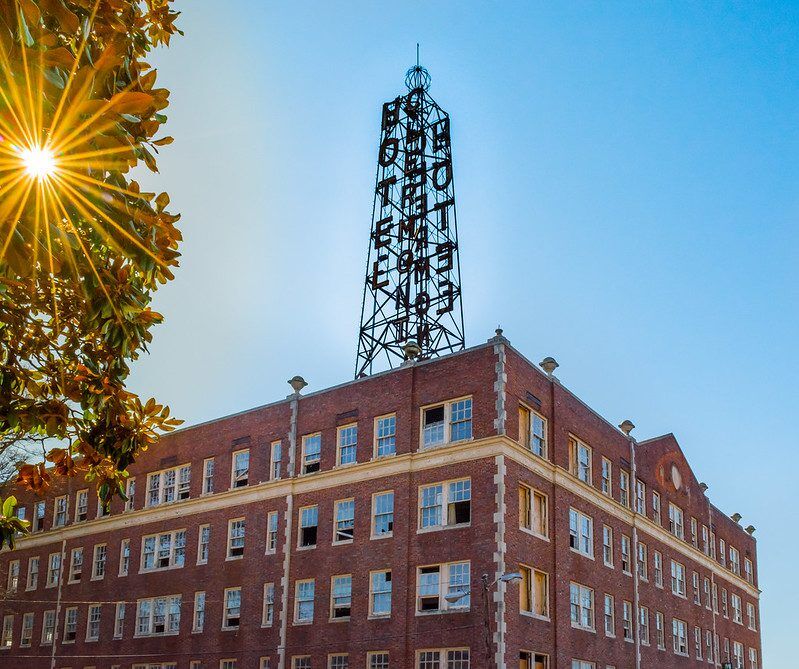 Poncey-Highland
The historic Hotel Clermont is a restored 1920s hotel featuring renovated rooms and a rooftop bar with skyline views. This trendy independent boutique hotel is actually located right above Atlanta's legendary Clermont Lounge, a strip club dating back to the late '60s (they aren't affiliated with the lounge, though).
Location: Near Ponce City Market. 3 miles from the Atlanta Botanical Garden. 4 miles from the Georgia Aquarium.
Stonehurst Place
Midtown
Stonehurst Place is Atlanta's premier eco-friendly bed & breakfast. This historic property is set in an 1896 mansion that has been renovated with environmentally friendly systems like solar panels, in-room recycling, and a potable rainwater system.
Location: Near the southwest corner of Piedmont Park. A short walk from the Margaret Mitchell House or The Vortex's Midtown location.
Glenn Hotel
Downtown
The upscale boutique Glenn Hotel features chic and fashionable rooms as well as an on-site restaurant serving up classic Southern cuisine and an award-winning rooftop bar with amazing views.
Location: Near the southern tip of Centennial Olympic Park. A short walk from Mercedes-Benz Stadium or the Georgia Aquarium.
Westin Peachtree Plaza
Downtown
The distinctive cylindrical and all-glass Westin Peachtree Plaza hotel has floor-to-ceiling windows in each room that offer amazing views of the city. The hotel is also known for the Sun Dial Restaurant, a revolving restaurant and lounge in the top three levels of the building.
Read my review of the Westin Peachtree Plaza here.
Location: Near the eastern side of Centennial Olympic Park. A short walk from SkyView Atlanta or the Georgia Aquarium.
W Atlanta — Downtown
Downtown
The W Atlanta — Downtown is a stylish luxury hotel that beckons guests with its bespoke spa experiences that will help you unwind, rest, and refresh. Here, you'll also find Atlanta's only all-weather rooftop pool bar.
Location: Near the National Center for Human and Civil Rights, World of Coca-Cola, and the Georgia Aquarium.
Georgian Terrace Hotel
Midtown
The upscale Georgian Terrace Hotel dates back to 1911. It is most known for hosting the movie premier party for the release of Gone with the Wind in 1939.
Location: Across the street from The Fox Theatre. 1 mile from the Georgia Aquarium.
InterContinental Buckhead Atlanta
Buckhead
The InterContinental Buckhead Atlanta hotel offers stylish, upscale rooms and plenty of Southern charm. This hotel has a heated outdoor pool that's open year-round and pool-side meal delivery on weekdays.
Location: Near the Buckhead MARTA station. A short walk from the upscale Lenox Square Mall shopping center.
Omni Hotel at CNN Center
Downtown
The Omni Hotel at CNN Center is a family-friendly hotel right near all the action Downtown. The hotel includes a pool and an on-site restaurant.
Location: Inside the CNN Center. Direct access to the State Farm Arena and the Georgia World Congress Center. A Short walk from the Georgia Aquarium.
Hyatt Regency Downtown
Downtown
The Hyatt Regency Downtown is an iconic Atlanta hotel identified by the blue dome on top of the building that contains a rotating restaurant and cocktail bar with skyline views.
Location: Near the eastern side of Centennial Olympic Park. A short walk from the Georgia Aquarium.
The Candler Hotel
Downtown
The Candler Hotel is set in an elegant 1906 building that was built by Coca-Cola's Asa Candler. This hotel blends art deco glamour and Southern hospitality.
Location: Near Woodruff Park. 1 mile from the Georgia Aquarium.
Read more: Top 10 Hotels in Atlanta, Georgia
Where To Eat in Atlanta
Barbecue, burgers, and fried chicken are all staples of the Atlanta food scene. But Southern comfort food isn't all there is to experience. Try visiting these amazing places to eat in Atlanta.
Ponce City Market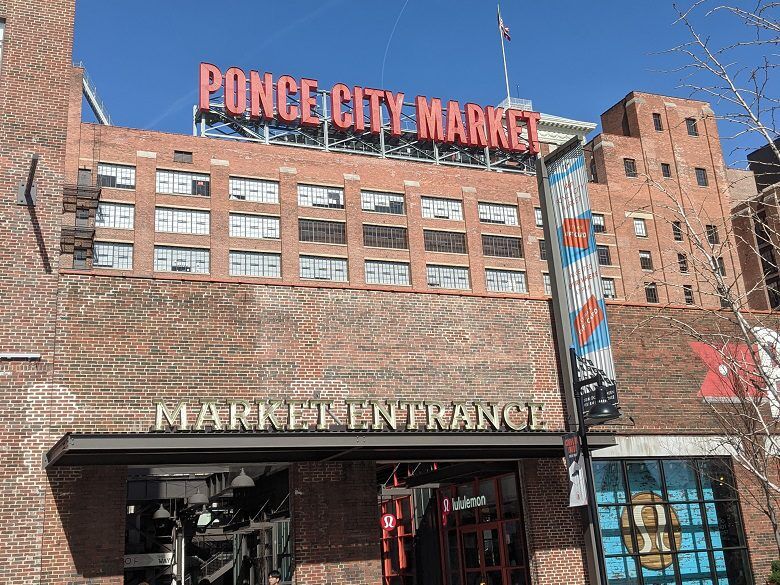 Ponce City Market is a mixed-use development that contains a vibrant food hall with some of the best food in the city. Try Bellina Alimentari for gourmet Italian, Botiwalla for Indian street food, Five Daughters Bakery for fresh pastries made from scratch, and more.
Read more: Winter at The Roof at Ponce City Market
Krog Street Market
Krog Street Market is another mixed-use food hall and has been rated as a top food hall in the country. Try Fred's Meat & Bread for classic burgers and fries, Richards' Southern Fried for classic fried chicken, Recess for mostly plant-based dishes, and more.
The Varsity
When you walk into The Varsity, don't be alarmed when all the workers start yelling "What'll ya have!" This iconic Atlanta restaurant is the largest drive-in fast food restaurant in the world, so you have the option to drive in, drive thru, or sit in.
The Varsity has also developed its own interesting lingo as a way to speed up the ordering process. So expect to hear a lot of yelling about naked dogs and strings; that's just a plain hot dog and fries.
Mary Mac's Tea Room
Mary Mac's Tea Room has been an Atlanta institution since 1945. This is one of the best places to get Southern comfort food in the city. It's almost always crowded, and it's definitely worth the wait.
Ted's Montana Grill
Ted's Montana Grill is a chain founded by Ted Turner, the founder of CNN. Ted was also a bison rancher, so his Grill is known for serving delicious bison burgers.
Paschal's
For another Southern comfort food option, try Paschal's. This historic restaurant promises soulful specialties like fried chicken, braised short ribs, smothered pork chops, and their famous peach cobbler.
The Vortex
The Vortex is a raunchy bar with great burgers. Their claim to fame is the Single Coronary Bypass burger. This comes with two bacon grilled cheese sandwiches, four slices of bread, an 8-ounce sirloin patty, 10 slices of American cheese, 9 strips of bacon, one fried egg, and 4 ounces of mayonnaise. You can get it as a Double, Triple, or Quadruple if you feel the need to up the amount of ingredients.
There are two locations: one in Midtown and one in Little Five Points. The location in Little Five Points has the distinct 20-foot high "Laughing Skull" façade. Both locations are adult-only and are 21-and-over at all times.
Read more: 3 Quirky Atlanta Restaurants
Majestic Diner
The Majestic Diner has been serving Atlantans since 1929. If you're in the mood for classic diner breakfast and other comfort foods, this is the place to go. And they're even open 24/7.
Buford Highway
Buford Highway runs from Buckhead north to Buford and is filled with a diverse range restaurants and markets featuring cuisines from around the world. A majority of the restaurants fall under Mexican, Central American, Chinese, Korean, and Vietnamese cuisine, but you can find almost any type of food from Indian to Bangladeshi to Somali to Ethiopian. If you're looking for something you've never tried before, then head to Buford Highway.
5 Best Day Trips From Atlanta
You'd be surprised just how many places are within a day's drive of Atlanta! If you're looking to get out of the city for the day, these are a few of my favorite day trips from Atlanta that are only a few hours away.
1. North Georgia Mountains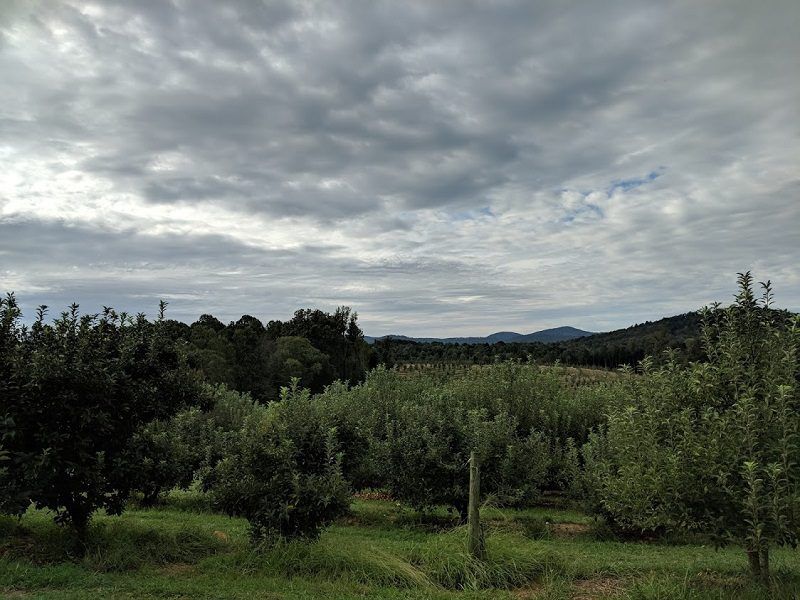 Travel time: approx. 1 to 2 hours
The North Georgia Mountains, part of the Blue Ridge mountain chain, are a great getaway from the city. This area is known for its wineries, cabins, hiking, and apple picking.
I recommend taking a day trip from Atlanta to Helen, Dahlonega, or Ellijay. These small Georgia towns are the complete opposite of the hustle and bustle of Atlanta.
2. Chattanooga, Tennessee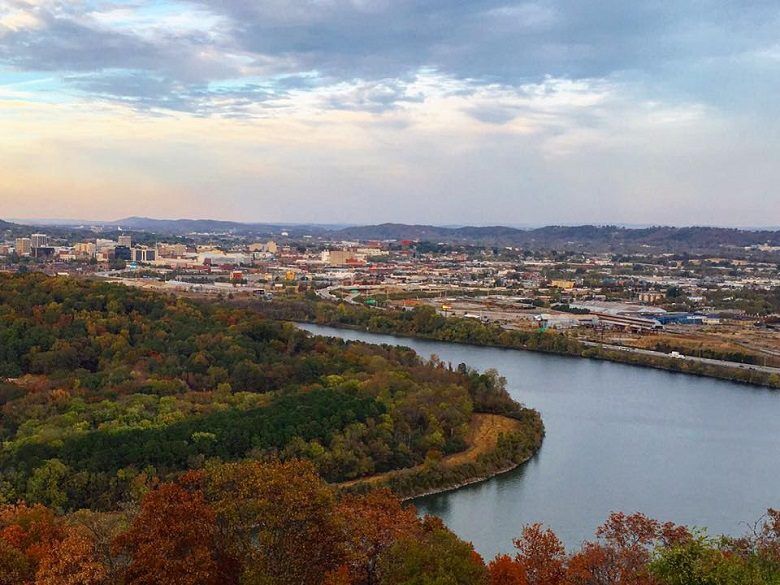 Travel time: approx. 1 hour and 45 minutes
Chattanooga, Tennessee is known as the Scenic City. Set along the Tennessee River and in the foothills of the Appalachian Mountains, the scenery is absolutely breathtaking.
This city is known for the underground Ruby Falls waterfall, Rock City Gardens with its unique formations, and the expansive Tennessee Aquarium.
But those are only a few of the things Chattanooga has to offer. Your day trip from Atlanta will be filled with fun things to do like riding the Incline Railroad, exploring the Hunter Museum of American Art, visiting the Chattanooga Zoo, trying Chattanooga's best restaurants, and so much more.
3. Macon, Georgia
Travel time: approx. 1 hour and 30 minutes
Head south of Atlanta for a day trip to Macon. This central Georgia city has historic sites, music landmarks, cultural museums, and antebellum architecture to explore.
In the spring, you can see the cherry blossoms bloom on 350,000 Yoshino cherry trees. And any time of the year, you can explore the city's unique museums and fascinating historical sites.
Macon has two famous antebellum homes that you can tour: the Hay House and the Cannonball House. There's also the Tubman Museum, the Southeast's largest museum dedicated to African American art, history, and culture. The Allman Brothers Band even called Macon home from 1970-1973, and you can tour their house. And if you want to get outside, you can explore the site of the Ocmulgee Indian Mounds, the largest ancient earthwork mounds in Georgia.
Visiting Macon's top sights can take a lot of time, but you can still see plenty of the city in just a quick trip.
4. Athens, Georgia
Travel time: approx. 1 hour and 15 minutes
Athens, Georgia is known for being the college town of the University of Georgia, but that's not all there is to it. Athens also has a vibrant musical history and was home to bands like R.E.M. and The B-52s. As such, the town has a lively music and nightclub scene.
This is another place that's great for touring antebellum homes, too. Athens has the T.R.R. Cobb House, the Taylor Grady House, and the Church-Waddel-Brumby House.
You can also visit the Georgia Museum of Art and the State Botanical Garden of Georgia, both at the University of Georgia.
I also recommend checking out the free Bear Hollow Zoo where you can see black bears, eagles, owls, and other native Georgia species that have been rescued.
5. Providence Canyon State Park, Georgia
Travel time: approx. 2 hours and 15 minutes
Providence Canyon State Park in southwest Georgia is known as Georgia's Little Grand Canyon.
If you're in the mood for a day trip from Atlanta that involves hiking, this is one of the best state parks to visit. The canyon's massive gullies were caused by poor farming practices in the 1800s, but they sure to make for some beautiful views.
Hikers can walk the rim trail, venture down into the deepest canyons, and even traverse backcountry trails.
Visiting Atlanta FAQ
Is Atlanta good for tourists?

Atlanta is great for tourists! The city has a vast array of tourist attractions that include historic sites, museums, gardens, zoos, outdoor activities, film tours, food tours, and public art.

Is Atlanta expensive to visit?

Atlanta can be on the expensive side, especially in the touristy areas of Downtown and Midtown.

When visiting Atlanta, you can expect an average meal price of $30 or more per person and an average hotel room for two around $140.

But you can keep your costs down by thoroughly researching cheap accommodation ahead of booking and looking at menu prices of restaurants online before you decide where to eat.

When is the best time to visit Atlanta?

The best time to visit Atlanta really depends on what you want to see and do!

Most travelers will find that spring is the best time to visit Atlanta. Spring offers nice weather, fun festivals, less crowds than summer, and plenty of affordable flight and hotel deals.

Craving More Atlanta Activities?
If you need more things to do while visiting Atlanta, check out these top posts:
---
Ready to visit Atlanta, Georgia? Plan your trip with these tips.
Book Your Flight: Find the cheapest flights using Skyscanner, my favorite flight search engine.
Find Accommodation: You can find top hotels in Atlanta using Hotels.com.
Save on Attractions: Save 40% on admission when visiting Atlanta's top attractions by using the Atlanta CityPASS.
---
Cheers!
Paige
Are you planning on visiting Atlanta, Georgia? Let me know in the comments!