Garmisch-Partenkirchen is a cute Bavarian town that is popular for skiing and snowboarding. There are so many fun things to do during winter in Garmisch-Partenkirchen that it makes the perfect Christmas vacation.
In the winter, skiers and snowboarders flock to Garmisch-Partenkirchen. With easy access to the slopes, the Zugspitze, and the marvels of Bavaria, and with the town's history with the Winter Olympics, its easy to see why.
Even though we're not exactly skiers, we chose Garmisch-Partenkirchen for our Christmas vacation. Being from the South and never getting any snow, we wanted a winter vacation that actually felt like winter. So we definitely made the most of playing in the snow, learning to ski, going ice skating, and exploring Bavaria!
Related Tour: Garmisch-Partenkirchen Walking Tour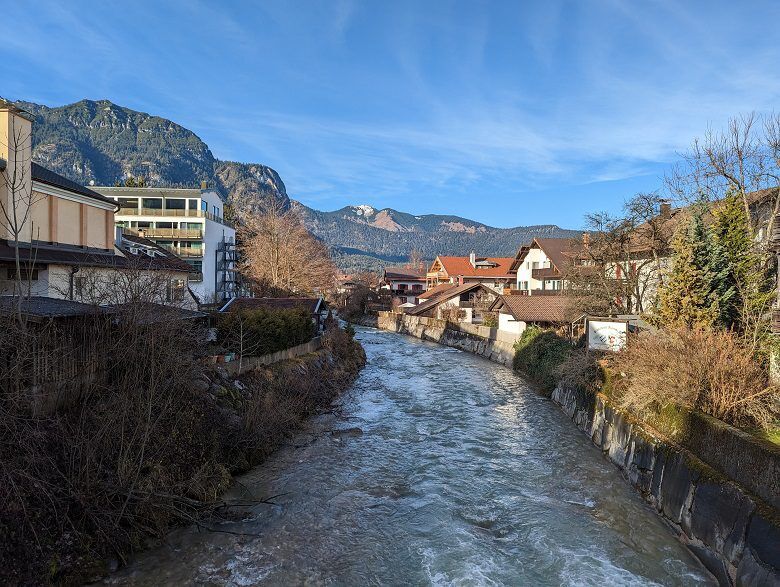 Things to Do in Winter in Garmisch-Partenkirchen
Skiing, snowboarding, sledding, skating — there is endless winter fun in Garmisch-Partenkirchen! Here are some of the best things to do on your winter holiday.
1. Summit the Zugspitze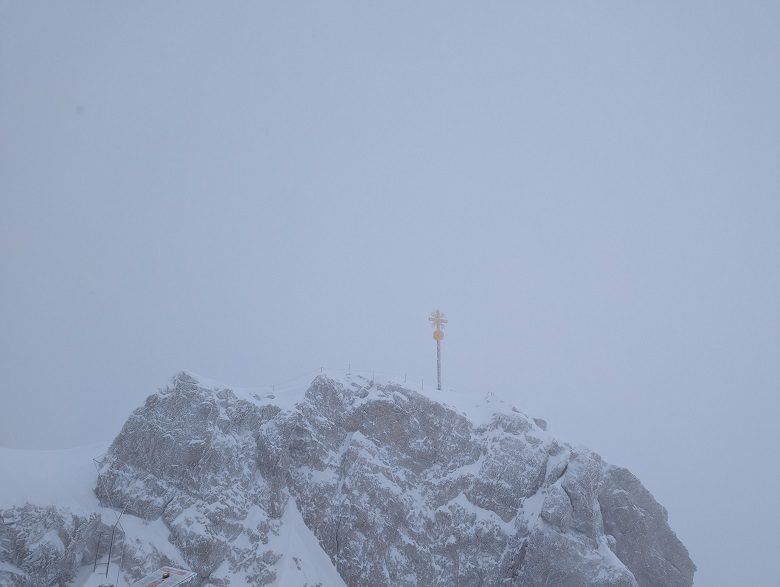 The Zugspitze is the highest mountain in Germany. It rises 2,962 meters (9,718 feet) above sea level. Josef Naus was the first person to climb the mountain in 1820.
To get to the Zugspitze today, you'll want to take the Zugspitzbahn in Garmisch-Partenkirchen and ride the cogwheel train, then take the Zugspitze cable car to the top.
A ride on the century-old cogwheel train packed with skiers and sightseers is a short 30 minute trip to Lake Eibsee where you'll switch over to the Zugspitze cable car. The Zugspitze cable car has the world's longest unsupported cable car span with 3,213 meters between the support tower and the top station. It also has the world's highest steel construction support tower and overcomes the world's largest total elevation gain of 1,945 meters.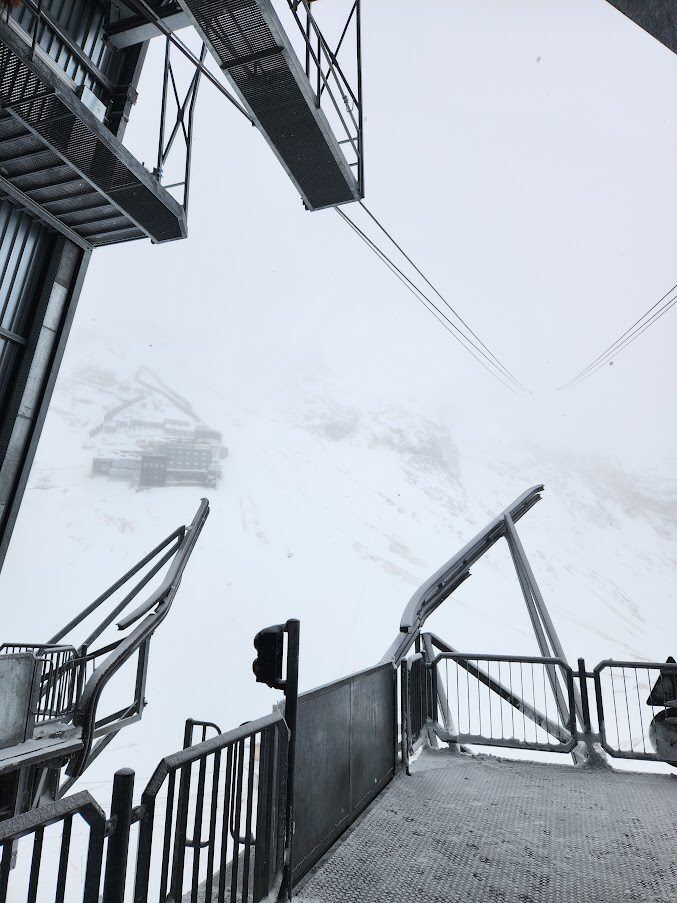 It's a thrilling ride in winter, with the frosty windows looking out over the valley views and the cable car literally knocking ice off the cables. As we passed the tree line and rode into the clouds, the world became covered in white and we knew we wouldn't be getting the scenic views of 400 surrounding mountain peaks that you can see during other seasons.
Reaching the Summit
The top station was covered in snow and ice. We found our way to the summit where a 14-foot-tall gilded iron cross has stood since 1851. In other conditions, you can easily reach the summit from the viewing platform and make it all the way to the cross.
But of course winter at this elevation is practically a blizzard. Workers attempted to clear the viewing platform with snow blowers, only to have the path covered completely again in a matter of minutes. We had a great time playing in the snow anyway.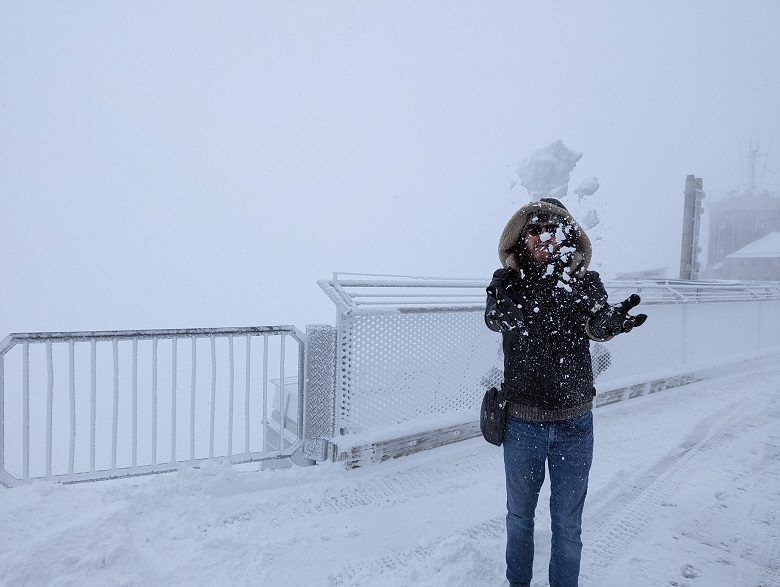 We quickly learned where the mountain peak got its name — "zug" can mean "strong gust of wind", so the "Zugspitze" loosely translates to "wind point/peak". It quite literally blew us away.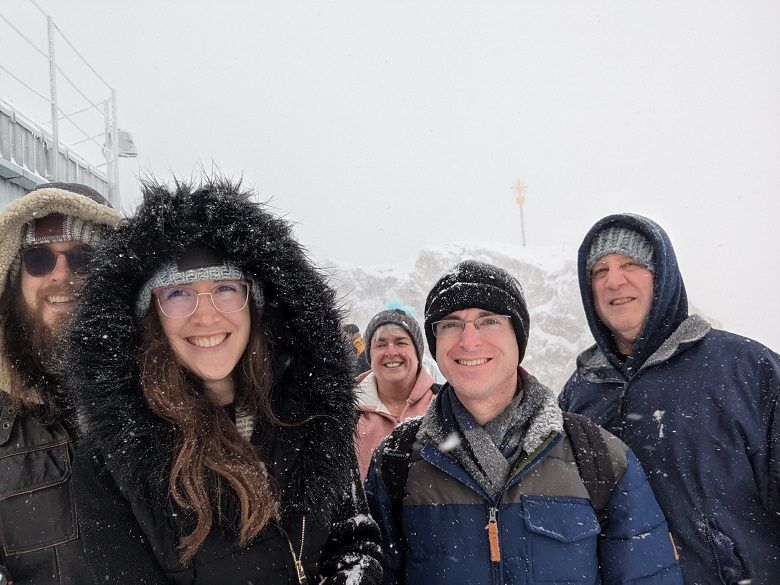 Up here, you'll also find the Deutscher Wetterdienst (German weather service) tower, erected in 1900. In 1985, meteorologists registered the highest measured wind speed on the Zugspitze at over 200 miles per hour.
Somewhere, you're able to cross over the border into Austria. We weren't able to find Austria for all the snow.
Related Tour: Private Day Tour of Garmisch-Partenkirchen and the Zugspitze Mountain
Lunch at Panorama 2962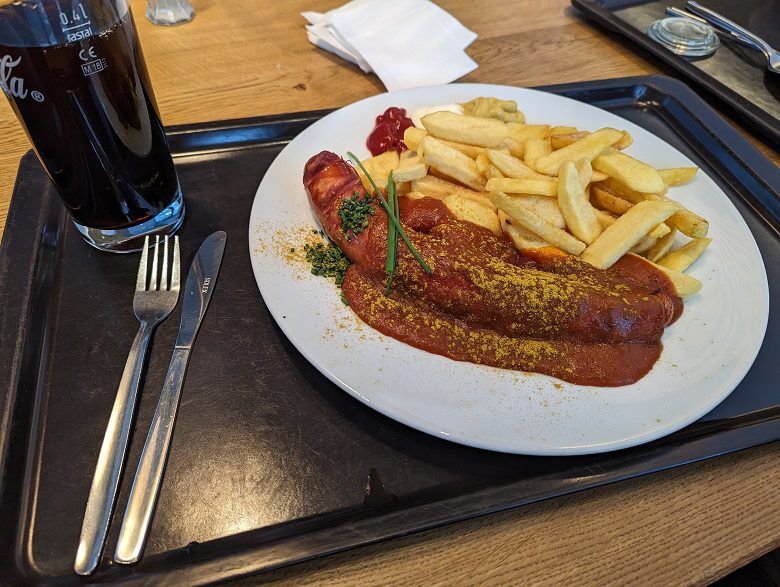 Panorama 2962, named for the peak's height and the restaurant's views, is the summit restaurant at the Zugspitze cable car top station.
This is a cafeteria-style restaurant with German, Italian, Austrian, and even Swiss selections. They have dishes like currywurst, pasta with marinara sauce, salads, goulash, and more.
The view isn't great during a snowstorm in winter, but at other times of the year you would get amazing views from the seating area's picture windows.
2. Go Sledding at the Zugspitze Glacier
Zugspitze has three of Germany's five glaciers. The permanent ice of the glacier helps keep the snow here, making this one of the best places for skiing and other snow sports.
To get here from the Zugspitze summit, you'll want to take the Gletscherbahn (Glacier cable car) for a short ride to the glacier station.
We decided to go sledding (sledging) here since that's something we're not likely to get the chance to do back home. You can rent sleds and toboggans from the Zugspitze ski hire shop near the glacier station.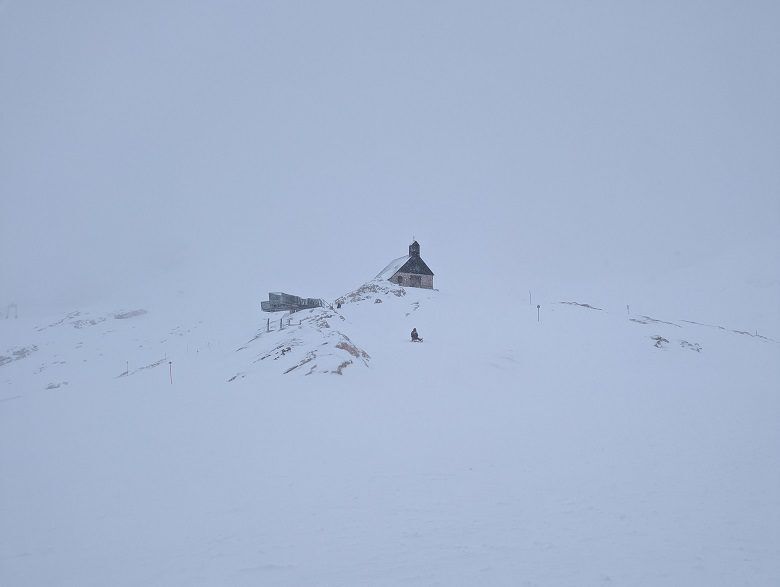 While it wasn't nearly as windy at this slightly lower and more protected elevation, we still had an adventure getting through the snow. We had a tough time making it past the Mariä Himmelfahrt chapel, one of the highest churches in Germany. But we managed to find a nice quiet spot for sledding and had a lot of fun, even though we have no idea how to operate a sled.
We had wanted to check out the Iglu-Dorf, a bar and restaurant inside an igloo, but unfortunately it was closed for Christmas. Instead, we stopped in at the Gletschergarten, a restaurant inside a circular glass pavilion, for some glühwein and hot chocolate to help us warm up.
3. Ski the Bavarian Alps at Garmisch-Classic
Garmisch-Classic is a great ski area for beginners and professionals alike. We headed to the Hausberg mountain because that's where the kinderland for beginners is.
To get there, you can take the Zugspitzban or the regular regional train for a very short 3 minute train ride. You can even just walk (we ended up walking home so we didn't have to wait for a train).
Since we're a military family, we got our lift tickets and ski equipment rentals through Edelweiss Lodge and Resort from their Hausberg Sport Lodge. They were great at getting us get everything we needed as first time skiers. The only problem is, it's a long trek from the rental shop to the gondola that takes you up the mountain — never having walked in ski boots before, we were all almost ready to quit before we even got started.
To get to the mountain top, you have to take the Hausbergbahn, an enclosed gondola cable car. You deposit your skis on an outer rack and hop inside — you have to be quick or else your skis will be making the trip without you! You'll have to be quick getting off the gondola as well.
A Day on the Slopes
At the top Hausbergbahn station, we headed off to the right to find Kinderland. If this is your first time skiing too, I'd recommend not putting on your skis just yet if you don't want to be thrown into the fray, as there is some downhill between the station and Kinderland.
Turns out, ice skating translates pretty well to skiing, so I did just fine. Some others in our party almost didn't make it to Kinderland (and I know they were frustrated, but it was kinda hilarious).
Everyone will tell you to "pizza" and "french fry" for stopping and going. I'm no ski instructor, but I do teach ice skating and we stop the same way, so here's my little tidbit: it's not enough to just make the pizza with your skis, that's not going to stop you; you have to actually press into the snow with the insides of your feet. If you just pizza and you don't press, you're not going to stop. You gotta press.
In Kinderland, you'll ride a "Magic Carpet" moving sidewalk to the top of the slope. Kinderland can be pretty crowded, so be prepared to have to wait for people to move out of your way, or to have to learn how to stop very quickly.
When you're ready to graduate, there are other beginner slopes. At the top of Kinderland, you'll head off to the side where you'll find a fun rope-tow lift to take you up the next slope. With this tow, you'll put a little T-bar "seat" between your legs, but you won't sit, and it'll pull you up the slope while you stand on your skis. And if you want to go up a little higher, there is another rope-tow lift.
Lunch at Restaurant Drehmöser 9
Drehmöser 9 is only open in the winter. This restaurant is a cute rustic hut with a fire pit in the middle, upstair seating, and a nice long bar.
For lunch, we had to go with their homemade pizza, since we'd been "pizza"-ing all morning.
4. Go Ice Skating at an Olympic Ice Stadium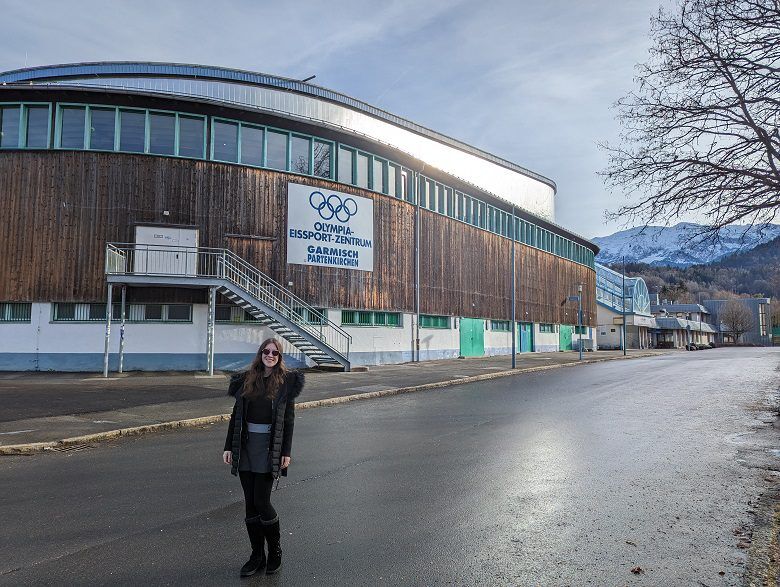 The Olympia Eissport Zentrum Garmisch-Partenkirchen was the ice rink for the 1936 Winter Olympics. The outdoor ice rink was completed in just 106 days with seating for 9,000 people. In 1964, they expanded they rink and added a roof. Now, the rink has two standard indoor ice rinks and one standard outdoor ice rink.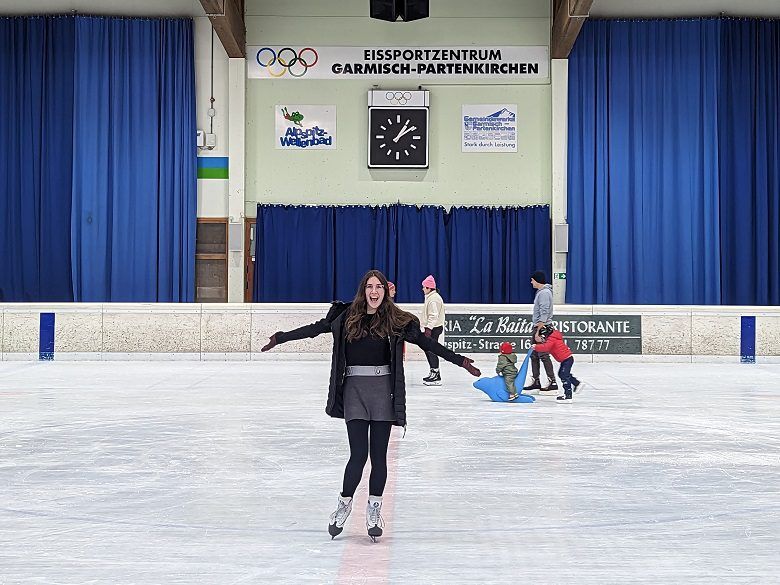 As a figure skater, skating at an Olympic ice rink was a definite must for me!
The rink has public skate sessions most days, and they have rental skates available.
5. Enjoy a Christmas Market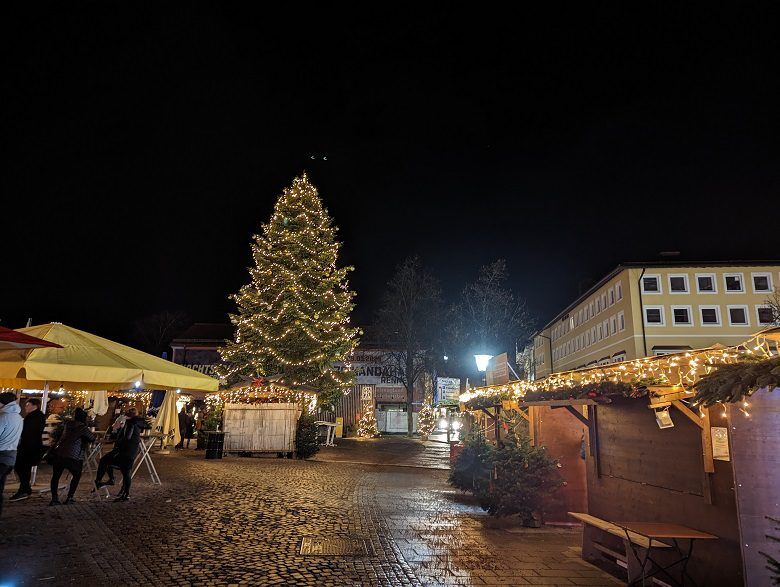 You can't have an authentic German Christmas without an authentic German Christmas market!
Every year from the end of November until just before Christmas, Garmisch-Partenkirchen has its own Christmas market decorated with a lavish Christmas tree, countless booths of hand-made crafts and traditional delicacies, holiday music, and rides for the kids. And plenty of glühwein, of course.
There are other Christmas stalls set up around the town as well where restaurants offer a cozy spot for some glühwein and holiday music. You may even be able to find an outdoor ice rink as well!
6. Take a Day Trip to Neuschwanstein Castle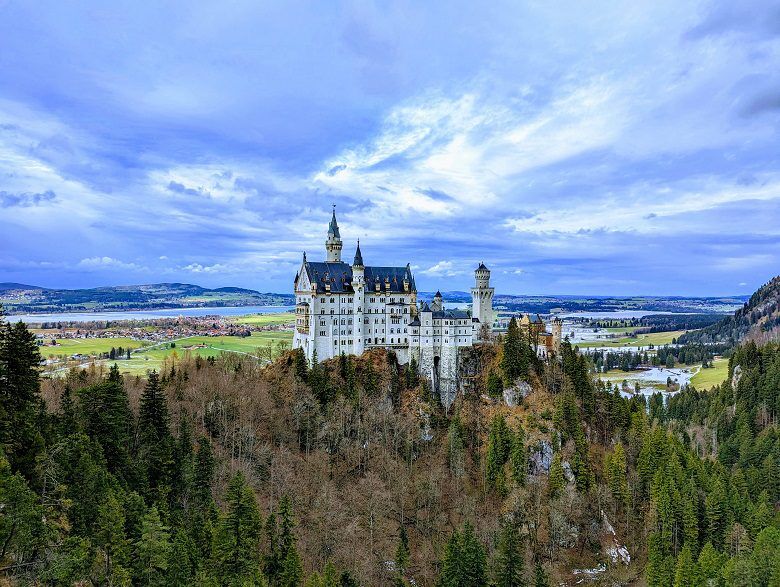 Castle day trips are my favorite kinds of day trips, especially when they involve multiple castles! And Neuschwanstein Castle is my favorite castle!
This was my second visit to Neuschwanstein Castle, so trust me when I say it's well worth the trip. This fairytale castle is one of the most famous castles in the world — it inspired Wald Disney's Sleeping Beauty Castle at Disneyland. And when you visit, you can also visit the neighboring Hohenschwangau Castle.
You can take a guided day tour from Garmisch-Partenkirchen to Neuschwanstein Castle. You can also rent a car to drive there yourself, which is what we did.
Neuschwanstein Castle
Neuschwanstein Castle is one of the most visited castles in Germany. Built by King Ludwig II in 1869, the castle was never completed. Ludwig had only slept 11 days in the castle before his death in 1886.
The 15 rooms that were finished were basically designed as an homage to opera writer Richard Wagner, who Ludwig had a special friendship with. Among the intricacies of the interior are a literal man cave room built off the king's bedroom and a giant chandelier in the shape of a crown.
Learn more about visiting Neuschwanstein Castle here.
Hohenschwangau Castle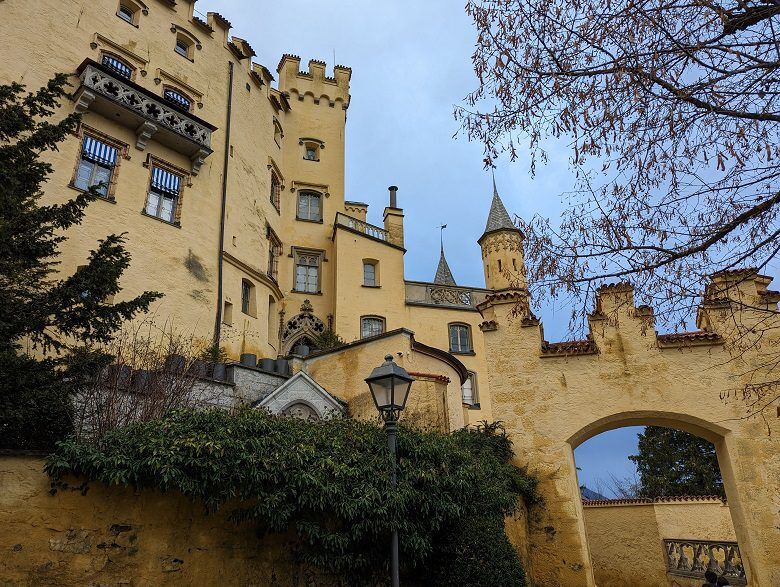 Hohenschwangau Castle was Ludwig's father's castle, King Maximilian II. He built the castle in 1832 as his summer and hunting residence.
The staterooms of this castle are no less extravagant. The stoves for heating each room looks like a miniature castle and are accessed by a hidden door so no one has to see the servants stoking the fire. All the walls are covered in elaborate murals, including one in the king's bedroom of a night sky with "stars" lit by light outside.
Learn more about visiting Hohenschwangau Castle here.
Lunch at Schloss Bräustüberl Hohenschwangau
Schloss Bräustüberl Hohenschwangau is a rustic restaurant and Biergarten below Hohenschwangau Castle. This building used to serve as a royal horse stable and coach house before becoming a Bavarian pub.
They offer authentic Bavarian inn cuisine in a large open dining room. You'll find classics like Schnitzel, Bratwurst, and Käsespätzle on the menu.
7. Warm Up in a Sauna
Saunas are big in Germany. They're a way to relax and indulge in wellness, helping you rid the body of toxins and relieve sore muscles.
A hot sauna is the perfect thing on a cold Bavarian winter day. And a lot of hotels in Bavarian have them. Our hotel had a sauna, and it was definitely an experience.
The saunas in Germany are nude. Germans, and a lot of Europeans, see bathing suits and outside clothes as dirty and germ-ridden, and they don't want those germs in the sauna. We did see some naked men, but there weren't any rules at our hotel, so we kept our bathing suits on.
The sauna at our hotel had showers, a Dampfsauna (a steam sauna), a Sanarium (a gentle dry sauna), a Finnische Sauna (the hotter, traditional Finnish sauna), and a cold plunge pool.
I'm no expert on German sauna culture so we definitely didn't do anything right, but Wandering Carol is and she has a great German sauna guide.
Related Tour: Naked in Bavaria – A Day at the Sauna
Where to Eat in Garmisch-Partenkirchen
1. Joseph Naus Stub'n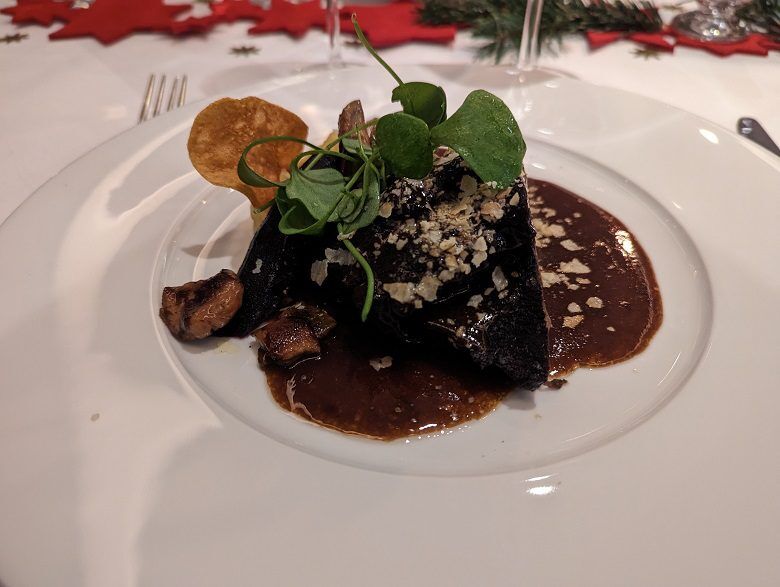 Joseph Naus Stub'n is the Michelin-rated restaurant inside the Hotel Zugspitze. The restaurant earned its Bib Gourmand rating for its delicious food, friendly staff, comfortable rustic-style restaurant, and fair prices. Their menu consists of traditional German cuisine made with regional ingredients.
Klammstraße 19, 82467 Garmisch-Partenkirchen, Germany
2. La Toscana
La Toscana is one of the best Italian restaurants in Garmisch-Partenkirchen. On the menu, you'll find all your Tuscan favorites, from pasta to pizza to salads.
Sonnenstraße 3, 82467 Garmisch-Partenkirchen, Germany
3. Gasthaus zur Schranne
Gasthaus zur Schranne is a cozy German restaurant inside a restored 19th-century inn. In this traditional restaurant, you'll find authentic Alpine and Bavarian cuisine.
Griesstraße 4, 82467 Garmisch-Partenkirchen, Germany
4. Alte Druckerei
Alte Druckerei is a Spanish tapas restaurant with a chic farmhouse feel. They have great small plates for sharing tapas-style, but they also have some really great steaks.
Druckergasse 3, 82467 Garmisch-Partenkirchen, Germany
5. Ristorante Pizzeria Trattoria Calabrese
Ristorante Pizzeria Trattoria Calabrese is a family-run trattoria with roots from Calabria. On the menu, you'll find specialties from Calabria such as spaghetti alla calabrese with bacon and broccoli, and pizza trattoria with salcicia (spicy salami), mushrooms, mozzarella, and olives.
Schmiedstraße 1, 82467 Garmisch-Partenkirchen, Germany
Where to Stay in Garmisch-Partenkirchen
Find the perfect place to rest your head on your visit to Garmisch-Partenkirchen, from the top rated accommodations to unique stays you can't get anywhere else.
Hotel Zugspitze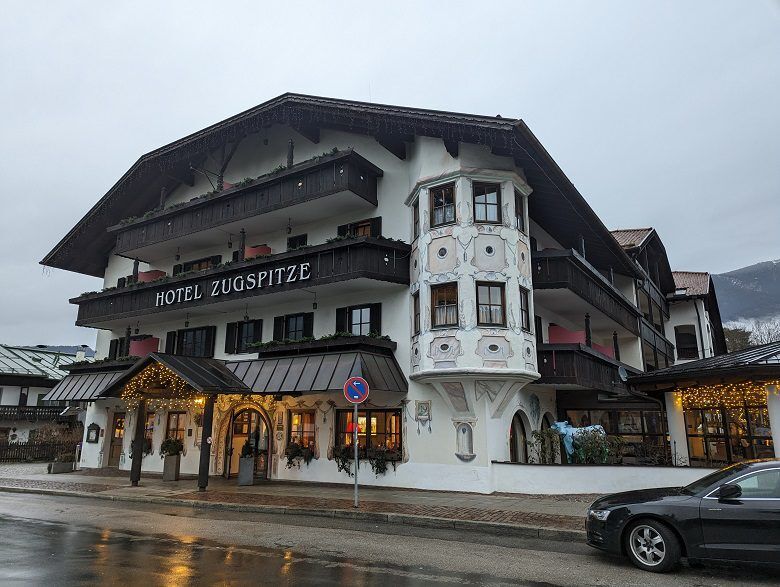 For our winter trip to Garmisch-Partenkirchen, we stayed at the Hotel Zugspitze. We loved this hotel's cozy Alpine vibes, indoor pool and sauna, and close proximity to everything in Garmisch-Partenkirchen.
The hotel also has an amazing Michelin-rated restaurant where we received a special 5-course Christmas dinner. The hotel even left us some Christmas gifts in our room on Christmas Eve!
Read my review of the Hotel Zugspitze.
Top Garmisch-Partenkirchen Tours
With so much to see, Garmisch-Partenkirchen can be overwhelming for any first-time traveler. To take some of the stress out of planning your visit, opt for a guided tour! Check out this list of the top Garmisch-Partenkirchen tours to help you make the most of your time in this magical Bavarian town.
Map Out Your Winter Vacation in Garmisch-Partenkirchen
Use the map below to check out all the places listed on this itinerary plus amazing places to stay in Garmisch-Partenkirchen.
I hope you found this guide to winter in Garmisch-Partenkirchen helpful and that you have an amazing vacation!
More Germany Itineraries
Ready to explore even more of Germany? Check out these top posts:
---
Ready to visit Garmisch-Partenkirchen, Germany? Plan your trip with these tips.
---
Cheers!
Paige
Have you spent winter in Garmisch-Partenkirchen? Let me know in the comments!