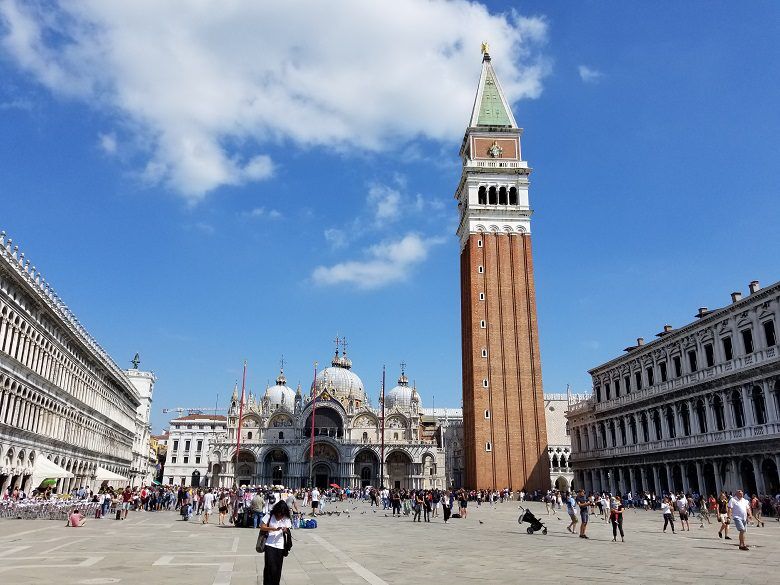 Venice has consistently been my favorite Italian city. The canals, the gondolas, the maze of streets — it's no wonder this city has drawn in writers and artists for centuries! Venice is a must-see destination. Here is my travel itinerary for spending two days in Venice, Italy.
2 Day Venice Travel Itinerary
Venice was the final destination on our Italy bus tour after Rome, Tuscany, and Florence. This was actually my second visit to the city. It was raining when we arrived, a light sprinkle that soon turned the already-flooding city into a mess of puddles, and it must be a tradition that it rains on my first day in Venice because it rained on my last trip, too!
Exploring Venice Day 1
We arrived in Venice around lunchtime. After finding a restaurant to shelter us from the rain, Kevin and I met up with our group and braved the weather together for a tour of Piazza San Marco.
Tour Basilica di San Marco
Basilica di San Marco in Piazza San Marco is one of Venice's top tourist attractions. The interior of the basilica features gorgeous gold mosaics dating from the 11th to the 13th centuries.
Entry to the basilica is free, but the line can be long. Since we were part of a tour, we go to skip the line and have the guide give us some history on notable features of the church.
As with other churches in Italy, Basilica di San Marco has a dress code. Make sure your shoulders and knees are covered!
Tour the Doge's Palace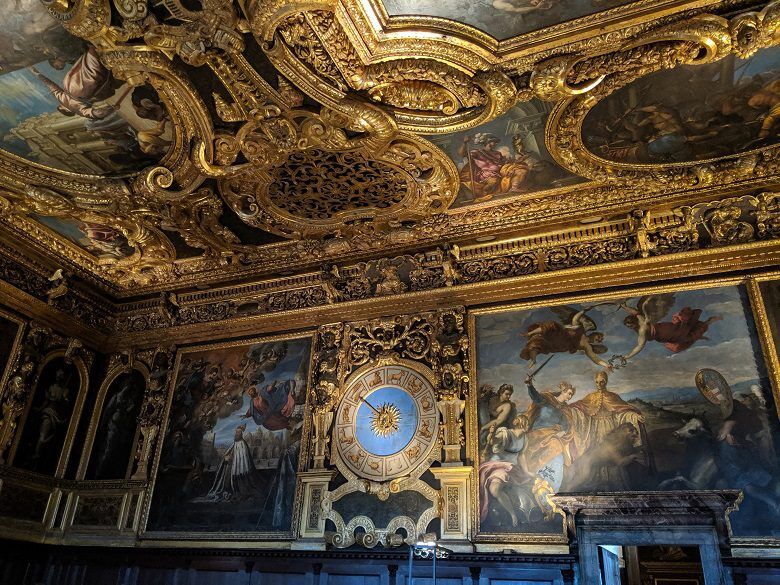 To the right of the Basilica is the Doge's Palace. This was the official residence of the Doge (or Duke) of Venice.
We had a guided tour of the palace, seeing into the lavishly adorned halls, apartments, and chambers. Then we walked across the Bridge of Sighs, the bridge that connects the palace's interrogation rooms to the prison.
The view from this bridge was the last convicts saw before their imprisonment.
Explore a Little, Relax a Little, Play Some Scopa
Since the whole day was pretty rainy, we mostly stayed indoors. After drying off from our tours in our hotel room, Kevin and I went out exploring in search of a place for dinner.
Then, we went to a tabaccaio (tobacco shop) to find Italian playing cards. These cards have different suits (Batons, Swords, Cups, Coins) and only 40 cards in a deck.
We took these back to our hotel to play Scopa, an Italian card game I learned about in a Nancy Drew computer game that's perfect for two players!
Exploring Venice Day 2
Glass Blowing Demonstration
We started our second day off with a glass blowing demonstration at Vecchia Murano Glass Factory. We watched a quick glass blowing demonstration where a professional turned a blob of hot glass into a vase and a horse figurine.
Then we explored the shop of original blown glass figures, tableware, and jewelry.
Gondola Ride
A gondola ride is a quintessential Venetian activity! I love them, but they can be pricey. Since we were on a group tour, I don't know how much this particular ride cost.
Typically, near San Marco, a 30 minute ride during the day costs €80, and at night it's €100.
If you shop around gondoliers on the small canals, you might be able to get a better price. And if you're with a group, you'll be splitting the cost, so that will help you decide if the cost is worth it!
Ride to the Top of the Campanile
Campanile di San Marco is the looming bell tower of Basilica di San Marco. The tower is 323 feet tall, and don't worry — you won't be taking the stairs! The top of the Campanile is elevator-access only. That means you'll be waiting in a long line, but it moves pretty steadily.
The view from the top is absolutely incredible; I loved seeing the unique layout of Venice.
Walk Around the Less Touristy Parts of Venice
San Marco is the most popular of Venice's neighborhoods. It is the heart of the city, after all, with Piazza San Marco and all that you can see there. But once you get away from the tourists, you'll start to see the real Venice.
Create a walking route that takes you to Campo Santa Maria Formosa (pictured above), a square with a beautiful 15th century church, and then to the famous Rialto Market and Rialto Bridge; go earlier in the day if you want to shop at the local Rialto Market.
When you cross the Rialto Bridge (above), you'll be in San Polo, one of the oldest parts of Venice. From here, you can visit Campo Sano Polo, one of the largest squares in Venice and a major spot for concerts during Carnival.
You can see many beautiful churches in this neighborhood like the Church of San Polo and the Basilica di Santa Maria Gloriosa dei Frari (pictured below) as well as a Leonardo da Vinci museum.
Soon you'll be in the Dorsoduro neighborhood. Campo Santa Margherita is a popular spot here for restaurants and a local market. The Gallerie dell'Accademia (below) with pre-19th century Venetian art is here also.
Across the Accademia Bridge, back in San Marco, we found the free Museo della Musica (Music Museum) and we also stumbled across Venice Glass Week exhibits at the Istituto Veneto di Scienze, Lettere ed Arti and the Palazzo Cavalli-Franchetti.
You never know what you'll find when you let yourself get lost in Venice!
Where to Eat in Venice, Italy
For a more in-depth guide, including gelato recommendations, check out my post on the top places to eat in Venice.
Where to Stay in Venice, Italy
Unfortunatley, the hotel we stayed in (Palazzo Selvadego) has closed down. That hotel had a partnership with the Hotel Monaco & Grand Canal where we ate breakfast, so I can at least recommend the Hotel Monaco based on its lobby and breakfast room.
If you're looking for something a little cheaper, check out Hotel Cavalletto & Doge Orseolo. This hotel has a great location right by the main tourist hot spots, and that makes it easy to find your way back to through Venice's confusing streets. You'll want to walk in the opposite direction of Piazza San Marco to find cheaper, less touristy places to eat, of course.
Top Venice Hotels
Read next: Top 5 Tourist Destinations in Italy
More Things To Do In Venice, Italy
Just can't get enough of Venice, Italy? I don't blame you! Check out these other Venice itineraries:
---
Ready to visit Venice, Italy? Plan your trip with these tips.
Book your flight to Italy: Find the cheapest flights using Skyscanner, my favorite flight search engine.
Find Accommodation: You can find top hotels in Venice using Booking.com.
Get a Guide Book: Check out the guide books from Fodor's, Lonely Planet, or Rick Steves for in depth info about traveling to Italy.
---
Cheers!
Paige
What are your favorite things to do in Venice, Italy? Let me know in the comments!