Add a little mystery to your relationship with a Mystery Weekend getaway! This Mystery Weekend in Dahlonega, Georgia is the perfect romantic escape for two.
A special thanks to AmazingCo for providing us with this Mystery Weekend experience! As always, all opinions are my own.
Kevin and I are always up for a romantic getaway! We enjoyed AmazingCo's Mystery Picnic Date in Roswell that we did before our wedding, so when I saw that they had Mystery Weekend experiences too, I just had to try it out.
Around Atlanta, AmazingCo currently has 2 Mystery Weekend locations — Helen and Dahlonega. We chose Dahlonega for our weekend getaway since we hadn't explored their downtown area before.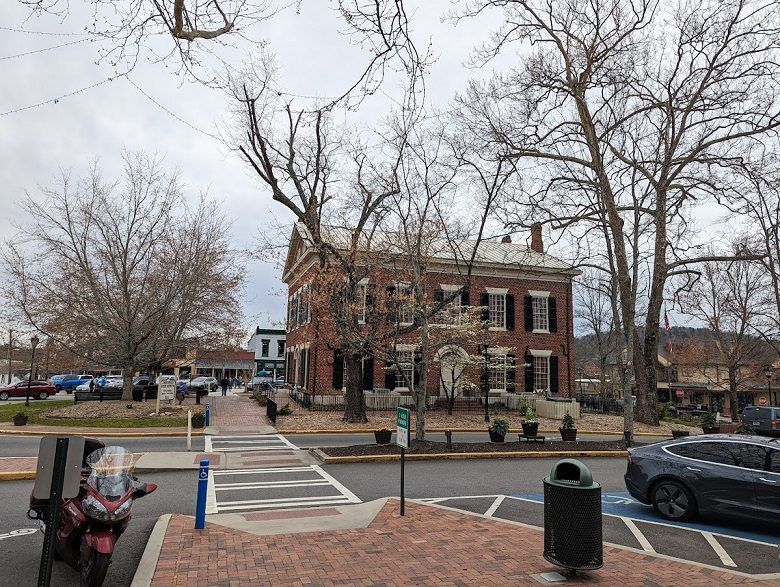 What is a Mystery Weekend?
AmazingCo's Mystery Weekends are a combination of their popular Mystery Picnics plus an overnight stay.
You'll start your day with a self-guided food and adventure tour, picking up food for your picnic at different stops. You get to each new location by solving puzzles and clues on your phone. Your picnic location and your accommodation are a complete surprise.
Everything you need for your picnic is included: you'll pick up a picnic basket at your first stop, you'll gather different items for your picnic at each different stop, and they'll provide you with the cutlery you need. With COVID, we had to bring our own picnic basket but we still picked up our delicious picnic spread at each stop.
If you have any dietary restrictions, they can make your picnic vegan, vegetarian, or gluten free. They can also accommodate any food allergies.
The Mystery Weekend experience costs $450 for two people. You can even upgrade for a second night of accommodation, bonus picnic items, and a premium accommodation. And if you're feeling really fancy, you can add on a bottle of wine.
Now, without giving away too much of the mystery, let me take you through our Dahlonega Mystery Weekend experience!
Dahlonega Mystery Weekend Review
The Dahlonega Mystery Weekend takes you exploring through historic Downtown Dahlonega where you'll learn all about the first major Gold Rush in the U.S.
You don't get your clue for the first stop until the day before your experience. If you really wanted to know where you're going before the weekend, you could totally do all the clues before you set out. Or you could just solve the first clue before you leave so you know where you're going.
The Stops
We had 8 stops in total. A couple of the stops were just for looking around and we didn't pick anything up for the picnic. But these stops also helped solve the next clue, so don't rush through them completely!
At our first pick-up stop, we grabbed a charcuterie and cheese board for our picnic from a local Italian restaurant.
Our second pick-up stop was a local café (owned by a former mayor of Dahlonega!) where we got a salad.
For our third pick-up stop, we visited a coffee bar (slash music venue slash yoga studio; Dahlonega keeps things interesting!) where we had a choice of snacks to add to our bag. We chose some delicious muffins and sweet bread.
Our final pick-up stop was a candy shop where we grabbed a box of truffles and a couple drinks.
The Picnic Location
Then it was time for our picnic stop! In our confirmation email, it said that our picnic location would be 1.5 miles from Downtown Dahlonega and advised driving. However, when we solved the clue, our picnic location was right in Downtown.
It was a small park, and there weren't many people there. The park only had benches, no tables to sit at. This is why I like to pack a picnic blanket for these trips — you never know what your picnic location will be like.
You can also choose somewhere else to have your picnic if you've found another spot you prefer along the way or if the chosen location is too crowded.
The Accommodation
After our picnic, we solved the clue to find out about our accommodation. The hotel we were booked in was just a few miles away from Downtown Dahlonega, nestled into the mountains.
We had a modern room at this boutique hotel that has a maximum occupancy of 28, so the property was quiet and secluded. Our room came with a pillowtop Queen bed, free Wi-Fi, a smart TV, a mini-fridge, a microwave, a claw foot tub, and a stand-up shower.
The hotel has long been a favorite of the Appalachian Trail hiking community, and it's located near the official start of the AT as well as plenty of other hikes and some of Dahlonega's best vineyards.
Extra Activities and Recommendations
Every time you unlock a new stop, AmazingCo will recommend other things to do in the area. You can do these now before moving on to your next clue or save them for later. These recommendations include things like hiking trails, shops nearby, museums, and historic sights to see.
Since some suggestions are a drive away, I typically like to save these for after my picnic. Besides, you're here for the whole weekend, so you'll have plenty of time to explore!
They also provide you with a couple games and conversation starters. There are games like Would You Rather, trivia, and more. These are great to play while you have your picnic.
Parking in Downtown Dahlonega
There is plenty of free parking in Downtown Dahlonega. The areas around the Square are 3-hour parking during the day, so keep an eye on the time if you park there. There are also some metered parking spaces on the side streets.
But you can also find free parking lots a short walking distance from the Square on North Park St. and Warwick St. The University of North Georgia also has a parking deck that is free in the evenings and on weekends.
Overall Dahlonega Mystery Weekend Experience
We really enjoyed our Mystery Weekend experience. It's fun to have the picnic and your accommodation planned out for you. It takes away some of the stress of planning a weekend away since you don't have to decide where to stay, and it gives you a unique way to explore the area.
The clues were a good medium between easy and hard. If we got stuck, we could get a hint. If you needed, you could contact the organizers. But really, once you had your guess, you just typed it in to see if you were right! If not, you tried again or tapped "reveal".
I knew from our Mystery Picnic in Roswell that the shops mostly knew we were coming, so it wasn't very awkward going into the stores. We did have a little confusion at one store where there was someone who wasn't familiar with the experience. If that happens to you, just gently let them know your name, that you're on an AmazingCo mystery experience, and that you're picking up a to-go order that's already been paid for.
The accommodation was very nice. I compared the price online to what you paid for the experience, and I felt like it was in the right range. It would of course be cheaper to book on your own, but you're also paying for someone else to put together the whole weekend for you.
Overall, I think AmazingCo has put together a really great Mystery Weekend experience that makes for a romantic getaway!
Read next: AmazingCo Mystery Weekend Review
More Dahlonega Tips
See why Dahlonega is golden! Check out these other Dahlonega itineraries:
---
Ready to visit Dahlonega, Georgia? Plan your trip with these tips.
---
Cheers!
Paige
Have you tried out the Mystery Weekend experience in Dahlonega? Let me know in the comments!