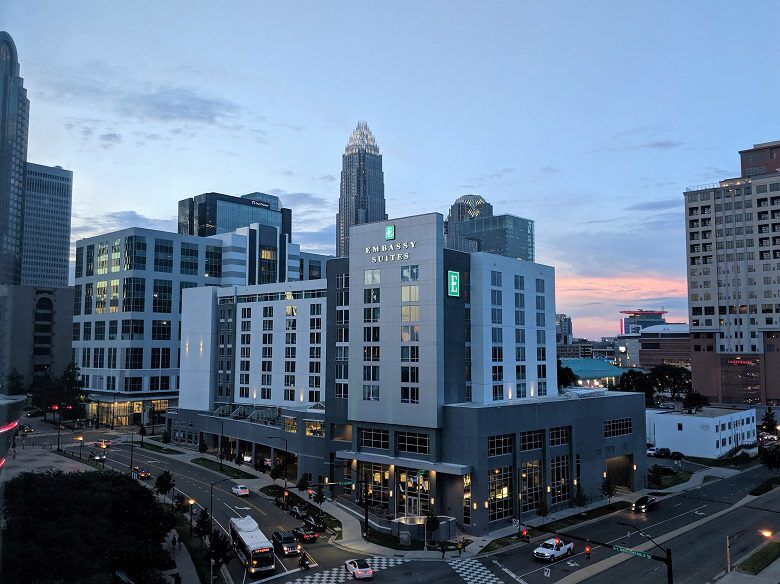 There's a lot you can accomplish in two days in Charlotte, North Carolina! Check out these fun things to see and do in the Queen City.
2 Days in Charlotte Itinerary
From Atlanta to Charlotte
Kevin had this trip to Charlotte to see Cirque du Soleil's Crystal planned since November, and I didn't know anything about the trip other than the date.
The drive from Atlanta to Charlotte is over four hours, so for the whole four hours I would call out names of random towns and cities we were nearing and ask if we were going there.
Once we drove into Uptown Charlotte, I figured this was our final destination, but I still wouldn't find out what we were in the city for until Saturday afternoon.
Uptown Charlotte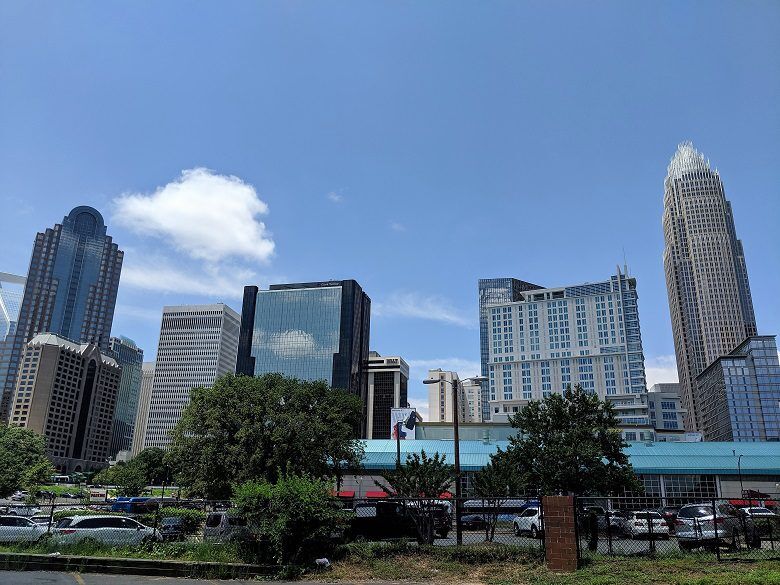 Uptown Charlotte is really what you would consider the downtown area. After following the signs for Uptown Charlotte, Kevin and I were left wondering if there were a downtown to match, or even a midtown. But it seems that "Uptown" has been used to refer to this central business district the majority of the time.
Charlotte is the most populated North Carolina city. Charlotte was named for King George III's wife, Charlotte of Mecklenburg-Strelitz, earning it the nicknames "Queen City"and "Crown Town".
Day 1 in Charlotte
We didn't get to our hotel until 3 p.m. Friday afternoon, so we didn't have a ton of options for things to do once we got settled since a lot of touristy places close at 5 p.m. I was able to search us out some quintessentially Charlotte things to see and do, though!
The Green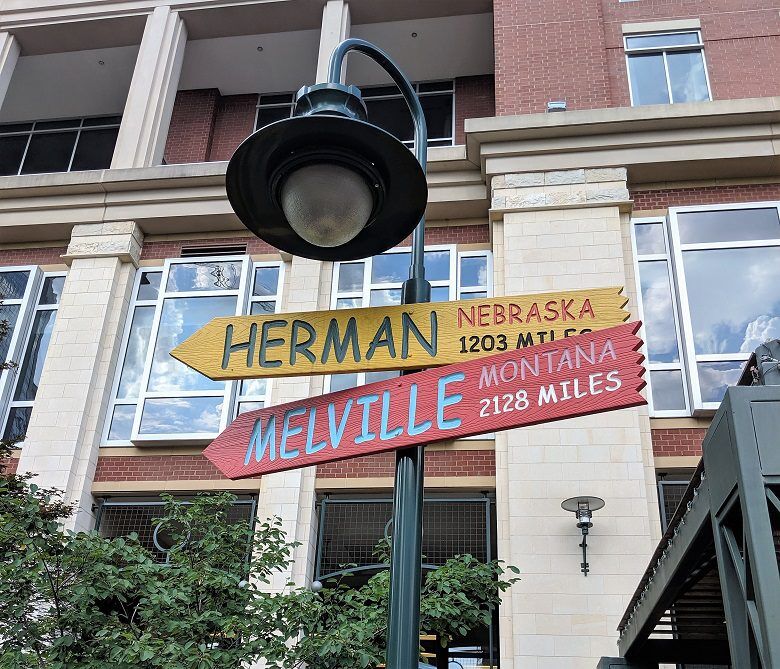 The Green is a literary-themed park near the intersection of W 1st Street and S Tryon Street.
There are statues of famous books stacked precariously atop one another and signs pointing you to the nearest cities that share famous author's names. You can also find out how far away a bunch of other Charlottes are.
Liberty Walk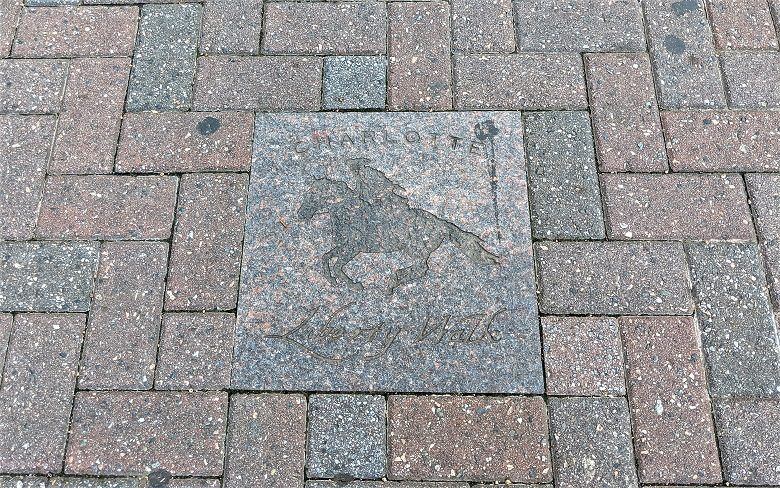 Liberty Walk is a trail of Revolutionary War history in Charlotte made up of plaques and signs on Tryon Street, Trade Street, Church Street, Fifth Street, and College Street.
Because most of activities took us up and down Tryon Street, we were able to see a lot of the Liberty Walk. Keep your eyes peeled for history when you're in this area.
Four Corners Statues at Independence Square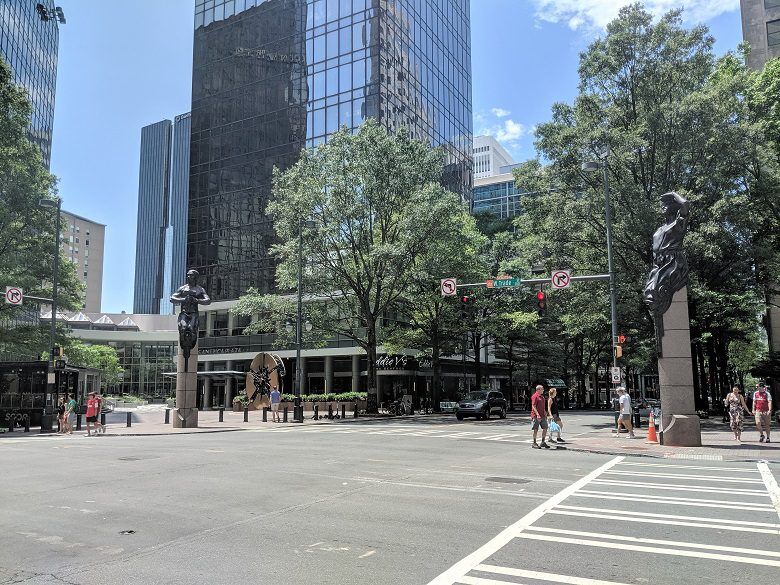 The intersection of Tryon and Trade Streets is the heart of Uptown Charlotte. Four huge statues stand on each corner, representing Charlotte's past, presence, and future: Commerce, Industry, Transportation, and The Future.
Il Grande Disco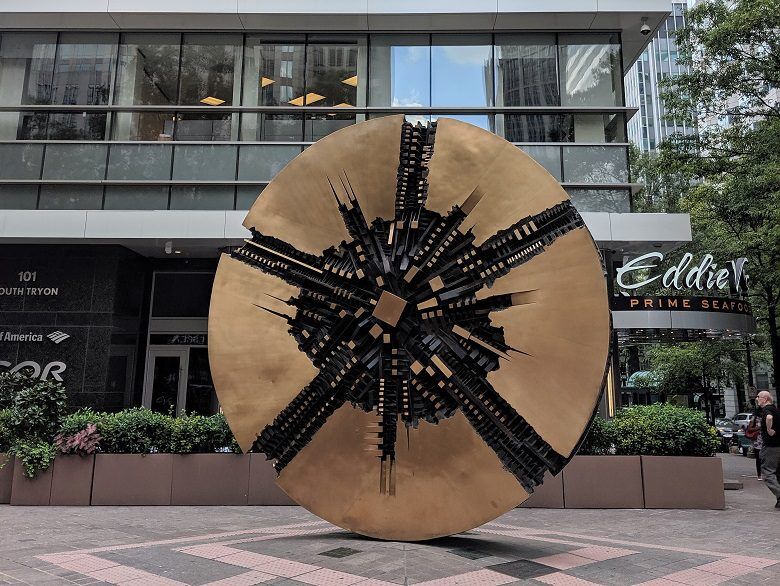 On the south corner of Independence Square at the Bank of America Plaza is another famous statue: Il Grande Disco.
Arnaldo Pomodoro created the sculpture in 1974 to commemorate Mecklenburg County's Declaration of Independence from Great Britain. The disc depicts a city emerging from the center.
Buddy Bear and the Charlotte Mecklenburg Library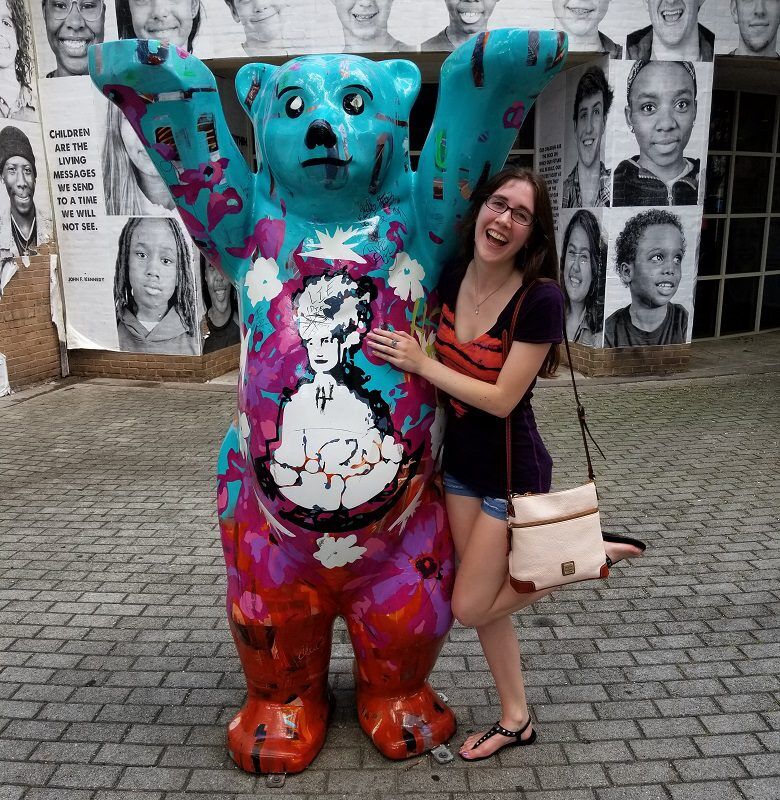 I'm all for anything bear-related! Buddy Bears are life-sized bear sculptures started by Berlin artists to promote peace, international understanding, and tolerance around the world, and Charlotte has its own Buddy Bear outside the Charlotte Mecklenburg Library.
Charlotte's Buddy Bear was designed by artist Sharon Dowell and depicts Queen Charlotte, paintings of the birds-of-paradise flower (Strelitzia reginae, named for the German region Queen Charlotte was born in), and binary code representing Charlotte's advancement in technology.
The Charlotte Mecklenburg Library is also an interesting find. The outside columns are decorated with quotes about reading and libraries by famous authors.
Discovery Place Science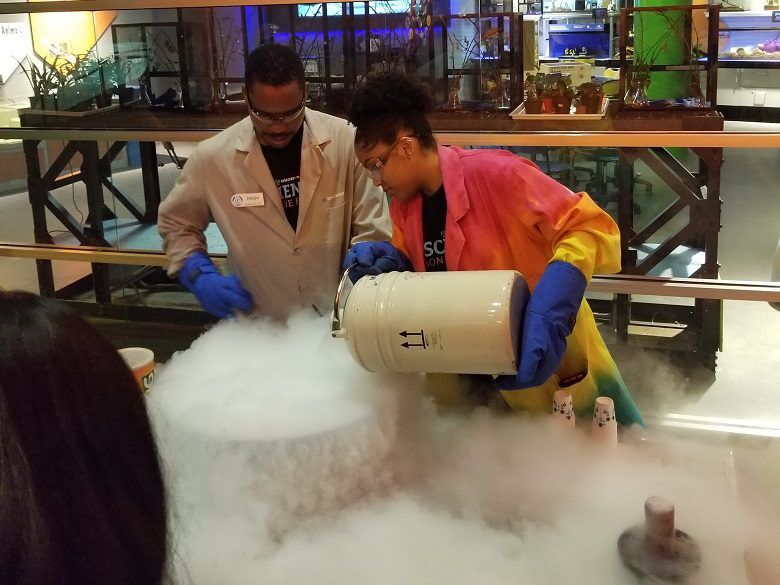 We were pretty lucky that we came to Charlotte on the third Friday of the month because that's when Discovery Place Science has its adult-only Science on the Rocks events after 6 p.m.
This allowed us to explore the science museum's interactive exhibits and special LEGO exhibit when the museum normally would have been closed, and we got a lot of space-themed fun!
Queen Charlotte Statue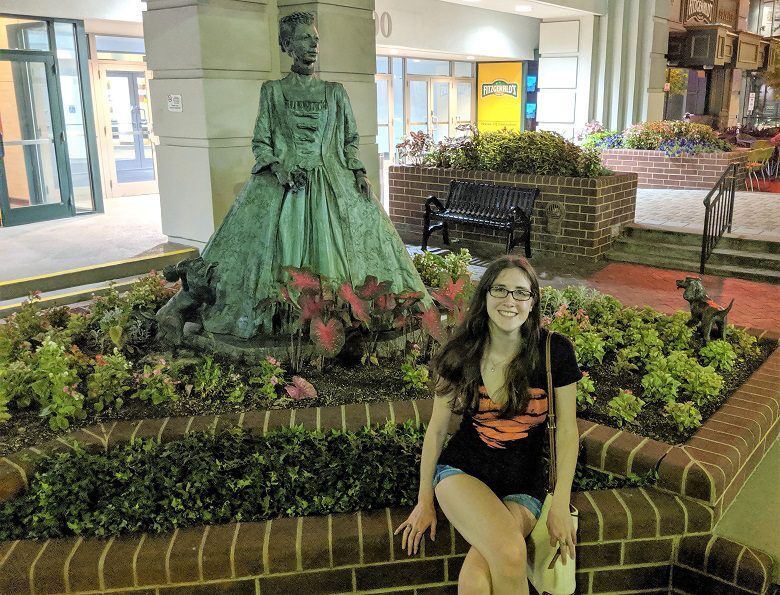 Getting a picture with the bronze statue of Queen Charlotte and her two dogs is a definite must! The statue is located in front of the Wake Forest University Charlotte Center.
Day 2 in Charlotte
Our second day was our big secret event (spoiler alert: it was Cirque du Soleil), so everything had to be planned around that, which is difficult when you don't know what you're planning around! But I made it work and found plenty of things for us to see and do in Charlotte for our day two.
Musical Parking Garage
Yep, you read that right — I'm suggesting you go to a parking garage. This parking garage at 231 E 7th Street is part of the Touch My Building art installation by sound artist and architect Christopher Janney. When you place your hand on any of the sensors beneath the light fins, the fins will light up and play a note or two.
There's even a hidden plaque that tells you how to get the whole building to light up and play a song — if you can decipher the riddle and play the notes in the right order (and if you can do this without a random person touching a sensor and messing up your hard work). The plaque is hidden low to the ground by one of the sensors on the train-side of the building.
Bechtler Museum of Modern Art
The Bechtler Museum of Modern Art has a collection of mid-century modern art from artists like Picasso and Degas.
Their current exhibition is Nomadic Murals: Tapestries of the Modern Era. The exhibit features more than 40 tapestries created by artists who are usually associated with painting, sculpture, and architecture.
Firebird Statue
If you don't want to venture into the Bechtler Museum, you can at least check out the "Disco Chicken" that stands out front. The 17-foot Firebird sculpture was created in 1991 by Niki de Saint Phalle and is covered with pieces of mirrored and colored glass.
It has stood in front of the Bechtler Museum since 2009. It's actually a bird standing on top of an arch and not, as you might think at first glance, a bird with giant legs. But it still does look pretty chicken-y.
Spectrum Center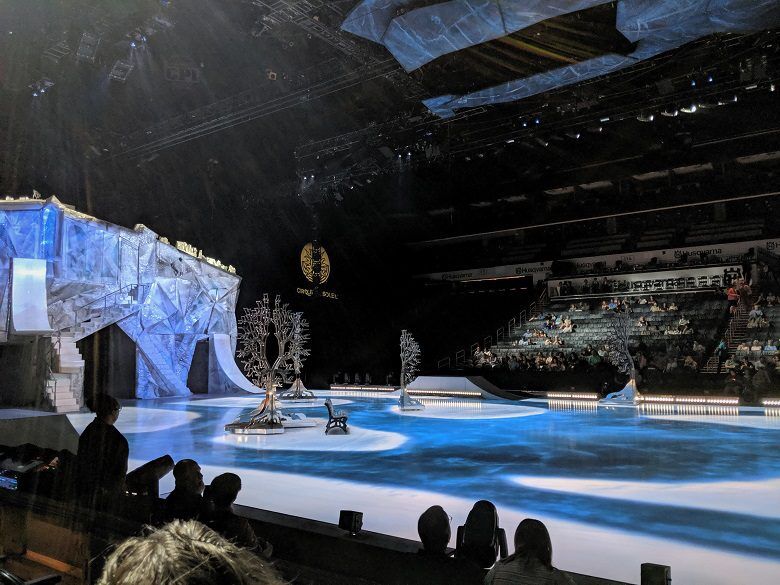 The Spectrum Center is the home of the NBA's Charlotte Hornets and is also a great place to see concerts and ice shows like Cirque du Soleil's Crystal.
City Lights Rooftop Bar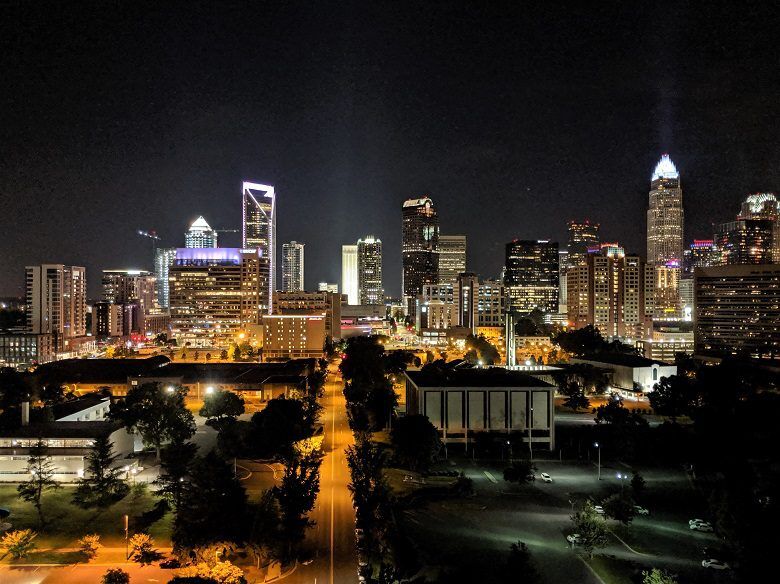 Cloud Bar by David Burke has one of the best skyline views in Charlotte. Located at the Le Meridien Charlotte hotel, City Lights Rooftop has 360-degree views and is the largest rooftop bar in Charlotte.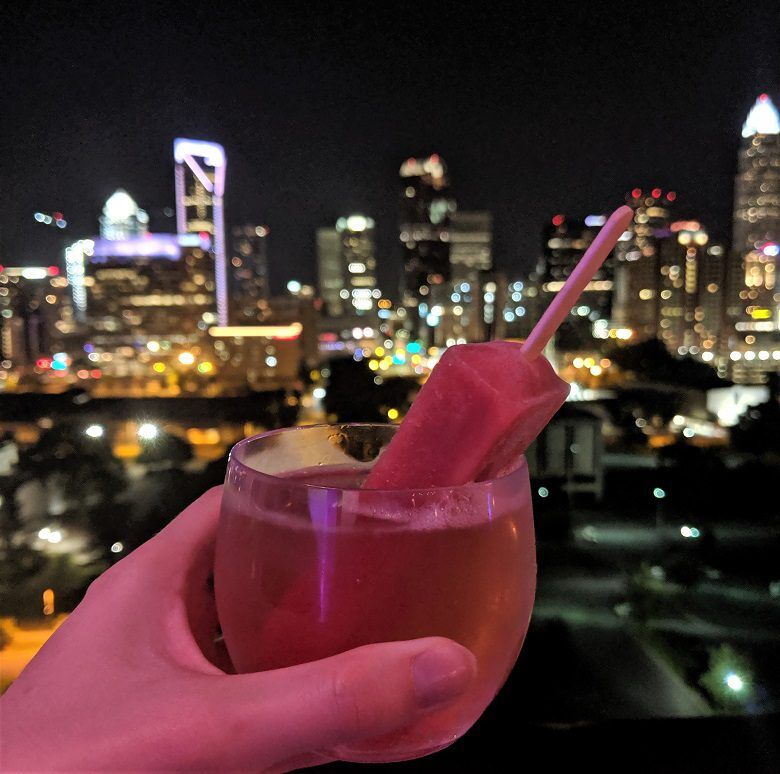 They have inventive signature cocktails that change to fit the season, so you're always in for a new surprise.
Top Tours of Charlotte
Make the most of your short trip to Charlotte, North Carolina with a guided tour. Here are the top tours of Charlotte:
Where to Eat in Uptown Charlotte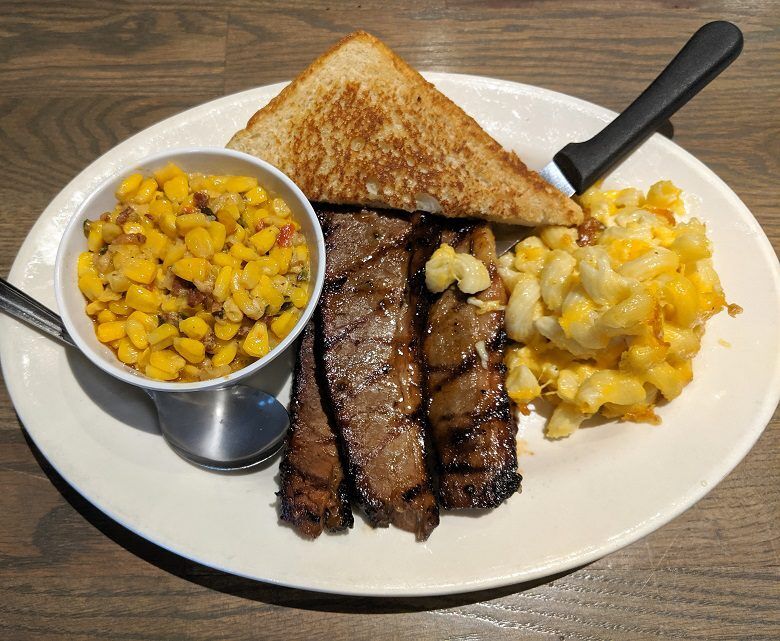 Poplar Tapas Wine & Spirits — For a sharable dinner, dine on tapas in the in the historic Morrison House on 10th St.
Midwood Smokehouse — You can't go to the Carolinas and not try Carolina barbecue. Venture just a little outside of Uptown for their Carolina Pork BBQ.
Que Onda Tacos + Tequila — For dinner our second night, we headed over to Que Onda for some street tacos.
Read next: A Weekend in Hickory, North Carolina for History Lovers
Where to Stay in Uptown Charlotte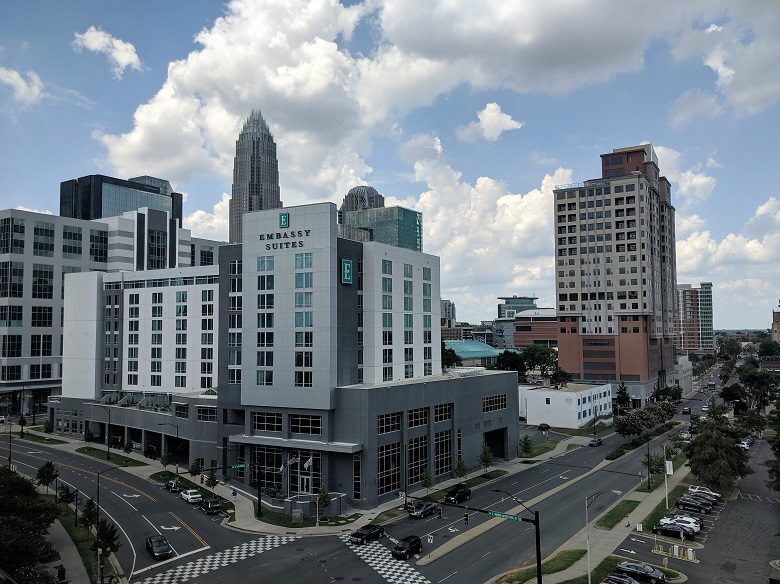 We stayed at the Hilton Garden Inn in Uptown Charlotte, which is right across the street from the NASCAR Hall of Fame. If you get the right room, you'll get amazing skyline views. It's easily walk-able to everything in Uptown Charlotte; we walked to everywhere I mentioned in this post.
It's also connected to the Hampton Inn if you want to be on the other side of the parking deck.
Top Places to Stay in Charlotte
Read next: Discovery Place Science on the Rocks Review
---
Ready to visit Charlotte, North Carolina? Plan your trip with these tips.
---
Cheers!
Paige
Have you been to Charlotte, North Carolina? Let me know your favorite things to do in the city below!