Summer time in Huntsville is for sipping craft cocktails rooftop while enjoying the warm weather and admiring views of the city. Here's my roundup of the best rooftop bars in Huntsville, Alabama.
If you're looking for the best views of Huntsville, day or night, you've come to the right place!
Huntsville is home to some amazing rooftop bars that let you take in the city views in style while enjoy a bit of fresh air. From chic lounges to casual spaces, there's something to suit everyone's taste.
Whether you're planning a girls' night out, a romantic date night, or simply want to relax on top of the town, my guide will provide you with the best Huntsville rooftop bars for an experience that is sure to impress.
Get ready to be dazzled by the rooftops of Huntsville from the comfort of one of these cozy and inviting spaces.
Top Rooftop Bars in Huntsville
Get great drinks and a private oasis await you at Huntsville's rooftop bars! There's no better way to experience Huntsville in the summer than sipping a cool cocktail at a hot rooftop bar. Discover the best places to relax high above the city at these amazing rooftop bars that offer craft cocktails and incredible atmosphere.
1. Baker & Able
Baker & Able, named for the famous monkey astronauts, sits on the top floor of the 106 Jefferson Huntsville, Curio Collection by Hilton hotel. This swanky rooftop bar overlooks Downtown Huntsville. They have indoor and outdoor seating with views of the rolling mountains and church steeples.
The bar serves high-class craft cocktails and small plates. Their bartenders wear white lab coats and use beakers to create your drink to fully embrace the scientist vibe in honor of the famous monkeynauts.
106 Jefferson St S, Huntsville, AL 35801
2. Pourhouse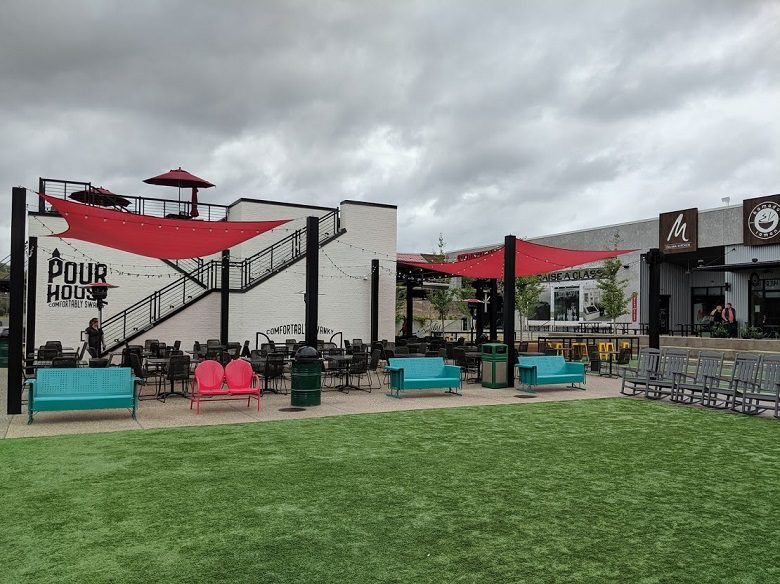 The Pourhouse at Stovehouse was Huntsville's first rooftop bar. Grab a handcrafted cocktail or craft beer from the round bar in the lounge downstairs and head up to the rooftop overlooking the live music area.
You can also grab food from one of the amazing options around Stovehouse, play a game of foot-pool, or play some bocce ball all located around the patio area below.
3414 Governors Dr SW, Huntsville, AL 35805
3. Stella's Elixir Lounge
Grab a drink at Stella's Elixir Lounge — there's plenty of space at their 4,000 square foot lounge that transitions from a swanky indoor bar to open air, rooftop seating around cozy fire pits. The space flows from the rooftop patio overlooking Holmes Avenue to the indoor seating and long bar to a covered patio out back.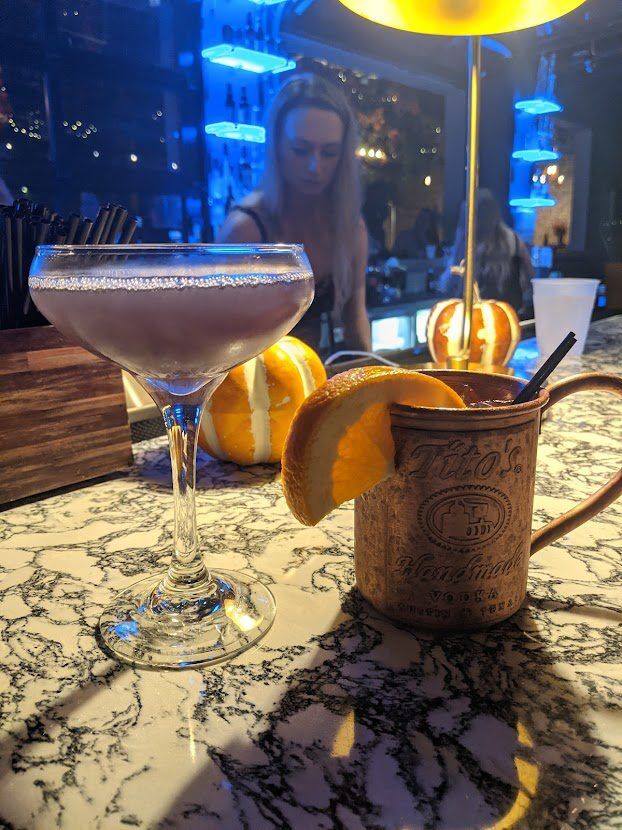 Their rooftop patio features semi-private cabanas, cozy couches, and classic cocktails. They have featured elixirs during their happy hour Monday through Friday from 3 p.m. to 7 p.m.
127 Holmes Ave NW Ste 202, Huntsville, AL 35801
4. Rhythm on Monroe
Rhythm on Monroe at the Von Braun Center has indoor dining, outdoor patio dining, and a rooftop bar. Their rooftop is the perfect place to hang out before catching a show! While the rooftop bar doesn't provide a ton of view, there are a few seating options that look out to Big Spring Park. They also have cozy fire pits and comfy seating to add to the ambiance.
We loved their delicious array of fun cocktails! For food, the rooftop bar only serves a limited appetizer menu, so I recommend heading down to the dining room for a great dinner in Downtown Huntsville.
700 Monroe St SW, Huntsville, AL 35801
5. BarVista at AC Hotel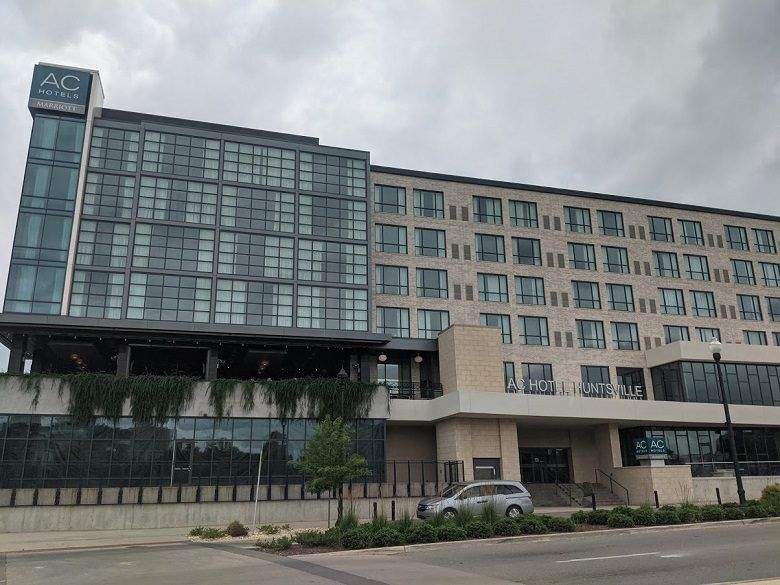 BarVista is located on the second floor of the AC Hotel in Downtown Huntsville, so it's not exactly a rooftop, but it still offers the same secluded vibes, open-air seating, and great views. From BarVista, you can get unparalleled views of Big Spring Park and Downtown Huntsville.
You can indulge in delicious sharables and unique craft cocktails on their elevated terrace.
435 Williams Ave SW, Huntsville, AL 35801
6. Moe's Original BBQ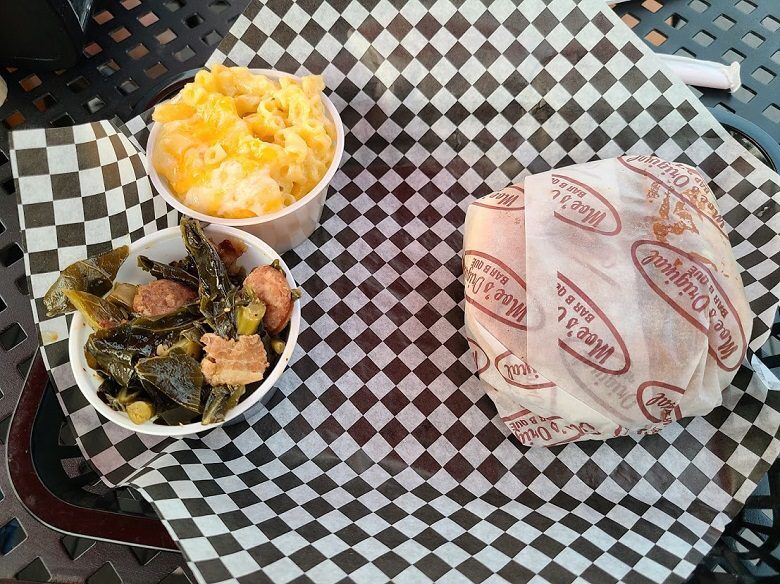 The Moe's Original BBQ in Downtown Huntsville serves its award-winning smoked BBQ with Alabama white sauce on two rooftop terraces with rollup doors and full bars.
Get your classic Southern BBQ with a side of live music, bingo, and trivia events while you watch the sunset from this casual rooftop bar in Huntsville.
127 Holmes Ave NW, Huntsville, AL 35801
7. The Martin Bar & Bistro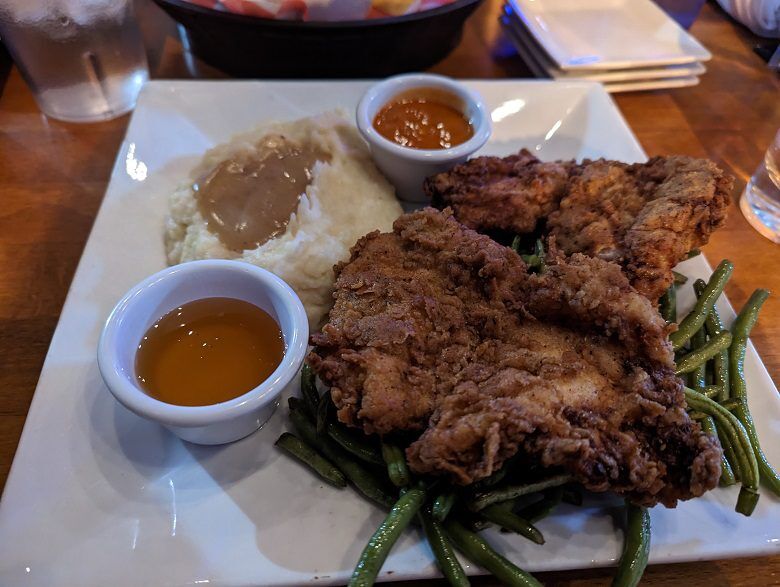 Okay, so The Martin Bar & Bistro isn't exactly a rooftop bar either, but with it's roll-up window, open-air seating, it has the same vibe. This bar and restaurant overlooking Washington Street is housed in the old Martin Theatre, a movie theater that when it opened had the largest indoor screen in Alabama. The Martin is located in the theater's old projection room.
It's a small space with limited seating and a large island bar. Their menu features a lot of vodka-centric cocktails, beer on tap, and classic American and Southern food. When the weather is nice, they'll roll up the large garage doors on the front wall for the perfect view of the bustling downtown street below.
116 Washington St SE, Huntsville, AL 35801
8. Prohibition Restaurant + Bar
Prohibition Restaurant + Bar is Huntsville's newest rooftop bar to hit the scene. The rooftop bar opened in 2022 at Town Madison by the new Toyota Field.
A nod to the classic 1920's, Prohibition Restaurant + Bar is a modern restaurant with a downstairs lounge and a rooftop bar with beautiful views and live music.
100 Moon Shot Dr Suite 120, Madison, AL 35758
Huntsville Rooftop Bars Map
Ready to check out these Huntsville rooftop bars? I've put together a map of all the rooftop bars listed in this blog post to help you out!
You can click the star icon at the top of the map to save it to your favorites and open the locations in your own Google Maps app.
Where to Stay in Huntsville, Alabama
Find the perfect place to rest your head on your visit to Huntsville, from the top rated accommodations to unique stays you can't get anywhere else.
More Things To Do in Huntsville, Alabama
Just can't get enough of the Rocket City? Check out these other things to do in Huntsville.
---
Ready to visit Huntsville, Alabama? Plan your trip with these tips.
---
Cheers!
Paige
What is your favorite rooftop bar in Huntsville, Alabama? Let me know in the comments!