Frankfurt is full of exciting activities, sights, and tastes. Discover the best things to do in Frankfurt, Germany, from top museums and sights to the most delicious places to eat.
Frankfurt, Germany is an ideal destination for an unforgettable getaway.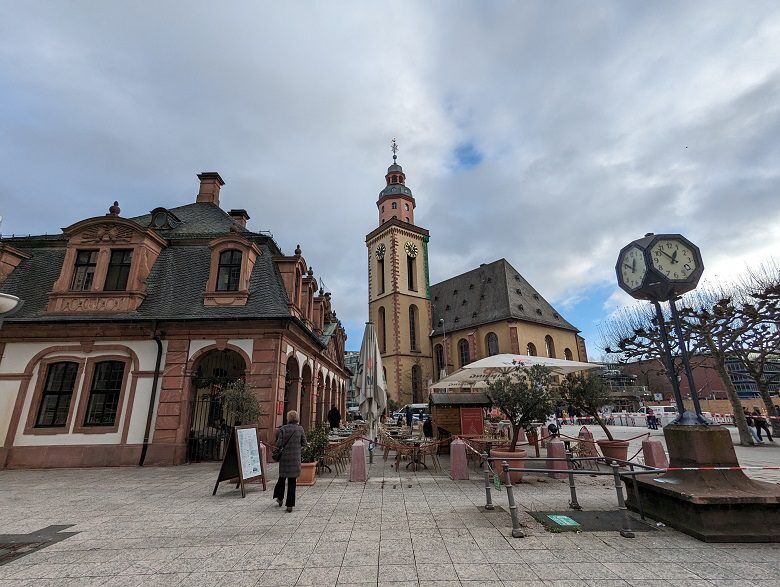 From the historic architecture of Römerberg to getting incredible views atop Main Tower, there's something from everyone to enjoy on a trip to Frankfurt.
Get ready to explore the best of Frankfurt's history, culture, restaurants, and attractions! Read on to find out the best things to do in Frankfurt, Germany.
Where to Stay in Frankfurt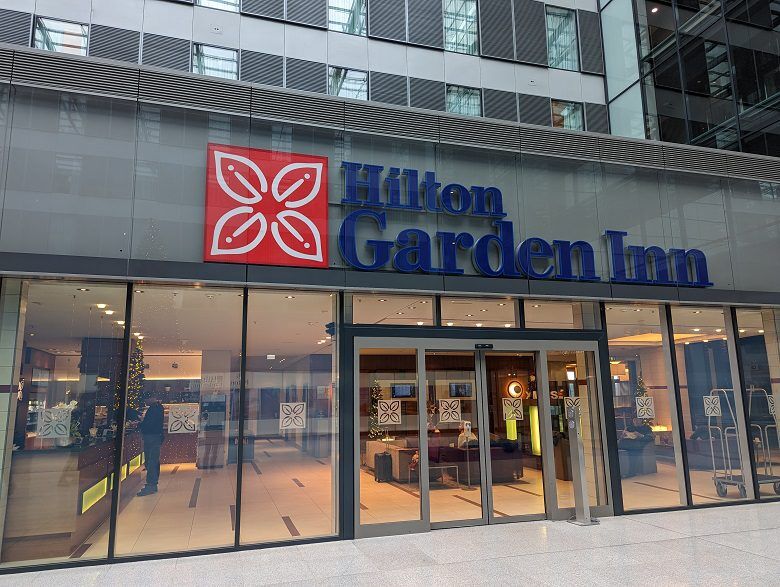 We always seem to find ourselves in Frankfurt for a short stay, like a delayed flight or a long layover.
The best place to stay in Frankfurt if you're just passing through is the Hilton Garden Inn Frankfurt Airport. This is where we always stay.
Located in The Squaire building above Frankfurt Airport Train Station, the Hilton Garden Inn Frankfurt Airport gives you easy access to the airport, long-distance trains, and regional trains.
Getting from the Airport Train Station to the City Center
It's just a short 15-minute train ride from the Frankfurt Airport Train Station into the city center. The train station for short distances is located on the ground floor of the airport below Terminal 1.
You'll want to take the S-Bahn (the light rail commuter train), either S8 or S9 train. For this itinerary, I recommend going to Frankfurt (Main) Hauptwache station (rather than the Hauptbahnhof main rail station) to put you closest to the recommended sights on this itinerary.
Tip: Get the Frankfurt Card for free public transportation and discounts at museums
More Places to Stay in Frankfurt
Find the perfect place to rest your head on your visit to Frankfurt, from the top rated accommodations to unique stays you can't get anywhere else.
8 Fun Things to Do in Frankfurt
You can't go wrong with a trip to Frankfurt! Here are the best things to see and do in Frankfurt, Germany.
1. Visit Römerberg
The historic Römerberg square is a must-see in Frankfurt. This picturesque square, located in the heart of the city's Old Town, is a true gem that showcases Frankfurt's rich history and architectural beauty.
The square is lined with stunning medieval-style buildings, each with its own unique charm. The most prominent of them is the Römer, a magnificent medieval building that has been the city hall of Frankfurt since the 1400s; it has been meticulously restored to its former glory, and its intricate façade and grandeur are simply breathtaking.
Take a leisurely stroll through the square, and you'll encounter charming half-timbered houses, quaint shops, and cozy cafes. During the holiday season, the square hosts Frankfurt's Christmas market, one of the oldest and largest in the country.
Much of the medieval town homes and historical buildings in this area are reconstructions of buildings that were destroyed during WWII.
Related tour: Guided City Walk Frankfurt Highlights and the New Old Town
2. Tour the Historisches Museum Frankfurt
Located just off of Römerberg in Old Town, the Historisches Museum Frankfurt takes a step back in time to explore the city's history.
The museum immerses you in a world of fascinating exhibits spanning Frankfurt's history from ancient times to the present day. The museum's extensive collection showcases artifacts, documents, and artworks that offer insight into the city's cultural, social, and political development. From medieval craftsmanship to the impact of industrialization and the challenges of World War II, the museum takes you on an engaging journey through Frankfurt's past.
Whether you're a history enthusiast or simply curious about Frankfurt's past, a visit to the Historisches Museum Frankfurt is a must. It provides a deeper understanding of the city's roots, its significance in Germany's history, and its contributions to art, culture, and society.
It is the city's oldest museum and is one of the largest city museums in Europe. The museum's exhibits are housed in the 800-year-old Saalhof as well as a new building constructed in 2017.
3. Admire Frankfurt Cathedral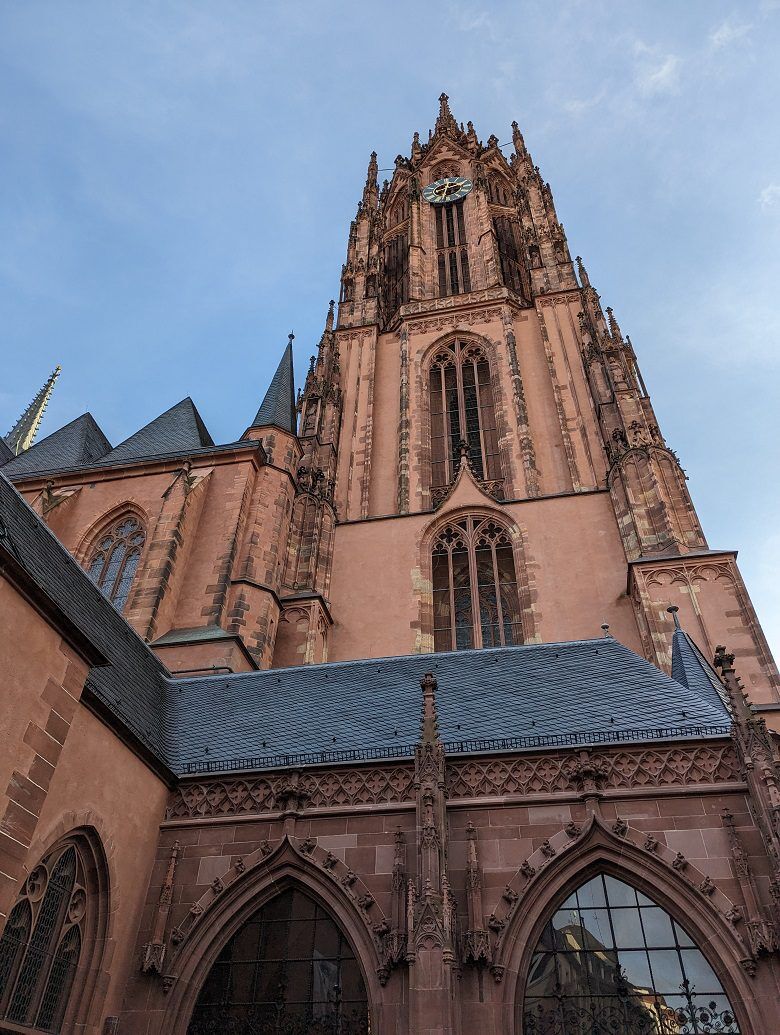 Frankfurt Cathedral (Frankfurter Dom) isn't actually a true cathedral. Officially, it is called Kaiserdom Sankt Bartholomäus (Imperial Cathedral of Saint Bartholomew), and it earned the title of Kaiserdom (imperial great church or imperial cathedral) because of its role as a former election and coronation church of the Holy Roman Empire.
The current Gothic church building is the third church on this site, with excavations tracing the structure's history back to the 7th century. The church has seen many elections and crownings of Emperors of the Holy Roman Empire since 1356.
As you approach the cathedral, you'll be captivated by its towering spires and intricate detailing. Step inside, and you'll be greeted by a serene and awe-inspiring atmosphere. Take a moment to admire the lofty ceilings and the sense of grandeur that permeates every corner of this sacred space.
Frankfurt Cathedral didn't escape damage during WWII: the interior was completely burned out and the building had to be reconstructed in the 1950s.
Related tour: Frankfurt on Foot Daily Walking Tour in English
4. Tour Frankfurter Goethe-Haus
A visit to the Frankfurter Goethe-Haus (Goethe House) is a pilgrimage for literature enthusiasts and a glimpse into the life of one of Germany's most celebrated writers, Johann Wolfgang von Goethe. This meticulously preserved house offers a unique opportunity to step back in time and explore the birthplace of the literary genius.
As you enter Frankfurter Goethe-Haus, you'll find yourself immersed in the 18th-century ambiance that shaped Goethe's early years. The house is furnished with period furniture and artifacts from the Goethe family's time in the home. Walk through the various rooms, including where Goethe penned some of his most famous works, like Götz von Berlichingen, The Sorrows of Young Werther, and the beginnings of his first drafts of Faust.
The exhibition at the Goethe House provides a comprehensive overview of Goethe's life and that of life in 18th century Frankfurt. Original manuscripts, letters, and personal belongings offer an intimate look into the mind and experiences of Goethe. Paintings, sculptures, and historical objects help immerse you in the culture of Frankfurt at the time.
Related tour: Frankfurt Self-Guided Audio Tour
5. Go Up Main Tower
For breathtaking panoramic views of Frankfurt, a visit to Main Tower is an absolute must. As the city's fourth-tallest building, Main Tower offers an unparalleled perspective of Frankfurt.
A high-speed elevator will whisk you away to the observation deck at 656 feet (200 meters) in the sky. Once on the 56th floor, you can see the cityscape unfold through floor-to-ceiling windows, or you can head out onto the outdoor observation platform.
With this birds-eye view, you can take in the sprawling skyline, the blend of modern and historic architecture, and the vibrant energy of Frankfurt.
Related tour: Skip-the-Line Main Tower & Old Town Private Tour
6. See the Cherry Blossoms Bloom in Spring
Springtime in Frankfurt brings an enchanting spectacle as the city bursts into vibrant hues of pink and white with the arrival of cherry blossoms. The blooming cherry trees create a magical ambiance, transforming parks and streets into dreamlike landscapes.
The city's parks and plazas come alive with blossoming cherry trees, creating a picturesque backdrop for your urban exploration.
One of the best places to see the cherry blossoms in the city is on the Opernplatz (Opera Square), the pedestrian zone that borders the Alte Oper concert hall. Enjoy dining al fresco among the cherry blossoms at the restaurants along this square, and take some time to have a spring cherry blossom photo shoot of your own.
Related tour: Private German Beer Tasting Experience in Frankfurt Old Town
7. See a Concert at Alte Oper Frankfurt
Attending a concert at Alte Oper Frankfurt (Old Opera) is an unforgettable experience that combines world-class performances with the grandeur of a historic venue.
This magnificent concert hall, originally built in 1880 as the city's opera house, was destroyed by bombs during WWII and was rebuilt in the 1970s.
Alte Oper Frankfurt hosts a diverse range of concerts, including classical music, opera, ballet, and contemporary performances. Internationally renowned artists, orchestras, and ensembles grace its stage, captivating audiences with their extraordinary talent and captivating performances. From symphonies to chamber music, from opera productions to solo recitals, there is something for every music lover to enjoy.
Related tour: Frankfurt Impressions Express
8. Check Out Eschenheimer Turm
Standing tall and proud in the heart of Frankfurt, the Eschenheimer Turm is a historic gem that offers a glimpse into the city's medieval past.
This iconic tower, dating back to the 15th century, is one of the few remaining structures from Frankfurt's medieval fortifications. It is also the oldest and most unaltered building in Frankfurt's city center, which was heavily damaged by bombing in WWII.
A restaurant and bar now take up the ground floor of the tower. And if you want to climb the tower, you'll have opportunity to if you visit the restaurant because the toilets are on the top floor.
Bonus: Take a Day Trip to Heidelberg Castle
Heidelberg Castle is just a quick day trip away from Frankfurt and is an excellent escape from the city. Heidelberg Castle is a fairy-tale ruin perched majestically on a hillside overlooking the charming town of Heidelberg.
The castle's ruins evoke a sense of awe and wonder. You can get breathtaking panoramic views of Heidelberg, the river, and the surrounding hills.
Inside the castle, you'll find the German Pharmacy Museum, which houses an extensive collection of historical pharmaceutical artifacts.
Related tour: Heidelberg Half-Day Trip from Frankfurt
Top Frankfurt Tours
With so much to see, Frankfurt can be overwhelming for any first-time traveler. To take some of the stress out of planning your visit, opt for a guided tour! Check out this list of the top Frankfurt tours to help you make the most of your time in this must-visit German city.
Where to Eat in Frankfurt
Get ready to experience delicious traditional German cuisine as well as internationally-inspired dishes. Here's a sample of the best places to eat in Frankfurt, Germany.
Frankfurter Wirtshaus
Frankfurter Wirtshaus is located right next to the Historisches Museum Frankfurt and is a great spot for lunch. This restaurant serves modern Frankfurt and Hessian cuisine as well as select international dishes.
On the menu, you'll find boiled beef, schnitzel, knuckle of pork, grilled chicken, ribs, fish, burgers, steaks and salads.
If you want a traditional Frankfurter meal, you'll definitely want to get the Grüne Soße (green sauce) here. This sauce is made with seven herbs, and you'll find it paired with potatoes and hard-boiled eggs or with Schnitzel. Wash it down with Apfelwein (apple wine), an almost apple cider-like drink.
Mainkai 35, 60311 Frankfurt am Main, Germany
Eschenheimer Turm Restaurant
Eschenheimer Turm Restaurant is located in the 15th century tower of Eschenheimer Turm. But the historic setting plays host to modern international cuisine.
Their delicious menu features dishes like Flammkuchen, burgers, sandwiches, and Hot Stone specials, which are meats you grill yourself on a hot lava stone.
If you're looking for a unique experience, grilling your own steak on a hot stone at the base of a 15th century tower is definitely it!
Eschenheimer Tor 1, 60318 Frankfurt am Main, Germany
ALEX Frankfurt The Squaire
ALEX Frankfurt The Squaire is a stylish restaurant and bar with a huge selection of food and drinks. Whether you're in the mood for a salad bowl, pasta, curry, a burger, schnitzel, or a steak, you'll find something to enjoy here.
The restaurant is located in The Squaire, Germany's largest office building that is connected to the airport and sits on top of the train station. This is the perfect place for dinner before you retire to your airport hotel room or catch a train to your next destination.
Am Flughafen 17/Ebene 5, 60549 Frankfurt am Main, Germany
Alfios Frankfurt
Alfios Frankfurt is located along the Opernplatz. Stop in for a glass of wine or classic Italian dishes in a modern dining room or out on their lush patio seating.
The menu offers a modern take on classic Sicilian cuisine with a focus on seafood. You'll find traditional Italian dishes made with a new and modern twist.
Opernpl. 14, 60313 Frankfurt am Main, Germany
JINGJING Express
If you find yourself back in The Squaire looking for a quick meal before you board your train or catch your next flight, JINGJING Express is a great option.
This counter-serve Asian restaurant serves quick Chinese and Japanese dishes. Choose from noodle dishes, rice dishes, sushi, and ramen.
The Squaire am Flughafen Ebene 3 West Flughafen Fernbahnhof, 60549 Frankfurt am Main, Germany
Mapping Out Your Stay in Frankfurt
Ready to explore Frankfurt's best attractions and places to eat? Use the map below to help plan out your time exploring Frankfurt, Germany.
With its beautiful architecture and rich history, Frankfurt is sure to captivate you on your visit.
I hope this list of must-see attractions helps you plan the perfect vacation to Frankfurt!
More Things to Do in Germany
Make the most out of your vacation to Germany! Check out these other German travel guides to plan your perfect trip:
---
Ready to visit Frankfurt, Germany? Plan your trip with these tips.
---
Cheers!
Paige
What are your favorite things to do in Frankfurt, Germany? Let me know in the comments!