If you're looking for a warm winter getaway this holiday season, there's no better place than Fernandina Beach, Florida! Here's how to spend your Christmas vacation in Fernandina Beach where there's no snow and plenty of sun.
Top Christmas Events in Fernandina Beach
Dickens on Centre
Dickens on Centre is Fernandina Beach's annual Christmas celebration. Inspired by Charles Dickens' "A Christmas Carol", this Victorian holiday festival is a celebration that would warm even Ebenezer's cold heart. Dickens on Centre includes weekend festival as well as special events starting early in December.
Holiday Home Tour
The Amelia Island Museum of History's annual Holiday Home Tour in Downtown Fernandina is a unique opportunity to see inside five privately-owned homes. Each home is decorated by professionals for the holiday season.
This year's Holiday Home Tour takes place from December 2, 2022 to December 3, 2022.
Fernandina Christmas Tree Lighting
The traditional Christmas Tree Lighting in Historic Downtown Fernandina Beach is held every year on the Saturday after Thanksgiving. The free event near the riverfront is complete with a visit from Santa, music, and vendors selling baked goods and holiday gifts.
This year's Christmas Tree Lighting takes place on November 26, 2022.
Lighted Christmas Parade
Fernandina's annual Lighted Christmas Parade features decorated and lighted parade floats, marching bands, dancers, and more.
The parade takes place this year on December 3, 2022 at 6 p.m.
Parade of Paws
The Parade of Paws is the island's popular pet parade. Pets dressed in their holiday attire walk with their owners in a parade through Downtown Fernandina Beach. Prizes are awarded for categories such as "Looks Most Like Owner", "Most Original Costume", and "Best Victorian Costume".
This year's Parade of Paws takes place on December 10, 2022 at 11 a.m.
More Holiday Activities in Fernandina Beach
Neighborhood Christmas Lights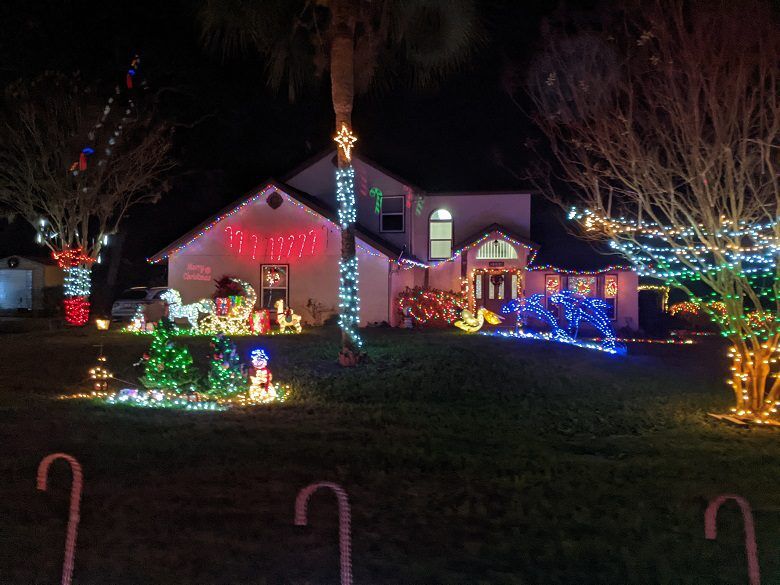 The residents of Fernandina Beach are a festive bunch around the holidays. Take a drive around the neighborhoods to check out Christmas Lights.
Each year, the entire street of North Ridge Lane is transformed for a neighborhood light show. Each home on the street decks out their house in lights, inflatables, and more.
Walk Along the Beach
The weather in the winter is perfect for taking a walk along the beach. Enjoy fewer crowds as you walk along the snow-white sands. A stroll on the beach makes for the perfect Florida Christmas tradition!
Watch the Sunset
The sun sets around 5:30 p.m. in the winter in Fernandina Beach. Head to the the riverfront to catch a beautiful Amelia Island sunset. You can find great sunset-watching spots in Old Town, Downtown, over Egans Creek, and Fort Clinch State Park.
Holiday Shopping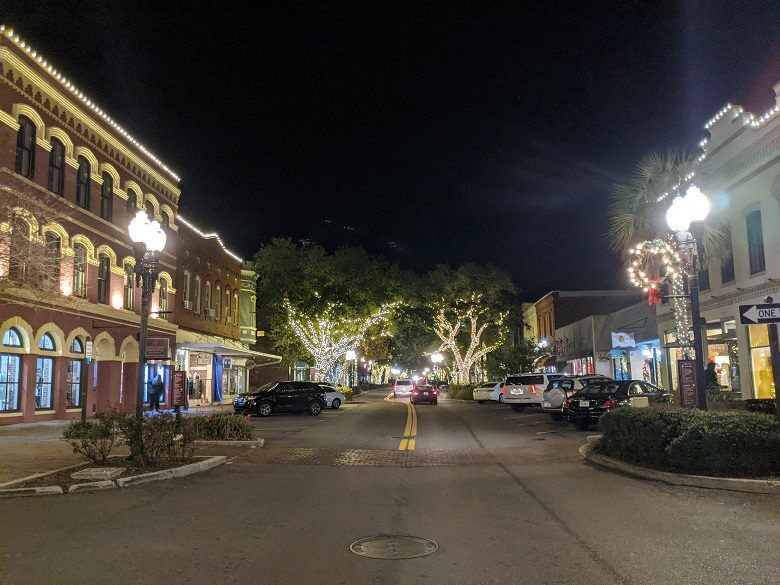 Get all of your holiday shopping done in Downtown Fernandina. Christmas on the River, which is open year-round, is perfect for finding holiday gifts and ornaments for your loved ones. If you're shopping for someone who loves all things lavender, stop by Pelindaba Lavender for an endless array of candles, lotions, essential oils, and treats. And The Book Loft is a great place to find a gift for the book-love in your life, whether they like bestselling authors or local writers.
Where to Stay in Fernandina Beach for Christmas
Fernandina Beach's hotels and B&Bs know how to make the season merry. Here are some of the city's most festive places to stay.
Hotels in Fernandina Beach tend to book up quickly for the holidays, so make your reservations sooner rather than later.
What's the Weather Like in Fernandina Beach for Christmas?
December in Fernandina Beach typically sees temperatures in the 50s and 60s. It typically won't get any colder than the high 40s, and don't be surprised if it gets up to the low 80s. There's much less humidity in December as well.
Don't expect any snow in Fernandina! The only time on record that Fernandina Beach had a White Christmas was in 1989 when there was a freak snowstorm.
If you plan on going in the water, ocean temperatures in December are typically in the high 60s. Most hotels and condo rentals offer heated pools and hot tubs.
For what to pack and wear during winter in Fernandina Beach, I recommend long pants and layers on top. Flip-flops are still perfectly acceptable in the winter, as are shorts if you're warm-natured. Most people will be comfortable in long pants and short sleeves with a light jacket for the cooler nights.
More Things To Do in Fernandina Beach
Just can't get enough of this coastal Florida town? Check out these other Fernandina Beach itineraries.
---
Ready to visit Fernandina Beach, Florida? Plan your trip with these tips.
---
Cheers!
Paige
Have you spent Christmas in Fernandina Beach, Florida? Let me know in the comments below!