Filled with history, natural beauty, and southern hospitality, Dublin, Georgia is a great spot to spend a day exploring. Check out this itinerary to learn how to spend 1 day in Dublin, Georgia.
Dublin, Georgia is named after Dublin, Ireland because the Middle Georgia terrain reminded the Irish immigrants of their native country.
Spend a day in Dublin, GA and discover how much fun this small town can be! There is so much to see with just 24 hours in Dublin, Georgia.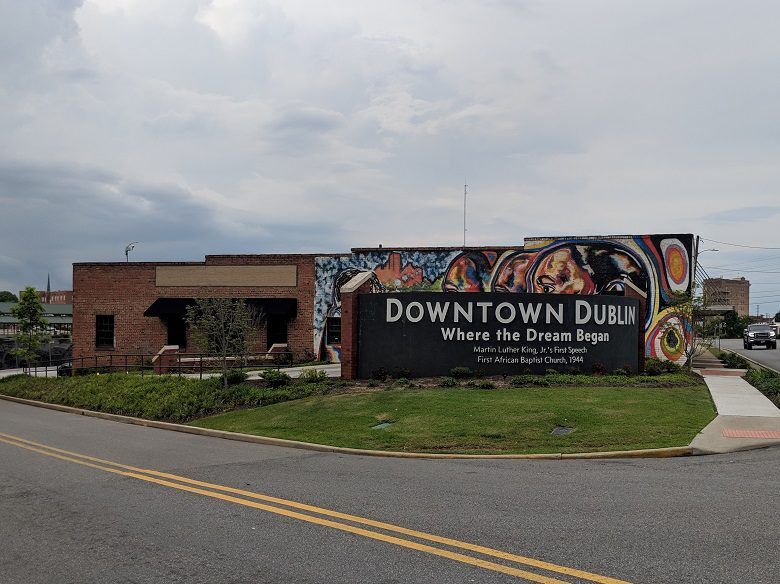 Things to Do on a Short Trip to Dublin, GA
Here are some fun things you can do with just a day in the quaint small town of Dublin, Georgia.
Visit Martin Luther King, Jr. Monument Park
As we were driving through Dublin, we saw the colorful mural of Martin Luther King, Jr. Monument Park and the giant sign proclaiming that Dublin was "Where The Dream Began".
We did a U-turn and parked next to the monument park to see what it was all about. Turns out that, yes, Dublin is where MLK made his first public speech at the church across the street from the park.
The small Martin Luther King, Jr. Monument Park is a quiet space sheltered by that large sign.
On the back wall is a colorful mural painted by Georgia artist Corey Barksdale along with a sculpture in the center of the park by the same artist depicting silhouettes with outstretched arms entitled Freedom Ascension.
The park is included on the Georgia's Footsteps of Dr. Martin Luther King, Jr. Trail and contains an audio station where you can hear MLK's first speech given in 1944, an interview with a local leader, and MLK retelling his experiences in Dublin.
See the First African Baptist Church
The First African Baptist Church across the street from the Martin Luther King, Jr. Monument Park is where MLK made his first public speech.
He was just 14 years old. He delivered his speech entitled "The Negro and the Constitution" as part of the Colored Elks Clubs of Georgia's state convention in 1944.
On his trip back to Atlanta after giving the speech, Martin Luther King, Jr. was asked to relinquish his bus seat and stand in the back of the bus.
MLK discussed the affect that day in Dublin had on his future in a 1965 interview. You can listed to the interview at the audio station in the memorial park.
Eat at Deano's Italian
After learning something new about MLK, we continued on into Downtown Dublin where we ate dinner at Deano's Italian, named the Best Pizzeria in Georgia by USA Today, a Top Pizza Hot Spot by Cooking with Paula Deen, and many other accolades.
Deano's is home to the only imported Italian wood oven in Georgia, giving its pizza an authentic taste.
We tried all four of their wood-oven pizzas, and we can recommend every single one of them!
Explore Downtown Dublin, GA
Because of its Irish heritage, Dublin celebrates St. Patrick's Day with a month-long celebration, and shamrocks decorate the town all year long.
Downtown Dublin is full of historical buildings and landmarks that you'll definitely want to check out on your visit.
These include Theatre Dublin, an Art Deco performing arts center, and the Dublin Carnegie Library, one of only three surviving Carnegie Libraries in the state of Georgia still in its original form.
Map Out Your Day in Dublin, GA
To help you easily find these spots for your day in Dublin, Georgia, I've created a map of all the things to do listed in this post.
I hope you have a wonderful time exploring Dublin, GA!
Where to Stay in Dublin, Georgia
Find the perfect place to rest your head on your visit to Dublin, GA from the top rated accommodations to unique stays you can't get anywhere else.
Read next: This Is the Best Travel Gear to Pack for Weekend Trips
More Things to Do in Middle Georgia
Explore all that this part of Georgia has to offer! Check out more Georgia posts below.
---
Ready to visit Dublin, Georgia? Plan your trip with these tips.
---
Cheers,
Paige
What's your favorite thing about Dublin, GA? Let me know in the comments!