VRBO is one of my favorite resources when booking cheap vacations. See why I choose VRBO when booking vacation rentals for my trips.
What Is VRBO?
Accommodations take up a huge chunk of your vacation budget. Hotels are just one type of accommodation you can choose. The others involve renting condos, cabins, entire homes, or even castles directly from the owner. VRBO (Vacation Rentals By Owner) is one of these sites.
VRBO is a global community of homeowners who connect travelers with unique properties around the world. You can book cabins, condos, beach houses, and more.
Why Book Through VRBO
There are a lot of great reasons to book your vacation rental through VRBO. But the two biggest draws are the privacy and the money you can save.
Your Own Private Oasis
With VRBO, you can book an entire property to yourself. This means more space for you and your friends. You don't have to worry about thin hotel walls or putting up a do-not-disturb sign so the maids don't wake you in the morning. You live it up in the property as if it were your own home, giving you plenty of privacy and comfort.
Save a Lot of Money
Compared to a hotel room, booking a property with VRBO saves you a lot of money. With a house to yourself, you'll have a kitchen so you can eat in instead of blowing your budget eating out.
A lot of rentals cost just as much as a hotel room per night. You're getting a lot more space and privacy for your money when you book a beach house or cabin to yourself rather than just a hotel room.
You'll also save money by splitting the cost when you travel with a group. A $100 per night cabin split between friends is a lot cheaper than paying for a hotel room for yourself!
Want to learn how to be a budget travel pro? Check out my Travel For Cheap course here.
Why I like VRBO More Than Airbnb
VRBO is really similar to Airbnb. The main difference is that Airbnb allows you to also rent single rooms in a shared space, whereas VRBO is exclusively for entire properties. A lot of property owners will list their rentals on both sites, but I still prefer to book from VRBO.
I've noticed that for the exact same property, Airbnb's prices are usually higher. This is because Airbnb has higher service charges. I suggest checking out a property on both websites before booking. It's more likely that VRBO will have the cheaper price.
I also think that VRBO has higher quality properties. These aren't just people renting out their house while they're away for the weekend, looking to make some extra cash. These homeowners are more committed to providing you with a good vacation experience.
When Should You Use VRBO?
VRBO is a great option for when you're planning a long stay. It's an ideal rental platform for when you're traveling with a large group of friends or family because you can rent a big place to share.
You can also find a lot of fun and unique properties like castles, villas, bungalows, and houseboats. It's a great planning tool to have for whatever vacation you have in mind!
How to Use VRBO to Find Cheap Accommodation
1. Go to VRBO and fill out your travel information in the search bar: your destination, your arrival date, your departure date, and the number of guests. If your travel dates are open-ended, you can skip filling that out, but you'll get the best results if you enter all your information.
2. Click Search and you'll be taken to a results page listing rentals on the left and a map view on the right.
3. At the top of the page, you can filter by price, rooms, amenities, property type, and more. You can also sort by price, rating, or number reviews.
4. Click on any property you like to open more details in a new tab. This new page will show you a description, photos, bedroom layout, amenities, reviews, and more.
5. When you're ready to book, double check that your dates are available on the right. You can view price details that break down what taxes and fees are included in your total.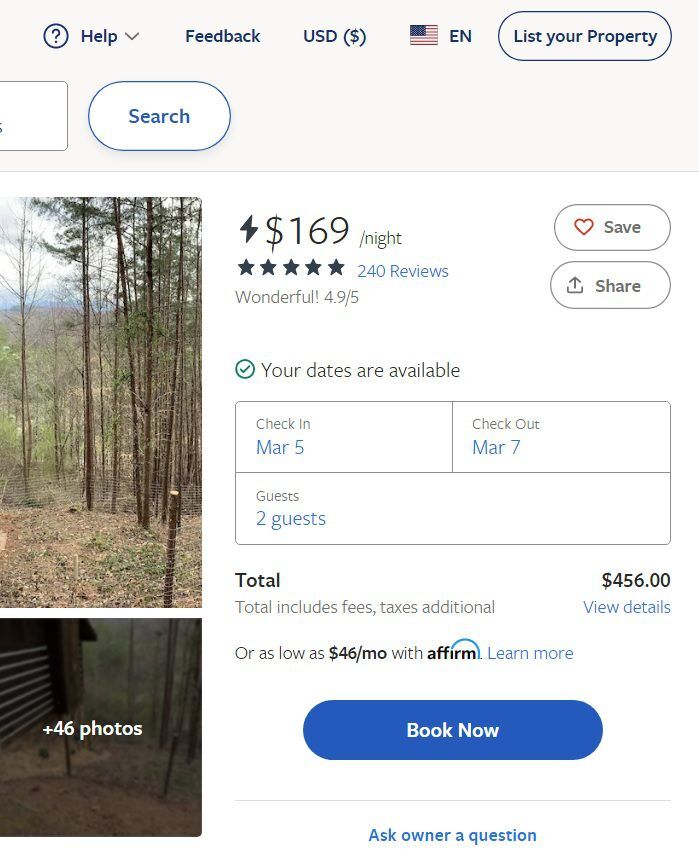 6. Click Book Now. Fill out your details and get excited for your vacation!
Top Vacation Destinations on VRBO
Read next: Top Travel Planning Resources
---
Ready to take a vacation? Plan your trip with these tips.
---
Cheers!
Paige
Do you use VRBO to book your vacation rentals? Let me know in the comments!