Some of the links in this post are affiliate links. This means if you click on the link and purchase an item, I will receive a commission at no extra cost to you. All opinions are my own.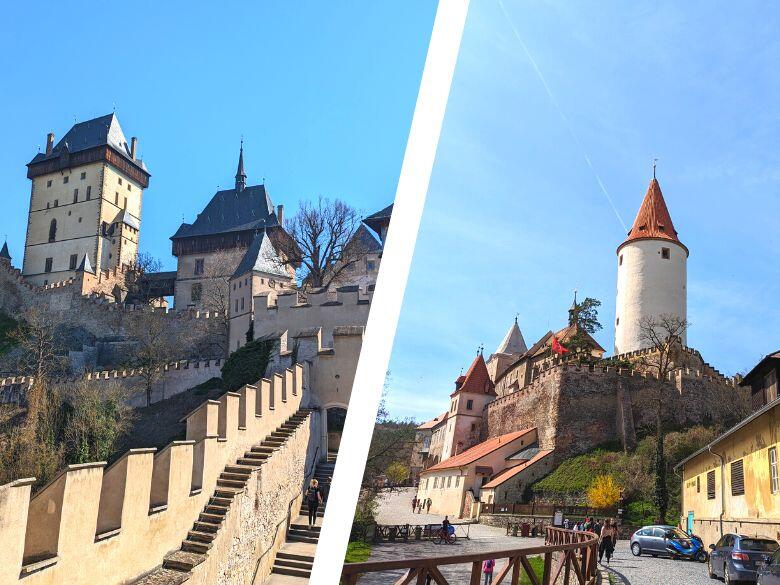 A visit to Karlštejn Castle and a visit to Křivoklát Castle are both top day trip recommendations from Prague. So what if you want to visit them both in one go? I've got you covered! Here's how you can visit both Karlštejn Castle and Křivoklát Castle in one day trip from Prague.
On this blog, we visit as many castles in one day as we can! (My record is three castles in one day, but two castles in one day is pretty standard for me.)
I love a castle day trip, and Prague has so many great castles to choose from! Karlštejn Castle and Křivoklát Castle are both close to Prague and are top day trips from the city. Plus, they're both close to each other. So I figured, why not visit both in one day!
Here's a little about why you should visit each castle, how to get to the castles, and what else you can see on your day trip.
Why You Should Visit Karlštejn Castle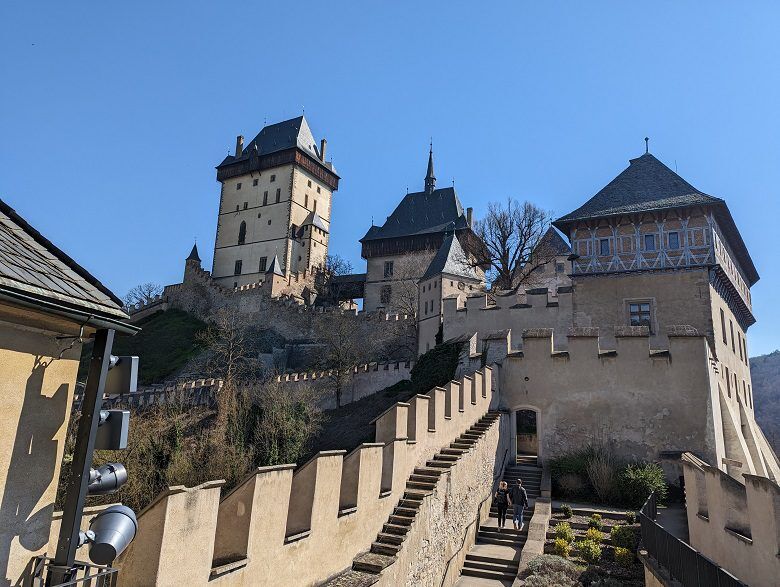 Karlštejn Castle is the second most-visited castle in the Czech Republic. That's probably because of its fairytale architecture, the fact that it once held the Bohemian Crown Jewels, and its proximity to Prague.
They offer some very comprehensive tours during the high season, but even their shorter basic tour covers a lot of ground. The Imperial Residence of Charles IV tour (the basic tour) is a 1-hour guided tour that shows you inside rooms like the King's Bedchamber, the wood-paneled Audience Hall, the Banquet Hall, and displays a copy of the St. Wenceslas Crown.
Karlštejn Castle was never fully conquered even though it endured a seven-month siege. So the castle is still in great shape and is very picturesque.
Read more about visiting Karlštejn Castle here.
Why You Should Visit Křivoklát Castle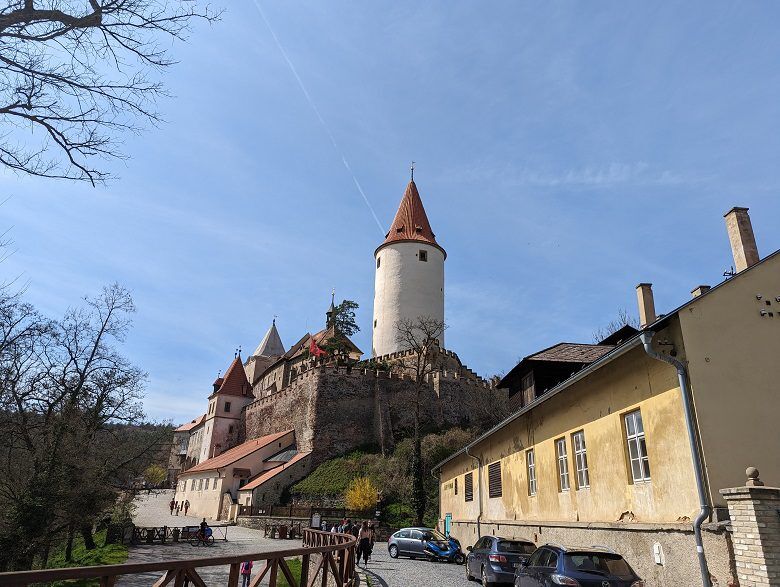 Křivoklát Castle is an early-Gothic fortress that is much less visited but is no less interesting.
Built in the 12th century, it was conquered by the Hussites during the Hussite Wars in the 1400s. It was then turned into a prison that held inmates like alchemists (Edward Kelley) and future emperors (Charles IV when he was a child).
The basic 80-minute Gothic Palace – Long guided tour gives you an in-depth look at what the castle has to offer. Křivoklát Castle has many gems like its well-preserved Gothic chapel, a library with more than 50,000 volumes, the second-largest Royal Hall in the country, and an impressive 13th-century tower that you can climb.
Read more about visiting Křivoklát Castle here.
Karlštejn Castle & Křivoklát Castle Day Trip by Private Guide
We did our Karlštejn and Křivoklát Castles day trip by private guide. It just seemed the easiest option for us to make sure we were able to get to both castles and not have a lot of stress.
I found a private tour with Private Prague Guide. They offer a lot of interesting tours, custom itineraries, and they have a 5-star rating on Tripadvisor — and for very good reason. The tour was excellent!
Our guide picked us up in the morning from our hotel in Prague, then drove us first to Karlštejn Castle. We even made an extra stop along the way at Velká Amerika, which is known as the "Czech Grand Canyon."
Our guide expected the castle to be busy that day and offered to call ahead to a friend who worked there to ensure we could get tickets. It didn't end up being necessary though because getting there early in the morning helped us beat the rush, and we had no issues getting on a tour.
Because he knew where to park away from the town, it's like we came up a secret back way to the castle. After our tour, we went down the hill to the town of Karlštejn and took the long way back to where we were parked. We had lunch in Karlštejn near where we parked.
Afterward, he drove us to Křivoklát Castle and helped us get on an English guided tour.
The whole day trip took about 8 hours with absolutely 0 stress. Castle admission and lunch aren't included in the price, so you're basically just paying for a private driver and translator who can walk you all the way up to the tour entrance, but that's exactly what we wanted.
Another thing I noticed was the tour times available were different than what each castle listed online. We got pretty lucky and ended up at each castle about 10-15 minutes before an English tour, and neither times had been listed on their websites. I wish I could give better advice than just to show up and see.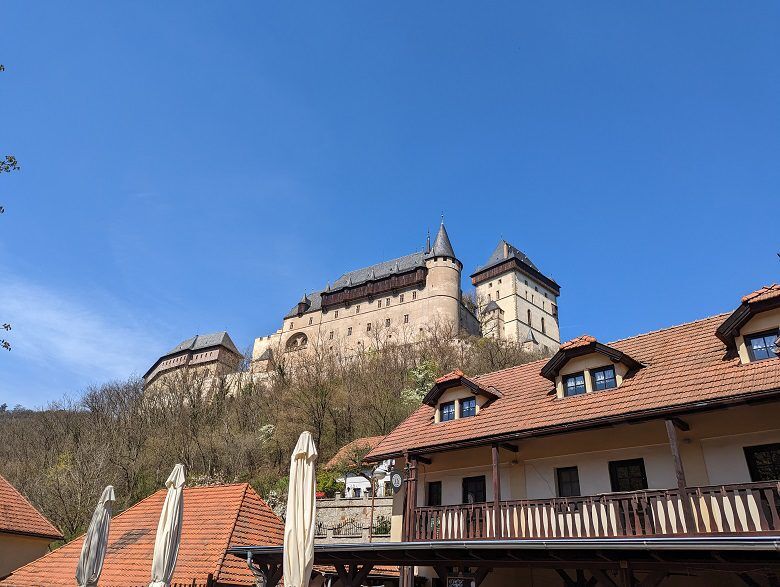 Karlštejn Castle & Křivoklát Castle Day Trip by Car
If you're comfortable enough driving in the Czech Republic, you can rent a car to see both castles.
I would recommend using the same itinerary as we did for the private guide and visiting Karlštejn Castle first in the morning, then Křivoklát Castle in the afternoon.
It's about a 45 minute drive from Prague to Karlštejn Castle. Take the D5 motorway towards Pilsen and follow the signs to Karlštejn. The central parking lot in the town of Karlštejn is on the left bank of the Berounka River. From there, it's about a 15 minute walk uphill to the castle.
From Karlštejn Castle to Křivoklát Castle, it's another 45 minute drive. Follow signs for Křivoklát/Beroun. Parking is available past the castle at Parkoviště Křivoklát-Nad hradem, which also has a pedestrian bridge crossing the road that leads to the castle. It's only about a 10 minute walk.
The drive back to Prague from Křivoklát Castle is about 1 hour.
Karlštejn Castle & Křivoklát Castle Day Trip by Train
Taking the train is another way to do your castle day trip. It will involve a lot of planning to ensure you can catch the right train at the right time, though. You can buy your tickets online ahead of time, or you can get them at the station. I recommend buying all your tickets ahead of time so you know exactly when you need to be at the station.
From Prague to Karlštejn, its about a 1 hour train trip. From Prague's central train station (Hlavní nádraží), take the train in the direction of Beroun. Trains run about every 30 minutes.
When you arrive at the Karlštejn Station, turn right and cross the Berounka River, turn right again, then left to follow the main road up to the castle. It's about a 30 minute walk.
From Karlštejn to Křivoklát, catch the train to Beroun where you'll change to a local train in the direction of Rakovník. The entire journey should take about 1 hour.
When you arrive at the Křivoklát Station, head right down the path, crossing the stream, and then walk up the hill to the castle entrance on the left. This walk is about 15 minutes.
To get back to Prague, it's a 1.5 hour journey from Křivoklát Station to Beroun, then Beroun to Prague.
More Things To Do on Your Day Trip
If you're driving and want to make a bonus stop, or if you want to know where to eat in Karlštejn, then this section is for you!
Bonus Stop: Velká Amerika
On your drive to Karlštejn Castle, you may want to make a quick stop at Velká Amerika, known as the "Czech Grand Canyon".
This abandoned limestone quarry is quite picturesque with its two lakes and high gray walls. It's a favorite setting among filmmakers in the Czech Republic, and you may recognize the location from the Amazon series The Wheel of Time and Carnival Row.
Where to Eat in Karlštejn: Restaurace a penzion Pod Dračí Skálou
Restaurace a penzion Pod Dračí Skálou offers a menu of traditional Czech cuisine to perfectly complement your day trip to the medieval castles.
The restaurant is located just 10 minutes from Karlštejn Castle, down an unpaved hiking path near the castle's arched gateway. They have a large outdoor patio and cozy indoor seating that will make you feel like you're in a medieval tavern.
Their menu is filled with Czech specialties like smoked meat, chicken steak, deer medallions, boar medallions, potato pancakes, fried cheese and more.
Where to Stay in Prague
Find the perfect place to rest your head on your visit to Prague, from the top rated accommodations to unique stays you can't get anywhere else.
More Prague Travel Tips
Looking for more fun things to do on your trip to Prague? Check out these top posts:
---
Ready to visit Prague, Czech Republic? Plan your trip with these tips.
---
Cheers!
Paige
Are you planning a day trip to Karlštejn Castle and Křivoklát Castle from Prague? Let me know in the comments!