Ever wondered what it's like to have a wedding at Medieval Times Dinner & Tournament? Check out this post to learn more!
Did you know you could have a wedding at Medieval Times Dinner & Tournament? Well, you can!
So if you've always dreamed of having a Renaissance-themed wedding, read on for our experience of attending a wedding at Medieval Times.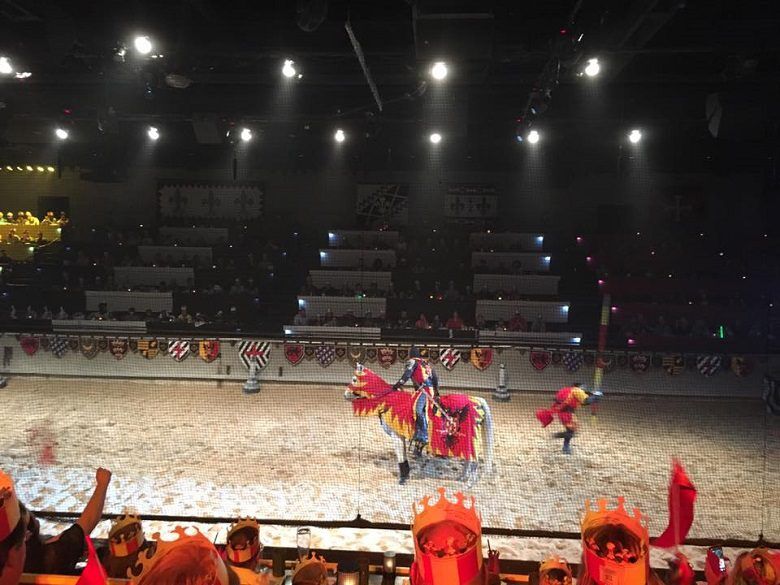 Kevin and I were invited to a costume wedding at Medieval Times Dinner & Tournament. Kevin has been to Medieval Times plenty of times, but this was my first time. So off we went wandering through the mall (which is where the Atlanta Medieval Times is located), a princess and a monk on a simple quest for a royal wedding.
(Unfortunately, the couple didn't last. So we ended up back here about a year later for a divorce party! Life is strange.)
About Medieval Times
The medieval re-enactment dinner theater began in the 1960s set up by Jose Montener on his estate on the island of Majorca, Spain.
In 1983, the first show opened in the United States in Orlando. Medieval Times currently has 10 locations, the Atlanta Castle being the 9th location and where the wedding we attended was held. Each location, except the Toronto location, is housed in a replica 11th-century castle.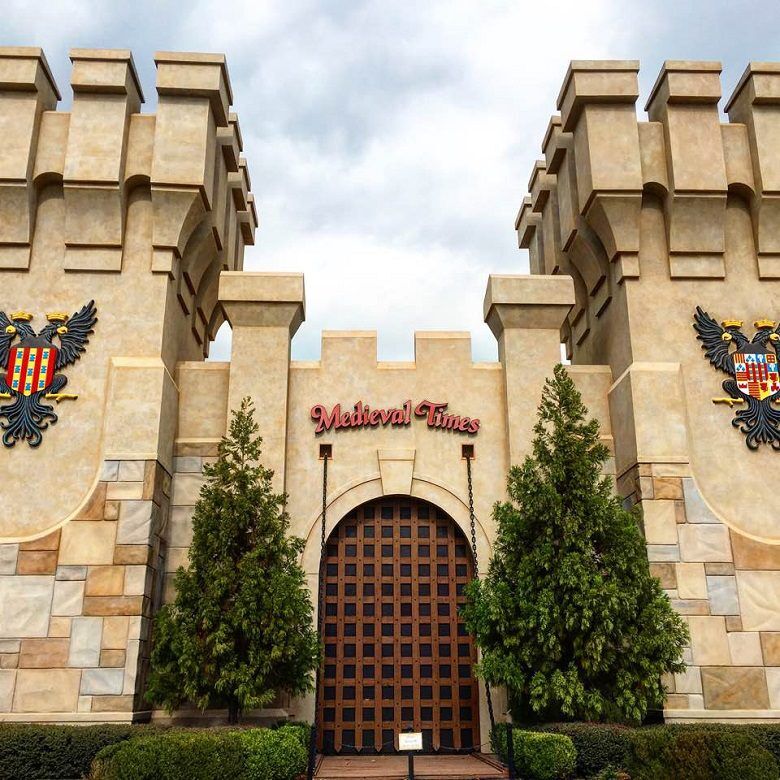 You enter into the Hall of Arms, decorated with coats of arms, medieval weaponry, and a giant fireplace.
There is the King's throne where all the little princesses and princes can be knighted for their birthdays, and along the back wall is the King's Bar where you can, and many of the wedding guests did, imbibe yourself.
When you buy a drink, you get to keep the commemorative cup, and you can pay more to get it in one of the fancier commemorative glasses in different fun shapes like a castle turret and a knight's helmet.
You can book dinner and a show at Medieval Times here.
A Royal Castle for a Royal Wedding
The wedding was held in a corridor off to the side of the Hall of Arms, roped off from the commoners.
It was a small wedding, as they'd already been officially married at the courthouse earlier. This was a cheaper and more fun way to share their day with a handful of friends and family than a big wedding.
The bridesmaids dressed as characters from Labyrinth and the groomsmen as characters from Robin Hood: Men In Tights, and both parties walked down the aisle to music from the films. The ceremony was short and sweet, performed by the bride's father.
After the ceremony, we were left to wander and make our way to the bar before the show started. Costumes are not the norm for a visit to Medieval Times, so we got a few odd looks from the non-wedding crowd. Which is ironic because they came to watch men in tights joust, so our men in tights shouldn't have been very shocking.
The Dinner
Soon we were heralded in to the Grand Ceremonial Arena for the tournament. When you enter Medieval Times you are given a color-coded section to sit in that corresponds with the colors of the knight you will be cheering for.
We sat in the Red and Gold Knight's section, and our paper crowns were waiting for us on the tables. Very pleasant serfs and wenches attended to us as everyone who attends the show is the King's guest.
Dinner is a four-course meal in true Medieval fashion eaten without silverware. Dinner consisted of a set menu of castle bread, dragon's blood, baby dragon, dragon scales, dragon eardrum, and the pastry of the castle (garlic bread, tomato bisque soup, roasted chicken, sweet buttered corn, herb-basted potato wedge, and an apple pastry).
The Tournament
The show begins with a display of the knights. While you're being served your first courses, the knights and their horses march out and are introduced. The jousting tournament begins with a skills competition including a ring pierce, flag toss, and javelin throw. Those knights that successfully complete a skill receive flowers to throw to audience members.
At intervals, there are displays of horsemen ship with a choreographed dance, falconry, and the events unfolding of an enemy of the court showing up unexpectedly.
The main event is of course the jousting. Once knocked off of their horses, the knights then turn to sword fighting. Sparks fly as the audience cheers on their knight to victory. And lucky for us, our dear Red and Gold Knight was the victor, and we could leave the event feeling well-represented by our knight's bravery.
Click here to book dinner and a show at Medieval Times.
Where to Stay in Atlanta
Find the perfect place to rest your head on your visit to Atlanta, from the top rated accommodations to unique stays you can't get anywhere else.
Craving More Atlanta Activities?
If you need more things to do while visiting Atlanta, check out these top posts:
---
Ready to visit Atlanta, Georgia? Plan your trip with these tips.
---
Cheers!
Paige
Have you visited the Medieval Times in Atlanta, Georgia? Tell me about it in the comments!