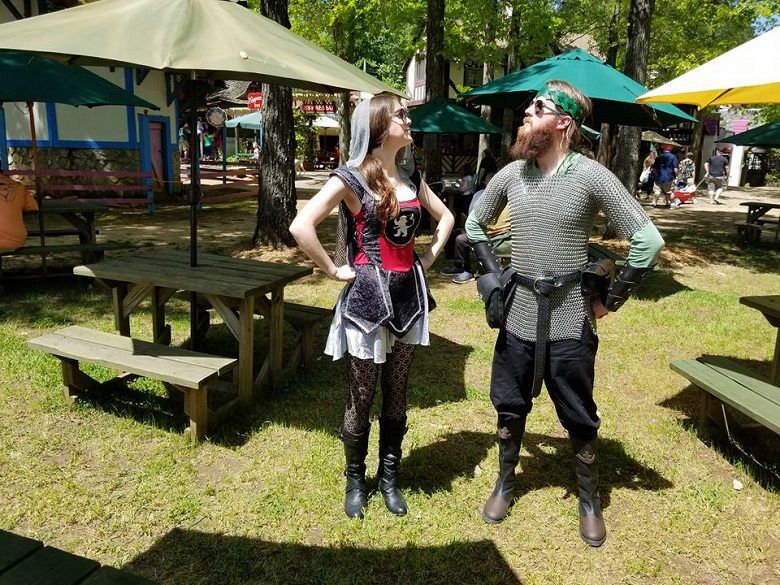 The food, the costumes, the merriment! There's a lot to love about the Georgia Renaissance Festival, but for now, we'll just start with these 8 things.
Are you a fan of knights in shining armor, artisans crafting their wares, and epic feasts? Do you relish the opportunity to time travel back to the 16th century? If so, then you'll love the Georgia Renaissance Festival!
There's a lot to love about the Georgia Renaissance Festival! These are just a few of my favorite things.
The Georgia Renaissance Festival opens for its Spring 2023 season from April 15 — June 4, 2023. The festival is open every Saturday and Sunday during these weeks from 10:30 a.m. to 6 p.m.
8 Reasons to Love the Georgia Renaissance Festival
1. The Castle Village Setting
When you walk through the castle gates into Newcastle, you're immediately transported back in time to the Renaissance period. All the shoppes are in picturesque buildings and the vendors are in period attire. You are greeted as "my Lord" and "my Lady". You would never know that you were just south of Atlanta (well, except for all that traffic you hit on your way there, am I right?).
2. Elaborate Costumes
It's great to be an adult and play dress up. The Georgia Renaissance Festival is one big costume party, with special themed weekends if you want to go for a variety of looks. Even the dogs dress up on the pet-friendly weekends. People put in so much effort to create elaborate costumes that are fun and unique and many that are very historically accurate.
Kevin spent two years making his chainmaille himself. He received compliments on his craftsmanship from the woman at the chainmaille shop! (I, however, bought mine online a week before the festival.)
3. Impressive Jousting Tournaments
There's nothing more stately than a good old fashioned joust. Join the revelry, pick a team to root for, and cheer your knight on to victory. There are three shows daily, and the jousting theatre bill includes stunts, trick riding, and a battle to the death with pointy sticks and swords.
4. Fun Buys, Like Drinking Horns!
Shop the 32-acre Artisan Market and watch artist demonstrations of many of the things you can actually buy. That's how you know it's quality made! Last year, Kevin finally bought himself a drinking horn, a Viking drinking vessel that hooks on to a warrior's belt for easy access.
5. The Turkey Legges
Always go turkey legge! We've tried eating other foods at the Georgia Renaissance Festival before, but it's just not the same. The turkey legges are a classic for a reason — they're really delicious and I think we fed six people with two legges. You can try different foods, maybe, if you're still hungry after eating a turkey legge.
6. Tests of Skill
You can test your skills at a number of Medieval games, like archery, knife throwing, ax throwing, spear throwing, star throwing, bola throwing, and Sink the Siren. Basically, all your totally normal, average, everyday peasant games.
7. Crazy Talent Shows
Beyond the joust, you can watch people show off talents that make you wonder, how did they even learn they could do that? Be hypnotized, mesmerized, and awestruck. The festival has jugglers, stilt-walkers, belly dancers, pyromaniacs, comedy shows, a wheel of death, and a bunch of other entertainment you never knew you wanted to see.
8. All the Sensitivities of Medieval Times
Just walking around the Georgia Renaissance Festival, you can chat with a man on a couple feet of stilts, stroll along with a twelve-foot tall tree man, get yelled at by the meat peddler to buy his meat, and be heckled by a jester on stage. The whole festival is teeming with shenanigans and an underlying raunchy ridiculousness that makes the whole experience so much more fun.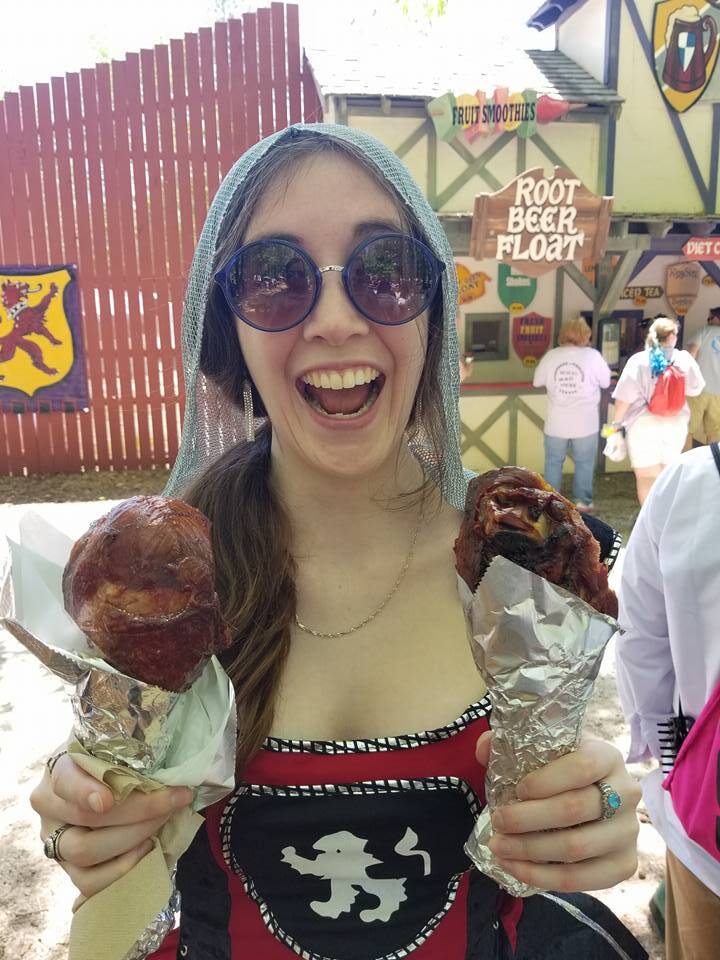 Looking for more Georgia Renaissance Festival fun? Read these:
Where to Stay Near the Georgia Renaissance Festival
Find top hotels near the Georgia Renaissance Festival so you can rest up for a big day of fun#
Read next: 10 Incredible Spring Destinations in Georgia
---
Ready to visit Atlanta, Georgia? Plan your trip with these tips.
---
Cheers!
Paige
What do you love about the Georgia Renaissance Festival? Let me know in the comments!