Summer is heating up in Atlanta! As one of the hottest destinations in the South, Atlanta is the perfect place to enjoy your summer vacation. Find out the best ways to have some fun in the sun in Atlanta, Georgia during the summer.
Welcome to the sizzling summer season in Atlanta! During the summer, the city comes alive with exciting activities and experiences! As the temperature rises, you'll want to find yourself chillin' and thrillin' in Atlanta.
Whether you're a local looking for new adventures or a visitor ready to soak in the Southern Charm, Atlanta has something for everyone to enjoy this summer.
From enjoying the great outdoors to cooling off at a popular ice cream spot, Atlanta is a playground of possibilities in the summer.
Get ready to explore the top things to do during summer in Atlanta, Georgia.
The Best Things to Do During Summer in Atlanta
Grab your shades, slather on the sunscreen, and embark on an adventure-filled journey in and around Atlanta this summer!
1. Relax at a Rooftop Bar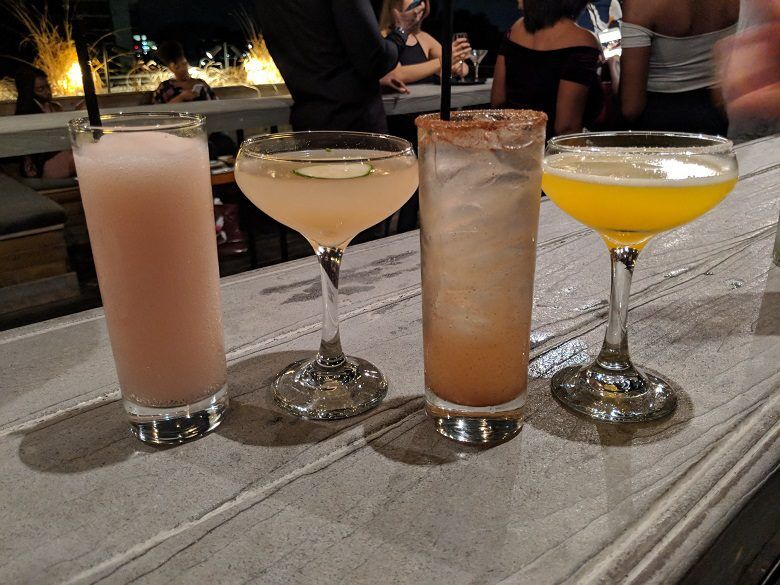 Checking out the newest rooftop bar is my favorite summer tradition!
Atlanta has tons of rooftop bars for you to sip craft cocktails, relax while you take in the summer air, and admire views of the Atlanta skyline.
These rooftop bars are located all over the city, in Downtown, Midtown, Buckhead, and even the Atlanta suburbs. Each location offers a unique view of Atlanta and delicious cocktails to go with it.
Find The Best Rooftop Bars in Atlanta here.
2. Visit Zoo Atlanta
Summer is a great time to visit Zoo Atlanta, even though you'll have to brave the hot and humid weather.
Most of the zoo animals love the warm weather, so you'll be able to see plenty of animal activity.
Plus, there are some great zoo events to participate in during the summer, like Brew At The Zoo and Sippin' Safari.
And there's no need to let summer showers ruin your zoo visit: find out what to know about Visiting Zoo Atlanta on a Rainy Day.
Get your skip-the-line Zoo Atlanta ticket here.
| Save on admission to Atlanta's top attractions using the Atlanta CityPASS.
3. Discover Atlanta's Street Art Scene
Summer is a great time to walk or bike along the Atlanta Beltline and discover Atlanta street art at its finest. The Atlanta Beltline Eastside Trail showcases colorful murals and unique sculptures, running from Piedmont Park to Memorial Drive.
Spend some time exploring Ponce City Market or the numerous bars and restaurants along the trail. Be sure to follow the trail all the way to Atlanta's famous Krog Street Tunnel that is completely covered with ever-changing works of art.
You can event take a guided tour to learn about the Atlanta BeltLine in depth. This guided bike tour guides you on a ride along the BeltLine, meanwhile this food, history, and street art tour takes you to Ponce City Market and the BeltLine to spend the day like a local, and this BeltLine food, chocolate, and margarita tour gives you a diverse taste of restaurants on the BeltLine.
4. Go on a Mystery Picnic
A mystery picnic is a great way to get to know a new Atlanta neighborhood! These fun outings are perfect for a date, a family day out, or a friend gathering.
Mystery picnics are self-guided food and adventure tours where you solve riddles and clues that guide you to pick up different food items for your picnic. You'll visit a bunch of different local shops and try some of their best goodies before unlocking your final picnic location.
These mystery picnics are available in Midtown, Roswell, and Marietta.
You can start your mystery picnic journey here!
5. Take a Tour of Atlanta
The summer weather is perfect for getting outside and taking a guided tour of Atlanta. The city has a ton of unique tours where you can see Atlanta in a whole new light.
If you want a tour with some activity, you can take a classic walking tour or a bike tour. If you want to feel the wind in your hair, go for a Segway tour or an electric car tour. You'll learn a whole lot about Atlanta's top sights, street art, foodie scene, and film industry on a guided tour of the city.
Check out the best tours of Atlanta here.
6. Shoot the Hooch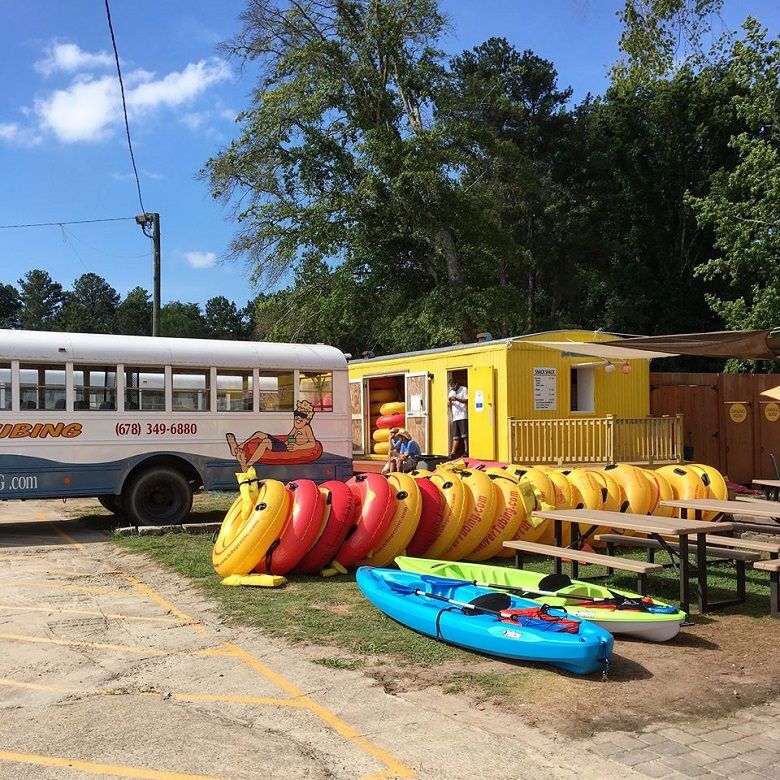 Tubing down the Chattahoochee River is part of the quintessential Atlanta summer.
Once the weather gets warm, Atlantans flock to the riverside to cool down (because the water is very chilly). So grab your inner tubes and some alcohol and cool off with a two-hour float down the river.
This Chattahoochee River Tubing Experience with Nantahala Outdoor Center is a great option that launches from just outside the I-285 Perimeter. You can take a 2 hour or a 4 hour trip down the river over gentle currents. It's the Chattahoochee River National Recreation Area's only on-site outfitter.
Read How to Shoot the Hooch here.
Find out What You Need to Shoot the Hooch here.
7. Go for a Summer Hike
Atlanta has plenty of options for hiking. Whether you want a trail that can keep you cool and shaded or a trail that will let you soak up the sun, there's something for everyone.
You can go for an urban hike along the Atlanta BeltLine, keep cool by hiking by the Chattahoochee, or you can tackle a mountain hike like Stone Mountain or Kennesaw Mountain to get a view of Atlanta in all its summer glory.
Just remember that Atlanta summers are hot and the sun can be brutal! Make sure to pack plenty of water and wear lots of sunscreen.
8. Splash Around at Margaritaville at Lanier Islands Water Park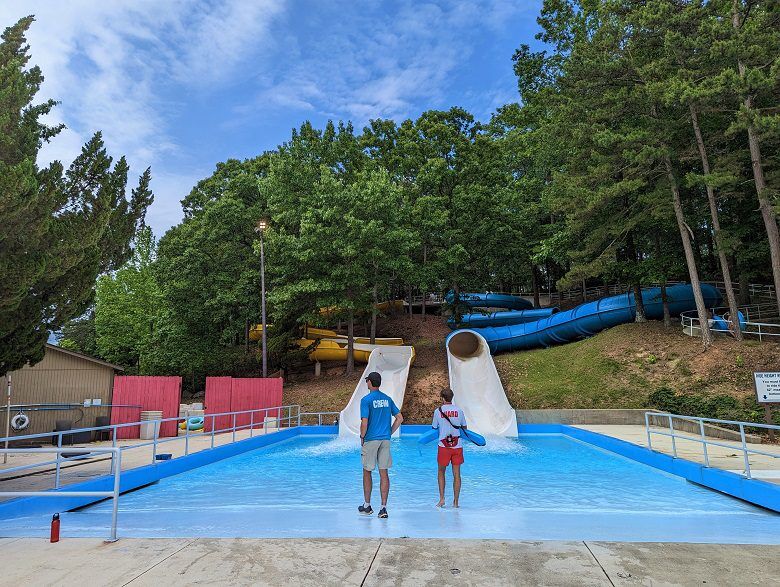 The water park at Margaritaville at Lanier Islands is the perfect place to cool off in the summer heat.
With adrenaline-pumping water slides, delicious lake-front restaurants, and refreshing margaritas at every turn, there's something for the whole family to enjoy.
This tropical-themed oasis has water slides and water attractions for all ages, a real sand beach, bars and concessions aplenty, lakeside dining, an arcade, and mini golf.
Located just an hour north of Atlanta, it's the perfect escape from the city on a summer day and is a lot closer than going to the beach.
9. Watch Fireworks on the 4th of July
There are so many great places to watch fireworks in Atlanta on the 4th of July.
You can head Downtown to watch from a rooftop bar, to Stone Mountain for their family-friendly fireworks and laser show, to downtown Decatur, to Marietta Square, or even up to the Mall of Georgia.
My favorite place is at the King and Queen Towers in Sandy Springs because these are my favorite skyscrapers. But there are literally hundreds of spots all over the city where you can participate in family-friendly events leading up to the show and grab a great view of the fireworks.
10. Enjoy Atlanta's Summer Music Festivals
Atlanta is known for having some of the biggest music festivals in the summer.
Catch the Shaky Knees Music Festival in May. This three day festival features artists in the indie rock, indie folk, country music, and alternative rock genres.
The Atlanta Jazz Fest also happens in May. This free festival happens throughout the month, with the main event over Memorial Day Weekend at Piedmont Park.
Then in September is Music Midtown, a large music festival held in Piedmont Park and featuring a diverse lineup.
11. Grab Some Ice Cream
There's no better way to cool off in the summer than with a giant scoop of ice cream!
From rolled ice cream to gelato to classic scoops, Atlanta has the perfect ice cream parlor just for you. Whether you like classic flavors like vanilla and chocolate or you're looking for something a little more out there, Atlanta's ice cream shops will have what you're looking for.
Cool off at Jake's Ice Cream, Butter & Cream, or any of the many Jeni's Splendid Ice Cream locations around town.
And check out this list of top ice cream shops in Atlanta for more sweet places to eat.
12. Relax at a Winery
You don't have to go all the way up to North Georgia for a fantastic winery (although, that's a great summer day trip option as well). There are fantastic wineries and vineyards that are less than an hour from downtown Atlanta where you can spend a summer day.
Summer is one of the best times to enjoy an Atlanta vineyard. There will be great wine, local music, and even some food trucks. And most vineyards are dog-friendly!
Check out these must-try vineyards near Atlanta this summer!
13. Catch Some Thrills at Six Flags
You can get both thrills and chills at the Six Flags parks in Atlanta.
You can ride over 40 rides at Six Flags Over Georgia in Austell, as well as check out their attached water park.
Or if you just want a water park experience, you can splash around at Six Flags White Water in Marietta.
Both amusement parks are a great way to cool down this summer in Atlanta.
14. See the Summer Blooms at the Atlanta Botanical Garden
The Atlanta Botanical Garden is in full bloom in the summer! Go see Earth Goddess in all her summer glory, with flowing flowering locks and rushing waterfalls.
The gardens are alive in the summer with plenty of fun events and exhibitions! Cocktails in the Garden is their annual summer weekend event, with cocktails and live entertainment as you explore the garden in the cool evening air.
And check out their latest art installations, like the folklore-inspired Trolls sculptures and paintings by Virginia Highland Plein Air Painters.
15. Attend an Adult-Only Event at Fernbank Museum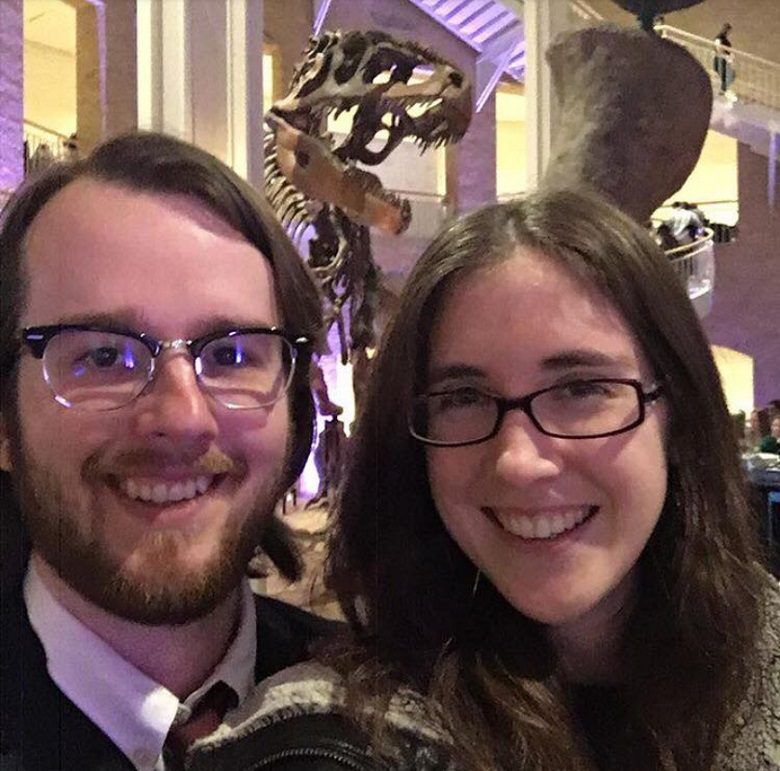 Fernbank Museum of Natural History lets you combine drinking and exploration in the name of science!
Fernbank hosts adult-only nights throughout the year, called Fernbank After Dark. But their summer events make use of both their indoor and outdoor exhibits so you can have fun-filled and science-filled summer nights.
Cool off from the summer heat in the sweet air conditioning of the museum, and enjoy the outdoor exhibits after hours when the sun has started to go down.
Check out my Fernbank After Dark Review here.
16. Visit Gibbs Gardens for Summer Blooms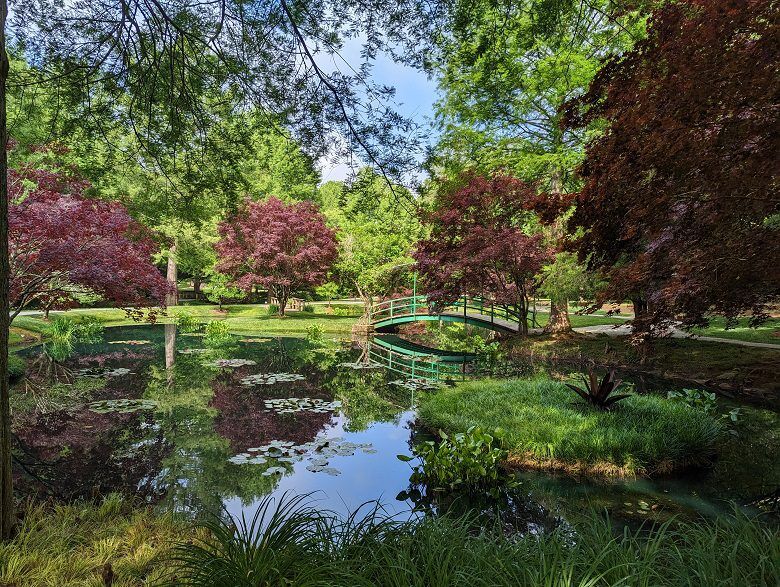 A visit to Gibbs Gardens in Ball Ground is a great summer day trip! It's only about a 1 hour drive from Atlanta to these award-winning gardens that are an oasis in the North Georgia Mountains.
Gibbs Gardens is a 300-acre estate with 16 flourishing gardens that are in beautiful bloom in the summer months.
During the summer, you can enjoy the Daylilies, Crape Myrtles, Roses, Hydrangeas, Waterlilies, and annual and perennial flowers.
Check out my guide to visiting Gibbs Gardens here.
Read next: The Best Summer Destinations in the South
Top Atlanta Tours
With so much to see, Atlanta can be overwhelming for any first-time traveler. To take some of the stress out of planning your visit, opt for a guided tour! Check out this list of the top Atlanta tours to help you make the most of your time in Georgia's capital city.
| Save on admission to Atlanta's top attractions using the Atlanta CityPASS.
Where to Stay in Atlanta
Find the perfect place to rest your head on your visit to Atlanta, from the top rated accommodations to unique stays you can't get anywhere else.
Summer in Atlanta FAQ
What is the weather like in Atlanta during the summer?

Summers in Atlanta are typically hot and humid, with temperatures ranging from the 80s to 90s Fahrenheit.

Are there any outdoor activities to enjoy during the summer in Atlanta?

Absolutely! Atlanta offers a wide range of outdoor activities during the summer. You can explore beautiful parks like Piedmont Park, go hiking in the nearby Chattahoochee River National Recreation Area, or even take a relaxing stroll through the Atlanta Botanical Garden.

What are some popular summer festivals and events in Atlanta?

Atlanta hosts numerous festivals and events during the summer. The Atlanta Jazz Festival, Atlanta Ice Cream Festival, and the Atlanta Summer Beer Fest are just a few examples of the exciting events you can enjoy.

Are there family-friendly activities available in Atlanta during the summer?

Yes, there are plenty of family-friendly activities in Atlanta. You can visit the Georgia Aquarium, where you can see amazing marine life, or explore the Children's Museum of Atlanta, which offers interactive exhibits and educational programs for kids.

What are the best ways to beat the heat in Atlanta during the summer?

To beat the heat, you can visit indoor attractions like museums, art galleries, or shopping centers. You can also cool off in one of Atlanta's many air-conditioned restaurants or catch a movie at a local theater.

Read next: 10 Exciting Summer Destinations in Georgia
---
Ready to visit Atlanta, Georgia? Plan your trip with these tips.
---
Cheers!
Paige
What's your favorite thing to do in Atlanta in the summer? Let me know in the comments!