Every spring through summer, the gates of Newcastle open. For the rest of the season when you enter through these gates, you will be transported back to 16th century England! Enter the Georgia Renaissance Festival, and prepare thyself for merriment.
Are you looking for a one-of-a-kind experience, perhaps a jaunt back to the Renaissance period? Look no further than the Georgia Renaissance Festival!
This rollicking good time is sure to give you and your family a unique and immersive experience unlike any other.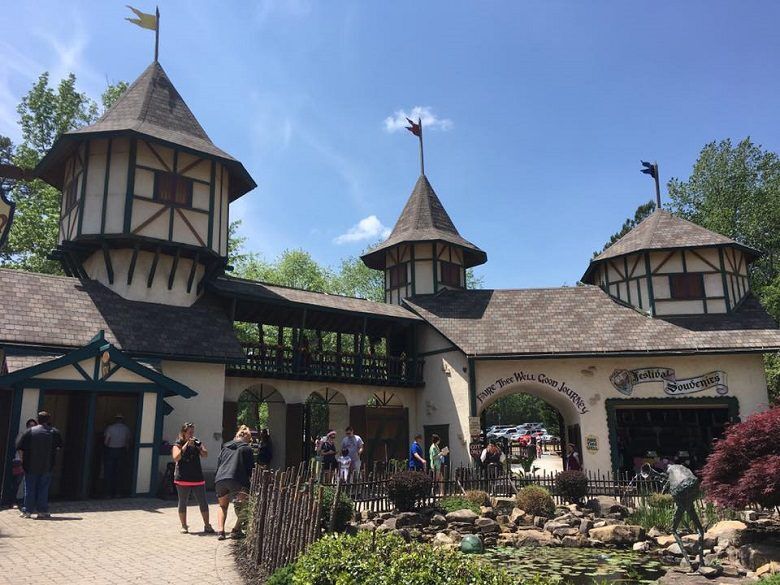 With hundreds of live performances each year, more than 150 artisans and vendors, tournaments, and activities, it's no surprise that the Georgia Renaissance Festival is one of the best things to do in Atlanta this summer!
Whether you are a fan of history, looking for a one-of-a-kind experience, or simply in search of a rollicking good time, the Georgia Renaissance Festival has something for you.
The Georgia Renaissance Festival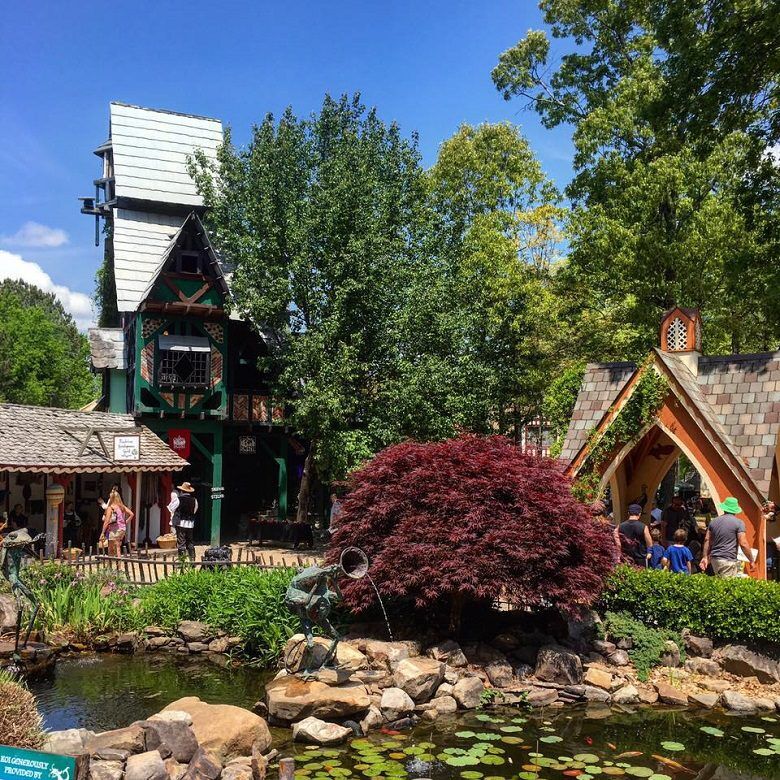 Newcastle covers a 32 acre village filled with over 150 artisan craft shops, shows of skill, taverns, and food stalls. For eight weekends every spring through summer for 38 years, this festival has brought a 16th century English fair to metro-Atlanta. The Southeast Tourism Society has even named the Georgia Renaissance Festival as one of the Top 20 Events in the Southern United States to experience.
The Georgia Renaissance Festival opens for its Spring 2023 season from April 15 — June 4, 2023. The festival is open every Saturday and Sunday during these weeks from 10:30 a.m. to 6 p.m.
Here's how to immerse yourself in the culture and enjoy yourself as if you were a local townsperson of Newcastle:
Don your costume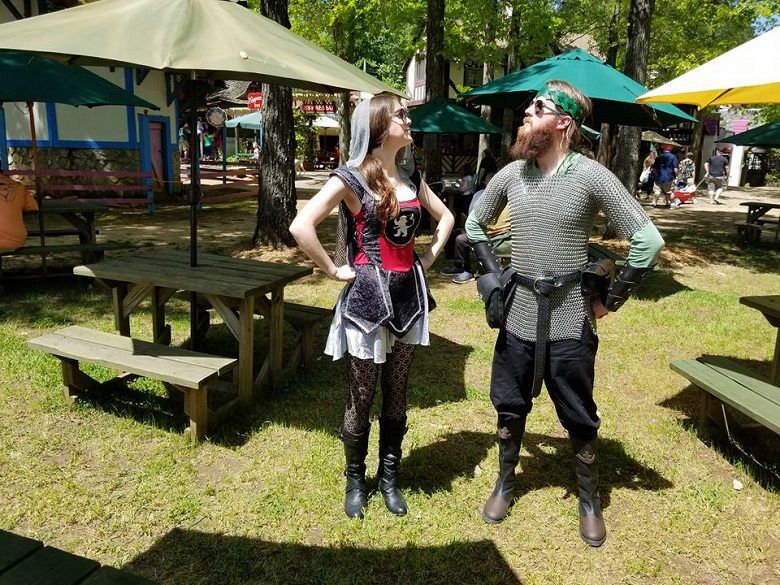 Blend in with the people of Newcastle by coming in period attire; it'll make the experience feel more authentic. You can rent a costume at the front of the festival or buy clothes from one of the local shops.
It doesn't even have to be medieval attire. Faeries, fantasy, steampunk, and all things in between are welcome. The festival hosts themed weekends so you can mix it up with Time Warp cosplay, Highland garb, pirate plundering, and more. Just leave your functioning weaponry at home or you'll be barred at the gates.
Test your skills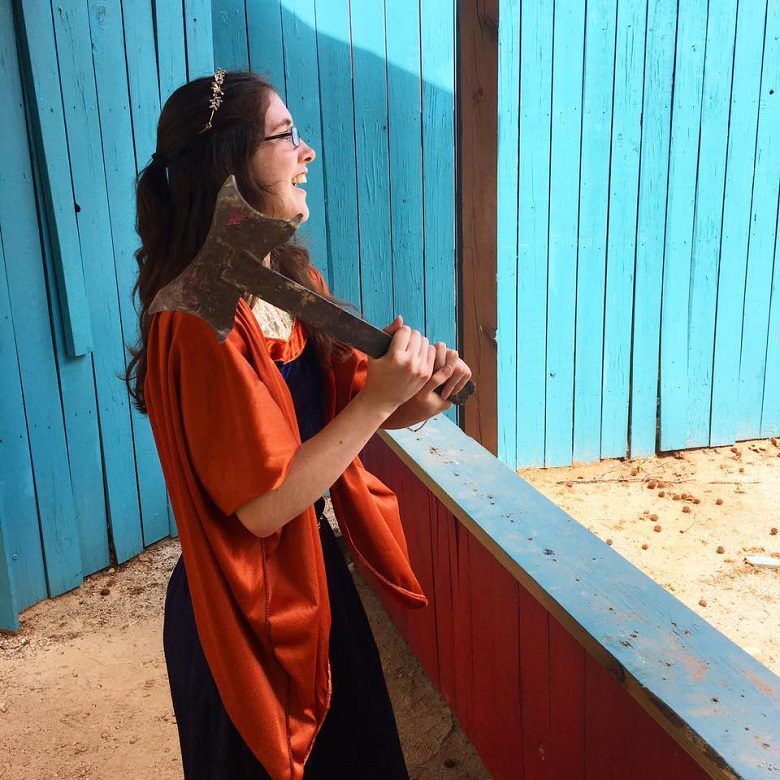 Take a ride on medieval man-powered rides, get a lift from a camel, or test out your skills at archery, knife throwing, or ax throwing. This princess even had to roll up her sleeves to take better aim with a bow-and-arrow and ax.
Eat local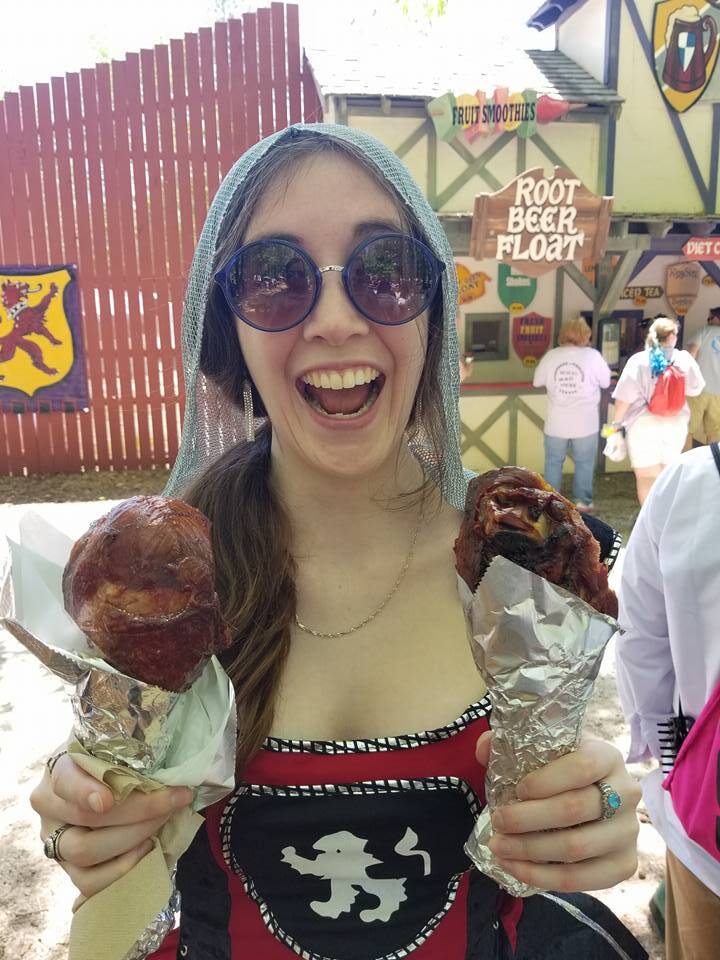 The 1.5-pound Turkey Legges are a feast fit for royalty, and they're a staple at every food court in the village. We attempted to stray from this delicacy and try something new, but we soon decided to stick to the classics — there's a reason everyone in the village loves this dish.
Shop 'til you drop
All across the land are master artisans selling their wares. You will find many treasures in their shops, each more amazing than the last. You can even watch the masters demonstrate their crafts, from coin minting and spinning, to glass blowing and leather crafting.
Enjoy a show
Be amazed and delighted all day long as performers from across the kingdom gather for your entertainment. There's jousting and comedy acts, music and dare-devilry. We particularly enjoyed the Wheel of Death, a thirty-foot tall, spinning monstrosity that Ichabod Wainwright treats as his personal playground.
Enjoy your step back in time! The Georgia Renaissance Festival is really an experience like no other!
Want more Georgia Renaissance Festival fun? Read these posts:
Where to Stay Near the Georgia Renaissance Festival
Find top hotels near the Georgia Renaissance Festival so you can rest up for a big day of fun#
---
Ready to visit Atlanta, Georgia? Plan your trip with these tips.
---
Cheers!
Paige
Have you been to the Georgia Renaissance Festival? Tell me about it in the comments!