Twice a year, the Smyrna Jonquil Festival is held at the Village Green in downtown Smyrna. This local festival is full of arts, crafts, local businesses, food, and fun! Here's my guide to the Smyrna Jonquil Festival.
First Things First – What Is a Jonquil?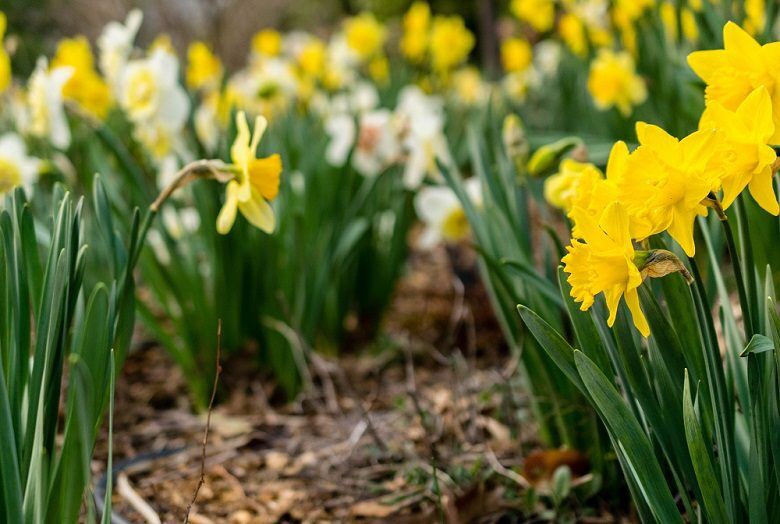 If you're new to Smyrna, the Jonquil City, you might be wondering what the heck a jonquil even is. A jonquil is a yellow trumpet-shaped flower with dark green tube-shaped leaves that are in the same family as daffodils.
You'll find jonquils all around Smyrna because ever since they were brought to the area in the late 1800's, the flowers have popped up each spring with very little care. Here's hoping I can keep my jonquils blooming each spring so I can be part of the tradition!
Smyrna Jonquil Festival — Twice a Year Means Twice the Fun!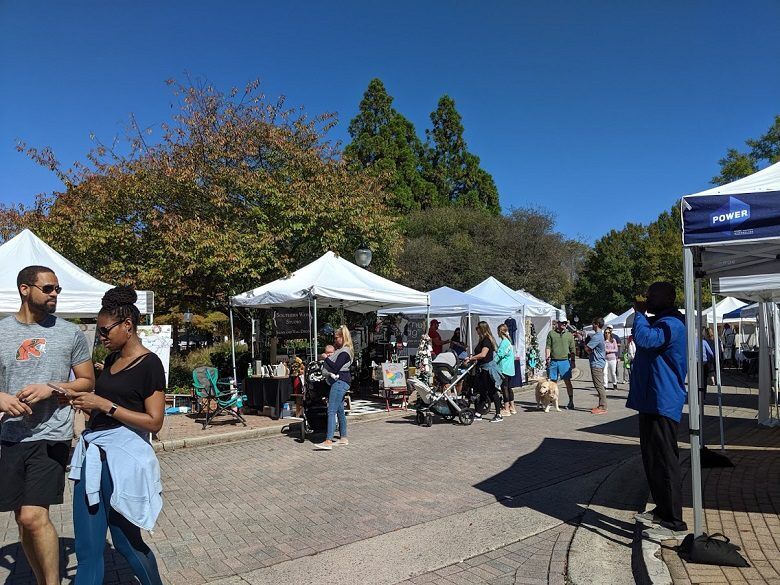 The Smyrna Jonquil Festival happens twice a year — once in the spring and once in the fall. Both festivals take place on a Saturday and a Sunday.
The main part of the festival takes place at the Village Green, a big grassy patch off of Atlanta Road with a roundabout where games, booths, and entertainment are set up. The festival spills over into the Market Village where there are even more games and food stalls running along King Street in the back.
Every year, the Jonquil Festival has around 175 arts and crafts booths, around 20 food booths, local Smyrna businesses, an entertainment stage, and a lots of children's activities.
The Jonquil Festival is great for a day of family fun, even the family dog, and best of all — it's free!
Spring Jonquil Festival: The 2023 Spring Jonquil Festival takes place April 29-30, 2023.
Fall Jonquil Festival: The 2023 Fall Jonquil Festival is being replaced by Crafts & Drafts and takes place October 28-29, 2023.
The festival runs from 10 a.m. to 6 p.m. on Saturday and from 12 p.m. to 5 p.m. on Sunday.
Where to Park
Parking is also free at the Jonquil Festival! You can find parking around the Market Village, behind City Hall and the Smyrna Public Library, on the neighborhood roads surrounding the area, all the way down to the Smyrna First United Methodist Church parking lot. We've never had any trouble finding parking for the festival.
What to Do at the Smyrna Jonquil Festival
Entertainment
The Smyrna Jonquil Festival has a variety of entertainment, from the kids' area to shows and performances. There are a bunch of areas for kids to play: the main kids' area is on the Village Green with games and bouncy castles and inflatable obstacle course "rides". There are more of these "rides" by the food, and there are also games at the Market Village. You will have to purchase tickets to get on the "rides" though.
The shows and performances are great as well. You can expect to see acts like escape artists who are able to get out of a straight jacket; life-size, transforming robot vehicles; K9 Sports entertainers performing high jumps and catching Frisbees; and even an educational experience that teaches about bear safety.
And pretty much every year, you can watch Peter Hart's puppet show. This guy is at almost every Atlanta festival, and kids and adults alike love his show. He makes marionettes and puppets sing, dance, juggle, play the fiddle, and catapult across the stage.
Shopping
With nearly 200 arts and crafts booths, there's plenty of shopping at the Jonquil Festival. Vendors have unique hand-made items from wood work to organic beauty supplies.
Local businesses set up at the festival, and plenty of them give away freebies. You can also find pet adoption booths as well.
Our favorite thing to do is shop the Smyrna Public Library book sale. Books are incredibly cheap, all sold for under $3, so you can stock up on must-reads or even maybe-reads. If you go later on Sunday, they will usually have marked down the book prices so you can get most for $1. All proceeds go the the Friends of the Smyrna Library.
Food & Drinks
The food vendors at the festival are cash only. If you forgot to bring spare cash, there are ATMs set up nearby. The vendors sell your usual festival food fare: fried Oreos, fried chicken, pizza, funnel cakes. There are also other fun foods to try like the noodle vendor, Jamaican vendor, New Orleans vendor, and lots of dessert options.
The Jonquil Festival sells beer at the end of the food vendor walk. The bars and restaurants are also open at the Market Village during the festival.
Smyrna has a new open container policy for the downtown area, which means you can walk around the Jonquil Festival with alcohol, and you can walk around the downtown restaurant district with open containers from bars and restaurants any time now!
Where to Stay in Smyrna, Georgia
More Things to Do in Smyrna
---
Ready to visit Smyrna, Georgia? Plan your trip with these tips.
Book Your Flight: Find the cheapest flights using Skyscanner, my favorite flight search engine.
Find Accommodation: You can find top hotels in Smyrna using Hotels.com.
Save on Attractions: Save 40% on admission to Atlanta's top attractions using the Atlanta CityPASS.
---
Cheers!
Paige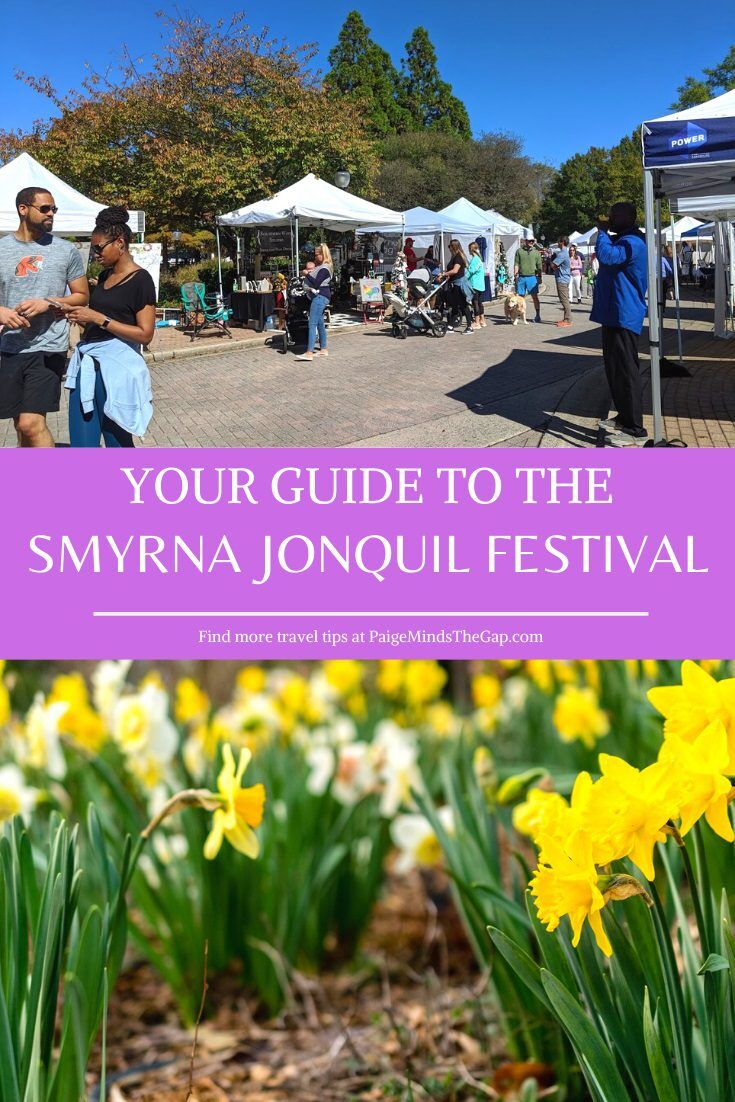 What's your favorite spring festival in Atlanta? Let me know in the comments!