Downtown Ellijay, Georgia has antique stores, local crafts, restaurants, creative murals, and plenty of southern charm.
This beautiful downtown area is the perfect place to spend the day shopping and eating. With everything from antiques to wine tastings, Downtown Ellijay is the place to be! Here are the best local shops to visit in Downtown Ellijay.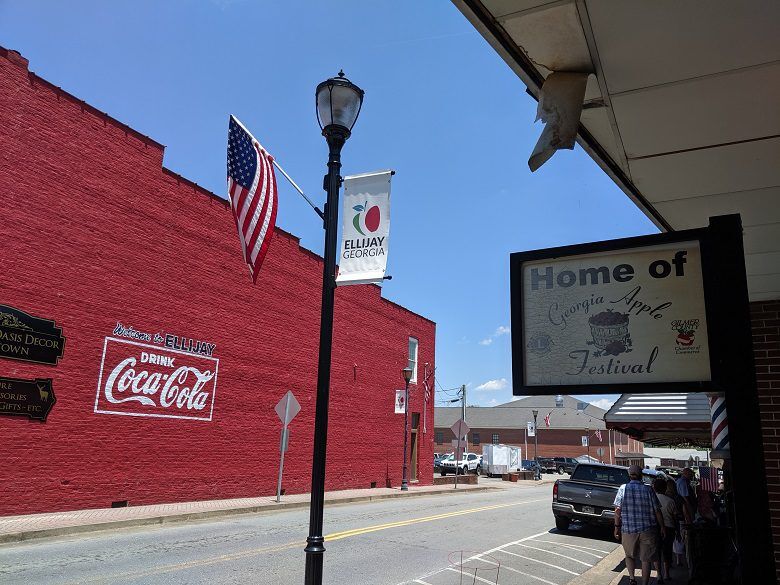 What to Do in Downtown Ellijay
Right in the middle of all the action, historic Downtown Ellijay is easily walkable and full of fun shops to explore.
Go Antique Shopping
Start off your day of shopping in Downtown Ellijay with some antique shopping.
Antiques on North Main, Main Street Antiques Mall, Misty Hollow Antiques & Collectibles, 28 Main Curiosities, and Linda's Outback Antiques and More are all exceptional antiques stores that are full of treasures.
Taste Wine Slushies at Mountain Treasures
Mountain Treasures is a unique shop where the front of the store sells apparel, décor, art, and jewelry, while the back of the store offers free samples of locally made wine and wine slushies from Cartecay Vineyards.
We all got slushies to cool us down in the Georgia heat. Kevin and I shared one of each of the three boozy slushies they had: a blueberry, a peach, and a piña colada flavored.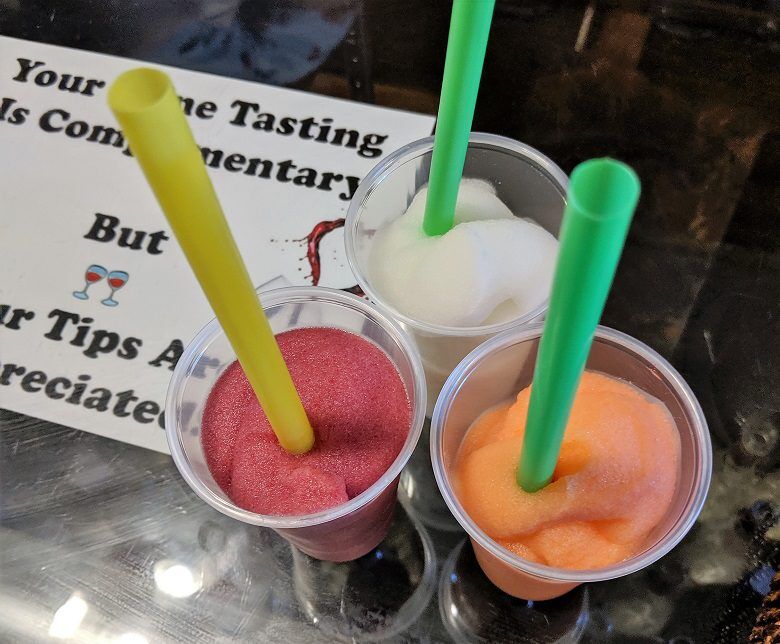 You can drink your wine in the store or you can take it out back to the boardwalk. We opted for the boardwalk so we could sit and enjoy.
The boardwalk connects the shops on N Main Street from the back, including a few restaurants. That makes this is the only place downtown you can walk around with alcohol.
Shop for Local Art at Artful Ellijay
Downtown Ellijay is the perfect place to find local arts and crafts. Find the perfect souvenir to take home, or a gift for your loved ones.
Artful Ellijay sells locally sourced decor that you can't find anywhere else, from custom metal pieces to paintings of photo-centric farm animals.
Take a Picture With the Cute Murals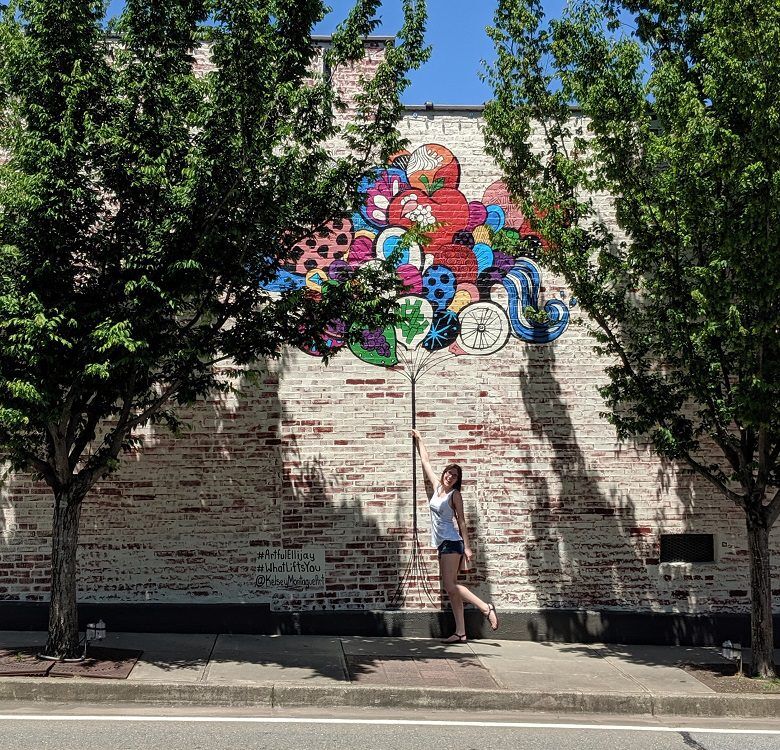 Downtown Ellijay has one of the interactive Kelsey Montague #WhatLiftsYou mural of colorful balloons painted on the side of Artful Ellijay's wall along River Street.
This is the perfect photo opp in Downtown Ellijay!
Another great mural is the Downtown Ellijay Coca-Cola mural on N Main Street.
Shop for Home Decor in Downtown Ellijay
Looking to decorate your home like a mountain getaway? Downtown Ellijay has plenty of great places to shop for home decor.
Beds Etc specializes in Amish handcrafted solid wood cabin furniture. The Cow Pelt has faux-animal skin and cow-themed decor. Artful Ellijay and all the amazing antique stores are great places to find home decor as well.
Do a Wine Tasting at Cartecay Wine & Craft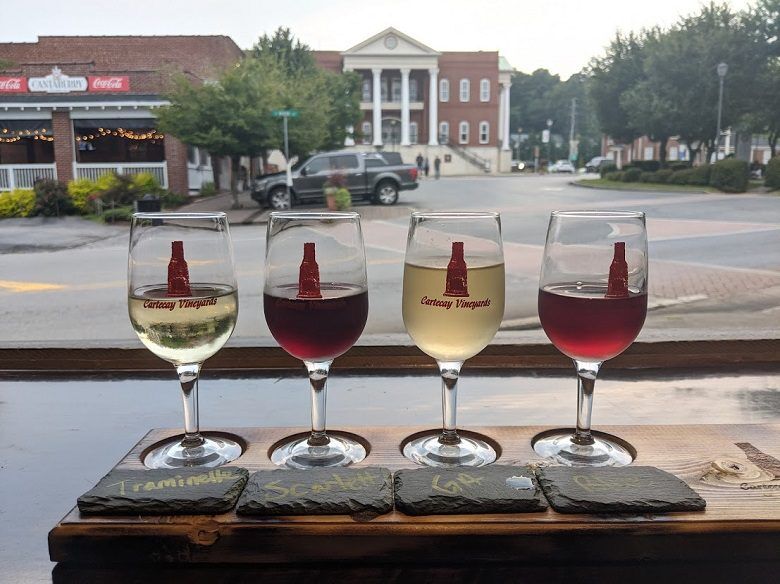 Cartecay Wine & Craft is Cartecay Vineyards' tasting room located in Downtown Ellijay. They serve their own wines, other local Georgia wines from the Ellijay area, and Georgia craft beers conveniently in the heart of downtown.
Try a wine flight or a wine slushie and enjoy people-watching on the square or a game of Jenga with friends.
Shop for Clothing in Downtown Ellijay
Downtown Ellijay is a great place to shop for trendy clothing, vintage clothing, women's clothing, and kids' clothing.
Whimz Boutique has children's apparel, jewelry, gifts, and even home decor for all ages. Lavish & The Loving Bull is one of the best vintage stores in Ellijay, selling clothing, jewelry, and more. Kristina Lee's Boutique and Juliana's Boutique both specialize in women's clothing.
Final Thoughts on Shopping in Downtown Ellijay
Downtown Ellijay is the perfect place for a day of shopping, eating, and exploring.
Whether you are looking for antique treasures, delicious wine slushies, collecting local art or decor items, shopping for clothing, or simply taking pictures with the charming murals, Downtown Ellijay holds something for everyone.
Everyone should visit Downtown Ellijay, Georgia to experience its southern charm, friendly people, and endless shopping opportunities!
Downtown Ellijay Map
Ready to spend your day exploring Downtown Ellijay? Use the map below to plan out your day.
I hope you found this guide to the shops of Downtown Ellijay helpful. Now go out and enjoy this historic downtown!
Where to Stay in Ellijay
Find the perfect place to rest your head on your visit to Ellijay, from the top rated accommodations to unique stays you can't get anywhere else.
More Things To Do In Ellijay, Georgia
Just can't get enough of this mountain Georgia town? Check out these other Ellijay itineraries.
---
Ready to visit Ellijay, Georgia? Plan your trip with these tips.
---
Cheers!
Paige
What's your favorite thing to do in Downtown Ellijay? Let me know in the comments!