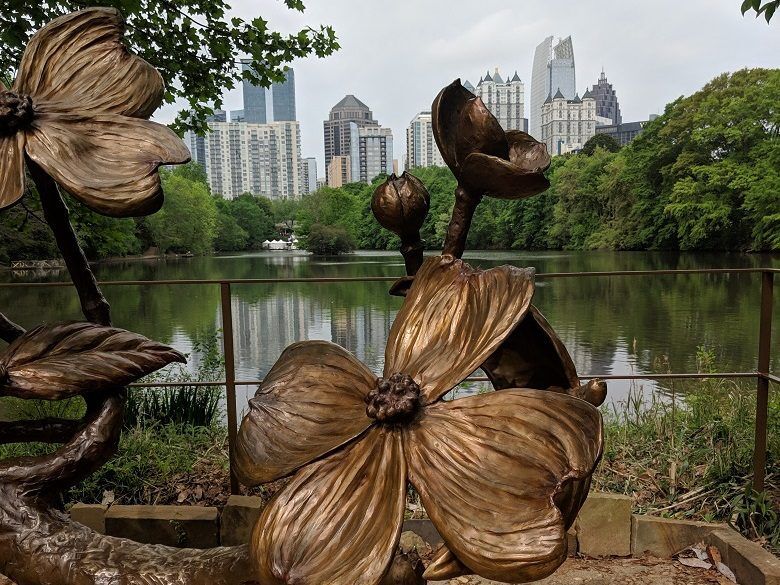 With spring comes the annual Atlanta Dogwood Festival. The dogwood trees are in full bloom and hundreds of artists are setting up their shops in Piedmont Park. This guide tells you what you need to know before you attend the Atlanta Dogwood Festival.
The Dogwood Festival is an Atlanta tradition, held every year in Piedmont Park in Midtown Atlanta. The festival takes place in mid-April and features artists from around the country, music, carnival rides and games for kids, and great food.
The 2023 Atlanta Dogwood Festival takes place on April 14-16, 2023.
The festival hours are:
Friday 12 p.m. — 9 p.m.
Saturday 10 a.m. — 9 p.m.
Sunday 10 a.m. — 6 p.m.
The artist market closes at 7 p.m. on Friday and Saturday.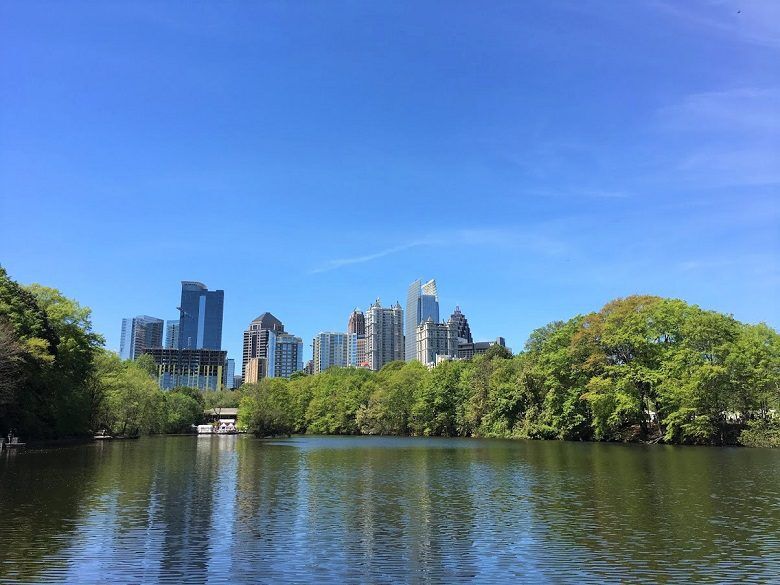 What To Know About the Atlanta Dogwood Festival
Prepare for the Weather
Check the weather before you go, since this time of the year it can be iffy. Prepare for windy, hot, rainy, or cold.
But always wear comfortable walking shoes! With hundreds of booths, this festival takes up the whole park, and you're going to want to see it all. If you're lucky, you'll catch the event on a perfectly sunny spring day.
Navigating the Crowds
You know a festival is good when it's been going for over 8 decades, so be ready to fight some crowds. Start early if you really want to beat most of the crowd. Very early. You could even take Friday off work and go when the festival opens at noon.
We typically opt for Sunday around 11 a.m., and it is usually already crowded but the pathways are still walkable. But around the early afternoon, the crowds begin to pick up!
Since this is Atlanta, prepare for traffic. Parking in the event-designated garages can run a little pricey, but they do have shuttles that'll pick you up and drop you off at the park gates so you don't have to walk or fight the traffic yourself, and that's really worth it.
Tempting Art and Food
Nearly 300 artists show for the Dogwood Festival. That's nearly 300 artists with paintings, glass, clay, wood, mixed media, photographs, sculptures, blown glass, and crafts that you're going to want to deck out your home with.
Add that to all the food trucks, carnival treats, and drinks you're going to buy, and your wallet is going to be begging you to go home.
Know Before You Go
Bring cash. A lot of places take cards nowadays, but if they don't, you don't want to have to pay ATM fees.
Pets aren't allowed, so leave the dogs to the dogwoods. But you can see the ones competing in the Disc Dogs competition.
Piedmont Park has paved, handicap accessible walking paths throughout. There is limited handicap parking on 10th Street and in the Sage Parking Garage.
No outside food or beverages are allowed in the park during the festival. You can bring small chairs, but no tents or coolers.
Check out the Dogwood Festival website for more information.
Atlanta Dogwood Festival FAQ
Is the Atlanta Dogwood Festival free?

Yes, the Atlanta Dogwood Festival is free to attend!

What time is the Atlanta Dogwood Festival?

The festival hours are:

Friday 12 p.m. — 9 p.m.
Saturday 10 a.m. — 9 p.m.
Sunday 10 a.m. — 6 p.m.

The artist market closes at 7 p.m. on Friday and Saturday.

Are dogs allowed at the Atlanta Dogwood Festival?

Unfortunately, dogs are not allowed at the Atlanta Dogwood Festival.

Where do I park for the Atlanta Dogwood Festival?

Nearby parking lots and garages for the Atlanta Dogwood Festival include:

250 10th St. NE
53 Fourteenth St
1337 Peachtree St. NE
1132 Techwood Dr. NW
129 North Ave NE

You might also consider taking MARTA to the festival to avoid the hefty parking fees.

Where to Stay in Atlanta
Find the perfect place to rest your head on your visit to Atlanta, from the top rated accommodations to unique stays you can't get anywhere else.
Craving More Atlanta Activities?
If you need more things to do while visiting Atlanta, check out these top posts:
---
Ready to visit Atlanta, Georgia? Plan your trip with these tips.
---
Cheers!
Paige
Was this guide to the Atlanta Dogwood Festival helpful? Let me know in the comments!