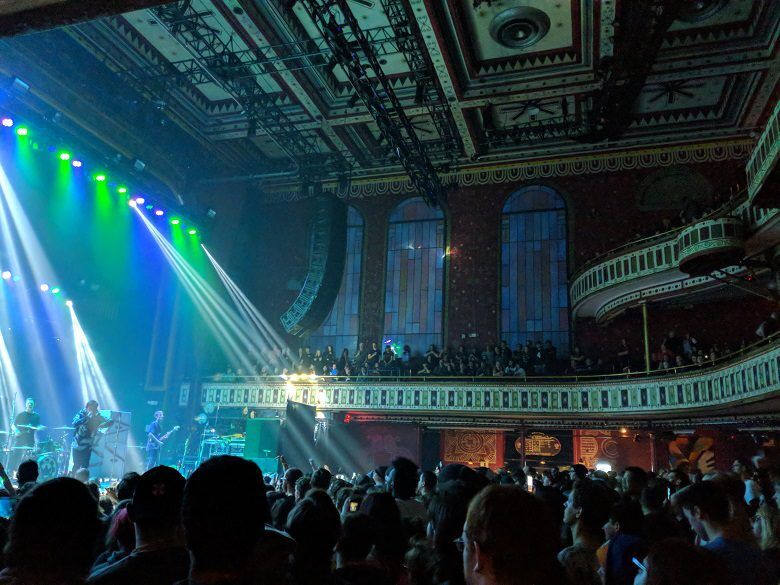 Atlanta holds a world of possibilities for live music. The city is known for its influence in hip-hop, but Atlanta also has an incredible rock and alternative scene that attracts huge artists to unique concert venues with amazing architecture and history.
Atlanta is a music hub with some of the most amazing venues for live music. Whether you're a fan of rock, hip-hop, jazz, country, or R&B, every genre has found its place in Atlanta's thriving music scene.
From classic theaters with decades of history to contemporary, state-of-the-art stadiums, Atlanta has it all.
If you're a music lover living in or visiting Atlanta, you won't want to miss a show at one of these amazing places!
Top Atlanta Concert Venues
With an impressive collection of concert venues — from historical theaters to outdoor amphitheaters – the city has provided a stage for generations of music lovers. These iconic concert venues will show you why Atlanta is a top destination for music-lovers.
1. The Masquerade
The Masquerade has played host to alternative musicians since it was established in 1989, presenting a diverse range of rock, alternative, indie, electronic, metal, punk and hip hop artists.
The Masquerade's three stages are split into Heaven, Hell, and Purgatory, a design that fit well into the venue's previous three-level Dupree's Excelsior Mill location. After 27 years at that location, the venue moved to its current location in Kenny's Alley at Underground Atlanta.
The three indoor venues, still keeping with their Heaven, Hell, and Purgatory themes, can accommodate 300 – 1,000 people and are connected by an open-air brick courtyard.
2. Tabernacle
The Tabernacle got its start as a concert venue during the 1996 Olympics as a House of Blues club, but for the 100 years before that, it was a church.
Dr. Len G. Broughton bought this property on Luckie Street in 1906 for his Baptist Church, and the local press began referring to it as Broughton's Tabernacle. The church's over 3,000 member congregation dwindled by the 1980's and the building lay vacant until the Centennial Olympic Games. This partnership only lasted until the end of the Olympics, but the space was later picked up in 1998 and renamed to Tabernacle. Live Nation now owns the iconic venue that continues to present huge artists across genres, from rock to hip hop and even comedy acts.
The space is huge, seating up to 2,600 people. The lower level is reserved for selling merchandise; the main level features the stage backed by organ pipers and standing-room floor; and the upper level has plenty of balcony seating. And there are bars just about everywhere.
3. Buckhead Theatre
Built in the 1930's, the Buckhead Theatre began its life as a movie theater and has remained central to Buckhead nightlife throughout the years. In the 1990's, the cinema became a concert venue under the name of Coca-Cola Roxy until closing in 2008. (You'll find the brand new Coca-Cola Roxy at the new Brave's Stadium now.)
The venue reopened in 2010 after renovations as the Buckhead Theatre. The Theatre pays homage to its predecessors with an Art Deco style front lobby, complete with leather couches and a marble bar, in addition to updated lighting and sound systems.
The theatre seats 2,500 people in its orchestra and balcony. It puts on a variety of performances from its 8,000 square foot stage, including concerts, lectures, comedy acts, and Broadway plays.
4. Chastain Park Amphitheatre
The Chastain Park Amphitheatre, opened in 1944, is considered "Atlanta's Oldest Outdoor Music Venue." It sits in the middle of a neighborhood of fancy houses, some of which have a good view into the amphitheater and most of which I'm sure have installed soundproof windows by now. But the residents do get some reprieve from the noise as the amphitheater only hosts concerts during the summer months.
The venue seats 6,900 people, mostly by reserved seats and some by general admission lawn seating. The aisles are nice and wide, so there's plenty of walking room and you don't have to stand up to let people pass or worry about someone spilling their drink on you. Chastain Park Amphitheatre puts on shows ranging from symphony to rock.
5. Variety Playhouse
Variety Playhouse in Little Five Points opened in 1940 as a move theater. Like other movie houses in Atlanta, Variety Playhouse closed in the '60s and sat untouched for years before being saved from demolition. The venue got its rebirth as a stage for live performances, first sketches, then orchestra, and now live music.
Variety Playhouse still has the same character as a movie theater. Comfy red theater seating is set up in the middle (worth paying extra for). In front of the stage is open for the pit, and the sides of the auditorium are open for standing room.
The venue can seat 1,100 people. There is a bar in the lobby and upstairs in the balcony. The balcony also has a way bigger women's restroom, seriously, do not wait for the downstairs bathroom, just go upstairs.
6. The Fox Theatre
The Fox Theatre was built in the late 1920's for Atlanta's Shriners organization who took inspiration for the ornate mosque-style building from the Far East. The elaborate design soon became too costly for the organization. So they sold the building to William Fox, a movie mogul with an empire of "movie palaces" all over the country.
The Fox has made it through the Great Depression, bankruptcy, and near-demolition and has come out the other side as an Atlanta landmark, hosting concerts, Broadway shows, comedians, and movies.
The building's exterior, Grand Salon, mezzanine Gentlemen's Lounge, and lower Ladies Lounge are all decorated with an Islamic theme. Meanwhile the Egyptian Ballroom, mezzanine Ladies Lounge, and lower Gentlemen's Lounge have an Egyptian theme. The 4,665-seat auditorium is set under an Arabian night sky, complete with flickering stars and passing clouds. This is easily my favorite architectural feature.
7. Mercedes-Benz Stadium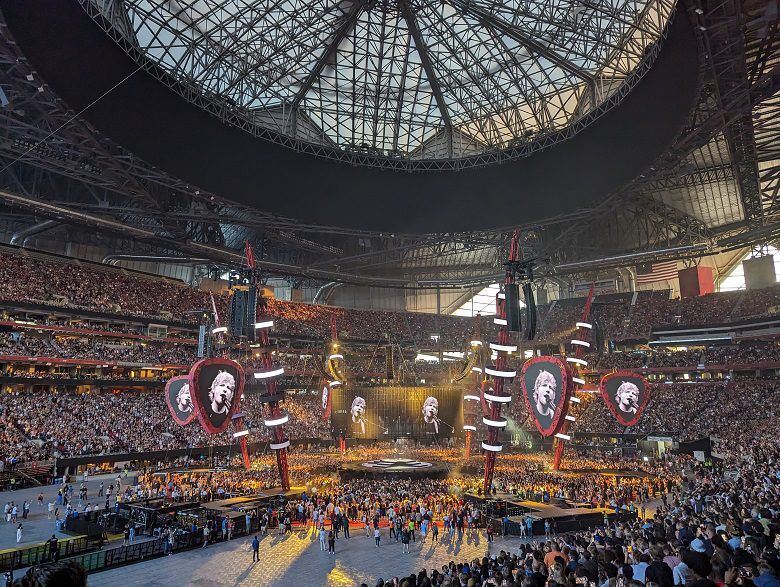 Mercedes-Benz Stadium was constructed to replace the Georgia Dome as Atlanta's premier modern sports arena, but it's great for concerts as well. Opened in 2017, the stadium has 75,000 seats and even more capacity once you add in floor "seating" for concerts.
The stadium's signature feature is its retractable roof, inspired by the Roman Pantheon. Below the roof is the "Halo", a 63,800 square-foot ring of video boards that circles the entire stadium, opening up the possibility for an incredible multi-media display to go along with your concert experience.
Atlanta Concert Venues Map
Ready to check out these top Atlanta concert venues? I've put together a map of all the concert venues listed in this blog post to help you out!
<
Where to Stay in Atlanta
Find the perfect place to rest your head on your visit to Atlanta, from the top rated accommodations to unique stays you can't get anywhere else.
Top Atlanta Tours
With so much to see, Atlanta can be overwhelming for any first-time traveler. To take some of the stress out of planning your visit, opt for a guided tour! Check out this list of the top Atlanta tours to help you make the most of your time in Georgia's capital city.
Craving More Atlanta Activities?
If you need more things to do while visiting Atlanta, check out these top posts:
---
Ready to visit Atlanta, Georgia? Plan your trip with these tips.
---
Cheers!
Paige
What are your favorite concert venues in Atlanta? Let me know in the comments below!