Escape to the mountains of Ellijay, Georgia for an amazing winery weekend! Spend the weekend tasting local wines and breathing in the mountain air on a winery tour of Ellijay. Check out this itinerary for planning your perfect Ellijay winery tour!
A special thanks to Murphy's Winery Transport for hosting our winery trip! If you book a trip with them, let them know you heard about them on Paige Minds The Gap! As always, all opinions are my own.
Ellijay is only about an hour and a half north of Atlanta, making it the perfect weekend getaway for you and the girls. This small mountain town may be known as the apple capital of Georgia, but its vineyards deserve some recognition, too.
Ellijay's wineries and vineyards boast award-winning wines, incredible mountain views, and lively local music. For our special girls' trip, Murphy's Winery Transport took us on the road to show us the best wineries in Ellijay! (Be sure to let them know you heard about them on Paige Minds The Gap when you book!)
Ellijay Wine Tour with Murphy's Winery Transport
Murphy's Winery Transport offers private, personalized tours to Ellijay's finest wineries. They offer door-to-door service, picking you up from your cabin or hotel in Ellijay and taking you right to the entrance of each winery, that way everyone can indulge safely and you don't have to worry about choosing a designated driver.
This is a local family-run business with a super personal feel. Anne handled our booking and offered recommendations for wineries to visit. Tom, the owner, was our driver for the day.
Tom picked us up in the morning for a leisurely day of visiting different wineries. The SUV had plenty of room for our group of four, plus our giant cooler of snacks and room in the trunk for all the bottles we bought along the way.
There was no rush and we were able to set our own schedule, so we could enjoy each winery to the fullest. When we were ready to leave each winery, Tom already had the car ready to go, as if he could read our minds! He was even happy to make additional stops along the way, which is something to keep in mind if you want to stop at the Saturday farmers market in the morning or pick up dinner on the way home (which is what we did).
If you book a trip with Murphy's, be sure to let them know that you learned about them on Paige Minds The Gap!
Ellijay Winery Tour Itinerary: Best Wineries
Murphy's Winery Transport picked us up at 10:45 a.m. and Tom got us home around 6:30 p.m. In that time, we were able to visit four wineries. Some wineries open at 11 a.m. and most close by 6 p.m., so if you timed everything right you may be able to fit in more stops, but I think four wineries in one day is pretty good for not feeling rushed.
Here are the Ellijay wineries we visited on our tour:
Chateau Meichtry
Our first stop was Chateau Meichtry, a family-owned winery that offers wine tastings, winery tours, live music on the weekends, and food trucks on the weekends.
We did their wine tasting of five different wines each. Their pourers were very friendly and knowledgeable about the wines and could help make suggestions based on what you usually like.
Outside, this winery has plenty of covered and shaded seating with views of the vines and the surrounding mountains. The private residence at the top of the hill makes for an exceptionally pretty picture.
Ott Farms and Vineyard
Ott Farms and Vineyard has some of the best views. One of the owners, Mike, helped build surrounding vineyards like Cartecay Vineyards and Engleheim Vineyards before building Ott Farms, so they definitely know the wine business.
They offer wine tastings, live music on the weekends, and food trucks on the weekends. They serve both their own wines and wines from neighboring vineyards.
We opted to get a glass each here and sit out on the covered porch overlooking the rolling hills of vines and the most incredible mountain views.
Buckley Vineyards
Buckley Vineyards is right down the road from Ott Farms, so it's a natural next stop. They offer tastings, live music, and a food truck.
Their setup outside has covered and shaded seating overlooking the rolling hillside. Indoors is a large tasting room bar and loft seating.
We did tastings and glasses here, sitting at the tasting room bar to escape the Georgia heat. This family-owned vineyard names their wines after family members, even their dog Coco who you may see while you're there.
Fainting Goat Vineyards & Winery
Our last stop was Fainting Goat Vineyards & Winery. They have four fainting goats that you can pet on the property. This winery also has some amazing mountain views.
They offer live music every weekend, award-winning wines, wine tastings, outdoor fireplaces, and floor-to-ceiling windows so you can enjoy the views even when sitting inside.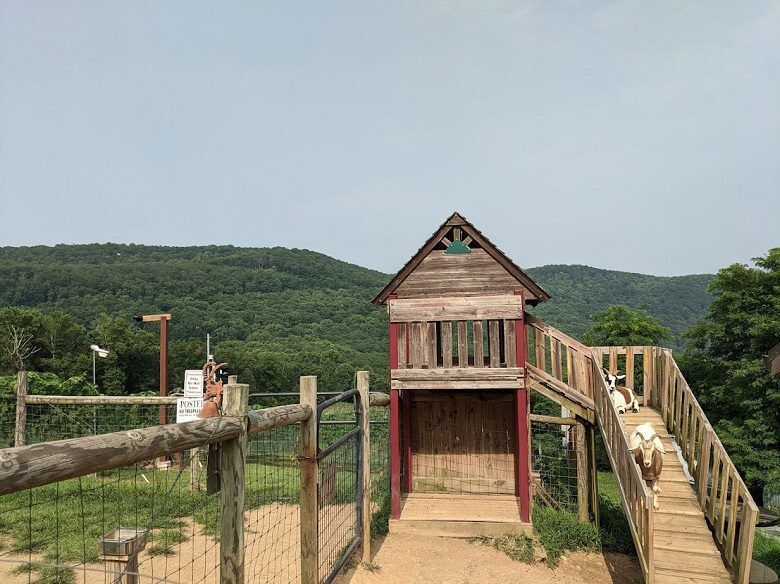 We did their tasting of three different wines, which we took outside on the veranda. There, we could enjoy our wines while listening to the live music and the goats bleating while enjoying the beautiful mountain view.
Ellijay Wineries Map
Ready to plan out your incredible winery tour of Ellijay, Georgia? Use the map below to find all the amazing Ellijay wineries mentioned in this post. And if you still aren't sure where to go, Murphy's Winery Transport is happy to make recommendations!
I hope you have an incredible time touring all of Ellijay's amazing wineries and vineyards on your wine getaway weekend!
Where to Stay in Ellijay
Find the perfect place to rest your head on your visit to Ellijay, from the top rated accommodations to unique stays you can't get anywhere else.
More Things To Do In Ellijay
Just can't get enough of this mountain Georgia town? Check out these other Ellijay itineraries.
---
Ready to visit Ellijay, Georgia? Plan your trip with these tips.
---
Cheers!
Paige
Have you taken a winery tour of Ellijay? Let me know in the comments!