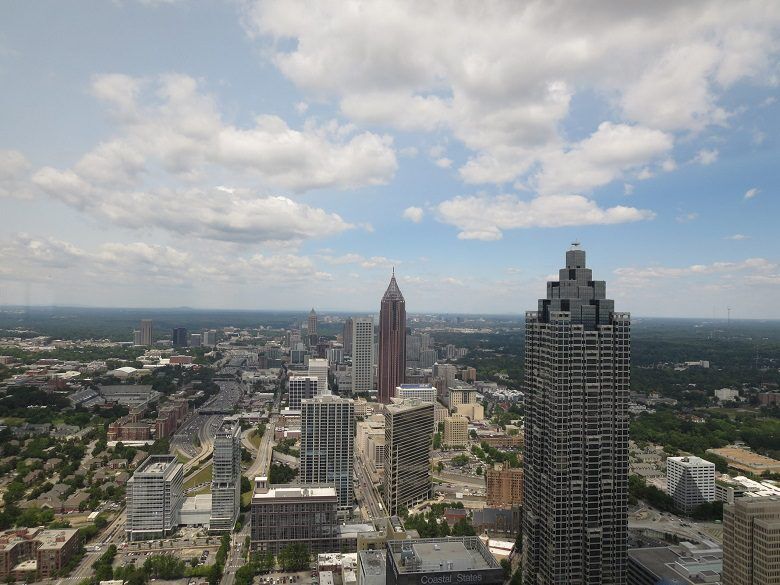 Planning a trip to the capital of Georgia? There are a lot of factors to consider when figuring out when to visit Atlanta. You have to take into account the weather, the crowds, the best prices, and what festivities are going on. Find out when is the best time of year to visit Atlanta, Georgia.
There is always something going on in Atlanta, so the best time to visit may just depend on what you want to see and do! But planning a vacation isn't always that easy, and many factors play a part in determining the best time to travel.
The Absolute Best Time to Visit Atlanta
I think any time is a great time to visit Atlanta. But the absolute best time to visit Atlanta is in the spring.
Spring (March through May) in Atlanta has mild temperatures and pleasant weather with the occasional rain shower. It's the second busiest season for tourism, so you won't be fighting a ton of crowds. Many airlines and hotels also offer cheap flights and hotel deals.
During the spring, Atlanta is in full swing with festival season. The city is in bloom, the weather is generally nice, and there are so many things to do.
All the seasons have their high points, though, so check out my reasons for visiting Atlanta any time of the year below!
Why Visit Atlanta in the Spring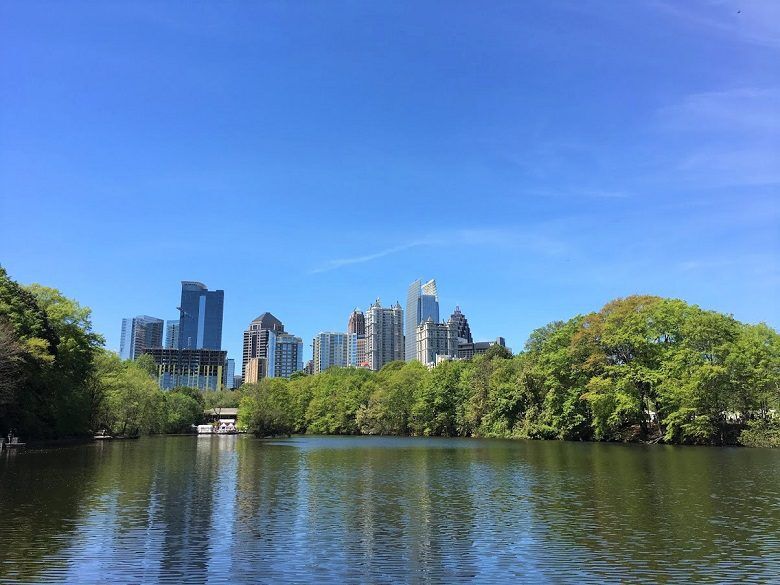 Spring is the start of festival season in Atlanta. Nearly every weekend, you can find a fun event to attend. Many of Atlanta's most popular outdoor events are held during the spring, like the Atlanta Dogwood Festival and the Shaky Knees Music Festival.
This is also the perfect season to check out some of Atlanta's best hiking spots. You can stay within the city limits and explore the popular BeltLine trails, or you can head outside the Perimeter to Sweetwater Creek State Park and other trails in the greater Atlanta area.
Find more things to do during spring in Atlanta here.
Why Visit Atlanta in the Summer
In the summer (June through August), Atlanta gets hot, but that just means more time for summer fun, and the city has lots of that!
There are still tons of festivals going on during the summer. But you may find that many of them go into the evening when the weather is cooler or are held indoors.
Atlanta has plenty of ways to escape the summer heat, or enjoy it to the fullest. The city's top attractions, like the Georgia Aquarium and World of Coca-Cola, offer air-conditioned fun. Meanwhile, Six Flags White Water and shooting the 'Hooch are the perfect way to beat the heat. Some of Atlanta's attractions, like Zoo Atlanta and the Atlanta Botanical Garden, are at their best during the summer.
Find more things to do during summer in Atlanta here.
Why Visit Atlanta in the Fall
Usually, Atlanta stays warm well into the fall months (September through November). When the leaves change, the city is doused in vibrant colors, but it doesn't last long; blink and you'll miss it! You'll get to see the most of the color change by going hiking. The fall weather is perfect for a weekend hike!
During the fall, Atlanta has plenty of seasonal, spooky events with plenty of Southern Gothic charm. You can take a cemetery stroll through the Victorian-esque Historic Oakland Cemetery or try to make it out alive from Netherworld, Atlanta's favorite haunted house.
In and around Atlanta there are tons of opportunities for pumpkin-picking, apple cider-drinking, partying, and enjoying the season.
Find more things to do during fall in Atlanta here.
Why Visit Atlanta in the Winter
Winter in Atlanta (December through February) is a magical season. Sure, the weather can be cold and wet, but the city's festive cheer more than makes up for any dreariness.
Atlanta's top attractions add some sparkle to their exhibits to lure you in. You might not think there's much going on in a garden during winter, but the Atlanta Botanical Garden pulls out all the stops with their light displays. Atlanta even has a lot of outdoor ice rinks that pop up all over the city.
For winter hikes, you'll want to head outside the city to Cloudland Canyon State Park where you can see gorgeous waterfalls flowing heavy with the mountain river runoff.
Find more things to do during winter in Atlanta here.
When is the Cheapest Time to Visit Atlanta?
Is your idea of the "best time" the cheapest time? I can totally get that! Atlanta can be a pretty expensive city to visit, and sometimes you just want to visit during the cheapest times.
No matter when you visit Atlanta, you can save a lot of money on attractions by buying the Atlanta CityPASS. This pass can save you up to 44% on admission prices to 5 of Atlanta's top attractions.
When are the Cheapest Flights to Atlanta?
According to Skyscanner, the cheapest month to fly to Atlanta is March. But there are a lot of factors when finding the cheapest flights. Winter months, like January, may also be cheap because winter is the off-season for travel to Atlanta.
If you want a cheap vacation to Atlanta, avoid the summer months. May, June, and July are considered peak season for travelers to Atlanta, and flights are often more expensive.
When are Hotels in Atlanta Cheapest?
The cheapest time to book a hotel in Atlanta is during the off-season. This is usually fall, winter, and into spring. You'll want to avoid weekends when there are big festivals or other events happening that may drive up the price. Holidays, like Christmas, will also drive up the price.
This means that you can usually find cheap hotels during March, which is also the cheapest time to fly to Atlanta and right on the cusp of Atlanta's best weather. If you plan everything just right, you can create a perfect and budget-friendly trip to Atlanta!
Top Budget Hotels in Atlanta
Craving More Atlanta Activities?
If you need more things to do while visiting Atlanta, check out these top posts:
---
Ready to visit Atlanta, Georgia? Plan your trip with these tips.
---
Cheers!
Paige
When is your favorite time to visit Atlanta? Let me know in the comments!