Fernandina Beach is the northernmost city on Florida's Atlantic coast, making it the closest Florida beach for many Americans looking for a summer vacation. We spent the Fourth of July weekend at Fernandina Beach, so I'm bringing you the scoop on how to enjoy a long weekend getaway at Fernandina Beach and Amelia Island.
About Fernandina Beach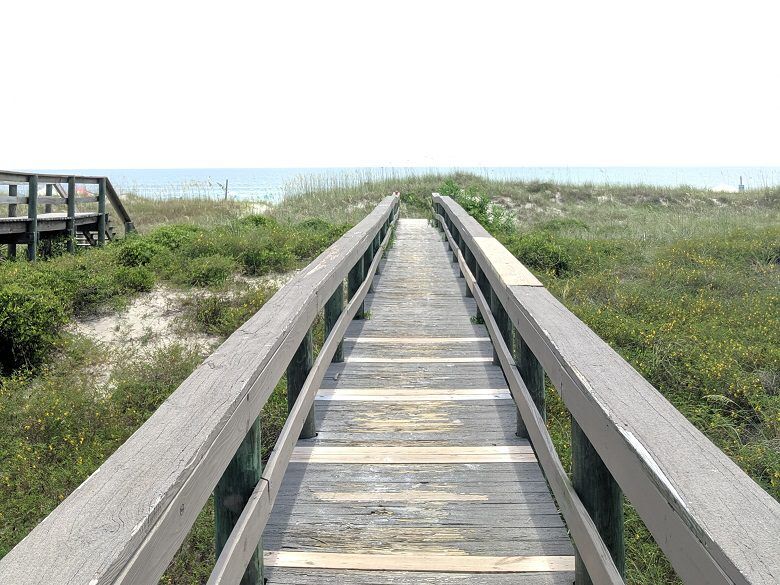 Fernandina Beach is located on Amelia Island and is known for its annual Isle of Eight Flags Shrimp Festival, 13 miles of sandy beaches, and boutique downtown shopping. This and more are what have kept Fernandina Beach and Amelia Island consistently ranked among Florida's best island destinations.
Fernandina was officially established in 1811, but Fernandina is known as the "Isle of 8 Flags" because it is the only municipality in the US to have flown eight different national flags: since 1562 Fernandina has flown the flags of France, Spain, Great Britain, the Republic of Florida, the Green Cross of Florida, Mexico, the Confederate States of America, and the United States.
Fernandina Beach Long Weekend Itinerary
Kevin and his family have been coming to Fernandina Beach for their summer vacations practically his whole life since it's only a two hour drive from Douglas, GA, so I was in good hands for touring the town.
Day 1: Getting to Fernandina
Fernandina is about a 5.5 hour drive from Atlanta if you don't hit any traffic. We left on Wednesday around lunch time from Atlanta and, with a little help from the Peach Pass express lanes, were able to beat the traffic on 1-75. After Macon, it's not a very exciting drive through South Georgia; I-16 can really dull the senses. At Savannah, we switched over to I-95, and once you're in Florida and catch your first whiff of salty sea air, you're practically to the beach.
Once we made it to the condo, we unpacked and headed back out for dinner. For our first night, we decided on seafood as an apt meal.
We ate at Cedar River Seafood, a casual restaurant that's been serving fresh seafood at its six beach locations for over 40 years. We had all the standards: fried gator tail, fried shrimp, fried scallops, and fried clam strips.
Day 2: Fourth of July at Fernandina Beach
The next day, we were up early-ish to get to the beach before the crowds. Kevin's mom likes to stake a claim in a shady spot under the pier, and it seems the best time to get a good spot is before 10 a.m. or 11 a.m.
But first, we stopped at Krystal for some breakfast since it was on the way to the beach. All breakfasts should include a Coke Icee.
This was probably the best Coke I had all weekend because Florida tap water ruins fountain drinks. Florida water taste salty and slightly like fish. I was so disappointed.
Anyway, breakfast in hand, we headed to the beach! The drive along the beachfront is just a row of drool-worthy beach houses, many of which can be rented. Fernandina has over 40 beach access points, about half with parking available. All parking is free, and if you can't park at the access then you can usually find parking a block or less away.
We settled in beneath the pier and sunscreened up. Fernandina's beach is soft, white sand, but since you're on the Atlantic Coast, you definitely get more seashells and waves than you do on the Gulf Coast. The water is also warm, but it's murky and you aren't able to see what's swimming in the water around you.
Kevin's favorite activity is body surfing, so that's what we did. It does seem like the waters are more calm in the morning though, so the major body surfing had to be left for later in the day.
Related: The Ultimate Beach Vacation Packing List
For lunch, we went back to the condo and had hot dogs and mac-and-cheese, a classic Fourth of July meal. Kevin and I also checked out the pool at the condo. He and I splashed around there for an hour before heading in for an afternoon nap.
We ate dinner at The Loop. We split their Meat Market pizza, topped with sausage, pepperoni, beef, and bacon, and Kevin had an Oreo milkshake.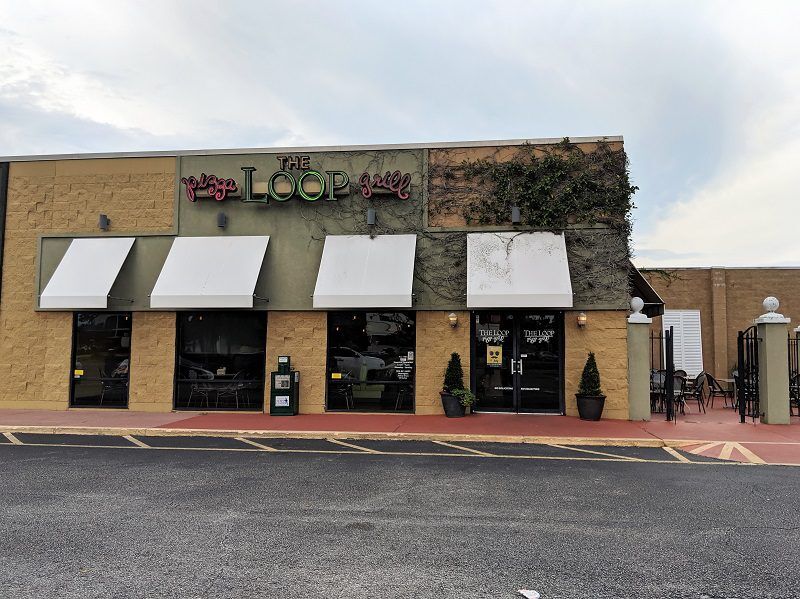 Then we went back to the beach to enjoy the last bit of sunlight and to get ready to see some fireworks. I had a new doughnut-shaped inner tube to try out that Kevin's mom bought me, so I was really excited. And the waves seemed bigger, so we could body surf (or doughnut surf).
We also saw some sea turtle nests that had been roped off so they didn't get destroyed. Apparently, there is a record number of sea turtle nests on Amelia Island this year — 221 of them!
When the sun went down, everybody started showing up with their fireworks and shooting them off over the ocean. We were only expecting to see professional fireworks down the beach, but turns out we were surrounded by them. It made me nervous being around that many people shooting off fireworks, but it meant that we had quite a display!
Day 3: Downtown Fernandina
On Friday, we again went to the beach early. There was less of a crowd with all the Fourth of July fun over with. The waves were pretty calm again and weren't enough for Kevin to body surf. I mostly relaxed in my doughnut tube and nearly fell asleep in the ocean; I love that thing so much!
For lunch, we ate at the Beach Diner. I'd been looking for something light, but their portions were anything but! They're open for breakfast and lunch only, and they serve home-cooked breakfast, salad, and sandwiches. I had the Chunky Chicken Melt filled with chicken salad, mushrooms, tomatoes, and onions, and it was as big as my face!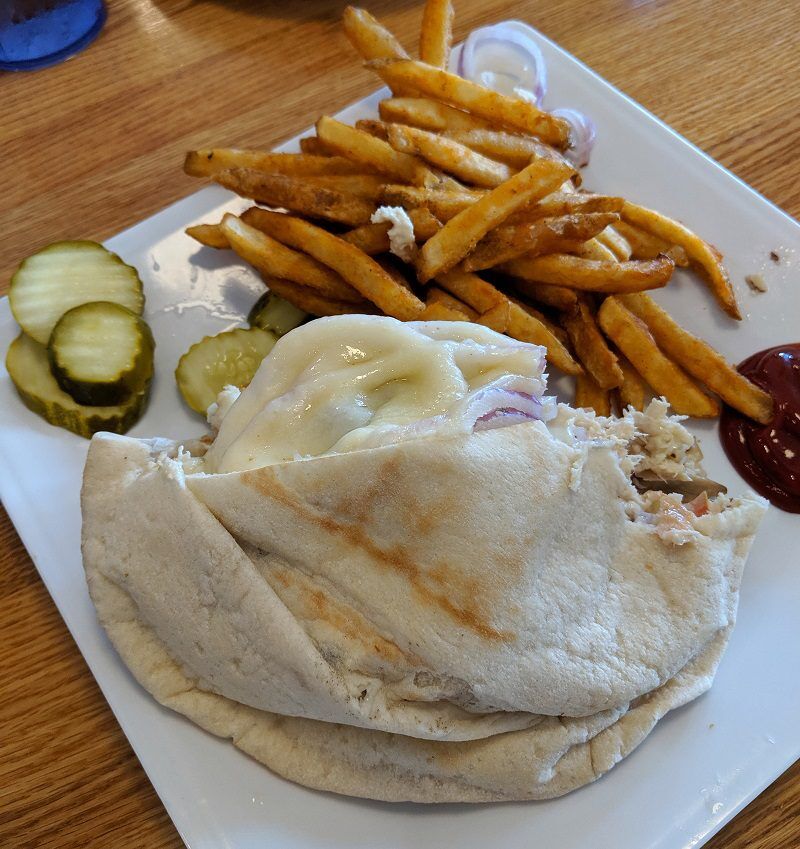 We then went to downtown Fernandina for some window shopping and some sightseeing. Fernandina's Main Street is full of historic buildings and beautiful architecture. We went into some of the local boutiques, checked out Florida's oldest continually running bar, and drank some pre-dinner margaritas at Pablo's.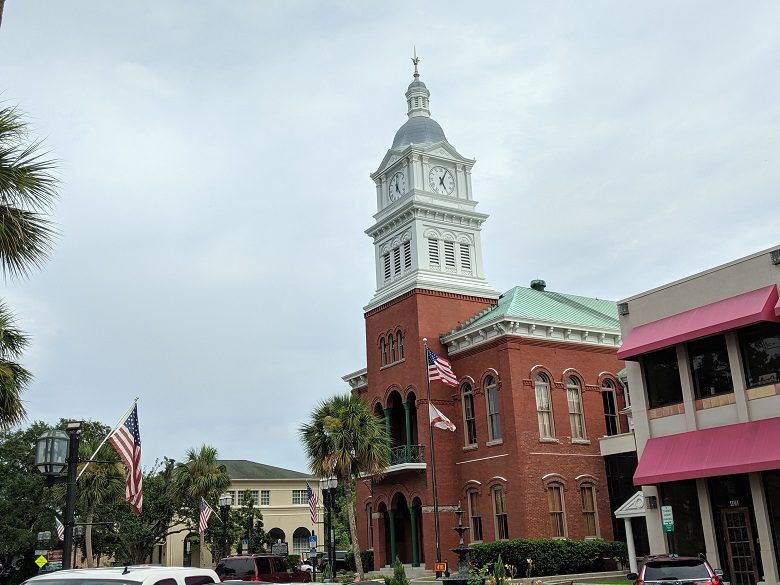 For dinner, we had reservations at Ciao Italian Eatery. This was my favorite meal of the whole trip! I had a coconut mojito and spaghetti and meatballs. I also tried some of Kevin's seafood pasta and it was delicious as well!
Day 4: Rainy Day in Fernandina
On Saturday morning it was overcast, so Kevin and I hung out at the pool. We were lucky enough to have it all to ourselves for a couple of hours.
For lunch, we went down to Salt Life Food Shack by the beach. They have a great rooftop patio where you can look out at the ocean while you eat, and we were lucky enough to score a table up there. It was a hot day, so I cooled down with a sangria and some sushi. They also have poke bowls, tacos, and burgers.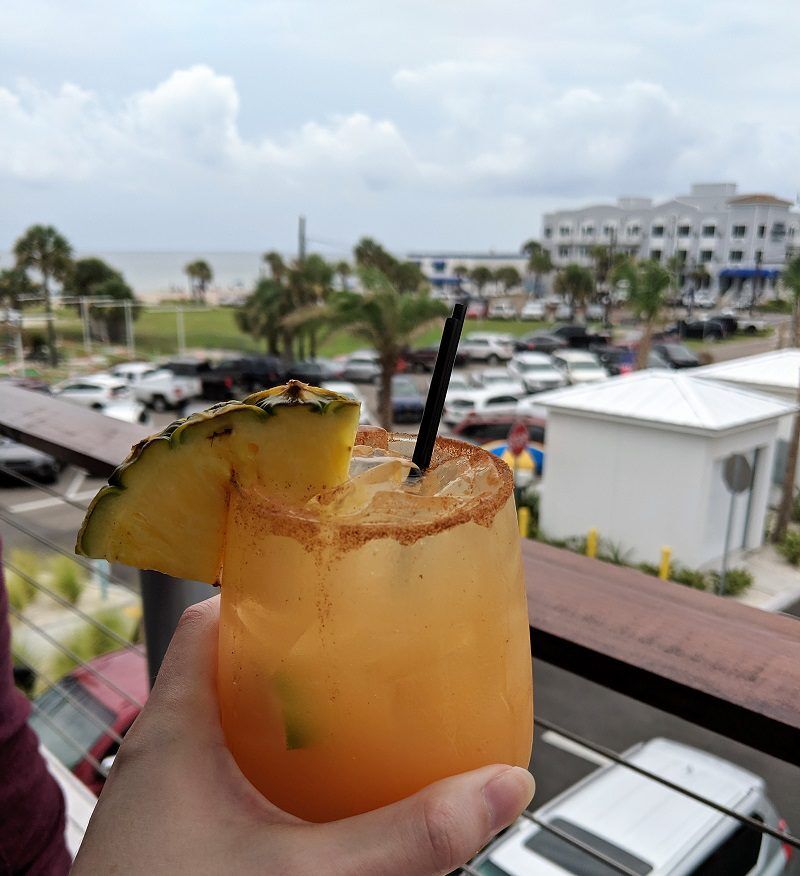 In the afternoon, it started to rain, but that didn't bother us. On our first day, we'd seen a storefront with a sign that just read "Pinball," so we were curious to check it out. Turns out, there's a Fernandina Beach Pinball Museum. You can play pinball all day long if you want. The owner will even regale you with tales about his pinball machines if you want a history lesson as well! It was a great rainy day activity and we nearly lost track of time in there.
The rest of the day, we lounged around watching beach and pool shows on HGTV, ate all of our delicious leftovers for dinner, and rested up for the long drive back to Atlanta in the morning.
I know there's much more to see in Fernandina Beach and Amelia Island, so I can't wait to go back and explore some more!
Where to Stay in Fernandina Beach, Florida
More Things To Do in Fernandina Beach
Just can't get enough of this coastal Florida town? Check out these other Fernandina Beach itineraries.
---
Ready to visit Fernandina Beach, Florida? Plan your trip with these tips.
---
Cheers!
Paige
Have you visited Fernandina Beach? Let me know your favorite things to do there in the comments!