Looking for the best things to do in Atlanta this fall? Atlanta has plenty of festive fall activities all season long. Happy fall, y'all!
Atlanta is one of the best fall destinations in the South, so you won't have any trouble finding something fun to do this fall.
Celebrate the changing of the season by watching the leaves change color on a fall hike, getting into the spooky spirit with a ghost tour, picking out the perfect pumpkin, or visiting a fun fall festival.
I've got all the info on the must-see and do Atlanta fall activities and festivals. I'll show you where to see the best fall colors in Atlanta, the top fall events, and all the fun Halloween celebrations.
Best Things to Do During Fall in Atlanta
Here are the best activities and things to do during fall in Atlanta, Georgia.
1. See the Fall Colors in the Appalachians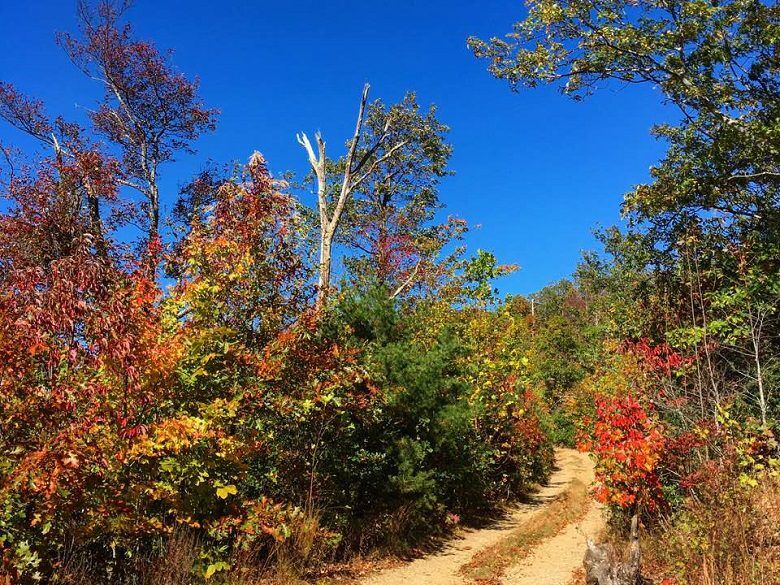 North Georgia is the perfect place to watch the leaves change color. And fall is the perfect time to hike because both the summer heat and the bugs have subsided, leaving you to enjoy your hike.
The North Georgia Mountains are just a quick day trip from Atlanta, with tons of hiking trails less than a 2 hour drive from the city.
There are so many trails to choose from. On Tray Mountain, you can hike part of the Appalachian Trail. Amicalola Falls has a gorgeous 729-foot tall waterfall. And the Trails of Tallulah Gorge follow along the impressive 2 mile long 1,000 foot deep canyon.
2. Take an Apple Picking Day Trip
Up in the mountains, the small town of Ellijay is known as the Apple Capital of Georgia. The local apple orchards of Ellijay where you can pick your own apples are just a short 2-hour drive from Atlanta.
You can also shop for all things apple — from apple cider to apple salsa to apple pastries — at the orchards' own markets and roadside stalls. Check out popular pick-your-own apple orchards like B.J. Reece Orchards or R & A Orchards.
Grab some jugs of apple cider, a dozen apple cider donuts, your freshly-picked bushel, and jars of local honey, jam, jellies, and salsas as a unique souvenir to take home with you.
3. Go Pumpkin Picking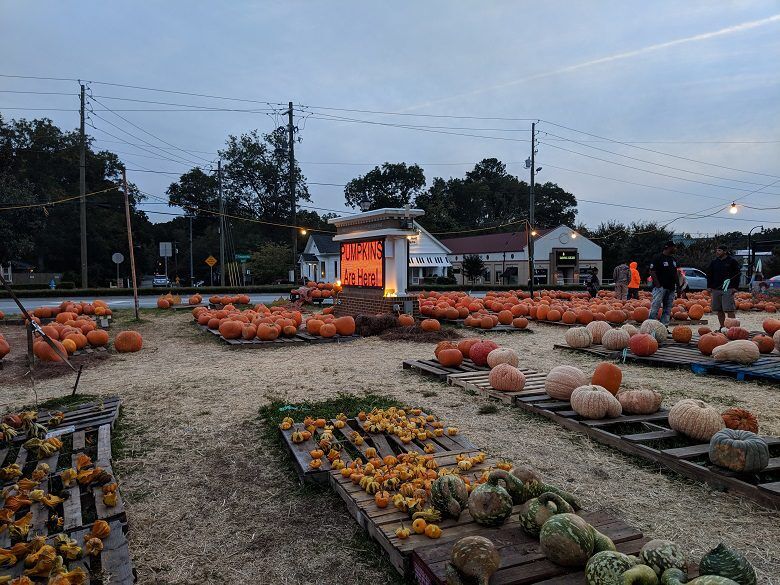 Does fall really start if you haven't picked your pumpkin yet?
The best place to pick a pumpkin is always a local pumpkin patch. Luckily, the Atlanta area has plenty of pumpkin patches to choose from. You can venture out to the mountains for a pumpkin, or you can find a patch closer to the city.
There's Berry Patch Farms in Woodstock, Randy's Pumpkin Patch in Lawrenceville, pumpkin patches in Smyrna, and many others that typically offer hay rides and more experiences than just picking a pumpkin.
4. Go on a Ghost Tour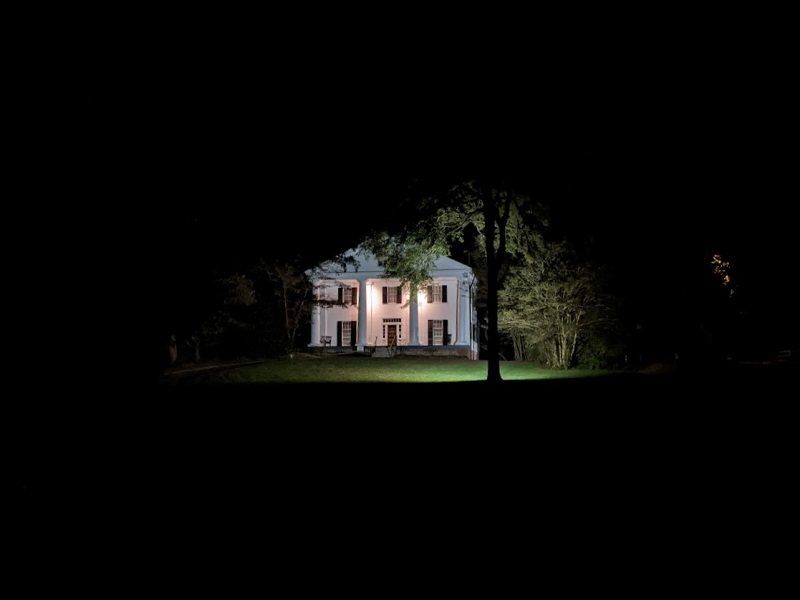 I love a good ghost tour any time of the year, but they're especially fun during the fall gearing up for Halloween.
You don't really think of Atlanta as a place for hauntings, and certainly the city isn't as haunted as other southern cities like Savannah or San Antonio. But Atlanta still has some good ghost stories if you know where to look!
In Roswell, Georgia is the popular Roswell Ghost Tour led by professional paranormal investigators. On this tour, you'll find out which part of the city is built on forgotten graves.
Marietta, Georgia has its share of ghosts thanks to its extensive Civil War history. You can learn about them on the Ghosts of Marietta walking tour.
And over in Decatur, Georgia, you can take the Decatur Ghost Tour led by a professional psychic medium and paranormal investigator.
Check out the most haunted spots in Atlanta here.
5. Enjoy a Fall Festival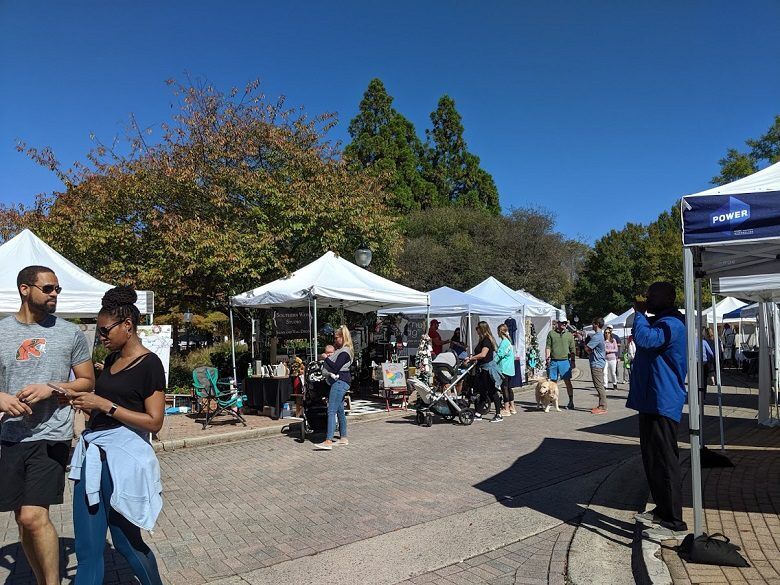 Atlanta has tons of festivals all year-round, so you won't have any trouble finding a fall festival to attend. These festivals provide plenty of food, music, art, and entertainment that everyone can enjoy.
Popular Atlanta fall festivals include:
Music Midtown at Piedmont Park in September
Fall Fest in Candler Park in October
Little Five Points Halloween Festival and Parade in October
Pumpkin Festival at Stone Mountain Park in September and October
Smyrna Fall Jonquil Festival in October
6. Attend Boo at the Zoo
Zoo Atlanta's annual Halloween festival Boo at the Zoo is full of fun treats for the kids and the animals. Kids can go trick-or-treating at the candy stations around the zoo, and the animals get pumpkins to munch on.
And when the weather starts getting cool in the fall, the panda bears spend more time playing outside, so it's the perfect time to go see the zoo's star fur balls!
7. Get Lost in a Corn Maze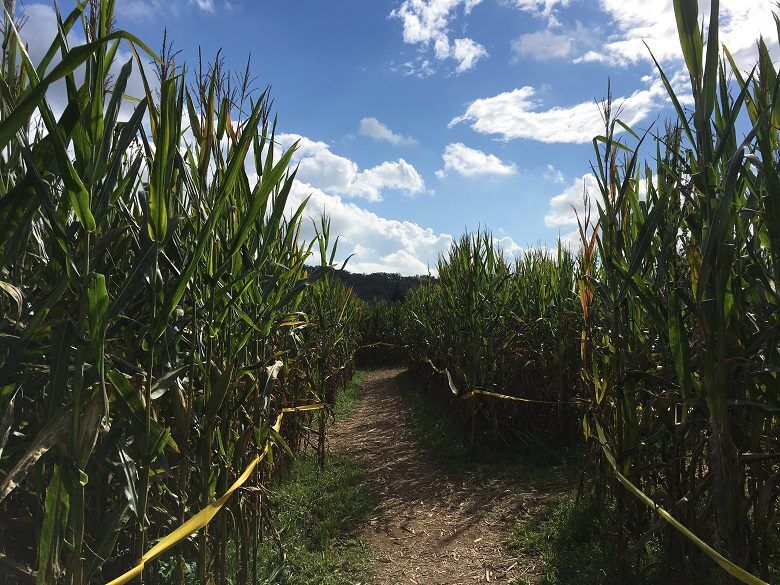 You'll have to venture a bit outside the city to find a good corn maze.
Uncle Shuck's Pumpkin Patch and Corn Maze has a nice big maze for you to get lost in — just don't get too corn-fused! Once you make it through the scavenger hunt in the two big corn mazes, you can learn some corn facts in the maze of knowledge.
On weekend nights in October, you can even try to make it through their haunted trail.
And don't forget to pick out your perfect pumpkin, shoot the corn canon, feed the goats, take a hayride, and have a bonfire! There's so much to do!
8. Take a Cemetery Stroll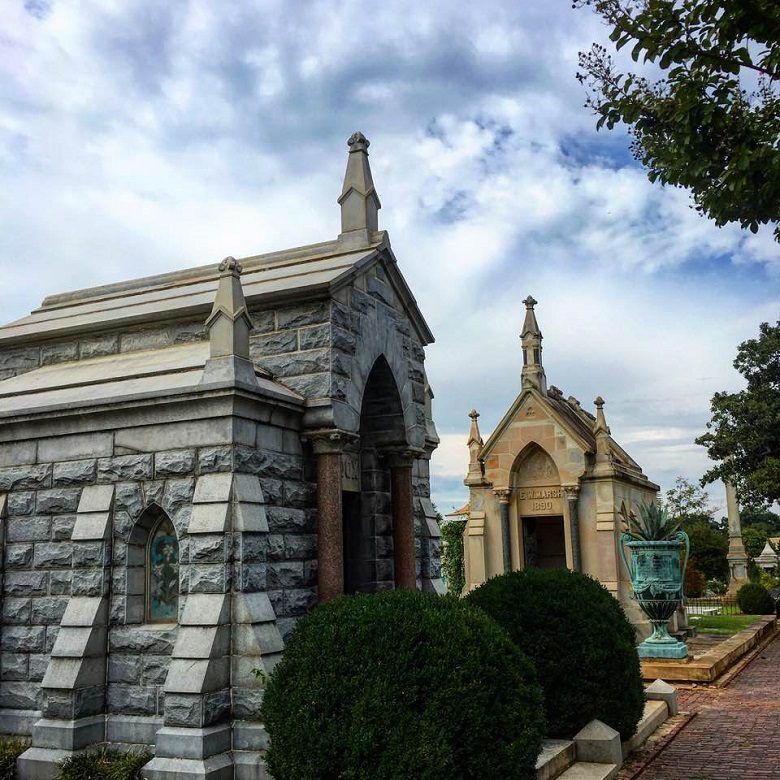 The Historic Oakland Foundation of Atlanta's Historic Oakland Cemetery hosts the Sunday In the Park event each year, celebrating the cemetery's unique Victorian concept of a garden cemetery. You can dress up in Victorian-era costumes and enjoy crafts, music, and educational demonstrations.
Fall is also the perfect time to take a tour of the cemetery, guided or otherwise; though you can typically expect the cemetery's popular guided Halloween tour to sell out, so make sure you reserve your tickets early.
Atlanta has plenty of other historic cemeteries that you can explore during spooky season; check out Atlanta's best cemeteries here.
9. Make it Out of a Haunted House Alive
Netherworld has been Atlanta's favorite haunted house year after year, with people coming from far and wide to be terrified by its unique monstrous creations. The theme changes each year, so you never know what thrills are in store.
Check out this year's themes to prepare yourself for the horror.
10. Party Through Halloween
Put on your best costume and hit the town for some bar hopping, pub crawling, and good ol' fashioned boisterous fun! There's no shortage of organized pub crawls and costume contests on Halloween weekend in Atlanta.
Now all you have to do is don your best costume and decide where you want to go!
Read next: 10 Incredible Fall Destinations in Georgia
Why Visit Atlanta in the Fall
Here in the South, fall means warm weather but with less humidity, so you'll get sunny days that won't make you feel like you're melting. It makes exploring Atlanta's top sights so much more enjoyable!
When the leaves change, the city is covered in vibrant colors. But it doesn't last very long, so you'll want to get out and enjoy the fall colors while you can!
There are fewer crowds in Atlanta during the fall, and the autumn off-season is one of the best times to visit Atlanta.
The spooky season is in full gear in Atlanta. You'll find plenty of haunted spots, pumpkin picking, Halloween parties, and fall festivities all around the city.
There are so many reasons to visit Atlanta this fall! So go out and start exploring!
What's the Weather Like During Fall in Atlanta?
Fall in Atlanta is as refreshing as a crisp apple and as cozy as your favorite sweater! The cooler temperatures are a breath of fresh air compared to the scorching summer.
From September to November, the temperatures gradually dip. You can expect daytime temperatures to hover in the 70s and 80s °F. This sweet spot makes it so you can enjoy outdoor activities without breaking a sweat. Evenings are a little cooler as well.
Starting in November, daytime temperatures hit the low 60s and 70s °F. Nighttime temperatures are downright chilly.
Fall also brings a few rain showers, so don't forget to pack a small umbrella or a raincoat just in case.
Fall in Atlanta FAQ
What is fall like in Atlanta?

Fall in Atlanta is pleasantly warm, with temperatures in the high 70s°F. Cooler weather in the fall is a much welcome reprieve after the sweltering heat of summer!

Is fall a good time to visit Atlanta?

Fall is one of the best times to visit Atlanta! The weather is nice, there are plenty of fall activities, and Atlanta attractions are less crowded.

Is Atlanta pretty in the fall?

Atlanta is beautiful during the fall! The city has a ton of tree coverage, so you can watch the leaves change colors.

Does Atlanta get fall colors?

Atlanta gets fall colors starting in early October to mid-November, with the peak in late October and early November.

| Save on admission to Atlanta's top attractions using the Atlanta CityPASS.
Top Atlanta Tours
With so much to see, Atlanta can be overwhelming for any first-time traveler. To take some of the stress out of planning your visit, opt for a guided tour! Check out this list of the top Atlanta tours to help you make the most of your time in Georgia's capital city.
Where to Stay in Atlanta
Find the perfect place to rest your head on your visit to Atlanta, from the top rated accommodations to unique stays you can't get anywhere else.
More Fall Fun in Atlanta
Find even more fun fall activities in and around Atlanta, Georgia! Check out these posts for your autumn inspiration:
---
Ready to visit Atlanta, Georgia? Plan your trip with these tips.
---
Cheers!
Paige
What's your favorite fall activity in Atlanta, Georgia? Let me know in the comments!