Amelia Island has been inhabited for centuries, has been under eight different countries' flags, and has seen everything from pirates to bootleggers to shrimpers. It's no wonder then that the seaport village of Fernandina Beach has a historic district spanning 50 blocks and has over 400 structures listed on the National Register of Historic Places. Learn more about exploring Downtown Fernandina Beach here!
Fernandina's Historic Centre Street
The main street that runs through Downtown Fernandina Beach is Centre Street. Here you'll find tons of shops, restaurants, and historic buildings spanning from the Amelia River to 8th Street. There's free parking all up and down Centre Street and its side streets, but on busy summer weekends you may have trouble finding parking.
Historic Buildings in Downtown Fernandina
Nassau County Courthouse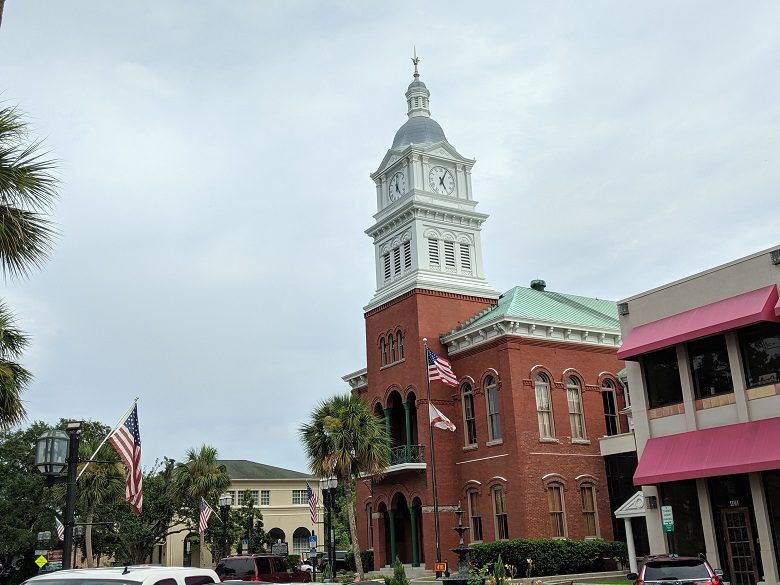 Built in 1891, the Nassau County Courthouse is one of only a few remaining late-19th century Florida courthouses. A beautiful Italianate building, this courthouse is the tallest building in the Fernandina Beach Historic District. The building has continued to serve the county's judicial and governmental needs since it was first constructed.
Lesesne House
Across Centre Street from the courthouse is the Lesesne House. This Classical Revival style home was built by the Lesesne family in 1860 and is one of the oldest homes in Fernandina Beach. The Lesesne family left Fernandina during the Civil War and never returned, so the home became the property of the Friend family. The Friends still occupy the home today as a private residence.
U.S. Post Office-Customs House-Courthouse
Next door to the Lesesne House is an Italian Renaissance Revival building from 1912 built to accommodate its three original functions as a United States customs house, courthouse, and post office. Now the building only houses the post office.
The Palace Saloon
The Palace Saloon holds the distinction of the oldest continually operating drinking establishment in Florida. The building dates back to 1878 and the bar dates back to 1903. Local lore says that it was the last bar in Florida to close on the eve of Prohibition.
Vintage Coca-Cola Sign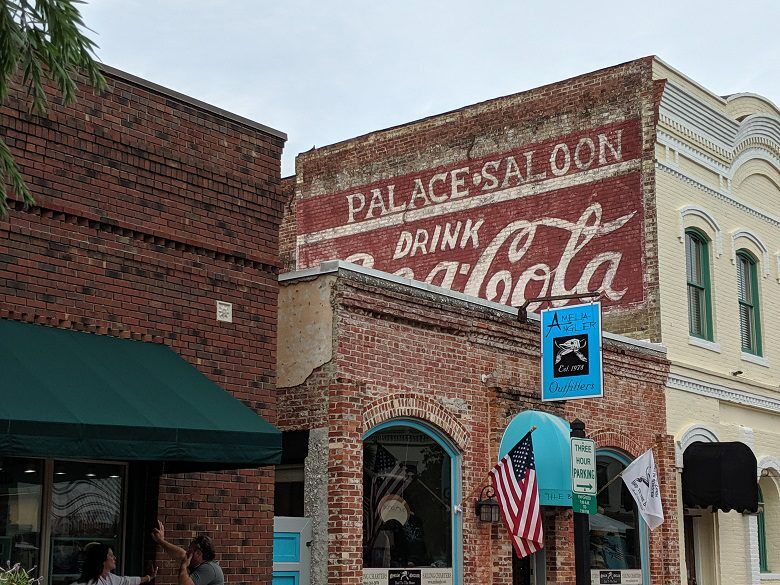 The Palace Saloon was also the first hard liquor bar to begin serving Coca-Cola products around 1905. I doubt this sign is that old (I couldn't find any history on it), but it's a fitting mural to be displayed on the backside of the Palace Saloon building. And I just like Coke.
Old Train Depot
The old train depot, where the Amelia Island Welcome Center is now located, was Florida's first Atlantic-to-Gulf Railroad. The Florida Railroad Company was incorporated in 1853 with David Yulee as president; you can take a picture with Yulee next to the depot. The railroad ran from Fernandina Beach to Cedar Key.
Shopping in Downtown Fernandina
Downtown Fernandina Beach is full of local shops selling everything from souvenirs to artwork.
The Book Loft is a popular independent book shop full of best sellers and local-interest works. You can easily find your next beach read!
Villa Villekulla Neighborhood Toy Store sells unique toys, games, and puzzles.
Twisted Sisters! is a local boutique selling beachy clothing, gifts, and art.
Eight Flags Antique Market is a huge antique market with tons of vendors and lots of variety.
Christmas on the River is the place to go year-round for your Christmas decorations.
The Cinnamon Bear Country Store sells gifts and ice cream (and you know I can't resist a bear-themed store).
Corner-Copia is a toy store selling plenty of pirate-themed toys and gifts.
Where to Eat in Downtown Fernandina
There are plenty of restaurants along Centre Street and the side streets in Downtown Fernandina Beach, each with their own unique flavors. Here's just a taste of what you can find:
Pablo's Mexican Cuisine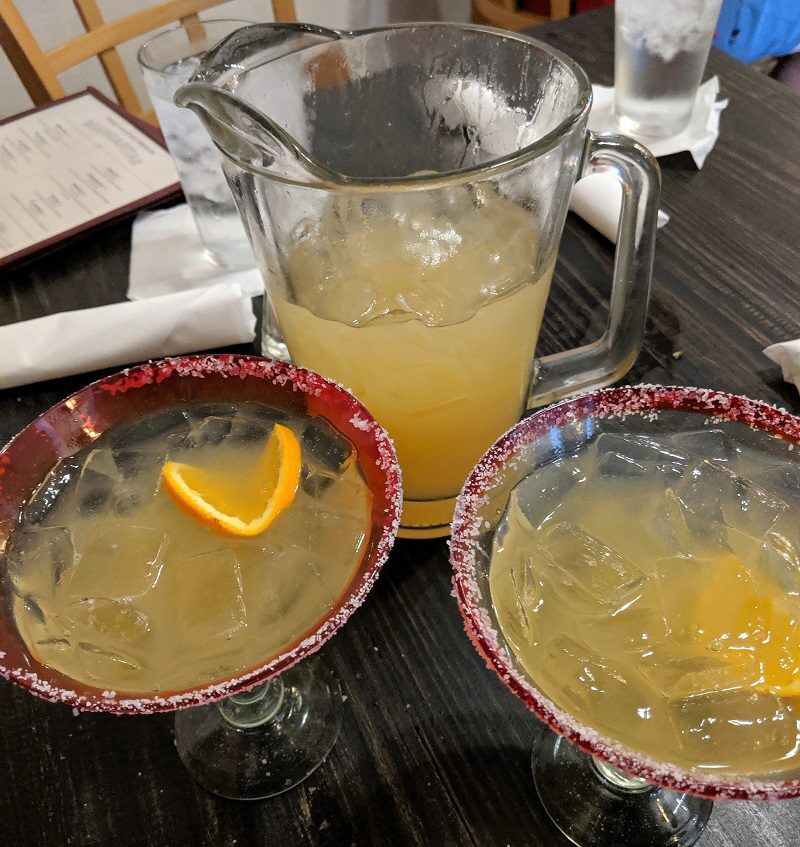 Pablo's Mexican Cuisine is known for having the best margaritas in town, so that's exactly what we went for. We had a pitcher of their Organic Margarita and some chips and salsa. They also have a special taco Tuesday menu and an outdoor patio.
Ciao Italian Bistro
Ciao Italian Eatery is a little more upscale. They serve classic Italian pasta and seafood dishes, and they make a really good coconut mojito. I can vouch for both their spaghetti and their seafood pasta being very delicious!
Joe's Second Street Bistro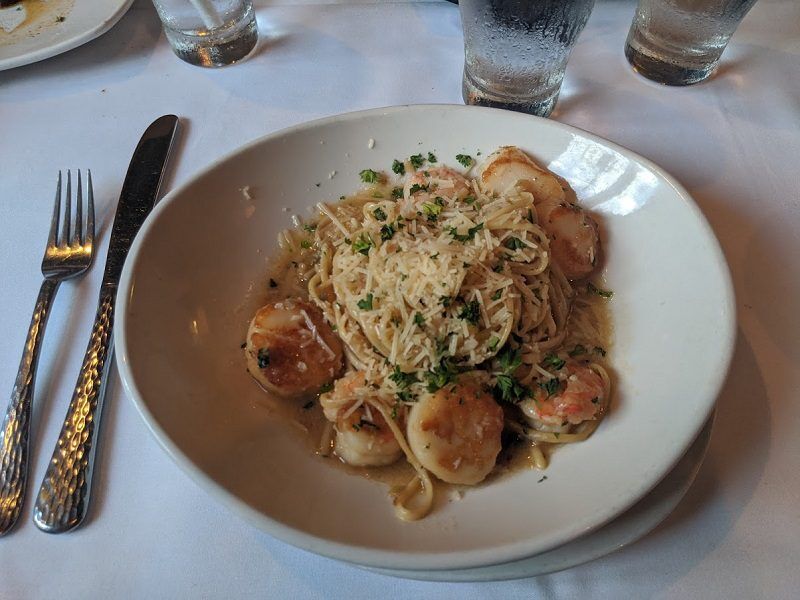 Joe's 2nd Street Bistro is an upscale restaurant located in a beautifully restored 1900's home in Historic Downtown Fernandina Beach. Their menu features fresh, local seafood, certified angus beef, and a unique wine list. I recommend the Linguine With Shrimp and Scallops or the Roasted Rack of Lamb.
Wicked Bao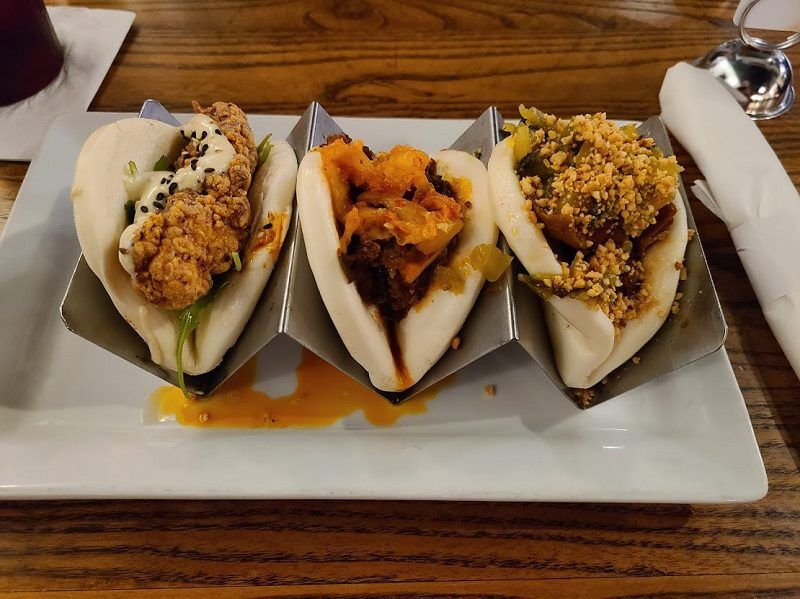 Tucked away on the edge of Historic Downtown Fernandina Beach, Wicked Bao specializes in Asian street food. Their popular dishes include bao, pork ramen, and kimchi fried rice. I recommend trying the Bao Trio with Braised Pork Belly, Bulgogi Beef, and Buttermilk Fried Chicken Baos so you can try a variety.
Events in Downtown Fernandina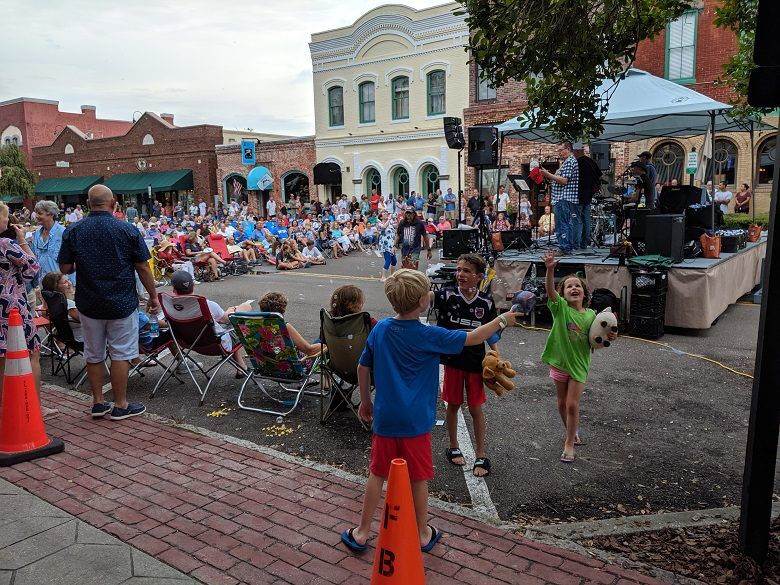 Sounds on Centre — April through October; a free concert series at the river end of Centre Street
Isle of Eight Flags Shrimp Festival — first weekend in May; celebrating Fernandina's role as the birthplace of the modern shrimping industry
8 Flags Car Show, Amelia Cruizers — October; a classic car show
Petanque America Open USA — November; held on the downtown riverfront, hundreds of Petanque players enjoy international tournament in this outdoor bowling game
Dickens on Centre — December; a Victorian Christmas celebration inspired by Charles Dickens' "A Christmas Carol", featuring costumed characters, themed entertainment, local vendors, a parade, and more
Fernandina Beach Farmers' Market — every Saturday year-round; buy local produce and goods in this market on N 7th Street
Fernandina Beach Arts Market — the 2nd and 4th Saturdays of each month year-round; buy local art in this market located adjacent to the Farmers' Market
Walking Tours of Historic Downtown Fernandina Beach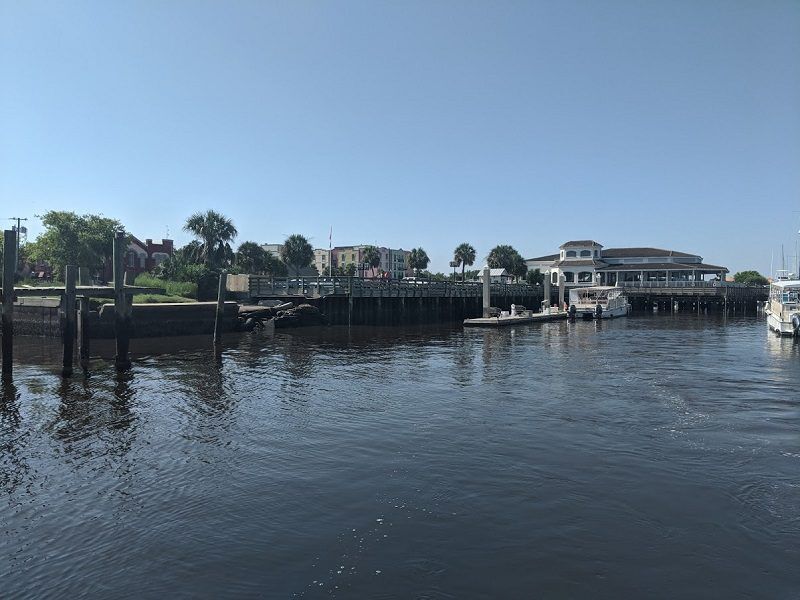 If you want to learn even more about all the historic buildings Downtown Fernandina Beach has to offer, you can join a guided walking tour of the historic district. You can also stop by the Amelia Island Welcome Center at the historic train depot to pick up a self-guided walking tour map.
Where to Stay in Fernandina Beach, Florida
More Things To Do in Fernandina Beach
Just can't get enough of this coastal Florida town? Check out these other Fernandina Beach itineraries.
---
Ready to visit Fernandina Beach, Florida? Plan your trip with these tips.
---
Cheers!
Paige
Have you visited Fernandina Beach? Let me know what you love about this coastal Florida town in the comments!