You might not think a former industrial waste site would be a good place for a hike, but that's exactly what Zonolite Park is! This small, wooded area in Atlanta, Georgia has trails, a creek, and a community garden. Zonolite Park is a great place for a quick hike when you don't want to leave the city limits.
About Zonolite Park
Zonolite Park is now owned by DeKalb County, but this area used to be an industrial site which manufactured insulation. This insulation was sold under the trade name "Zonolite", hence how the park got its name.
Before becoming a park, the industrial wasteland had been long neglected and was contaminated by asbestos and overgrown by invasive plants. It took three years to clear the land and start the ecological restoration.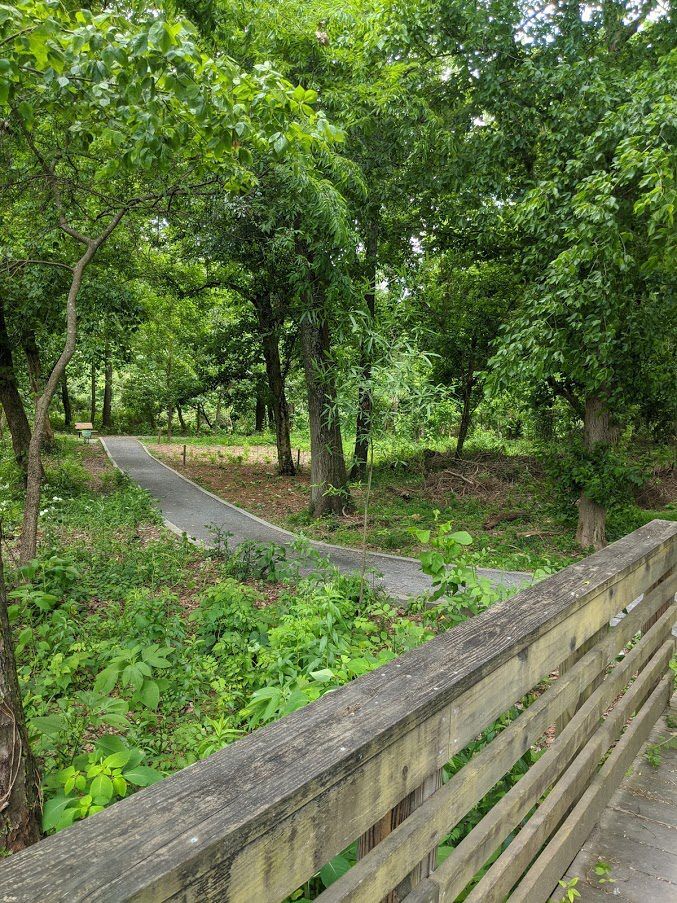 Where to Park
There is a small gravel parking lot at the trailhead on Zonolite Place NE. If you put "Zonolite Trail" into Google Maps, this will give you the most accurate directions.
Zonolite Park Trails
There isn't a lot of marked trail to follow in Zonolite Park. The map shows a smaller loop and a bigger loop that follows along the creek, but in reality, there are a lot of forged trails where people have made your own path. So it's best not to stick to following the map and just explore what path you feel like.
The Hike
From the trailhead, the main path cuts across a large meadow. On the right is Nickle Bottom Garden, a community garden with a pavilion. You'll pass a wetland pond, obscured by reeds on your right, before coming to a bridge at the end of the meadow.
Across the bridge, you can head to the right fork to get to the Floataway Cafe. This French-Italian cafe is located in a restored warehouse and is only open for dinner. Here, you can also walk along some old railroad tracks that have been turned into a walking path.
Once back into the cover of the park, you can explore the trails at your leisure. The way Kevin and I did it was to complete the small circle and then double back to follow the path along South Fork Peachtree Creek.
The creek is full of sand dunes where you can set up a picnic or beach chairs and relax. We saw a few families doing this, the children and dogs swimming in the water.
We then followed the paths away from the creek until the trail we were on ended at what looked like someone's backyard. When we turned back, we found another trail that led to the backs of more warehouses further down the railroad tracks.
We turned around again and found ourselves on one of the wide, planned trails heading back to the small loop. This was the only part of the trail that we noticed any poison ivy. Luckily, we didn't find any on the smaller, forged paths where you're brushing against all the foliage, but you'll want to be cautious of it still.
Finishing the Hike
All of this exploring only took about 20-30 minutes. This park doesn't make for a strenuous hike. But it is good for if you just need to get out of the house and get some exercise and fresh air.
Hiking Essentials
Come prepared for your hike by making sure you pack the essentials. Check out this must-have hiking gear before you set off on the trails:
Travel Sustainably With These Eco-Friendly Posts
---
Ready to visit Atlanta, Georgia? Plan your trip with these tips.
---
Cheers!
Paige
What is your favorite hike in Atlanta? Let me know in the comments!