Go on a ghost tour of Historic Downtown Roswell, Georgia led by experienced paranormal investigators! The Roswell Ghost Tour is one of metro-Atlanta's most popular Halloween activities. Check out my review of the Roswell Ghost Tour here.
For our yearly Halloween tradition, a couple girlfriends and I set out on a ghouls' night out ghost tour around Atlanta. We've explored Decatur's dark past and Marietta's bloodied history. This time, we opted for the Roswell Ghost Tour since I've heard such good things about it.
Come along as we explore some of the most haunted spots in Roswell, and find out if the Roswell Ghost Tour is worth it!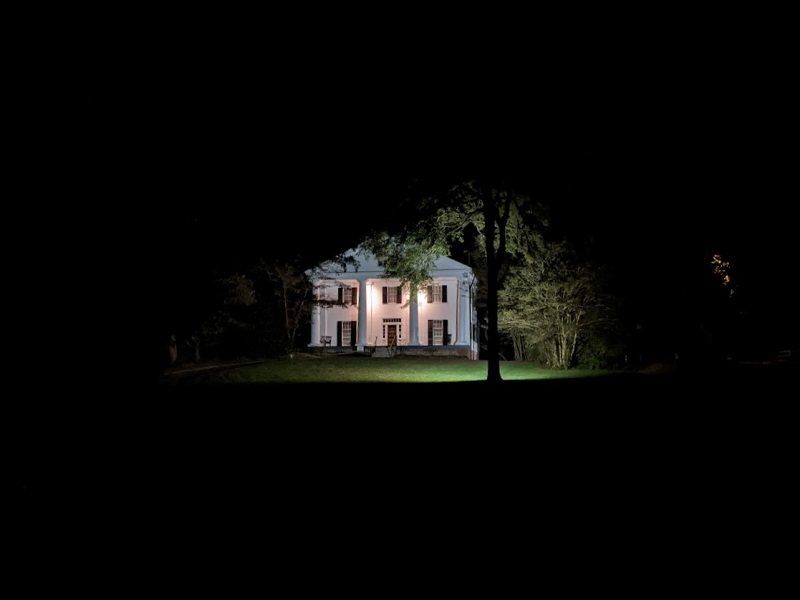 Roswell Ghost Tour Review: About the Tour
You actually don't even have to wait until Halloween to enjoy this ghost tour because it's offered year-round! But it's definitely a popular activity during October.
Experienced paranormal investigators lead the Roswell Ghost Tour. They take you through the historic district of Roswell, Georgia. All of the sights are featured in tour creator Dianna Avena's book Roswell: History, Haunts and Legends, though you're only getting a small taste of what's in the book!
The guides are active paranormal investigators, so the tour is filled with research on the history of the locations, experiences from their own investigations, and experiences that others have had on the tour. You'll get the thrill of a ghost tour as well as learning a lot about Roswell's history.
This isn't a gimmicky sort of tour. There are no actors to jump out and scare you. If you think you see something abnormal, it's not part of the show, you might actually be seeing a ghost!
If you catch a photo of something interesting, you can show it to your guide or email it in to the team for further investigation.
Roswell's Ghosts and Haunted Sites
Your route may differ depending on what time and day you take the tour. But these are a few of the interesting haunted sites we visited.
Bulloch Hall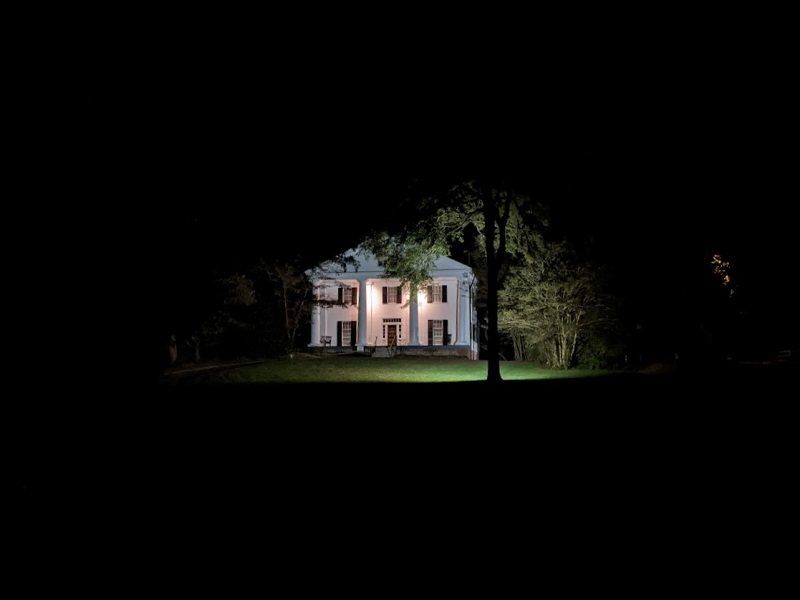 A beautiful Greek Revival mansion, Bulloch Hall is the childhood home of Teddy Roosevelt's mother. It also holds some dark history and is one of the most haunted spots in Atlanta.
Spirits of enslaved workers can still be seen wandering the property near where the slave quarters would have been. The home's alarm system will go off for no discernable reason, and the Roswell Police are now weary to investigate these calls, especially when they have to search the attic.
Mimosa Hall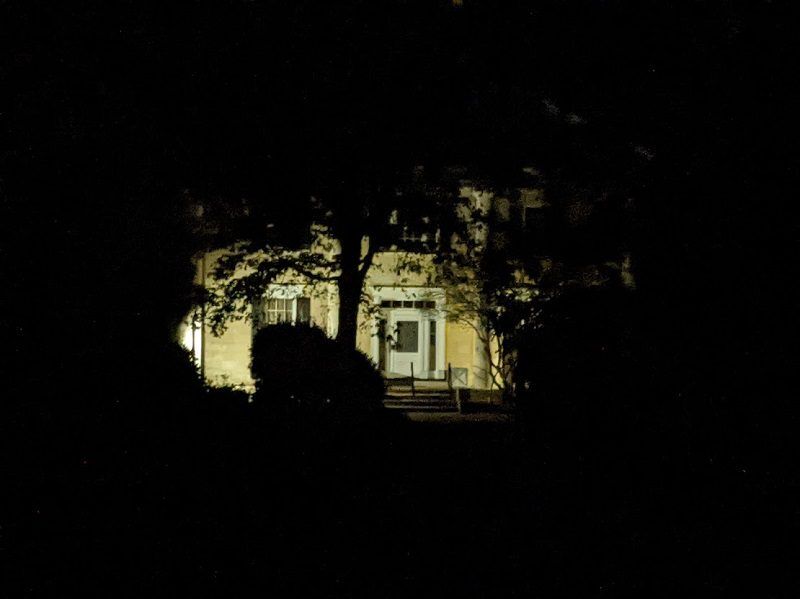 Mimosa Hall suffered a fire the same year it was built, which burned the building to the ground. Even though it was rebuilt in 1846, people still report smelling the smoke of a burning house coming from the property.
The ghost of a Confederate soldier also seems to still patrol the grounds. You may capture his image just beyond the front gates of the home.
The Mill Kitchen & Bar
The building that houses The Mill Kitchen & Bar used to be the old Roswell Funeral Home, so it's no wonder this top Roswell restaurant experiences some hauntings.
The workers there report dishes falling off shelves when no one is around. And in the building's lower level, where the morgue was located, it is always eerily cold.
Founders' Cemetery
As the name implies, Founders' Cemetery is the final resting place of Roswell's founders Roswell King and Stephens Bulloch. It is the city's first public cemetery, and its dead actually lie well beyond the borders you see today.
Most of the cemetery's ghost stories actually come from the neighborhood surrounding it. Because most of these homes are built on top of lost graves, it's not uncommon for home owners to find skeletons when digging up their property for renovation. And most put them right back into the ground and continue building.
There's definitely a lot of restless spirits and a lot of turnover in this neighborhood.
Old Mill Workers' House
The tour guides refer to this as Catherine's Cottage, named for the ghost of a mill worker's wife who is believed to haunt the building. From the front, the building looks like it would back in Roswell's mill days; but around the side, an extension has been added.
When the building's owners added electricity, they would often come in to find the building flooded. A psychic came in and said that Catherine didn't like the "fire in the walls" and was trying to put it out. The law firm that now operates out of the building has seemed to make peace with Catherine and she no longer floods the building, but they'll still find papers strewn about some days when they come into work.
Important Roswell Ghost Tour Info
The tour begins and ends at the bandstand in the Roswell town square across from the Roswell Visitor Center. You can park around the square and at the Visitor Center.
Tours are offered on Friday and Saturday nights.
Admission is cash only and costs $20 for adults and $10 for children 12 and under.
The tour is rain or shine, but they will contact you if they have to cancel for bad weather. You can expect your tour to last 2 to 2.5 hours. You're only covering about a mile of ground, but there are some hilly spots, especially leading to the cemetery; otherwise, it's not a very strenuous walk.
We definitely had a great time on the Roswell Ghost Tour! We're even going to look into their special events, like their spirit walk where you get a drink with the ghost stories, for future ghouls nights out!
I hope you found this review of the Roswell Ghost Tour helpful!
Top Atlanta Ghost Tours
The best way to see even more of Atlanta's haunted spots is to take a ghost tour! Check out these top-rated Atlanta ghost tours for a scary good time:
Atlanta Ghosts: Haunted Dark History Walking Tour — This 60 minute walking tour takes you to the haunted sights in Midtown Atlanta.
Fox Theatre Ghost Tour — Each October, you'll get the chance to explore the darkened Fox Theatre after hours and hear from the ghosts themselves on this theatrical ghost tour.
Ghosts of Marietta Tour — Choose from a haunted walking tour of downtown Marietta, a haunted pub crawl, and a haunted bus tour to explore the spooky sights in this Atlanta city with a bloodied past.
Where to Stay in Roswell, Georgia
Find the perfect place to rest your head on your visit to Roswell, from the top rated accommodations to unique stays you can't get anywhere else.
More Things to Do in Roswell, Georgia
Looking for more fun things to do in Roswell, Georgia? Check out these other great activities:
Want More Haunted Travels?
Check out these other spooky locations around the world:
---
Ready to visit Roswell, Georgia? Plan your trip with these tips.
---
Cheers!
Paige
Did you find this Roswell Ghost Tour review helpful? Let me know in the comments!