Need a great date-day activity around Atlanta that is fun and unique? Go out on a fun Mystery Picnic Date in Roswell, Georgia!
This post is sponsored by AmazingCo. All opinions are my own.
Kevin and I have definitely needed a date day out. And it was the perfect time for it just a few weeks before our wedding!
So when AmazingCo came to me with their Mystery Picnic Dates, I was totally on board!
Around Atlanta, AmazingCo currently has 6 Mystery Picnic Date locations — Midtown Atlanta, Roswell, Marietta, and further out in Dahlonega, Helen, and Ellijay. We chose the Roswell location since we've never really explored that area on our own.
What is a Mystery Picnic Date?
AmazingCo's Mystery Picnic Dates are a self-guided food and adventure tour. This stress-free date is already planned out for you with 5 mystery stops with your final picnic destination a complete surprise. You only get to your next destination by solving clues on your smart phone together.
Under normal, non-COVID-19 circumstances, everything you need for your picnic is included: you'll pick up a picnic basket at your first stop, you'll gather different items for your picnic at each different stop, and they'll provide you with the cutlery you need. With COVID, we had to bring our own picnic basket, and we packed our own cutlery just in case, but we still picked up our delicious picnic spread at each stop, and they did actually give us plastic cutlery.
If you have any dietary restrictions, they can make your picnic vegan, vegetarian, or gluten free. They can also accommodate any food allergies.
The experience costs $110 for two people. You can even upgrade for a bonus stop and specialty snacks. And if you're feeling really fancy, you can add on a bottle of wine.
Now, without giving away too much of the mystery, let me take you through our Roswell Mystery Picnic Date experience!
Roswell Mystery Picnic Date
The Roswell Mystery Picnic Date takes you exploring through historic Roswell and down the shops of Canton Street and a picnic reconnecting with nature.
You don't get your first stop until the day before your experience. If you really wanted to know where you're going before the date, you could totally do all the clues the day before and plan your day out. Or you could just solve the first clue the day before or wait until the day of.
We waited until the day of to solve our first clue.
First Stop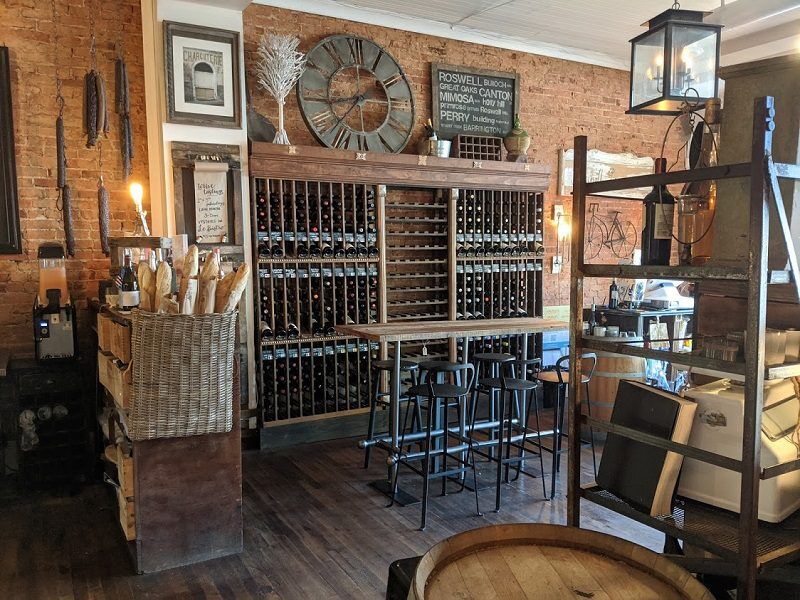 First, a note about parking: Parking in downtown Roswell is free for the first 2 hours (before 6 p.m.) and $6 for 3-4 hours. The Mystery Picnic is usually takes about 3-4 hours.
We got to Roswell around 9 a.m. and went to our first stop, which was a local market and bistro.
This is normally where you would pick up your picnic basket along with your food, but with COVID we brought our own cooler bag.
At this stop, we picked up a charcuterie board – basically a meat and cheese board. This included salami, prosciutto, two different types of cheese, bread, olives, pickles, and three types of sauces you could spread on.
When we unlocked this location, AmazingCo also provides some extra stops you can add to your adventure before moving on to your next clue. Our recommendations included an art gallery and a hiking trail.
We did our next clue from there.
Second Stop
Our second clue led us to a local olive oil shop where we added a small bottle of Tuscan herb olive oil to our basket. The shop also does free tastings of olive oil and balsamic vinegar, so we spend a little extra time tasting the different flavors. We walked out of there having purchased extra bottles of vinegar and olive oil and some handmade pastas for later.
At this stop, we realized that we could have started our day a little later as the shop didn't open until 10 a.m. So we had a little time to kill before we could get this stop.
Luckily, AmazingCo had sent us a bonus trivia experience. We passed the time challenging each other with trivia until the shop opened.
From there, we solved our next clue.
Third Stop
Our third stop was a chocolate shop to pick up desserts!
The shop was a 10 minute walk away, so it was definitely walkable, but I would recommend taking a car on a hot summer day. Plus, there was free parking at both this and the fourth stop, so you could plan it so you didn't have to pay for any parking.
The chocolates here were such beautiful artisanal creations. They had a great selection of chocolates infused with nuts, fruit, liqueurs, and other exotic flavors.
Fourth Stop
Our fourth stop was a French bakery and cafe. Here we picked up salads, fruit, and sparkling waters.
Then it was time to solve the clue for our final stop!
The Picnic Stop
Our final stop was a bit of a drive to a park for our picnic! The park was a very busy spot on the river for canoeing, so parking was a little difficult.
We had brought our own picnic blanket, but the park had plenty of picnic tables under a nice, big pavilion. So instead, I used the blanket as a table cloth and laid out our picnic spread.
You can also choose somewhere else to have your picnic if you've found another spot you prefer along the way.
The whole experience took us about 3.5 hours, and we had so much food that we actually had leftovers to take home!
Overall Mystery Picnic Experience
We really enjoyed our Mystery Picnic experience. It's fun to have the whole day planned out for your but not knowing where your going next until you solve the clue.
The clues were a good medium between easy and hard. If you got stuck, you could get a hint. If you needed, you could contact the organizers. But really, once you had your guess, you just typed it in to see if you were right! If not, you just tried again.
I was a little worried about it being awkward going into stores and saying we were on a mystery picnic, like they wouldn't know what we were talking about. But we didn't have any problems! Everyone at the pick up spots were expecting us, and they were all so friendly.
Overall, I think AmazingCo has put together a really great Mystery Picnic Date experience that makes for a fun day out!
More Things to Do in Roswell, Georgia
Looking for more fun things to do in Roswell, Georgia? Check out these other great activities:
Where to Stay in Roswell, Georgia
Find the perfect place to rest your head on your visit to Roswell, from the top rated accommodations to unique stays you can't get anywhere else.
---
Ready to visit Roswell, Georgia? Plan your trip with these tips.
Book Your Flight: Find the cheapest flights using Skyscanner, my favorite flight search engine.
Find Accommodation: You can find top hotels in Roswell using Hotels.com.
Take a Mystery Picnic: Check out AmazingCo's selection for more Mystery Picnic locations around Atlanta!
---
Cheers!
Paige
Have you ever gone on a Mystery Picnic Date? Let me know in the comments!