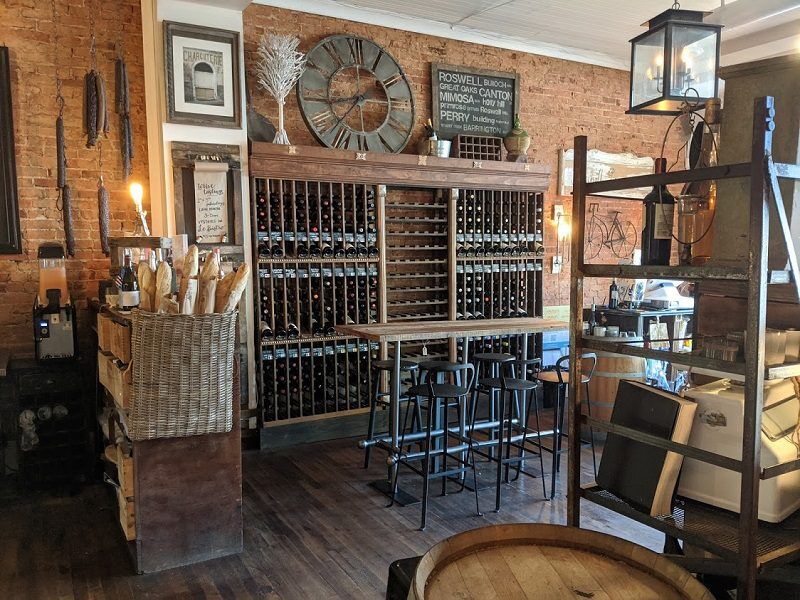 This popular suburb north of Atlanta, Georgia is packed with locally-owned restaurants featuring mouthwatering menus. Here are the top restaurants that Roswell, Georgia has to offer.
The Best Roswell Restaurants
1. Rojo Cocina
Rojo Cocina Mexicana is a unique Atlanta Mexican restaurant that serves a variety of classic Mexican dishes with a touch of different cuisines. When you visit, you can expect fresh ingredients, exotic flavors, and caring service.
On the menu at Rojo Cocina, you'll find Mexican favorites like fajitas, taqueria, burritos, enchiladas, nachos, quesadillas, bowls, and more made with a unique twist that you can't find anywhere else. Definitely try the Rojo Dip, one of the most requested items, which is a new take on traditional cheese dip made of melted cheese, mushrooms, and shrimp.
885 Woodstock Rd, Roswell, GA 30075
2. Table & Main
Table & Main opened in 2011 in a restored century-old homestead on Canton Street in the heart of Roswell's Historic District. The restaurant serves simple, seasonal, and Southern cuisine like their award-winning fried chicken and updated Southern favorites.
The menu items at Table & Main use fresh, seasonal ingredients to create a home-style meal in a welcoming atmosphere. This neighborhood classic and southern tavern also features a bourbon bar and a garden patio.
1028 Canton St, Roswell, GA 30075
3. Osteria Mattone
Osteria Mattone is a Rome-inspired Italian restaurant located in a cozy cottage in the heart of Roswell's Historic District. The Italian word osteria refers to a place to enjoy great wine and simple food. At Osteria Mattone, their wine list has won awards every year since they opened in 2013.
Their seasonal menu consists of simple Italian classics like spago pomodoro with tomato, basil garlic, and parmesan or a tagliolini Bolognese with beef ragu.
1095 Canton St, Roswell, GA 30075
4. Salt Factory Pub
The Salt Factory Pub is an upscale gastropub in Roswell that's modeled after the pubs of the English countryside. This popular Roswell restaurant offers modern cuisine and an amazing beer list in a setting outfitted with exposed brick walls, dark hardwood floors, cozy booths, and dim lighting.
Their creative menu features a variety of dishes from classic comfort foods to internationally inspired cuisine, all made with local and organic ingredients. Their beer line-up includes more than 50 different draft and bottled brews.
952 Canton St, Roswell, GA 30075
5. The Mill Kitchen & Bar
The Mill Kitchen & Bar is a casual Roswell restaurant in a down-to-earth spot for guests to enjoy eclectic Southern cuisines and culinary-inspired cocktails. Their menu changes seasonally with classic Southern selections like fried chicken, shrimp and grits, short rib, and more. They also offer an artfully crafted beer list, wines by the glass and bottle, and a selection of fine bourbons.
You can enjoy your meal at The Mill Kitchen & Bar in the stylish environment of the dining room, the comfortable bar area, or on the large patio complete with a fireplace. It's also considered one of Roswell's most haunted spots, so keep an eye out for specters!
590 Mimosa Blvd, Roswell, GA 30075
6. Brookwood Grill
Brookwood Grill has been serving the Roswell community for over 28 years. The restaurant is decorated with warm wood, unique stacked stonework, and dark wood booths. Join them for an unforgettable evening of live entertainment at their piano bar where you can request a song and sing along.
Their extensive menu features classic American fare including sandwiches, seafood, pasta, steaks, and ribs. They also offer a brunch menu.
880 Holcomb Bridge Rd, Roswell, GA 30076
7. ZuZZu
ZuZZu offers fine Italian dining in a relaxed atmosphere. Their menu is made using only high quality, fresh, and authentic ingredients with many offerings made from scratch.
You'll find classic Italian dishes like pizza, pasta, and other entrees made with traditional Sicilian flavors. Try their famous traditional lasagna made with layers of Bolognese and Béchamel sauces and imported lasagna noodles.
42 Oak St Suite B, Roswell, GA 30075
8. Hugo's Oyster Bar
Hugo's Oyster Bar is a Southern-inspired seafood restaurant that brings the flavors and atmosphere of the Coastal US to Downtown Roswell. This classic white brick building is outfitted inside with white brick walls, black iron gas lanterns, a purple-stained concrete bar with bentwood chairs, and booth seats.
On the menu, you'll find the freshest fish, high quality oysters, signature New Orleans po'boys, salads, steaks, and more.
10360 Alpharetta St, Roswell, GA 30075
9. Lucky's Burgers and Brew
Lucky's Burgers and Brew is inspired by the owners' golden retriever, Lucky, who enjoys relaxing on the dog-friendly patio at the restaurant. This Roswell restaurant was established in 2010 as a watering hole for dog-loving patron.
Their menu offers a variety of freshly prepared burgers using only the finest 80/20 ground beef, sandwiches, salads, wings, and ice-cold beer. All food is prepared to order and uses the freshest produce delivered daily.
1144 Alpharetta St, Roswell, GA 30075
10. Little Alley Steak
Little Alley Steak is one of the best steakhouses in Atlanta. This restaurant is housed in a 1920s-insipred space in a former antique shop decorated with refurbished brick, white subway tiles, and reclaimed wood from the original Little Alley Tapas Bar & Restaurant.
Their menu boasts original cuts of meat from renowned Chicago butcher, Meats by Linz. They also offer a full decanting service with their impressive wine list and a vast bourbon collection.
955 Canton St, Roswell, GA 30075
More Things to Do in Roswell, Georgia
Looking for more fun things to do in Roswell, Georgia? Check out these other great activities:
Where to Stay in Roswell, Georgia
Find the perfect place to rest your head on your visit to Roswell, from the top rated accommodations to unique stays you can't get anywhere else.
---
Ready to visit Roswell, Georgia? Plan your trip with these tips.
---
Cheers!
Paige
What are your favorite restaurants in Roswell, Georgia? Let me know in the comments!