The short Blackberry Mountain Clear Creek Trail in Ellijay, Georgia is a relatively easy and rewarding hike to some rapids and small waterfalls.
Ready to hike the Blackberry Mountain Clear Creek Trail yourself? This trail is particularly beautiful in the fall with all the changing colors! Use my guide below to help you plan out your hike.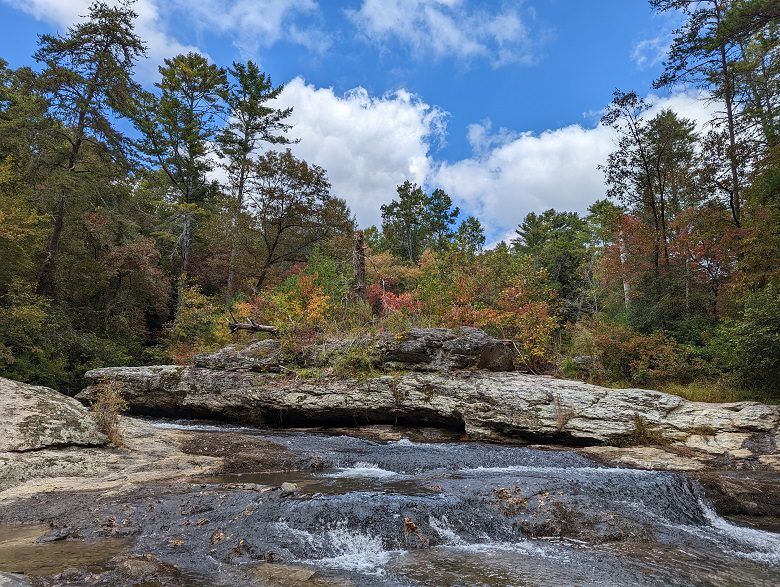 Blackberry Mountain Clear Creek Trail
The Blackberry Mountain Clear Creek Trail is located in Ellijay, Georgia off of Blackberry Mountain Road. There is a small gravel parking lot at the trailhead with no parking fee.
The hiking trails are maintained by the Georgia DNR – Rich Mountain Wildlife Management Area. There are no maps at the trailhead, but you can find an interactive map at the Rich Mountain WMA website.
Yellow Blazed Clear Creek Trail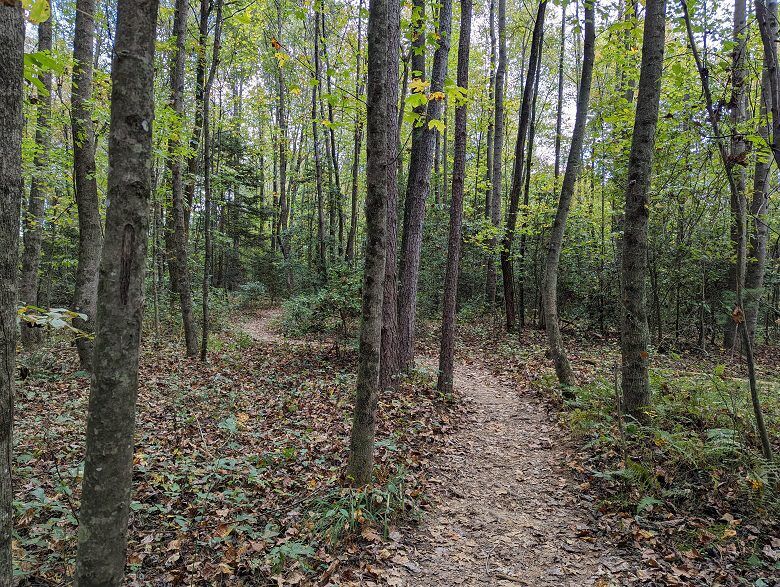 The hike departs the trailhead on the yellow blazed Clear Creek Trail. The trail dips before climbing back up in elevation, getting your heartrate pumping at the beginning of the hike.
The trail becomes quieter as it moves away from the road. It's not long before you'll come to a 4-way intersection. Continue on the yellow blazed trail in front of you to stay on the main trail; the orange blazed trail to your left will also take you to the same spot, so it's really up to you.
From here, the trail descends to the banks of Clear Creek. At the creek, the forest opens up to the rock-faced shore where you can admire the rapids and waterfalls.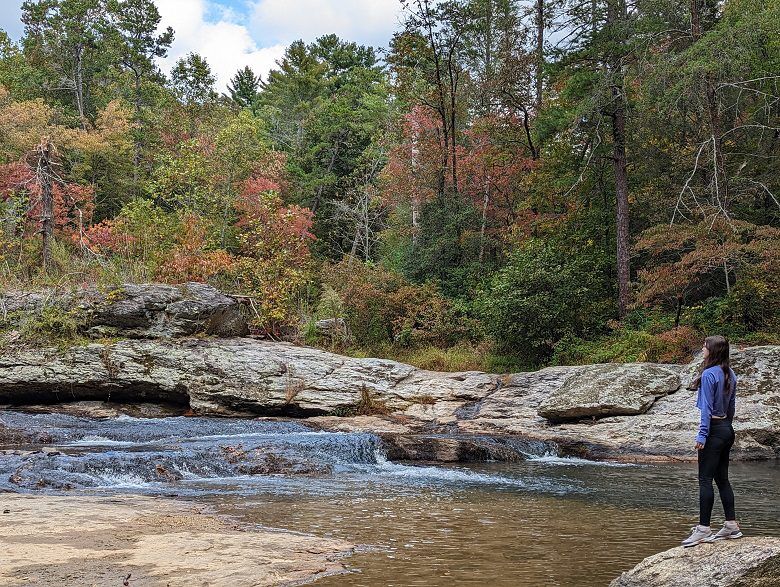 There are a bunch of well-worn paths along the creekside if you want to explore more. Just be careful climbing on the rocks!
Departing the creek, the trail climbs back up. At the intersection, you again have the choice of taking the orange blazed spur trail to where Clear Creek meets the Cartecay River, or completing your hike on the yellow blazed trail.
Hiking only the Clear Creek Trail will make the hike about 1 mile round trip.
Orange Blazed Clear Creek Spur
The orange blazed Clear Creek Spur trail intersects the Clear Creek Trail. This 0.32 mile one-way trail leads from Clear Creek to Clear Creek Falls at the Cartecay River.
Hiking this spur will make the hike about 1.5 miles round trip.
Hiking Essentials
Come prepared for your hike by making sure you pack the essentials. Check out this must-have hiking gear before you set off on the trails:
Where to Stay in Ellijay
Find the perfect place to rest your head on your visit to Ellijay, from the top rated accommodations to unique stays you can't get anywhere else.
More Things To Do In Ellijay
Just can't get enough of this mountain Georgia town? Check out these other Ellijay itineraries.
---
Ready to visit Ellijay, Georgia? Plan your trip with these tips.
---
Cheers!
Paige
Have you hiked the Blackberry Mountain Clear Creek Trail in Ellijay, Georgia? Let me know in the comments below!