The North Georgia Mountains are the perfect place for a girls' weekend getaway! Just a short two hour drive from Atlanta, Ellijay is the ideal small town to find peace and relaxation with your girlfriends. This perfect girls' trip itinerary for Ellijay, Georgia will give you and your friends the downtime you deserve.
Pack your bags and grab your best friends, because the ultimate girl's trip is waiting for you in Ellijay, Georgia.
In this post, I'll let you in on my perfect Ellijay girls' trip itinerary, including where to stay and a day-by-day run-down of what to do and where to eat.
Where to Stay For a Girls' Trip to Ellijay
Ellijay has plenty of beautiful places for you to stay during your girls' trip. From cozy cabins to homey bed and breakfasts to comfortable hotels, you have a lot of options to choose from!
I recommend renting a cabin in the mountains where you and your girlfriends can relax, hang out, and enjoy the views.
Top Places to Stay in Ellijay
Find more Ellijay cabins on VRBO. Find more Ellijay hotels, B&Bs, and inns on TripAdvisor.
The Perfect Girls' Trip to Ellijay Itinerary
Once you and the girls are settled into your cozy cabin, it's time to start your Ellijay trip in earnest! Here is my itinerary for an unforgettable girls getaway in Ellijay, Georgia.
Friday: An Evening Out With the Girls In Downtown Ellijay
Explore the shops and restaurants of Downtown Ellijay! Here are the best things to do on your first day in Ellijay.
Mountain Treasures Free Tastings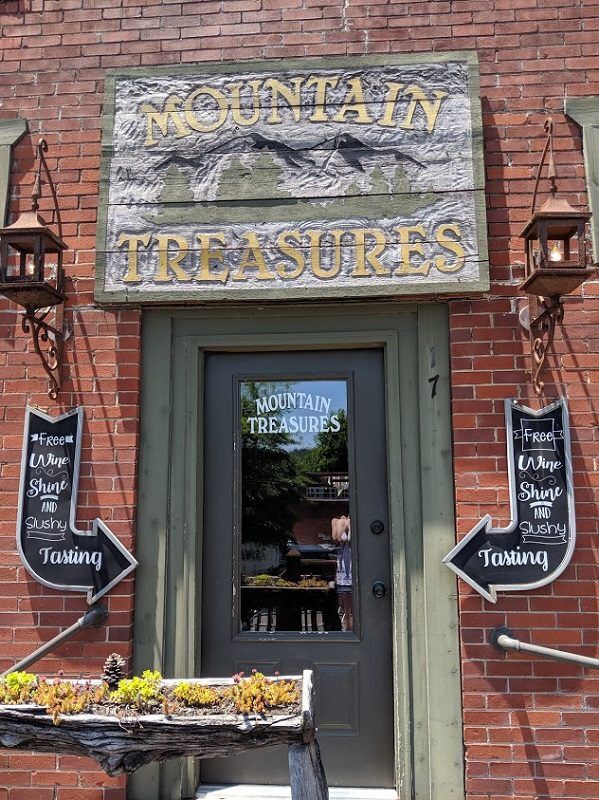 Mountain Treasures in Downtown Ellijay may look like your ordinary gift shop, but in the back they have a wine shop with free tastings! You can sample local wines, flavored moonshine, and wine slushies for free, no strings attached.
If you decide you like what you tried, you can buy a bottle or enjoy a wine slushy on the Boardwalk out back.
Dinner at The Shack of Ellijay
The Shack of Ellijay brings Asian fusion to the mountains. They offer poke bowls and noodle bowls made with the freshest of ingredients. They also have a variety of delicious bubble tea flavors.
Drinks at River Street Tavern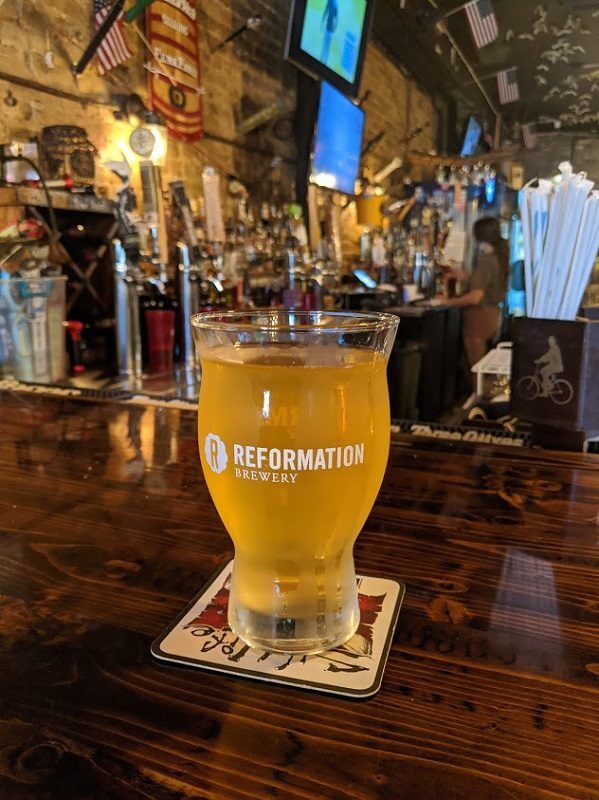 River Street Tavern is a bar and grill with live music and local beer. They feature some of the most popular wine and beer from local vineyards and breweries and even hard-to-get seasonal brews.
Every weekend, the bar hosts live music from local musicians and singers.
Live Music at La Catrina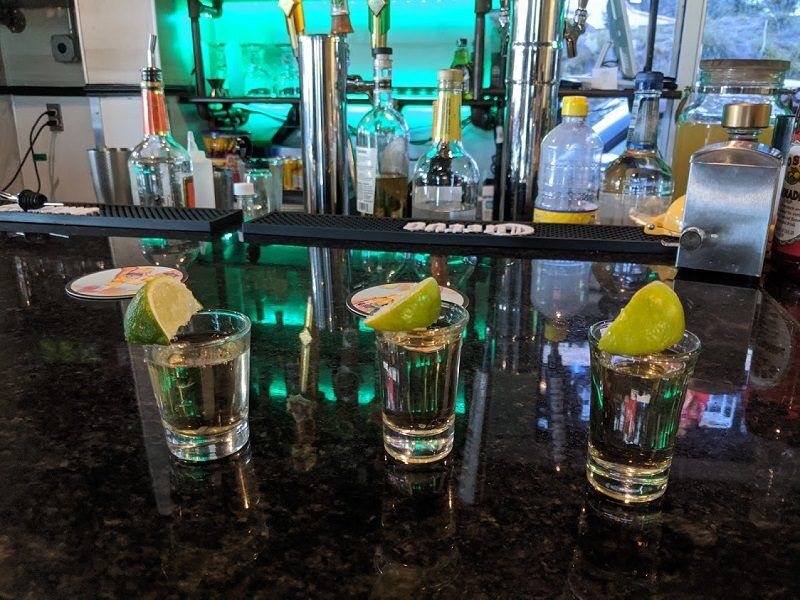 La Catrina Tacos & Margaritas is a family-owned Mexican restaurant on main street.
You can catch live, local musicians at either location on the weekends.
Saturday: Winery Road Trip
On your second day in Ellijay, get out and explore the award-winning vineyards in the North Georgia mountains!
An Afternoon at Bear Claw Vineyards
There are a lot of vineyards and wineries in the North Georgia Mountains just a short drive from Ellijay, so you have plenty of options to choose from for your winery road trip with the girls. I'm a sucker for anything bear-related, so of course I had to visit Bear Claw Vineyards.
Just 30 minutes away from Ellijay in the town of Blue Ridge, Georgia, Bear Claw Vineyards gives you a chance to relax in the serenity of their grape vines. They offer wine tastings, wine by the glass, or wine by the bottle.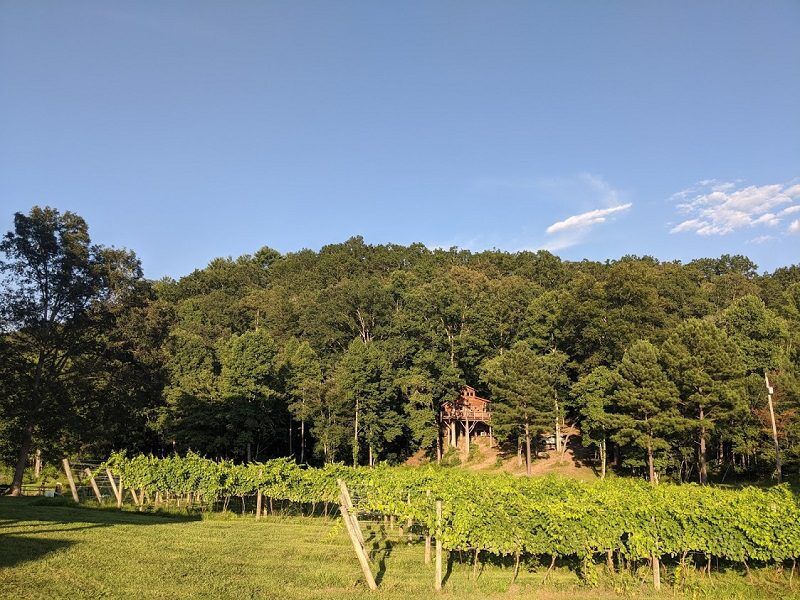 You can enjoy live music on their covered patio, sit by the fire pit, picnic under the trees, and wander around the vineyard.
There is even the unique Blue Ridge TreeHouse vacation rental on the property built by The TreeHouse Guys. Imagine staying in a treehouse overlooking a vineyard!
If you want to take a winery tour of even more Ellijay vineyards, you can check out this wine tour I did with Murphy's Winery Transport.
Dinner and Live Music in Ellijay at Boardwalk Pizza & Pub
After spending the afternoon drinking wine, you'll definitely be hungry! Head back to Ellijay for dinner and more local live music. Boardwalk Pizza & Pub serves great pizza and beer.
You can dine outside on the Boardwalk while you listen to live music, play a game of cornhole, or just hang out.
Watch the Sunset Over the Mountains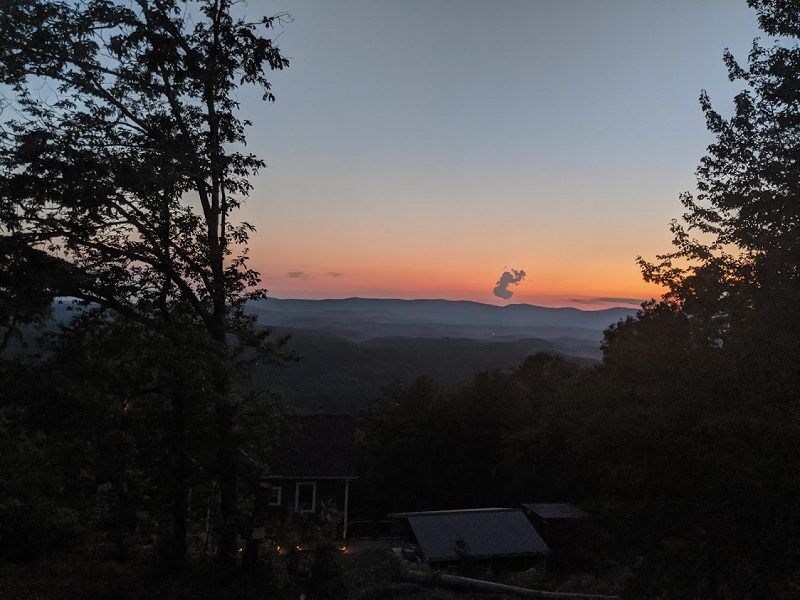 You'll definitely want to watch the sunset over the mountains at least one night during your trip! If you rented a cabin with a view, you can head back to watch the sunset and enjoy a relaxing night in and some girl time.
Sunday: Support Local Farms
On your final day in Ellijay, you should make a stop at any of the town's famous apple orchards and support the local farmers. You'll be able to get a unique souvenir before heading home!
Explore Apple Orchards and Local Farms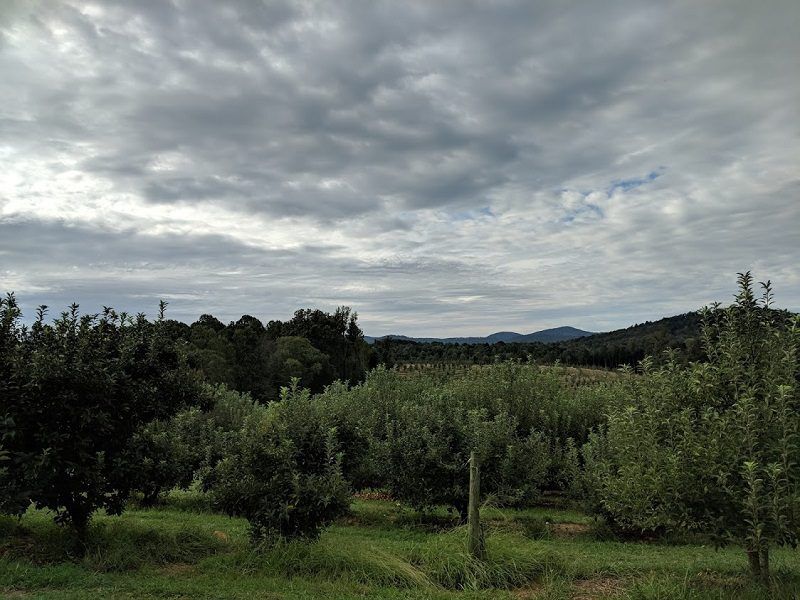 Before heading home, make time to check out some of the apple orchards and local farms along Hwy 52. Ellijay is known as the Apple Capital of Georgia and is famous for apple picking in the late summer / early fall.
Check out some of these popular apple orchards in the area:
Even if you don't have time to go apple picking yourself, you can still stop in to a few apple houses and pick up some delicious treats. I always go for a jug (or three) of apple cider.
Most orchards also sell apple fritters, apple pies, and other desserts. Then there are the jams, salsas, chips, and other snacks you never knew could be made with apples!
And of course, you can always buy a bushel or a peck of apples to take home with you.
Map Out Your Girls' Weekend in Ellijay
Ready to go spend a girls' weekend in Ellijay? Use the map below to find all these fun things to see and do on your trip to Ellijay!
I hope this itinerary helps you plan your perfect girls' trip to Ellijay, Georgia!
More Things To Do In Ellijay
Just can't get enough of this mountain Georgia town? Check out these other Ellijay itineraries.
---
Ready to visit Ellijay, Georgia? Plan your trip with these tips.
---
Cheers!
Paige
Are you planning a girls' trip to Ellijay, Georgia? Let me know in the comments!