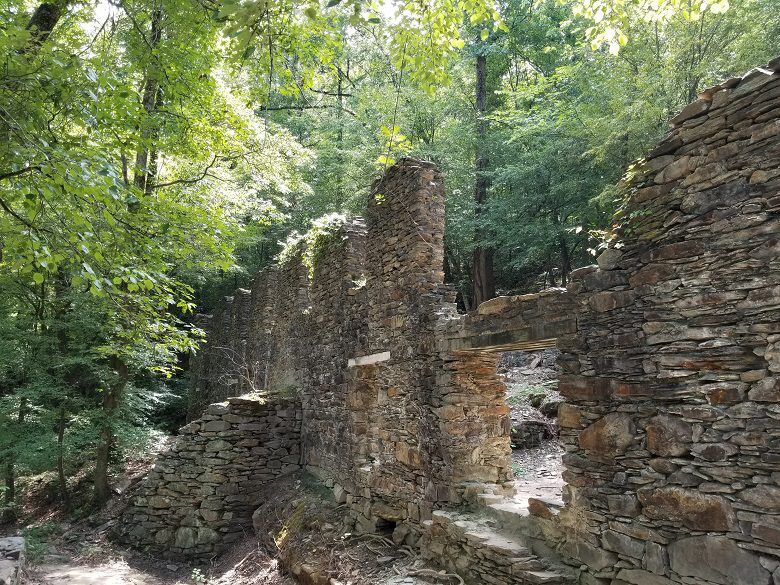 The Sope Creek Trail outside the Perimeter of Atlanta makes for a very quick, short hike around the Civil War era paper mill ruins and a quaint pond.
Sope Creek
The Sope Creek unit is part of the Chattahoochee River National Recreation Area, but unlike most of our hikes in this area, this hike did not take us on the Chattahoochee River. Since the trail is a nice loop, you can start either by going by the pond first or by the ruins. We chose to start with the ruins.
Hiking the Sope Creek Trail
The Sope Creek Trail departs from the parking lot on Paper Mill Road with a nice downhill hike through the forest. The trail follows close along Paper Mill Road for a moment before reaching the paper mill ruins at 0.5 miles.
This paper mill was built in the 1850s and was destroyed in the Civil War by Union troops. Marietta Paper Mills incorporated the mill in 1859 and included a mill, oil room, office, mill sluice, storeroom, dam, machine shop, pulp-grinding mill, and two shelters. The crumbling ruins of the walls and foundation stand like a castle over the trickling Sope Creek.
The hike follows the path around the ruins, or through the ruins if you want to have a little fun. I highly recommend taking some time to wander through the ruins before moving on.
The trail then continues along the bank of the creek. The trail departs Sope Creek following a tributary creek uphill to trail marker 6. Keep left at this trail marker to follow the winding trail through the forest to trail marker 7.
The hike keeps right to follow the path to Sibley Pond, a popular and scenic fishing spot.
You can then follow the trail around the entire pond or keep to the easy gravel path to head back toward the parking lot, depending on how much walking you're in the mood for. This will complete a quick 1 mile to 1.5 mile hike.
Hiking Essentials
Come prepared for your hike by making sure you pack the essentials. Check out this must-have hiking gear before you set off on the trails:
Nearby Hiking Trails
Looking for more hiking trails in Atlanta? Check out more of these amazing Georgia hikes:
---
Ready to visit Atlanta, Georgia? Plan your trip with these tips.
---
Cheers!
Paige
Have you hiked the Sope Creek Trail in Atlanta, Georgia? Tell me in the comments!