It may be tempting to settle in for a long winter's nap, but Atlanta is just as much fun in the winter as any other time of year! These are some of my favorite winter activities in Atlanta.
I love Atlanta in the winter; it's one of the best winter destinations in Georgia! Since we're in the South, the weather is much milder and we rarely have to worry about snow (but fingers crossed for no ice!), but I promise it still gets nice and cold!
There are fewer crowds in Atlanta during the winter — with the exception of the holiday weeks, of course. Winter is one of the best times to visit Atlanta since flights and hotels are typically cheaper during these off-season months.
The holiday season starts gearing up in November in Atlanta, with many top attractions putting on their glistening Christmas lights. Many of the city's festivities last from November to January, and some even into February. So there's plenty of time to experience winter fun and holiday cheer!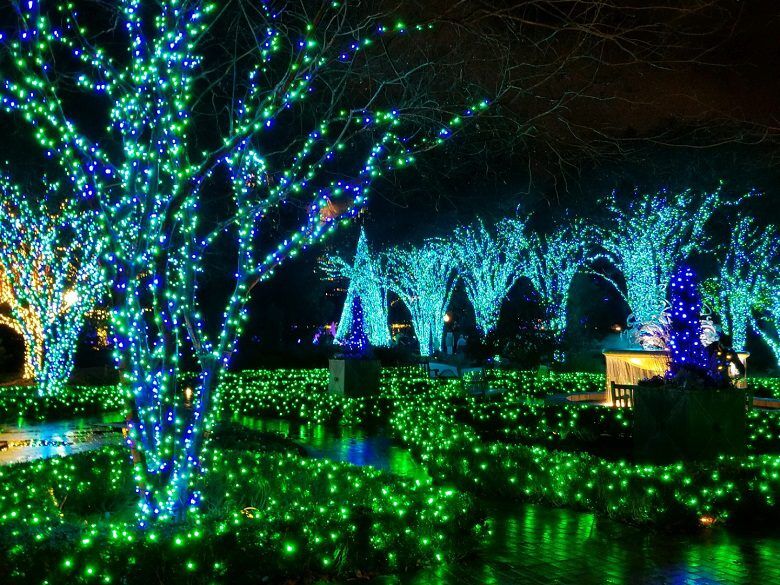 Best Things to Do in Winter in Atlanta
I've got all the info on the must-see and do Atlanta winter activities and festivals. I'll show you where to see the best light displays in Atlanta, the top winter events, and all the fun Christmas celebrations.
1. Stroll the Garden Lights, Holiday Nights at Atlanta Botanical Garden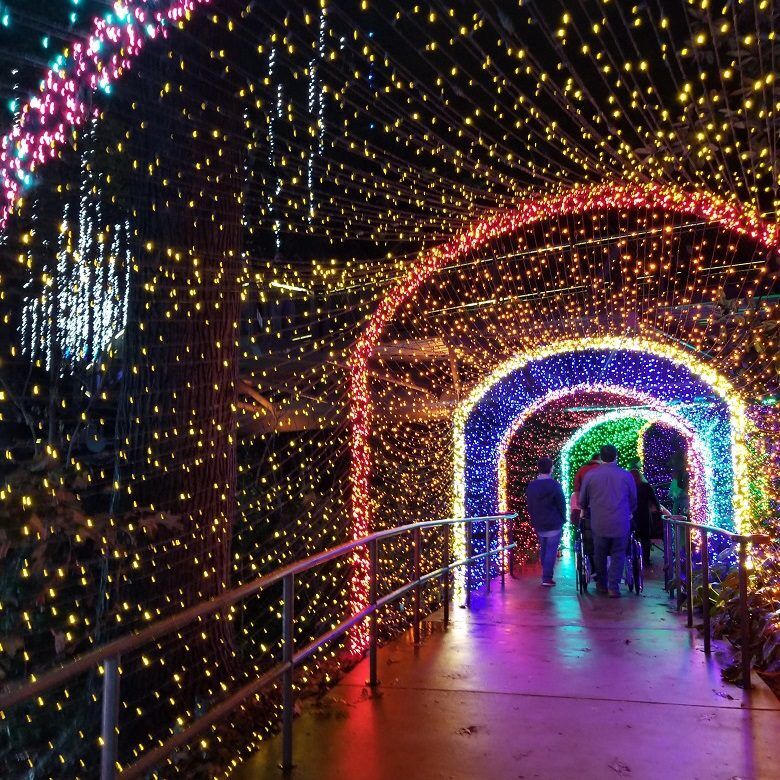 Garden Lights, Holiday Nights at Atlanta Botanical Gardens quickly became my favorite Atlanta holiday tradition.
There are nearly 2 billion dancing lights tucked into the trees and sleeping flowers of the Gardens, twinkling in sync to music, changing color, and lighting up the beautiful landscape.
Starting mid-November through early January, the Gardens are transformed into a winter wonderland.
Read my guide to Garden Lights, Holiday Nights.
2. Go Outdoor Ice Skating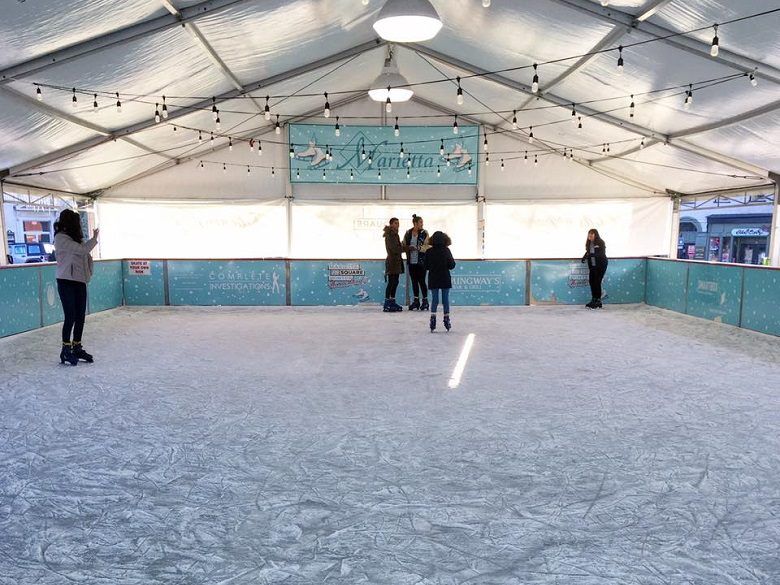 Ice skating is one of my favorite hobbies, so you know I love it when it gets cold enough to skate outside! Atlanta has a surprising number of open-air ice skating rinks during the winter.
Head to Midtown for Atlanta's largest outdoor skate rink, or head to Alpharetta if you want that Rockefeller Center feel. There are all different types of outdoor ice skating rinks for any budget.
Seasonal ice rinks in and around Atlanta open in November and run through February.
Read my guide to Atlanta's outdoor ice skating rinks to learn more and find the closest outdoor ice skating rink to you.
3. Enjoy Christmas at Stone Mountain
Stone Mountain Park is also transformed by lights and Christmas decorations in the winter.
You can meet characters from Rudolph the Red-Nosed Reindeer, see Stone Mountain Village glistening with holiday lights, ride the Singalong Train, and take a much cooler hike up Stone Mountain.
Winter activities start in mid-November and last through early January.
Read my guide to Christmas at Stone Mountain.
4. Have Fun in the Snow at License to Chill Snow Island
License to Chill Snow Island at Margaritaville at Lanier Islands is a winter wonderland filled with snow. Go snow tubing down one of the largest snow slides in the country, have a snowball fight in the snow play area, and practice your figure-eights at the outdoor ice rink.
Snow Island is the only place where you're guaranteed to have a White Christmas in the metro-Atlanta area.
Check out my review of License to Chill Snow Island at Margaritaville here.
After your day in the snow, take a walk through an extravagant light display with festive seasonal music at Margaritaville's Lakeside Lights Spectacular. This one-of-a-kind lakeside light show features traditional holiday displays and Margaritaville-themed scenes.
License to Chill Snow Island and Lakeside Lights Spectacular open in November and run through February.
5. Enjoy Winter Days at Zoo Atlanta
Winter may not seem like the ideal time to go to the zoo, but if you want a discounted admission price, less of a crowd, and to see the more cold-weather animals, then definitely visit Zoo Atlanta during the winter!
You get to see animals that are more active in the cold, like the panda bears. The zoo also has a lot of indoor habitats where you can view the animals who don't like the cold, like the elephants and the rhinos.
And don't forget to look out for the special seasonal events, like the lighting of the Christmas tree every December!
Here's what you need to know for visiting Zoo Atlanta in the winter.
6. Explore Atlanta's Winter Hiking Trails
Now that the weather has cooled off, you can finally go out and explore Atlanta's amazing trails without suffering in the heat!
Just a couple hours from Atlanta, Cloudland Canyon State Park's Waterfalls Trail is great for winter because the water doesn't evaporate as quickly so the waterfalls are generally flowing stronger and more constant and are more picturesque.
There are plenty of great winter hikes all around Atlanta, like Stone Mountain or even the urban Atlanta Beltline trails. You'll have no problem choosing a hike to suit your needs.
Find many more Georgia Hikes here.
7. Drive Through the Lights of Life University
Can't get enough holiday lights? Drive through the completely transformed campus of Life University in Marietta during the Lights of Life University event.
Along with the holiday lighting displays, the event also has train rides, a petting zoo, and concessions.
Drive through the Lights of Life University starting Thanksgiving through New Year's Eve.
8. Attend the Smyrna Christmas Tree Lighting
Smyrna, Georgia's annual holiday celebration is loads of Christmas cheer with concerts by local school and church choir groups, activities for kids, a parade, and visits with Santa Claus.
Santa even lights the giant Christmas tree in the middle of the Village Green Circle. All around the Village Green Circle is lit up with with fun holiday scenes and lights in nearly every tree.
Don't miss the Big Christmas Tree Lighting Ceremony every year in early December.
Read next: How to Spend Christmas in Atlanta, Georgia
Winter Weather in Atlanta
Atlanta winters are pretty mild, but that's to be expected in the South.
For Atlanta in December into February, you can expect daytime highs averaging around 50 to 60 degrees and evening lows around the 30s. Some evenings drop into the 20s.
Atlanta doesn't usually get snow, but we do get ice. And if it does snow, there's almost certainly ice underneath, so no one leaves their house if they don't have to.
Don't expect a White Christmas in Atlanta. The last time it snowed on Christmas Day in Atlanta was 2010, and that is the only official White Christmas on record for the city.
If you go for a winter hike, temperatures in the higher elevations of the North Georgia Mountains are about 10 to 20 degrees cooler. Mountain hikes like Brasstown Bald may shut down their access roads due to ice in the winter. Snow is more common in this region.
The sunset in Atlanta happens around 5:30 p.m. in November and January, around 5 p.m. in December, and around 6 p.m. in February.
For what to pack and wear during winter in Atlanta, I recommend layers, a coat, a scarf, gloves, and boots. You won't need your heaviest winter jacket or snow boots, but you'll want enough to stay warm. When packing your layers, keep in mind that you could be ice skating in short sleeves and 60 degree weather during the day but need a coat for the 40 degree nights looking at holiday lights.
Read next: Holiday Light Displays in Atlanta You Won't Want to Miss
Winter in Atlanta FAQ
What is Atlanta like in the winter?

Atlanta winters are pretty mild. They can get cold, but don't expect snow. Winter in Atlanta is usually pretty nice, with comfortable weather and plenty of holiday activities. The city has a lot of indoor attractions, too, if you want to escape the chill.

How cold does it get in Atlanta?

During winter in Atlanta, you can expect daytime highs averaging around 50 to 60 degrees Fahrenheit and evening lows around the 30s. Some evenings drop into the 20s.

What month is the coldest in Atlanta?

January is typically the coldest month in Atlanta when the average low temperature is about 33.5 degrees Fahrenheit.

Does it snow in Atlanta?

Snow is not common in Atlanta. There are usually a couple flurries each year, but a lot of times this doesn't accumulate on the ground. If it does snow, there's almost certainly ice underneath.

Has Atlanta ever had a blizzard?

Atlanta has had a few blizzards and heavy snowstorms. In 1993, the Storm of the Century brought 4.2 inches of snow to Atlanta. SnowJam 1982 brought 4-6 inches of snow. And a storm in 1940 brought 8.3 inches, the most snowfall Atlanta has ever recorded in a single day.
Has it ever snowed in Atlanta on Christmas?

The only time on record that it has snowed on Christmas Day in Atlanta was 2010, so don't expect a White Christmas in Atlanta!

Why can't Atlanta handle a little snow?

If you've ever found yourself asking this, and other questions, about Atlanta then you would love my book What's With Atlanta? where I answer this exact question!

Top Atlanta Tours
With so much to see, Atlanta can be overwhelming for any first-time traveler. To take some of the stress out of planning your visit, opt for a guided tour! Check out this list of the top Atlanta tours to help you make the most of your time in Georgia's capital city.
Where to Stay in Atlanta
Find the perfect place to rest your head on your visit to Atlanta, from the top rated accommodations to unique stays you can't get anywhere else.
More Winter Fun in Atlanta
Find even more fun winter activities in and around Atlanta, Georgia! Check out these posts for your winter inspiration:
---
Ready to visit Atlanta, Georgia? Plan your trip with these tips.
---
Cheers!
Paige
What's your favorite winter activity in Atlanta? Let me know in the comments!