If there's one thing you take away from this blog, it's that I love bears. This year for my birthday, I got to feed a panda bear at Zoo Atlanta through their Giant Panda Wild Encounter, and you can imagine the euphoric state I've been in ever since!
For my birthday, I got to meet the panda bears of Zoo Atlanta up close and personal, and you can too!
Giant pandas are an incredibly rare species, and Zoo Atlanta is home to four of them! The zoo's remarkable Wild Encounter program lets you get a glimpse into the lives of Zoo Atlanta's incredible panda bears. You'll go behind the scenes to discover what it takes to house and care for these amazing bears, learn about the zoo's conservation efforts, and feed a panda yourself.
The Giant Panda Bear Wild Encounter was an incredible experience that I won't soon forget!
Zoo Atlanta's Giant Panda Bear Wild Encounter
Zoo Atlanta offers many "Wild Encounters" that let you get a behind-the-scenes look at some of the zoo's animals. At $225 plus admission ($203 for zoo members), the Giant Panda Wild Encounter is the most expensive encounter but is well worth it for bear lovers. The Giant Panda Wild Encounter takes place Friday, Saturday, Sunday, and Monday at 10:30 a.m. You just need to be at the panda bear habitat 15 minutes beforehand to sign a waiver so you can get started.
All participants are required to submit a digital waiver before their encounter date. All participants, including children, are required to wear a KN95 face mask. If you do not have a KN95 face mask, the Zoo will provide one for you.
At the Panda Habitat
The encounter began at the panda habitat where, after signing our waivers, an Exhibit Interpreter told us about Lun Lun and Yang Yang and their twin girls Ya Lun and Xi Lun.
Some of the pandas are usually out at this time, so we got to watch them nap, eat, and play while we learned panda facts (like that all they do is eat and sleep all day).
Since these are 200 pound bears, we didn't get to touch the pandas during the encounter. But the Interpreter did have some panda fur brushed from one of the pandas that they passed around for us to feel, and I'll tell you it's not as fluffy and soft as it looks on the pandas!
Now that we've seen all that we can of the day rooms and outdoor exhibits from the front end, it's time to go behind the scenes!
Take a Walk Down Panda Trail
Behind the scenes, we walked down Panda Trail to the back of the panda habitat building: the Arthur M. Blank Family Foundation Giant Panda Conservation Center. The panda building is quarantined, so once the panda keepers go in for the day, they're there all day long.
We had to go through some quarantine measures ourselves and get our safety gear on before entering the building. As you can see in the picture above, it was pouring down rain during our encounter, so this was a tricky and messy situation.
First, we had to lock our loose items away. Then we had to throw off our raincoats and put on white lab coats. Next came washing off the bottoms of our shoes in a diluted bleach solution and covering our shoes with booties. And lastly we donned our gloves.
Inside the Panda Bear Building
Inside the panda building, we got to see the Panda Cam central and the pee refrigerator, where they store the pandas' urine for monitoring the bears' health and mostly for monitoring Lun Lun's ovulation.
Through a set of double doors, we passed by Lun Lun who was eagerly waiting to be fed, and went into a separate section to see the huge bamboo refrigerator holding hundreds of pounds of bamboo and a shelf of the bears' enrichment toys.
Each bear has certain scents that they like, so the enrichment shelf holds a strange assortment of household items that the bears just like the smell of (Yang Yang, for instance, likes the smell of Tabasco sauce).
In here, we got the safety rundown before going out to properly greet Lun Lun, who we would be feeding. The Panda Keepers said the bears have learned that the people in white lab coats bring treats, so they have to give the safety instructions in a separate room or else the bears will get impatient wondering why they haven't been fed yet.
Feeding the Panda Bear
Lun Lun is the zoo's adult female panda. She has been the mother of seven panda cubs at Zoo Atlanta, including the twins. Her round face and fluffy cheeks make her a beautiful panda by Chinese standards, as the Chinese find round faces to be beautiful.
During the encounter, you get to feed the panda one of their favorite treats: a nutritious biscuit. To feed the panda, you put this biscuit in a feeding stick that looks like bamboo. This is so that no one has to put a finger inside the enclosure and have the bear mistake a finger for a biscuit.
We stood about a foot away from the barrier and held the biscuit out to Lun Lun using the bamboo stick, and Lun Lun munched the biscuit right off the stick. We fed her two biscuits each this way, and I wish it could have lasted longer. I would happily have fed that bear for hours.
Such Smart Bears
After we all finished feeding Lun Lun, she had more treats coming her way. The Keepers then showed us some of her learned behaviors that help them do routine check ups all without having to put the bears under or step into the enclosure with them.
The adult bears know how to put their ears, eyes, and bellies to the barrier so the keepers can get a good look, poke and prod, and even give the bears their vaccines. This is also how Lun Lun gets her ultrasounds when she's pregnant. The twins can do many of the behaviors but still have some learning to do.
The keeper rewarded Lun Lun with apple slices for showing off her behaviors.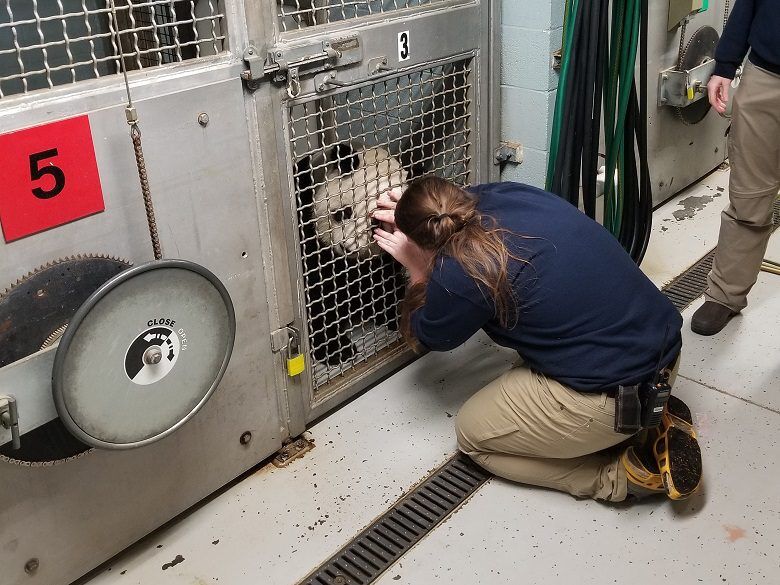 When she finished showing off, Lun Lun munched some bamboo while we asked the Keeper questions.
After a while though, Lun Lun realized that the people in white lab coats were still there but weren't giving her treats, so she decided to change that. So Lun Lun started begging, which consisted of her putting her ears, eyes, and belly to the barrier in an attempt to get more treats.
While her begging is adorable, the keepers don't want to reward that behavior. So we shuffled out of the panda building and left Lun Lun with her hundreds of pounds of bamboo to tide her over.
More Things Happening at Zoo Atlanta
Where to Stay in Atlanta
Find the perfect place to rest your head on your visit to Atlanta, from the top rated accommodations to unique stays you can't get anywhere else.
---
Ready to visit Atlanta, Georgia? Plan your trip with these tips.
---
Cheers!
Paige
Have you done a Zoo Atlanta Panda Bear Encounter? Let me know in the comments!