Zoo Atlanta is an award-winning zoo that is a delight to both kids and adults alike. With over 1,000 animals from over 220 different species, everyone will find something to love about Zoo Atlanta. Find out more about visiting Zoo Atlanta in this in-depth guide.
Visiting the zoo can be an exciting and educational experience, but it can also be overwhelming if you don't know what to expect. This guide will provide you with all the information needed to make your trip to Zoo Atlanta an unforgettable experience.
Read on to find out what makes Zoo Atlanta a must-visit destination and to get an insider's guide to making the most of your visit.
About Zoo Atlanta
Zoo Atlanta is one of the oldest zoos in the United States, started in 1889 when a failing traveling circus donated its collection of animals to the city of Atlanta. City leaders set up the menagerie in Grant Park, and it's been there ever since.
Today, the zoo has more than 1,000 animals across 220 species and is involved in field conservation programs for wildlife in the state of Georgia and around the globe.
Zoo Atlanta Habitats
Giant Panda Conservation Center
Zoo Atlanta is one of only three zoos in the US currently housing giant panda bears. Lun Lun and Yang Yang came to Atlanta in 1999 and have sired seven baby bears since their time here. While the other cubs have gone back to China, twins Ya Lun and Xi Lun still remain in Atlanta with their parents.
African Savanna
The zoo's African Savanna is its newest habitat, expanding on the older African habitat in 2019. It houses wildlife native to Africa, including elephants, lions, giraffes, zebras, ostriches, warthogs, meerkats, white rhinos, and more.
Scaly Slimy Spectacular
The Scaly Slimy Spectacular opened in 2015, replacing the old World of Reptiles, to house the zoo's amphibian and reptile residents. This was the world's first LEED Gold-certified amphibian and reptile complex. There are more than 200 animals representing 70 species in this habitat alone.
African Rain Forest
The zoo's African Rain Forest exhibit opened in 1988 as the main habitat of the western lowland gorillas. Here, the offspring of one of Zoo Atlanta's most beloved animals, a gorilla named Willie B. after Atlanta mayor William B. Hartsfield, still thrive. Zoo Atlanta has the largest gorilla and orangutan population in the US. The Living Treehouse exhibit houses African birds and lemurs, and nearby are habitats for Angolan colobus monkeys, drills, and more.
Complex Carnivores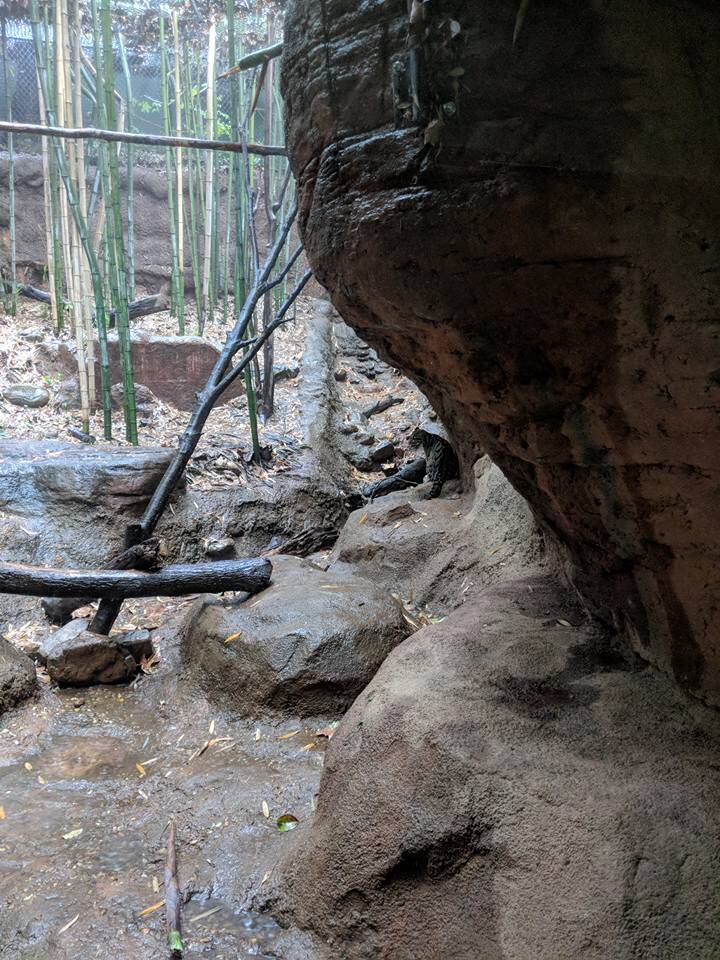 Complex Carnivores houses binturongs and clouded leopards. You can also get a look at the Sumatran tigers whos habitat spans this and the Corridor to Change.
Corridor to Change
Corridor to Change focuses on species impacted by the international wildlife trade, poaching, and the illegal sale wildlife. It also takes a look at what are safe wildlife encounters and what are harmful. The sun bear is a huge focus of this habitat, as well as the Sumatran tiger.
Asian Forest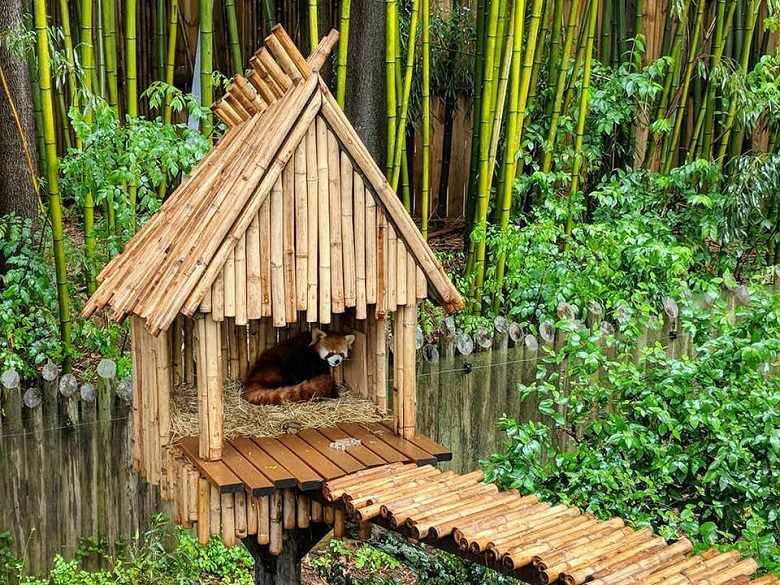 In the Asian Forest, you'll find giant otters, a Komodo dragon, a red panda, and Bornean and Sumatran orangutans.
Children's Zoo
The Children's Zoo has an Outback Station petting zoo where you can see various goats, sheep, pigs, and more.
Aviaries
Zoo Atlanta is home to many aviaries throughout the zoo complex. Altogether, these aviaries account for more than 50 species from starling to vultures to cranes.
Things to Do at Zoo Atlanta
Attend Keeper Talks and Wildlife Presentations
The zoo hosts free educational Keeper Talks with animal experts where you can learn about the animals from the people who take care of them. There are also a few Wildlife Presentations that show off natural animal behaviors. These take place at various times throughout the day for different animals.
Attend Special Events and Programs
Zoo Atlanta has plenty of special events and programming, some of which takes place during zoo hours like Boo at the Zoo and some of which take place in the evenings like their Chinese Lantern Festival.
There are also a range of children's activities offered for kids from hands-on learning opportunities to interactive mystery hunts.
Go for a Ride or Climb
Ride the Zoo Train or the Endangered Species Carousel, or test your skills on the Treetop Trail or Treetop Tykes Trail.
Have a Wild Encounter
Get up close and personal with the animals with a behind-the-scenes Wild Counter experience. You can have a Wild Encounter with a giant panda, lemur, elephant, Aldabra tortoise, or warthog.
Explore the Gift Shops
The zoo has two gift shops: the Panda Pagoda near the giant panda habitat where the merchandise is primarily panda-themed, and the Zoo Atlanta Trading Company at the zoo entrance where you can get souvenirs like books, toys, housewares, and t-shirts.
Dine Around the Zoo
The zoo has seven main dining options along with a few small snack stands placed throughout the complex. Check out the main dining at Nourish Café or stop by the SweetWater Beer Garden, Wild Burger, Fro-Zen, Flamingo Joe's the Ooz Grilled Cheese Truck, or The Coop Food Truck.
Visiting Zoo Atlanta
Address: 800 Cherokee Ave SE, Atlanta, GA 30315
Admission: Admission prices vary based on entry date. You can expect cheaper tickets during the weekdays and in the winter, and more expensive tickets on the weekends and in the summer. Prices range from $24.70-$31.45 for adults ages 12+, from $22.95-$29.20 for seniors 65+ and college students with ID, from $19.95-$25.20 for children ages 3-11, and free for children under 3.
Get discounted tickets using the Atlanta CityPASS.
Hours: The zoo has hours that vary through the year. Typically, the zoo opens later and closes earlier in the winter, and opens earlier and closes later in the summer. Generally, the zoo is open from 9 a.m. to 5 p.m. Last entry is 3:30 p.m.
They begin to bring the animals in for the day an hour prior to the grounds closing. Food stands will also close an hour before the grounds closing.
Zoo Atlanta is open all year long, closed only on Thanksgiving Day and Christmas Day.
Parking: Parking is available at the zoo's Cherokee Avenue and Grant Park Gateway lots. At these lots, parking costs $3 per hour or $12 for the day. Zoo Atlanta estimates the average visit is about 3 hours.
There is also free street parking available on the street in front of the zoo and in the neighborhood around the zoo.
Zoo Atlanta FAQ
How long does it take to go through Zoo Atlanta?

Most people will probably spend 1.5 to 2 hours going through Zoo Atlanta. Zoo Atlanta estimates the average visit is about 3 hours. If you want to go more slowly, stop for lunch, or let the kids play in the kids' zone, you can expect to spend more like 4 to 5 hours at the zoo. It all depends on your pace and what animals are out!

Is parking available at Zoo Atlanta?

Parking is available at the zoo's Cherokee Avenue and Grant Park Gateway lots. At these lots, parking costs $3 per hour or $12 for the day. There is also free street parking available on the street in front of the zoo and in the neighborhood around the zoo.

Does Zoo Atlanta offer discounts?

You can get discounted tickets to Zoo Atlanta using the Atlanta CityPASS.

Does Zoo Atlanta have a panda cam?

They sure do! You can watch the Zoo Atlanta Panda Cam here. And if you want to watch more adorable bears from home, check out these other bear cams.

| Save on admission to Atlanta's top attractions using the Atlanta CityPASS.
Where to Stay in Atlanta
Find the perfect place to rest your head on your visit to Atlanta, from the top rated accommodations to unique stays you can't get anywhere else.
Craving More Atlanta Activities?
If you need more things to do while visiting Atlanta, check out these top posts:
---
Ready to visit Atlanta, Georgia? Plan your trip with these tips.
---
Cheers!
Paige
Did you find this guide to Zoo Atlanta helpful? Let me know in the comments!