Irving, Texas is a gem of a city just northwest of Dallas with a unique history all its own. From the city's frontier history to the Mustangs of Las Colinas to the assassination of JFK, there is a lot to learn about in Irving. If you're a history-lover, you won't want to miss out on this Irving itinerary!
Take a trip back in time in Irving, Texas, an often over-looked city in the Dallas-Fort Worth area. Irving is perfectly situated near the Dallas/Fort Worth International Airport and offers visitors a unique array of historical sites and museums.
Unlock Irving's best-kept secrets and go on an inspiring journey through Irving's past. This weekend itinerary in Irving for history-lovers will take you to museums, cemeteries, and Venetian-inspired canals that will leave you in awe. And no trip to Irving is complete without indulging in delicious meals and staying at a the city's most Instagrammable hotel.
Get ready to explore the hidden gems of Irving like never before!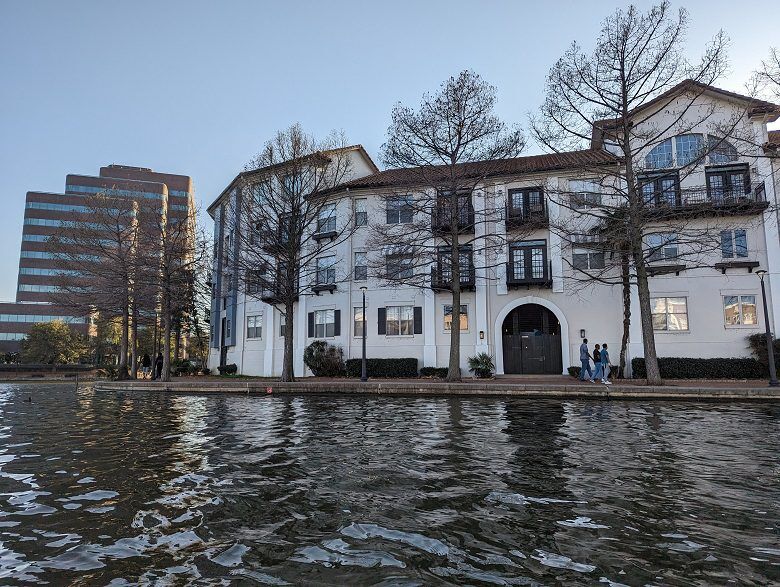 A Weekend in Irving for History Buffs
If you love history, Irving, Texas is the place to be! This hidden gem in the heart of the Lone Star State is home to fascinating historical attractions that will delight and surprise history buffs from all over.
Where to Stay in Irving, Texas: The Texican Court
For your weekend of exploring Irving's rich history, you'll need a comfortable and unique place to rest your head. Look no further than the Texican Court, located in the Las Colinas Entertainment District.
The Texican Court is a boutique hotel that is like stepping back in time to a retro 1950s motor lodge, mixed with a bit of Spanish Mission style. This pet-friendly hotel is set up around beautiful courtyards with fire pits and a pool, perfect for unwinding after a day of sightseeing.
Inside the rooms are a relaxed décor with custom-made furnishings, a large SMEG refrigerator fully-stocked with beverages for purchase, an desk, custom robes that you can purchase to bring home with you, and a bathroom with a walk-in shower or a vintage-inspired claw-foot bathtub.
The Texican Court also offers a unique dining experience at the Two Mules Cantina where you can enjoy delicious Tex-Mex cuisine and craft cocktails while sitting in a cozy setting. Meanwhile, the Salt Tequila Bar offers an even more intimate space for sipping delicious cocktails and tequila tastings by the fireplace.
Staying at the Texican Court will add a special touch to your Irving experience, bringing together the city's rich history and unique culture.
Read my full review of the Texican Court here.
More Places to Stay in Irving
Looking for a different place to stay in Irving, Texas? Check out these other great options.
Things to Do for History-Lovers in Irving
From top-notch museums to historic cemeteries to relaxing gondola rides, there are a ton of great things to see and do in Irving! Check out my top recommendations below.
Discover Irving's Rich History at the Irving Archives and Museum
The Irving Archives and Museum is a must-visit destination for those who want to delve deep into Irving's history. This museum houses an impressive collection of artifacts and documents that showcase the city's growth and development throughout the years from its frontier days to the diverse city it is today.
You'll start your journey through the museum in the early establishment of Irving's small communities, moving through the city's transformation from a small farm town into a rapidly growing suburb, and then into Irving's boom into an international city with the opening of the Dallas/Fort Worth International Airport, the building of Texas Stadium, and the creation of Las Colinas.
Throughout the museum are original documents, photographs, and artifacts that allow for a deeper understanding of the people and events that have shaped Irving. Photo opportunities and selfie spots throughout the exhibits allow you to immerse yourself in Irving's past.
This museum is also home to Texas's only Smithsonian Spark!Lab where kids can explore their inventive creativity.
The museum also plays host to award-winning traveling exhibitions. When I visited, it was Fighting for the Right to Fight: African American Experiences in World War II.
Visit the Ruth Paine House Museum
The Ruth Paine House Museum offers a unique piece of history related to the assassination of President John F. Kennedy. The home is where Lee Harvey Oswald stayed in the weeks leading up to the assassination of JFK, and it offers a fascinating glimpse into this pivotal moment in American history.
Take a step back to 1963 and the small suburban home that was caught up in a plot to assassinate the president. Ruth Paine and her children lived in the home and offered the spare room to Marina Oswald and her children while Lee Harvey Oswald was living at a boarding house in Dallas to be near his job at the Texas School Book Depository.
Oswald would stay in Dallas on weekdays and spend the weekend with Marina at the Irving house. But on Thursday, November 21, 1963, Oswald went back to Irving instead of Dallas. On the morning of November 22, 1963, Oswald took the rifle from the Irving home's garage and made his way back to Dallas where he would assassinate President John F. Kennedy.
The home is a time capsule to 1963. It was painstakingly restored thanks to photographs from Ruth Paine to look exactly as it had when the Oswalds stayed there. To bring the story to life, the museum has projections of actors playing the roles of the Paines and the Oswalds.
The Ruth Paine House Museum is operated by the Irving Archives and Museum. Since the home is located in a residential area, you will need to make a reservation and check in with the Irving Archives and Museum before you can receive the address for the home.
Explore Shelton's Bear Creek Cemetery
The Bear Creek community was founded in the 1850s by white settlers and their enslaved laborers. After the Civil War, many African Americans came to the area, and an African American community grew up along Bear Creek.
Minnie Shelton purchased land here in 1879, and the Shelton family donated 0.67 acres for use as a cemetery. The earliest marked burial in the cemetery was that of 23-year-old Smith King in 1895. The final burial took place in 1934. There are believed to be more than 200 burials at Shelton's Bear Creek Cemetery.
The cemetery can be difficult to access. On the southeast side of the cemetery is a senior living facility with limited parking and restricted access. The cemetery can be more easily access from Wildbriar Drive north of the cemetery, which has a gate that allows you to pass through the retaining wall.
Take a Gondola Ride on Lake Carolyn and the Mandalay Canals
Las Colinas is a planned community set around the man-made Lake Carolyn. The beautiful Lake Carolyn and the Mandalay Canals create a Venetian setting right here in the heart of Texas.
Gondola Adventures offers gondola cruises on the lake and the canals. You can choose different options from a simple one-hour cruise to a special evening cruise complete with an Italian dinner and wine.
The serene waters and picturesque views make for an ideal way to unwind and soak up the charming waterfront scenery.
Add a Locket to Irving's Love Lock Bridge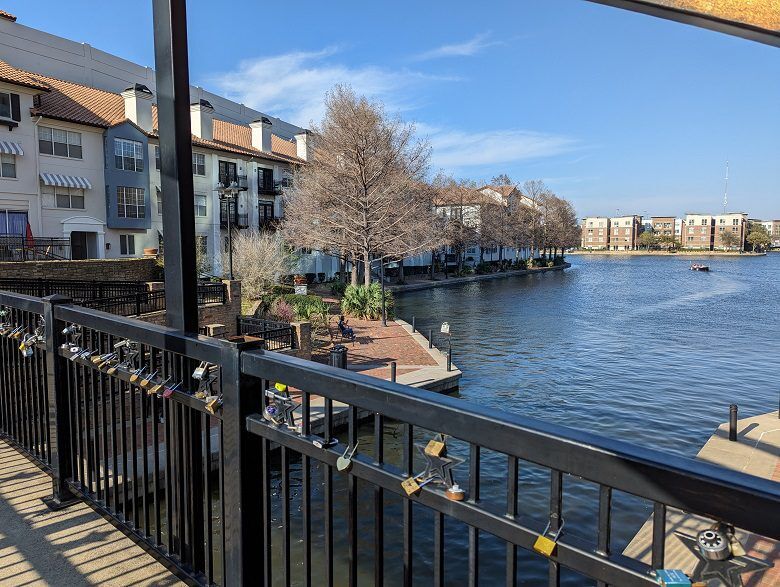 Become a part of Irving's history by adding your own personalized locket to the city's Love Lock Bridge.
If you've watched Love Is Blind season 3 on Netflix, you might recognize this bridge as the one two of the contestants added their locks to.
Just like the famous Pont des Arts bridge in Paris, you can add your own locket or padlock to this pedestrian bridge in Irving. You'll find the bridge over the Mandalay Canals where the Lake Carolyn Promenade meets Las Colinas Boulevard East.
See the Iconic Mustangs of Las Colinas
Also in Las Colinas are the iconic Mustangs of Las Colinas. These realistic, larger-than-life bronze horse sculptures are a nod to the city's rich equestrian history and represent the freedom and wild spirit of the state of Texas.
During the 1960s and 70s, Dallas businessman Ben H. Carpenter converted his family ranch into the development of Las Colinas. He commissioned these wild mustang sculptures to serve as a focal point for his new development.
The sculptures were brought to life by African wildlife artist Robert Glen. He created small scale models first, then made life-sized models that he shipped to a foundry in England, and then the foundry made 1.5 times life-sized foam models of the horses. Glen then worked to sculpt the fine details, and the bronze casting of the mustangs was completed in 1981. The Mustangs of Las Colinas sculpture was mounted and dedicated in Irving in 1984.
This beautiful sculpture is definitely an unmissable sight! If you have time, visit the Mustang Museum for a detailed explanation of the sculpture's history.
Where to Eat and Drink in Irving
Irving is known for its culinary delights and lively entertainment. No matter where you choose to eat, you're in for a treat! Dine at some of the top restaurants in the city, and then let loose in Irving's booming entertainment district.
Enjoy Lunch at the Hudson House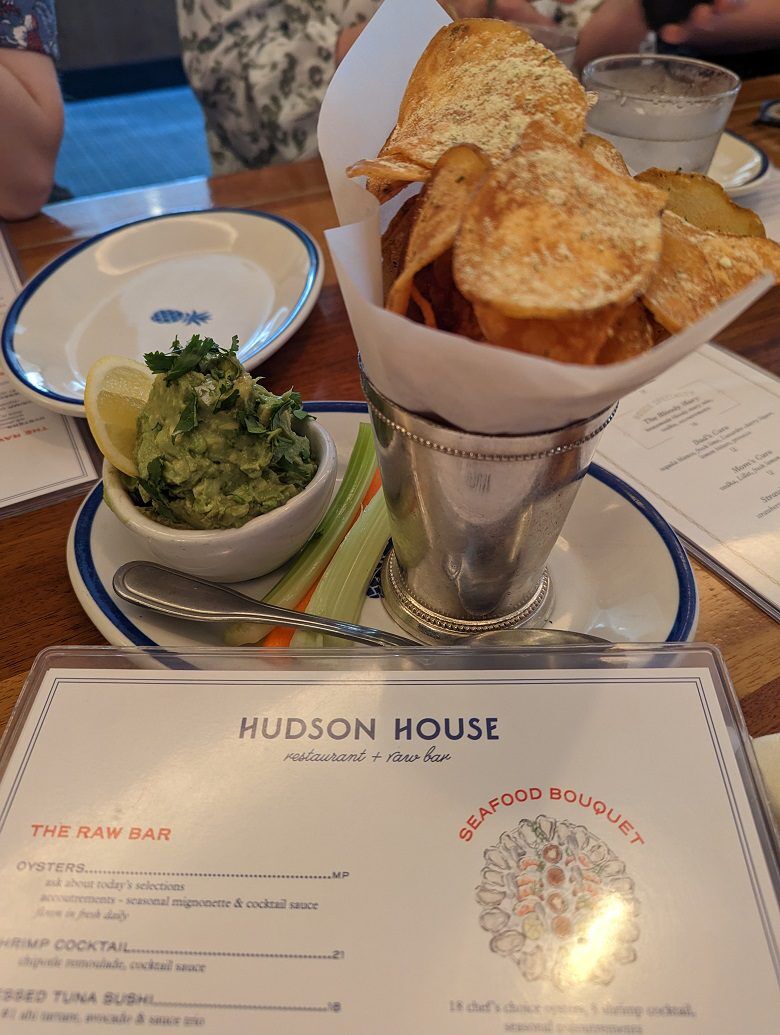 Hudson House is an ideal spot for lunch in Irving. This seafood and oyster bar will blow your taste buds away.
The restaurant offers a laid-back atmosphere with top-notch seafood like oysters, shrimp cocktail, and pressed tuna sushi from their raw bar or their house specialties like a maple planked salmon or pan seared redfish.
Hudson House proudly serves fresh and sustainable seafood, and it's the perfect place to indulge in fish, clam, and lobster rolls.
Indulge for Dinner at Monaco Restaurant
For dinner in Irving, head to Monaco Restaurant for an unique upscale experience in a beautiful setting.
Monaco Restaurant serves European-inspired cuisine from Italian to French specialties. The restaurant has a cozy and intimate setting with ceilings painted like a starry night sky, chandeliers, plush seating, and open-air dining making for a unique ambiance.
Dishes range from an Italian-inspired Bolognese to a Spain-inspired Shrimp & Polenta to a French-inspired Crudite. You won't want to skip dessert — they have amazing Beignets and a house-made Flourless Dark Chocolate Torte that is the owner's grandmother's recipe.
Enjoy live music at the Toyota Music Factory
End your night in Irving with a stop at the Toyota Music Factory where you can enjoy drinks, live music, and entertainment.
This huge entertainment venue has an indoor-outdoor amphitheater, an indoor theater, an outdoor event plaza, restaurants, bars, and a movie theater.
There is a rotating lineup of musical entertainment, and the Texas Lottery Plaza hosts live music every weekend. The Toyota Music Factory is the perfect place to grab a drink and enjoy live music.
Mapping Out Your Weekend in Irving
Ready to explore Irving's history? Use the map below to help plan out your weekend itinerary exploring Irving, Texas.
Irving, Texas truly holds a rich history waiting to be unlocked by those willing to explore its hidden treasures. After a weekend in the city, you'll leave Irving feeling musically, historically, and gastronomically satisfied.
So, why wait? Start planning your own history lover's dream itinerary and unlock Irving's best-kept secrets today.
More Things to Do in Texas
Looking for more things to while visiting Texas? Check out these top tips:
---
Ready to visit Irving, Texas? Plan your trip with these tips.
Book Your Flight: Find the cheapest flights using Skyscanner, my favorite flight search engine.
Find Accommodation: You can find top hotels in Irving using Booking.com.
Save on Attractions: Save big on admission to Dallas's top attractions using the Dallas CityPASS.
---
Cheers!
Paige
Did you find this history-lover's itinerary for Irving, Texas helpful? Let me know in the comments!