Stay a night or two at Fort Mountain State Park in their renovated cottages with mountain and lake views. Fort Mountain State Park is an excellent place for a cabin weekend getaway in the North Georgia Mountains.
For mountain State Park is one of my favorite places in North Georgia, mostly because it has a high concentration of black bears! For our anniversary, Kevin and I spent the weekend in a cabin at Fort Mountain State Park, looking for bears and exploring all the park has to offer.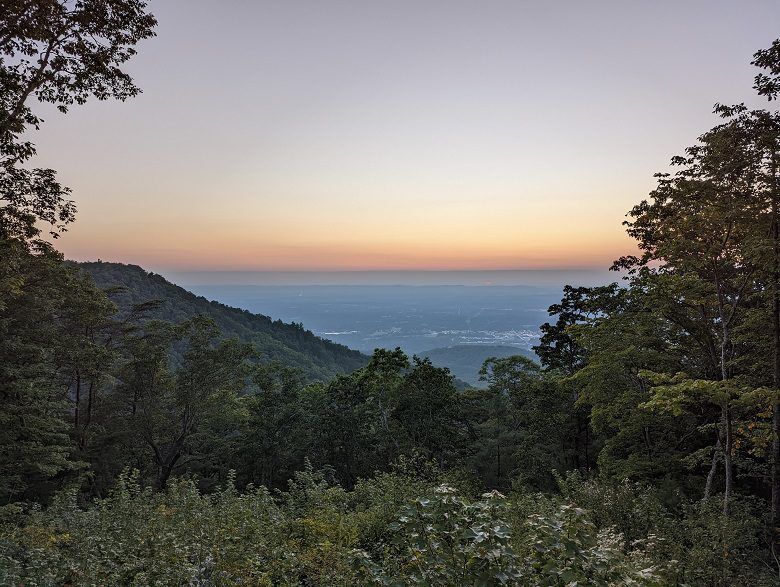 Fort Mountain State Park
Located in the Cohutta Mountains in Chatsworth, Georgia, Fort Mountain State Park is a popular destination for hiking, camping, horseback riding, and mountain biking. The 4,058-acre state park features a 17-acre lake, backcountry trails, a large stone fire tower, and an ancient rock wall.
Fort Mountain State Park Cabin Review
There are 15 cabins, or cottages, at Fort Mountain State Park. Most have a wooded view of the forest, one was right on the lake, and the cabin we stayed in, Cottage #1, has an incredible mountain view. You have the choice of a 2-bedroom or a 3-bedroom cabin.
As I said, we stayed in Cottage #1 which is a 2-bedroom cabin located just up the road from the picnic area and campgrounds.
This cabin was spacious, clean, and decorated with modern furnishings with a hint of rustic décor and photos of the park in different seasons. There is a bedroom on each side, both with two queen beds and a private bathroom, and the living room, dining area, and kitchen in between.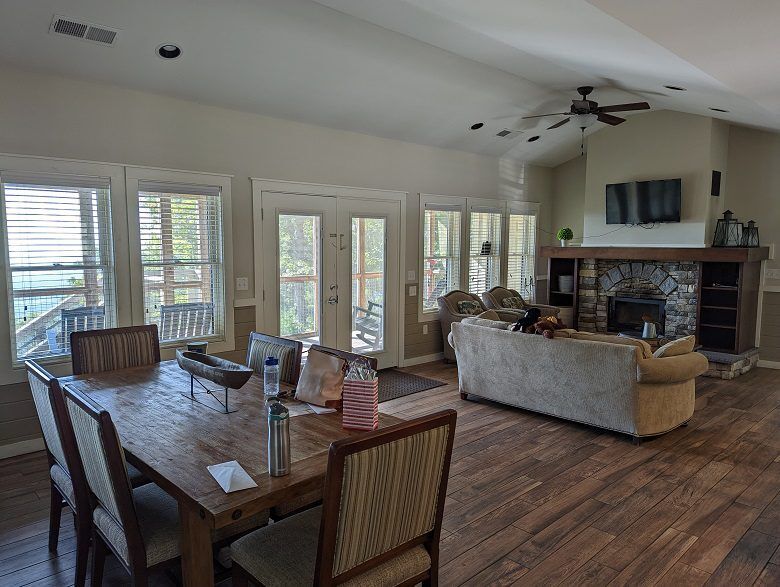 The dining room table is large enough to fit 8 people. The living room has a comfortable couch and two arm chairs arranged around a small fire place and flat screen TV.
The kitchen has tons of counter space, bar seating, an electric range and stove, microwave, coffee maker, full-size refrigerator, and a dishwasher. It's stocked with all the plates, cups, cutlery, pots, and pans you could need, though oddly I couldn't find a pair of scissors.
Along the back wall are large windows facing out to the expansive screened-in porch — my favorite part of the cabin.
There are 5 wooden rocking chairs and a couple of side tables, two ceiling fans, and doors from each bedroom. There is a door leading out to an uncovered deck landing and stairs going down in case you wanted to access the grill area from the screened porch.
This porch is especially nice at Cottage #1 because of it's mountain view. The cabin faces west, so you get an amazing sunset every night.
The bedrooms both featured queen beds, TVs, dressers, ceiling fans, and private bathrooms. One bedroom has a walk-in shower while the other has a combination tub/shower. They provide plenty of towels for your stay, as well as some shower gel and shampoo.
The front of the cabin has a covered, but non-screened, porch. To the side of the cabin is your grill and fire pit area with a picnic table.
Things to Do on Your Cabin Weekend
There's plenty to do at Fort Mountain State Park without ever having to leave the park! Here are some of the things you can do while staying at the cottages at Fort Mountain State Park:
Go for a hike: There are over 25 miles of hiking trails here. The West Overlook, Stone Wall, and CCC Fire Tower Trails loop is a classic. The Lake Loop Trail is easy and beautiful. And the Big Rock Nature Trail offers a short but moderate challenge.
Play putt-putt: The mini golf course here is surprisingly challenging. At only $4 per person, it's a cheap way to get in a little fun. Plus, you can just skip the last hole, keep your ball and putter, and come back for another game later in the day for more fun!
Spend some time at the beach: There is a small beach area on the lake where you can swim around. They've even imported sand so it has a more authentic beach feel.
Rent kayaks on the lake: Head out on the lake on a kayak, paddleboard, or pedal boat for a fun day of adventure.
Grill out or cook by campfire: All the cabins come with grills and fire pits. You can also find grills in the picnic area.
Enjoy nature from the screened-in porch: If you're a mosquito magnet like me, you'll love that the cabins come with a screened-in porch. I spent a lot of time just relaxing on the porch enjoying the mountain view from our cabin.
Note: Swimming, water sports, and mini golf are only available seasonally in the warmer months.
Be BearWise
Fort Mountain State Park has a high density of black bears, so you need to be alert and safe at all times in the park.
I really wanted to see some bears, but unfortunately for me, we didn't (besides the teddy bear we bought from the gift shop). But some people did report seeing bears while we were there. So just because you don't see them, doesn't mean there aren't bears!
There are 6 BearWise basics that will keep you safe and keep black bears alive.
Stay Alert & Stay Together: Pay attention to your surroundings, and keep kids and pets close by. Making noise helps keep away the bears, so its best to hike in groups and make noise periodically.
Leave No Trash or Food Scraps: Leave No Trace is essential in bear country. Don't leave food or trash along the trails or at the campgrounds. Leaving scraps teaches bears to associate trails and campsite with food.
Keep Dogs Leashed: Don't let your dog chase or bark at a bear; this will force the bear to defend itself.
Camp Safely: Set up camp away from dense cover and a bear's natural food sources. Cook far away from your tent, and don't store food in your tent.
Know What To Do If You See a Black Bear: Bear safety is different for different bear species. Black bears are a less aggressive species, and you may see a bear before it notices you; stand still and don't approach, enjoy the sight, then move away quietly. If a black bear sees you, you want to back away slowly, never run. Hold your ground if a black bear approaches and make a lot of noise, waving your arms to make yourself seem bigger. If a black bear makes contact wit you, fight back aggressively.
Carry Bear Spray & Know How To Use It: Bear spray is a high intensity pepper spray. It is the easiest and most effective way to deter a bear that threatens you, so always have some with you and know how to use it.
Things to Do Near Fort Mountain State Park
During your weekend cabin getaway, you may also want to get outside the park to explore more of North Georgia. Here are some great nearby attractions and itineraries:
---
Ready to visit Chatsworth, Georgia? Plan your trip with these tips.
---
Cheers!
Paige
What do you think of the Fort Mountain State Park cabin or cottages? Let me know in the comments!